A good sharp kitchen knife is one thing that everyone needs in their kitchen, whether you are a professional chef at a top-notch restaurant or a home cook. The word for a knife in Japanese is wa-bocho (pronounced "wa-bo-cho"), and there are many types of knives available. Many serious cooks have one or two Japanese chef knives.
Why are Japanese chef knives so popular? Japanese cuisine requires detailed knife work and precise cuts, much like an art, and Japanese chef knives are made for this purpose. To achieve this high level of skill there are many different styles Japanese chef knives, and each knife is specifically designed to cut, slice or chop different ingredients. If you are looking into investing in a knife, you should definitely consider Japanese chef knives, which are some of the finest cutlery that caters to chefs all over the world. Let's look into the wonderful world of the Japanese chef knives.
Contents:
Top 4 Reasons that Japanese Chef Knives are Chosen by Professionals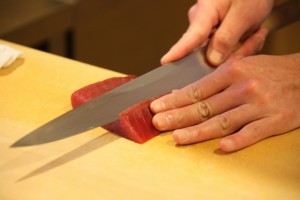 Why are Japanese chef knives wildly popular for professional chefs and serious home cooks worldwide? A chef knife is a crucial tool for a chef and here are a couple of reasons that Japanese chef knives are chosen.
1. The Long History of the Samurai Era
Japanese swordsmiths have been perfecting their steel forging skills for millennia and are an intimate procedure of folding the purest steel repeatedly. Japanese knives maker still use the same traditional method to craft their Japanese chef knives, one knife at a time.
2. The Best Quality Steel and Handmade
Japanese chef knives are made of the best quality steel just the way samurai swords were made centuries ago. The blades are razor sharp and allow you to prepare your meal on a different level. These Japanese chef knives are still handmade one at a time by skilled craftsmen whose traditional skills of the swordsmith date back to the samurai era. Many may not know, but the well known German knife company, Zwilling J.A. Henckels, make their chef knives in Seki, Japan which is known for their finest swordsmiths techniques for several centuries.
3. The Razor-Sharp Edge
The Japanese chef knives are made with forging iron and carbon steel together. Iron allows the blade to be more flexible which makes it more durable, and the hard carbon steel allows the blade to be thin. On the other hand, stainless steel knives cannot be sharpened in the same way. This is how the razor-sharp edge is made, by sharpening the blade thin. You can slice a tomato with just gliding the knife across it. That is how sharp Japanese knives are.
4. The Sophisticated Design of Japanese Chef Knives
Just like samurai swords, Japanese chef knives exude elegance, sophistication, and simplicity. Audi, the German automobile manufacturer even designed their car inspired by the beautiful exquisite form of Japanese chef knife.
What is the difference between Japanese Knives and Western Knives?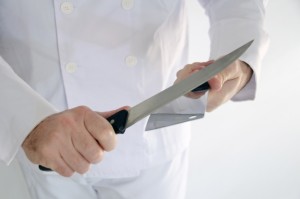 The simple way of understanding the difference between Japanese and Western knives are, Japanese knives are great for slicing and Western knives are great for chopping.
Most Western knives are tempered with soft steel and for that reason, their edges are not as sharp. Western knives have thin and duller edges and you will need more pressure to cut things, which is why they are good for heavy use such chopping chicken bones.
Japanese knives are made of both soft steel and hard steel. The hard steel blades allow you to sharpen it into a sharp cutting edge. So for delicate uses, such as slicing vegetables or fish, Japanese knives will slice it beautifully with very little pressure. Traditionally, Japanese swords, unlike western swords, were made to cut with very little pressure and just placing the blade on your opponent and pulling, and this is how Japanese knives are made too.
Types of Japanese Kitchen Knives
Western knives are more multi-purpose, and a single knife can be used for everything, from chopping chickens bones to dicing vegetables. But Japanese knives are delicate and Japanese culinary techniques requires many different cutting styles that each require a different type of knife. Let's look into the different styles of Japanese knives used for specific purposes.
1. Santoku
A Santoku knife is an all-purpose knife. Santoku in Japanese means "three purposes" and these are cutting vegetable, meat, and fish. After the World World War II, western food culture influenced Japanese cuisine and Japanese started to eat more meat. This is when this Santoku knife was born.
2. Bunka
Bunka knives are technically the same all-purpose knife used for cutting vegetable, meat, and fish just like Santoku knives. The big difference is that compared to the flat blade of the Santoku knives, Bunka knives have a little curve to their blades which makes Bunka Knives more suitable for slicing meat. The edges are also double beveled, just like the western knives.
3. Deba
Deba knives were created to fillet fish. The length of the blade differs from 4" to 20", but for the most part, a 6" to 8" Deba knife is suitable for the home kitchen. For the purpose of chopping the fish head off, Deba knives are much heavier than the other knives. These knives can also be used for smaller chicken bones.
4. Yanagiba (Sushi / Sashimi Knife)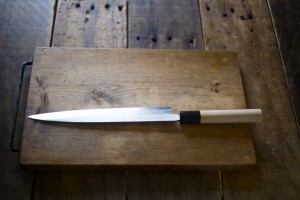 Yanagiba knives are also called sushi or sashimi knives. The long and thin blade is perfect to thinly slice proteins, especially fish. To get the perfect thin slice requires gliding the knife in one motion, and not to go back and forth like a saw. The Yanagiba knife can be 13" long but for home use, 8" to 11" length will be easy to use.
5. Gyuto
A Gyuto knife is similar to the western all-purpose knife for cutting vegetables, meat and fish. This is similar to a Santoku knife, but in Japan, a Gyuto is used to cut proteins into smaller pieces. The blade is longer than a Santoku knife, as long as 15", but for home use a 6" to 8" long blade will be good.
6. Nakiri (Japanese-style vegetable knife)
A Nakiri knife is a traditional knife for chopping vegetables. Knives with pointy tips are good for slicing, but the Nakiri knives have a rectangular tip with a 90-degree angle which makes it easier for chopping vegetables. The blade is also thin and sharp so the chopping is effortless.
7. Honesuki (Boning Knife)
A Honesuki knife is a boning knife used to debone poultry, fish, and meat. You can also use the heel of the knife to break down shellfish such as crabs or lobsters. The Honesuki knife has a thin pointy tip which makes it easy to work with smaller fish or chicken.
Choosing the Best Knife for Your Task
Choosing the perfect culinary knife seems daunting, especially when this is your first knife to purchase. If you just got into cooking or want a knife that is multipurpose, you may want to look into the Santoku or the Gyuto knife. Both Santoku and Gyuto knives are good for daily uses from cutting vegetables to slicing fishes or meats. We recommend the 5" size or the 7" one for a Santoku knife, and a 7" or 8" size for a Gyuto knife that are easier to handle. The material of the blade comes in stainless steel, carbon steel or ceramic. The stainless steel is for home cooks who want a knife that is easy to care for.
For serious home cooks, the carbon steel is pricier but well worth the investment. The carbon steel has a harder blade and cut beautifully. But you also need extra care such as hand washing it, wiping it dry right away, and sharpening it. For people who want lightweight knives, the ceramic knives are good. The blades are more fragile so use it only to cut to vegetables or soft things. Choose the one that is easy for you to use and that you practice your cutting skills with, and then upgrade to a professional Japanese chef knife.
Best Japanese Knife Brands
Japan is known for its craftsmanship of knives and is the mecca of Japanese knives. Many professional chefs around the world have a Japanese knife set, and many home chefs also have their favorite Japanese knife. Here we will introduce to you the well-known Japanese knife brands and also the high-end brands that are popular among chefs in Japan.
Misono Knives (Gifu, Japan)
Misono is a leading culinary knife company located in Seki City in Gifu, Japan. Seki City is known for their sword smith tradition and has been handcrafting top quality swords for over 800 years. Now they are known for their exquisite Japanese chef knives, using the same skills for creating swords. Misono makes quality knives using traditional skills passed down for centuries along with modern technology. Misono knives are lightweight making them easy to handle, and the blades are made of high-quality steel that is rust resistant. Misono also makes knives that are a hybrid of both Japanese knives and western knives.
Best Santoku Knife
1. Misono UX10 Santoku Knife 7.0″ (18cm)
This Misono UX 10 Santoku knife is handcrafted by skilled craftsman in Seki City in Japan. It's made from Swedish steel that has minimal impurities and has razor sharp and symmetrical edge. This 7" Santoku style knife is stain and rust resistant and is great for multipurpose use, from lightly deboning fish or poultry to slicing a tomato.
>>"Misono UX10 Santoku Knife" on Amazon.com
Best Gyuto Knife
2. Misono UX10 Gyuto Knife 8.2″ (21cm)
Misono UX 10 Gyuto is an 8.2" professional kitchen chef knife. It is a multipurpose chef knife used for boneless meats or cutting vegetables. The knife has a super sharp edge with great edge retention as well as a nice grip wooden handle, which is a great everyday knife for serious cooks. But we do not recommend tough work such as deboning.
>>"Misono UX10 Gyutou Knife" on Amazon.com
Best Petty Knife
3. Misono UX10 Petty Knife 5.9″ (15cm)
This is an excellent quality 5.9" petty knife from Misono made with Swedish steel. It is a stain and rust resistant utility knife with an asymmetrical bevel that holds a very sharp edge. The smaller blade makes it easier to handle and is perfect for general purpose uses like cutting fruits or vegetables.
>>"Misono UX10 Petty Knife" on Amazon.com
Tojiro Knives (Niigata, Japan)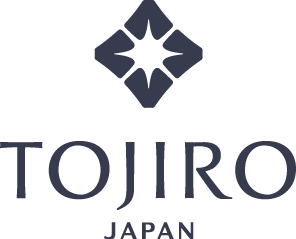 Tojiro is another well known Japanese kitchen chef knife brand from Niigata, Japan. Tojiro knives are a popular made-in-Japan brand known worldwide due to their budget-friendly price and great quality. If you are new to investing in Japanese chef knives, Tojiro knives will be a perfect for you. The center layer of the blade is VG 10, which allows the edge to stay sharp for a longer amount of time. The outside layers are made of stainless steel. Tojiro knives are a great everyday knife for serious at home cooks. You will be surprised how sharp they are compared to western knives.
Best Santoku Knife
1. Tojiro-PRO high-grade stainless steel Santoku Chef Knife 170mm F-895
This Tojiro-PRO high-grade stainless steel Santoku Chef Knife is lightweight and easy to use. The edge is sharp and you can cut your vegetables with ease. The handle of this 6.7" Santoku style knife is also stainless steel with moisture resistant grip which makes it easier to hold.
>>"Tojiro-PRO high-grade stainless steel Santoku Chef Knife" on Amazon.com
Best Gyuto Knife
2. Tojiro DP Gyuto Knife – 8.2″ (21cm)
This 8.2" Tjiro DP Gyuto knife is a multi-purpose Japanese chef knife that you can cut both vegetables and proteins. The blade is stain resistant and is even edged so it can be used by both left or right-hand cooks. You will be surprised by the quality compared to what you paid.
>>"Tojiro DP Gyutou Knife" on Amazon.com
Best Chef Knife Set
3. Tojiro DP 2-piece Chef Knife Set
Tojiro DP 2-piece Chef Knife Set comes with an 8.25" multi-purpose knife and a 4" petty knife. This Tojiro knife set is a great quality set for the price. The edges are very sharp with an even bevel that can be used for both left-handed and right-hand chefs. It comes with a lifetime warranty.
>>"Tojiro DP 2-piece Chef Knife Set" on Amazon.com
Yoshihiro Knives

Don't be intimidated by the professional and authentic look of Yoshihiro knives. Yoshihiro cutlery is a premium kitchen knife company with over 100 years of history. Yoshihiro chef knives have been forged and hammered with 16 layers of steel by skilled Japanese craftsmen just like the samurai era in the 15th century. The Yoshihiro kitchen chef knives are stain and rust resistant, which means they are easy to maintain. The core of the knife is made of VG 10 stainless steel that is often used in high-end kitchen knives which allow the edge of the knives to be very sharp.
Best Santoku Knife
1. Yoshihiro VG-10 Damascus Santoku Multipurpose Japanese Chef Knife 7″
The 7" Yoshihiro VG-10 Damascus Santoku Multipurpose Japanese Chef Knife is a perfect multi-purpose chef knife which is great for cutting vegetables, fruits, and even boneless meats. It is razor sharp and it will glide through things effortlessly. The blade retains its edge for a long time.
>>"Yoshihiro Santoku Multipurpose Japanese Chef Knife" on Amazon.com
Best Gyuto Knife
2. Yoshihiro VG10 16 Layers Hammered Damascus Gyuto Japanese Chefs Knife 8.25 in
This 8.25" Yoshihiro VG10 16 Layers Hammered Damascus Gyuto Japanese Chefs Knife is a multi-purpose Gyuto style knife. The blade is made with 6 layers of hammered steel and has a beautiful look, just like an ancient Japanese sword. The piece of art mahogany wooden handle gives a modern feel to it.
>>"Yoshihiro VG10 Gyuto Japanese Chefs Knife" on Amazon.com
Best Yanagi Sashimi Knife
3. Yoshihiro Hongasumi White Steel Black Hammered Forged Yanagi Sashimi Knife 9.5″ with Nuri Saya Cover
This Yoshihiro Hongasumi Yanagi Sashimi Knife 9.5″ is for sliding your sashimi fish. It comes with a lacquer magnolia wooden cover. It has a beautiful design, crafted the same way as a Japanese sword is made with a hammered texture on the blade, and is handcrafted by top-notch craftsmen in Japan.
>>"Yoshihiro Hongasumi Yanagi Sashimi Knife" on Amazon.com
Please follow and like us: