Japanese-People Approved Best Japanese Restaurants in Los Angeles
Whether they know or not, Angelinos are lucky. They have the best weather, and there are so many high quality Japanese restaurants in Los Angeles, and not just sushi. If you can't go to Japan, being in LA should cure your Japanese food craving no matter what it is.
---
1. Sushi Gen
Sushi
At any given time of their business hours, people are patiently waiting for their raw fish fix in front of Sushi Gen (because there's only a few seats in the tiny waiting area). Fans flock to Sushi Gen for a few reasons, including authentic sushi and incredibly fresh fish, but most come for their lunch specials. The $17 sashimi lunch is one of the best deals in LA, possibly even in in the country. It comes with a tofu appetizer, miso soup, rice and a plate of sashimi– plenty of it. Their maguro are generously portioned, and on a good day, you may get some toro on your plate as well. Their chirashi lunch is also the same price, and an equally great deal. Lunch specials are for table service only.
What to order:
For lunch, the sashimi lunch or chirashi sushi are the best deals. If you are sitting at the counter, don't leave without ordering the spicy tuna handroll. After this, you won't be able to eat another sushi restaurant's spicy tuna, ever, as Sushi Gen adds tobiko in the mix and it's amazing.
2. Sushi Zo
Sushi
Sushi Zo's original location in Cheviot Hills is very low key and you may easily pass it without noticing. But once you are seated and take the first bite…, from that first taste, you will know you are in for a real treat. Their nigiri comes in perfect bite size pieces, each carefully seasoned with a sprinkle of Hymalayan salt, or with a drop of citrus or with a blend of soy sauce that the chef created. Other locations are in downtown Los Angeles, New York City (received a Michelin Star), and the brand new Bangkok location.
What to order:
Omakase only. Let them know how hungry you are and the chef will create a magical meal for you.
3. Shibumi
Kappo
As soon as Shibumi opened in downtown L.A., it received a great deal of praise and accolades from critics and media alike. So what makes Shibumi so great? The restaurant calls itself "kappo style," which is a new vocabulary word for many. Kappo is a relatively a new concept for the Japanese, starting around the late 1920s in Kyoto, Japan. It's a chef driven eatery that usually has an open kitchen to demonstrate the chef's skill in front of customers, and emphasizes the use of fresh and high quality ingredients. Chef David Schlosser created this intimate 40 seat dining space to bring a wider range of Japanese food to Los Angeles. His quiet enthusiasm and passion accompanied with a deep understanding of Japanese food and culture makes Shibumi one of the best.
What to order:
The menu changes seasonally and frequently. Sashimi is often fresh from Japan, and so is their steak. Start ordering a few dishes with your choice of drinks, and see where it takes.
4. Shunji Japanese Cuisine
Kaiseki
Sure, you can just order some sushi at Shunji and think it's the best thing in the world. You are not wrong, but you are missing out. What makes Shunji worthy of a visit is Chef Shunji Nakao's labor intensive dishes, often served as a part of his omakase. For example, their signature "agedashi tomato tofu." You may have tried agedashi tofu at your local Japanese restaurant. It's lightly fried tofu served in a savory dashi broth. But Shunji makes his own tofu, which is not tofu at all actually, but tomatoes. It is tomatoes cooked and reduced, then compressed to a tofu-like shape, deep fried and served in the same fashion as regular agedashi tofu. Just by looking at it, you wouldn't know it takes about 5-6 tomatoes to create a 2×2 "tofu" square, but you'll definitely taste the sweetness of tomato.
What to order:
If it's your first time, the seasonal omakase is definitely the way to go. You'll enjoy the beautiful presentation of the appetizers as well as that of the sushi. On a budget? Their lunch specials are limited, but you still can enjoy some of the best sushi around.
5. n/naka
Kaiseki
Los Angeles' only proper kaiseki ryori restaurant, dining at n/naka is a holy experience. Kaiseki is multi-course Japanese meal that consists of raw, cooked, chilled, grilled, fried dishes using both seasonal and local ingredients. At n/naka, you can expect a thirteen course meal with fish and meat that are picked by the chef Niki every day and vegetables often from chef's own organic garden. Everything is a luxurious experience, including time, so clear your schedule for the night and enjoy the dinner.
What to order:
Modern kaiseki or Vegetarian (not vegan) kaiseki only.
6. Shojin
Shojin Cuisine
Can fish-less sushi be good? It's a very different experience, but at Shojin, you will definitely enjoy the creativity in their sushi rolls. Shojin is a Japanese vegan and macrobiotic restaurant with a cult-like following. Vegans and vegetarians love their food for obvious reasons, but the restaurant is also frequented by omnivores and pescatarians alike. Avocados and fried vegetables with organic brown rice are often topped with sweet soy sauce, yuzu ponzu sauce and spicy mayo. With many vibrant colors of vegetables, their signature sushi rolls are pleasing to the eyes as well are to the palate. Other than sushi, their menu includes ramen, tempura and vegetable croquettes.
What to order:
Crunchy Tiger, Dynamite Roll and Pirates of the Crunchy are a few of their popular rolls. Pirates of the Crunchy is a cucumber and shiso roll topped with fried tempeh and gluten free tempura flakes. It's an umami explosion.
7. Kagaya
Shabu Shabu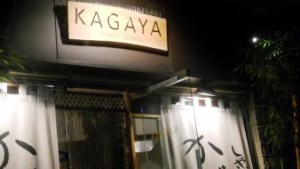 Shabu-shabu is a great way to consume high quality wagyu beef. By cooking in a hot broth for a few seconds, some of the fat from the marbled beef melts in the broth and leaves just the perfect amount of fattiness to be enjoyed. Kagaya serves several kinds of beef, from USDA prime rib to premium wagyu beef. There are a few other shabu-shabu restaurants are in the Los Angeles area, but Kagaya stands out for their high quality meal and excellent kaiseki courses. At the end of the meal, the broth is packed with umami from the meat and vegetables and is used to make Japanese risotto or noodles.
What to order:
USDA prime rib is good, but if you want to experience wagyu, try wagyu or premium wagyu from the Miyazaki prefecture of Japan. They are known for beautiful marbled beef. Not into beef? Seafood shabu-shabu is also an excellent choice.
8. Torimatsu
Yakitori
You may notice that some Japanese restaurants specialize in one thing and do it really well. In Torimatsu's case, their speciality is Yakitori, a.k.a. bite size chicken meat on sticks. Tebasaki (wings), tsukune (meatballs), sasami (breasts) and negi-niku (thigh and green onion) are great for everybody, and if you are truly adventurous, try bonchichi (tail) or sunagimo (giblets). They are all grilled over special charcoal called "binchotan," which burns like an infrared ray, bringing a juicy and tender result. It's a small restaurant, so make sure to call ahead, as it's well worth a trip to Gardena.
What to order:
Their set menu comes with either 7 or 10 grilled chicken and veggie sticks and it's a great way experience their yakitori. They'll ask if you prefer tare or shio on yakitori. Tare is sweet soy (similar to teriyaki sauce), and shio is salt. It's up to you, but breasts work well with shio and tsukune is great with tare. Whatever you do, don't expect sushi or ramen on the menu.
9. Marugame Monzo
Udon Noodles
Marugame Monzo is known for their house-made chewy, thick udon noodles. You can actually see a chef kneading udon by hand over the counter. Udon usually comes in soup, and Monzo's creative soup is what made them very popular. Typically, Japanese udon is served in a seafood-based stock (dashi) with soy sauce seasoning, which is simple and delicious. But some of Monzo's popular dishes offer the well balanced flavors of 'east meets west,' like their miso carbonara, creamy uni, and cheesy udon gratin. Make sure you write down your name as soon as you arrive, since they don't take reservations and Monzo is one of the most popular restaurants in Little Tokyo.
What to order:
There are about 20 different udon dishes on the menu and it can be overwhelming. If you want to go traditional, get beef or kitsune (fried tofu) udon; if you want creamy, order miso carbonara or creamy uni. Either way, add tempura soft boiled egg!
10. Aburiya Raku
Izakaya
L.A.'s outpost of this Vegas izakaya, a Japanese tapas style eatery, is known for its abundant usage of foie gras on the menu. Izakaya is a popular type of restaurant in Japan and is slowly catching on with Americans, city by city. Aburiya offers a better version of the Izakaya menu, such as poached egg with sea urchin and salmon roe, Kobe beef sashimi, and many robata yaki, which is grilled meat and vegetable on sticks, and their signature, foie gras bowl.
What to order:
Homemade tofu is a great starter, and the foie gras bowl is fantastic way to finish the meal. A grilled fish or yakitori sticks in between should make for an awesome meal.
 
*All prices, numbers and menu descriptions mentioned in the article are from the time of this article's publishing. So keep in mind, they may have changed since then.
Please follow and like us: