Japanese-People Approved Best Japanese Restaurants in Seattle
Anyone who has strolled through historic Pike Place Market should know the livelihood of Seattle's culinary culture. You can see a sea of people coming here to taste one of the best salmon, crabs, cheese and artisanal pasta in the world, and you can easily spend an entire day there. However, no one thinks Seattle as a Japanese restaurant destination city, yet. Compared to New York City or Los Angeles, where sushi restaurants are as many as Starbucks, Seattle's Japanese food community is still a small one. Maybe so at this moment, but it'll definitely change in a few years judging from this list.
---
1. Sushi Kashiba
Sushi

Young Shiro Kashiba spent years mastering traditional Tokyo style sushi called "edomae" along the side of a fellow apprentice, Jiro, of Jiro Dream of Sushi fame. Soon after that, Chef Kashiba moved to Seattle in early 1970 and he has been making Seattle's sushi scene better and better. No wonder just slightly over a year old sushi bar is already the go-to omakase sushi restaurant in Seattle. Their 10-seat sushi bar is so popular, it is only available first come first served basis. So arrive early, the restaurant opens at 5pm.
What to order:
Chef Kashiba creates seasonal omakase menu daily and every piece of sushi is seasoned how it should taste like. So listen to him and enjoy the ride.
2. I Love Sushi
Sushi
Some Japanese restaurants refuse to have American sushi rolls like one with tempura shrimp, spicy mayo and eel sauce. But, instead of refusing to use those untraditional items on sushi, I Love Sushi in Seattle embraces them and creates the best kind of those. Their Super Rainbow Roll is made with spicy crab, tuna, salmon, yellowtail, scallop AND sweet shrimp AND 4 kinds of flying fish roe! Doesn't it sound crazy and delicious? Not only that, they offer sushi brunch with 3-course set menu.
What to order:
There are over 20 sushi rolls on the menu. If you love raw fish, get Super Rainbow Roll. It's packed with fish and crustaceans. Something fried? How about Super Spider Roll comes with deep fried soft shell crab with spicy tuna, spicy mayo and more crunchy tempura bits?
3. Shiro's Sushi Restaurant
Sushi

Although the restaurant's namesake chef has left, the mission of Shiro's Sushi to serve the traditional edomae sushi continues and people can't get enough of it. Why people still love Shiro after those years? Quality and care. For example, Shiro's sushi starts with their rice. They use a secret blend of red and white rice vinegar, sugar and salt to season the rice. They always use fish in the season, both locally sourced and from around the world, including top quality fish flew in from Japan. Side dishes and drinks are equally seasonal and delectable.
What to order:
Sushi, obviously, but also their broiled black cod marinated in their own recipe was featured in New York Times. Some menu changes with the season, so always ask what's in the season and good to eat.
4. Wataru Sushi Restaurant
Sushi
Chef Kotaro Kumita learned his craft from Seattle's sushi master, Shiro Kashiba of Kashiba. He's not just cutting the freshest fish and putting it on the well-seasoned rice. For example, his king mackerel is delicately prepared by smoked with straw. His six-seat sushi bar is the best seat to see this young Chef Kumita creates magical edomae omakase. There's a couple of cedar box with a clear top so you can peek into what the chef will prepare for you. If you can't get the counter seats, there's omakase available at the table service as well. The price is still relatively reasonable compared to his mentor's place.
What to order:
If you could reserve the sushi bar seat, just remember these words: Omakase onegaishimasu (omakase please). It's an open-end style, so they'll feed you until you say stop. So consult with your stomach and the wallet as you go. Also the sushi bar reservations are 5:30pm and 7:30pm only, if you are reserving any other time, you'll be seated to tables.
5. Ten Sushi
Sushi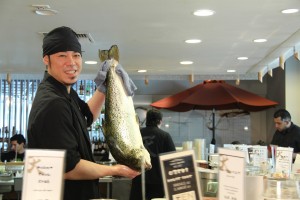 Disclaimer. Ten Sushi is not a high-end sushi restaurant, but is casual kaiten sushi, a fun conveyor belt style sushi place. All you need to do is look at what is coming to you on the belt and pick it up and enjoy it. But that's where the casual dining experience ends at Ten. They use high-quality Koshihikari rice seasoned with mild vinegar from Japan, their vegetables are organic and local and they use the best fish from around the world.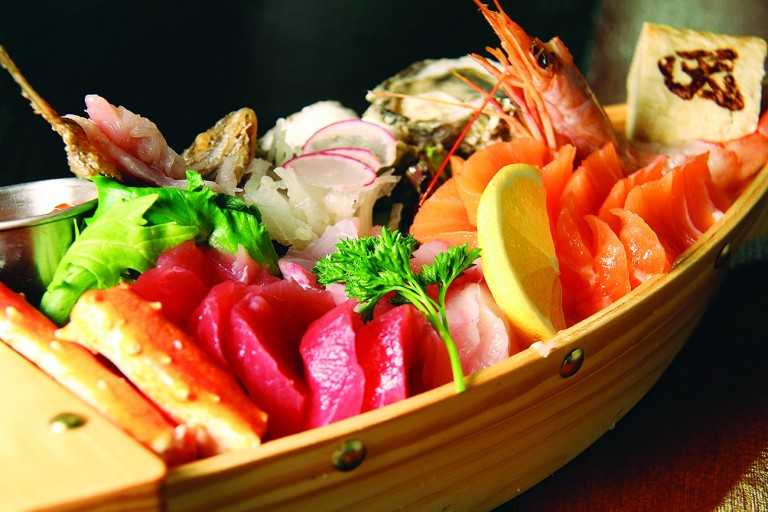 What to order:
Pick what excites you, also if you don't see what you like on the revolving belt, ask a server to place an order. It will come to you via the belt.
6. Kisaku
Sushi

It's a solid neighborhood sushi place that you can actually go regularly and they'll remember your name. "Kisaku" literally means frank and friendly in Japanese. Kisaku also serves one of the best locally sourced fish. During the summer, you can try a salmon sampler of Chinook, Kata, and Sockeye, plus house cured salmon roe. That'll make a unique Seattle sushi experience.
What to order:
Local salmon and its row, ikura. Chef cures during the high season and freezes them to make it available all year around. Something fried? Spicy oysters are wrapped in wonton skin and deep fried and served with spicy vegetable sauce. If your dinner date has never had Ankimo before, let them try it. They'll forever be in your debt.
7. Naka
Kaiseki

A Seattle native Chef Shota Nakajima creates one of a kind kaiseki using what he learned from his Japanese kaiseki master with a twist of Seattle art scene. His famous sous vide egg is cured twice and finished in kombu salt bath, then it is plated with white caviar and some gold flakes in reduced dashi broth. It looks like a part of Michelin starred French meal, and tastes like best soft boiled yolk with a splash of the ocean, yet with the texture of the soft cheese. His magic continues throughout 10 courses.
What to order:
Three kaiseki menu starting from $75 to $170. If you are not ready to commit, stop by at Bar Naka which serves handcrafted cocktails and small a la carte dishes like tofu salad and sweet yam fries.
8. Issian Stone Grill
Izakaya
Issian is lively, fun Izakaya, pub style Japanese restaurant offering everything for everybody. Izakaya style is popular in Japan for its good food at affordable price, and has become popular in the United States last decade or so. So bring a group of friends and try something new! Other than sushi, Issian is famous for Ishiyaki, hot stone grilling developed by fishermen for the convenience. Their other speciality, Robata yaki means cooked by the fire, so grub seats by the fire and see your dinner cooked right in front of you!
What to order:
At their happy hour, selective tapas cost less than $5. Grilled meat over charcoal cost around $1 each, and JFC (Japanese Fried Chicken) salad is $4. Lunch menu is also a bargain, many cooked dishes are under $10 and filling.
9. Suika Seattle
Izakaya

Popular Vancouver based restaurant group opened Suika in Seattle in 2014 to update its izakaya scene. Since then, people in Seattle are enjoying well crafted cocktails and hearty dishes like made from scratch oxtail ramen, beef ribs and party favorites like uni shooters and tasty chicken wings. Suika means watermelon in Japanese. Check out their special fresh watermelon drinks, suika gin tonic and suika mojito.
What to order:
Check out chef's handwritten daily menu. That's what Japanese people are ordering from.
10. Nishino
Japanese Fusion

Chef Tatsu Nishio used to be a chef at Matsuhisa in Beverly Hills, where the fusion Japanese cuisine was created by Chef Nobu Matsuhisa. So you'll understand why Nishino's omakase is not strictly traditional, but it combines western elements such as steak and tuna tartar and creative sushi rolls. You may also find grilled fish with a hint of curry and foie gras with red wine reduction sauce. Creativities are all around at Nishino and it will sure excite your palate.
What to order:
Hamachi Jalapeño and new style sashimi are fun dishes at Nishino. They both showcase what Nishino is about and pleasing to eyes and palate. If you are lucky, you may find one of a kind wagyu beef sushi on the menu.
 
*All prices, numbers and menu descriptions mentioned in the article are from the time of this article's publishing. So keep in mind, they may have changed since then.
Please follow and like us: