Delicious Chicken Dishes From Japan
Many of the classic Japanese dishes are made with chicken, such as karaage (fried chicken), yakitori (Japanese style skewered chicken), oyako don (chicken egg rice bowl), teriyaki chicken, chicken steamed rice, chicken hot pots and so on. But chicken did not become widely used in Japan until the mid 20th century. With the influence of Buddhism introduced in the 6th century, meat consumption was prohibited for a long time. It wasn't until the late 20th century when western influence brought meat consumption back. But chicken was way more expensive than other meat and not too many people could afford it. Chicken became affordable after the World War II, when America exported broiler chickens, which are chickens commercially raised for meat consumption, to Japan. Now chicken has become affordable and nutritious meat that anybody can afford.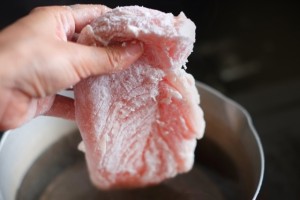 There is another reason chicken is widely used in many classic Japanese dishes. It's the flavor and texture of the meat. Chicken is very light in flavor and it goes very well with any kind of dish from steamed, deep fried, sautéed, and simmered to soup dishes.Also, the health benefits of chicken is another factor that makes many want to cook with chicken. Chickens are high in protein, low in fat, and also a good source of minerals and vitamins.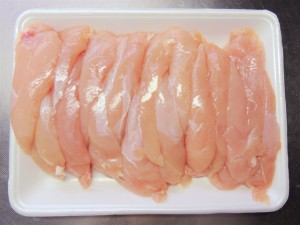 Here are some traditional Japanese chicken recipes we have chosen for you to try out. They might look hard to make, but are actually not. With a little bit of practice and preparation, you can create restaurant grade dishes for your friends and family. Try these recipes for a special dinner or any gatherings and we are sure you can wow them! Once you try few of these recipes you can make them your own with some minor tweaks. The best part of it is, it's healthy, delicious and fun to cook!
How to Cook Japanese Style Chicken Dishes
Crunchy Karaage (Fried Chicken) Recipe
This double deep fried crunchy karaage is a popular item served at a ramen restaurant in San Diego. It was chosen from Zagat Restaurant guide "The Best 10 Things We Ate This Year in San Diego".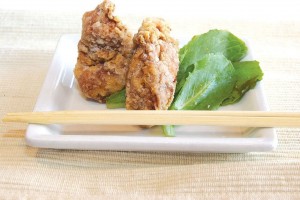 Ingredients (Serves 4)
9 oz. chicken thighs
9 oz. chicken wings
5 Tbsp. potato starch
Vegetable oil
[a]:
1 egg
1/4 Tbsp. curry powder
2 1/2 tsp. shoyu (soy sauce)
1 tsp. salt
---
Cooking Directions
Cut chicken thigh into bite size pieces.
Mix the [a] ingredients and the chicken thighs and chicken wings in a bowl Leave it for 20 mins.
Add the potato starch and mix well until it dissolves.
Deep fry the chickens at 350 °F. for 2-3 mins. When the chicken starts floating to the top, that is the sign to take it out from the fryer.
Deep fry the chickens for the second time at 390 °F. for 2-3 mins. When the chickens turn golden and the bubbling of the oil calms down, take it out from the fryer.
Tips
Make sure not to deep fry all the chickens together as the temperature of the oil will go down.
Recipe and photo by: Ramen Raki Raki
Crispy Garlic Teriyaki Chicken Wings Recipe
Crispy on the outside and juicy in the inside, these crispy garlic teriyaki chicken wings will be everybody's favorite snack to eat while watching sports with friends or at a potluck.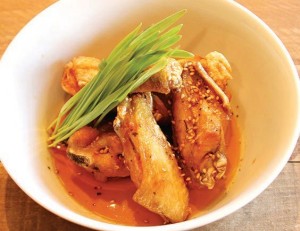 Ingredients (Serves 2)
5-6 chicken wings
2 tsp. roasted sesame seeds
Sauce:
1/2 cup shoyu (soy sauce)
1/4 cup cooking sake (Japanese rice wine)
3 Tbsp. sugar
1 Tbsp. graded garlic
5 Tbsp. mirin (Japanese sweet cooking rice wine)
2 Tbsp. balsamic vinegar
---
Cooking Directions
Use a fork and poke holes into the chicken wings.
Heat the vegetable oil in deep fryer to 340 °F. Deep fry the chicken wings. Put aside.
Mix all the sauce ingredients in a bowl.
Heat up 3 Tbsp. of the sauce in a pan and mix in the deep fried chicken wings.
Sprinkle the roasted sesame on top.
Tips
Poking holes in the chicken wings will make it absorb the sauce better.
Recipe and photo by: Azabu Shokudo
Crispy Chicken Wonton Fry with Ume Flavor Recipe
This deep fried chicken wonton wrap recipe is from a popular izakaya bar in Japan. It's a great snack or appetizer for any party occasion. Ume plum paste and chicken is another magic combination that you should try.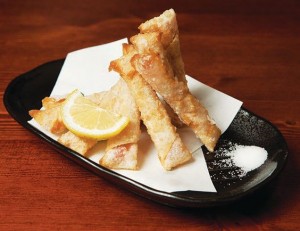 Ingredients (Serves 2)
7 oz. boiled chicken
8 sheets wonton wrap
Bainiku (ume plum paste) per taste
Salt to taste
Pepper to taste
Mayonaise to taste
---
Cooking Directions
Boil chicken and tear it into a thin strips.
Mix bainiku ume plum paste, salt, pepper, mayonnaise and the chicken strips together in a bowl.
Put 2 tablespoons of the chicken strip mix on in the middle of the wonton wrap and wrap it all up.
Heat the vegetable oil in deep fryer to 350 °F. Cook the wonton wrap until golden.
Tips
Make sure you don't put too much filling in the wonton. If you do, the filling will come out and splash in the oil.
You can get the bainiku ume plum paste at any Asian or Japanese grocery store.
Recipe and photo by: Yokohama Yakitori Koubou
Chicken Butter Bowl Recipe
It's almost like a teriyaki chicken bowl, but the magic combination of butter and soy sauce makes it even more tasty! You definitely should try this easy to make, low calorie, all-in-one meal!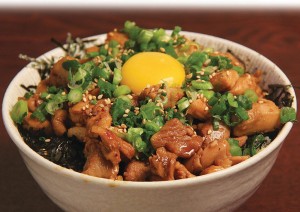 Ingredients (Serves
2

)
14 oz chicken thigh
1 cup cooked rice (1 cup makes 2 bowls of rice)
Shredded nori (seaweed sheet)
1 cup of chopped green onion
2 tsp. roasted sesame
2 raw egg yolks (optional)
1 Tbsp. butter
3 Tbsp. mirin (Japanese sweet cooking rice wine)
3 Tbsp. shoyu (soy sauce)
2 Tbsp. cooking sake (Japanese rice wine)
1 Tbsp. minced ginger
1 tsp. minced garlic
---
Cooking Directions
Heat and grease the frying pan with vegetable oil, cook diced bite size chicken thighs until all sides are brown.
Add cooking sake, mirin, and soy sauce to the pan and then toss in the butter and stir till it melts.
Add minced ginger and garlic to the pan and cook till the rawness is gone.
Serve cooked rice in a bowl, sprinkle the shredded nori seaweed over the rice, and then place the chicken with the chopped green onion and sesame seeds on top. It's optional to top it with raw egg yolk.
Tips
When topping a raw egg yolk, make sure to get pasteurized eggs. You can also substitute the raw egg with a sunny side up.
Recipe and photo by: Aoki No Chuuka
Japanese Healthy Chicken Hamburger Steak Recipe
This classic Japanese chicken hamburger steak is healthy and savory! The daikon radish, shiso leaf and the citric ponzu sauce are refreshing and goes very well with hamburger steaks. This is a must try recipe!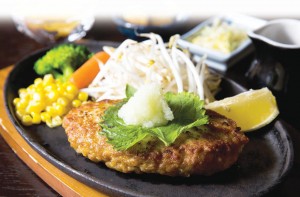 Ingredients (Serves 3)
6 oz. ground lean chicken
1/4 large onion
1 egg
1 Tbsp. shoyu (soy sauce)
1 Tbsp. sugar
1 tsp. graded garlic
1 Tbsp. graded ginger
2 Tbsp. panko bread crumbs
1 Tbsp. all purpose flower
Salt to taste
Pepper to taste
3 shiso leaves (Japanese herb, perilla)
1/2 cup graded daikon radish
Ponzu sauce for taste
---
Cooking Directions
Chop onion finely.
In a large bowl, mix together onion, ground chicken, egg, soy sauce, sugar, graded garlic, graded ginger, salt, pepper, and mix well.
Then add panko bread crumbs and flour together in the same bowl and mix well.
Chill the patty mix in the refrigerator for 30 mins.
Divide chicken meat into 3 portions. Lightly toss it back and forth in both hands to take the air out. Then shape it into a patty.
Heat and grease frying pan.
Cook patty both sides for about 5 mins.
Place the patty on a plate and top it with the shiso leaf and graded daikon.
Pour ponzu sauce over the graded daikon.
Tips
Recipe and photo by: Irifune Restaurant
Chicken Mushroom and Tofu Hot Pot Recipe
This healthy chicken, mushroom, and tofu hot pot will warm you up on a chilly day. You can add any vegetables to hot pot recipes such as carrots, celery, or daikon radish to your hot pot.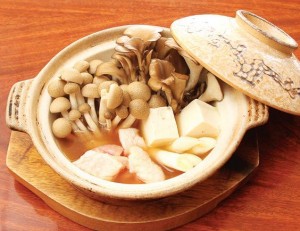 Ingredients (Serves 2)
1 small chicken thigh (cut in bite size)
1/8 tofu block
1/2 pack maitake mushroom
1/2 pack shimeji mushroom
2 strings of leak
Yuzu pepper for taste
Dashi stock soup:
1 cup bonito stock
1 cup chicken stock
3.5 Tbsp. cooking sake (Japanese rice wine)
3.5 Tbsp. mirin (Japanese sweet cooking rice wine)
3.5 Tbsp. light shoyu (light soy sauce)
Salt to taste
---
Cooking Directions
Put all the dashi stock ingredients in a pot, bring it to a boil, and then add salt to taste.
Cut the chicken thigh in bite size pieces.
Add the chicken, tofu, and chopped leaks in the pot and cook over high heat with the lid on.
After it comes to boil, bring it down to a simmer and add the maitake mushroom and shimeji mushroom. Cook for 2 minutes.
Tips
The dashi stock may seem salty but the tofu and the mushrooms will release moisture and balance it out.
When serving the hot pot individually, add the yuzu pepper to your soup for a kick.
Recipe and photo by: Hinotori
Nanban Style Chicken Recipe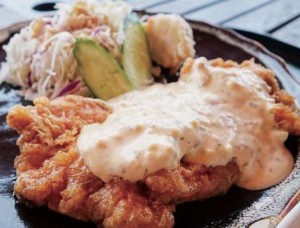 Nanban has come to mean things of non-Japanese, in particular, European, origin
Ingredients (Serves 4)
Deep-fried chicken
4 chicken breasts
1 to 2 eggs
Salt and pepper, to taste
Flour, as needed
Nanban vinegar
3 1/2 Tbsp. shoyu (soy sauce)
2.8 oz. sugar
5 Tbsp. rice vinegar
Tartar sauce
1 to 2 hard-boiled eggs
1/4 minced onion
2.6 oz. mayonnaise
1 tsp. ketchup
0.4 oz. minced capers
Pinch salt
Pinch pepper
---
Cooking Directions
Deep-fried Chicken
Leave the meat whole or cut into bite sized pieces. Sprinkle salt and pepper on the meat and dredge with flour. Shake off excess flour, dip chicken in beaten egg, and deep fry in 350°F oil.
Nanban vinegar
Bring the ingredients to a boil in a saucepan.
*To enhance flavor, add bits of vegetables to the mix.
Tartar sauce
Soak the onion in water and then thoroughly drain any moisture. Finely chop the hard-boiled eggs. Add the mayonnaise, ketchup, and capers and adjust the taste with salt and pepper.
Finishing
Marinate the fried chicken in the nanban vinegar. Pour the tartar sauce over the chicken and serve.
Nanban style chicken originated in Miyazaki Prefecture on the island of Kyushu. It features deep-fried chicken seasoned with nanban vinegar and tartar sauce and is called "tori-nanban."
Recipe and photo by: Gochiso Magazine, Nijiya Market
Please follow and like us: