Have you seen a vegan scrambled eggs made with tofu? Tofu, also known as bean curd, is not only popular in Asian or vegetarian dishes, but is one of the most nutritious foods around. As you probably know tofu is made from soy beans, but what you might not know is that it is loaded with protein, calcium and Vitamin E.  Tofu can be eaten fresh, boiled, or fried and is so versatile you can simply toss it on a salad, put in your soup or use it as a meat substitute. Here are some delicious traditional tofu recipes straight from Japan! Get creative and enjoy your healthy tofu meal!
How to cook Tofu?
Agedashi Tofu Recipe
One of the most popular tofu menus at Izakaya Restaurant!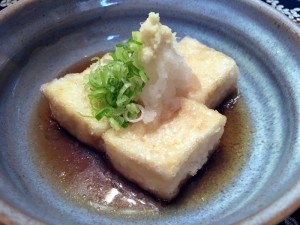 Prep time:
Coock time:
Total time:
Ingredients (Serves
4

)
14 oz tofu (soft or firm)
2"daikon radish
1 green onion
1 cup dashi stock
2 tbsp. soy sauce
2 tbsp. mirin (sweet cooking rice wine)
5 tbsp. potato starch
A small piece of ginger
---
Cooking Directions
Drain the tofu by wrapping it with 2 layers of paper towels and place on a plate or cutting board. Place a flat plate or small cutting board on top of the tofu to squeeze the liquid out for about 15 mins.
Boil dashi stock in a saucepan and add 2 tbsp. of soy sauce and 2 tbsp. of mirin. Bring to the boil and set aside.
Cut the green onions into thin slices. Peel and grate daikon and ginger. Drain liquid from daikon.
Remove tofu from paper towels and cut tofu into 8 pieces.
Coat the tofu with potato starch and deep fry until they turn light brown and crispy. Remove the tofu and put on a plate lined with a paper towel to drain the excess oil.
To serve, place the tofu in a serving bowl and pour the sauce over the tofu. Garnish with grated daikon, ginger and green onion.
Tofu Hot Pot Recipe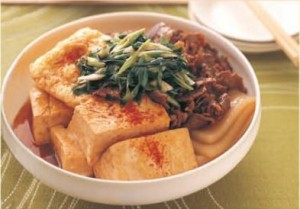 Ingredients (Serves 4)
1 package medium firm tofu
1 package block konnyaku
1 package (4 pieces) age (fried bean curd)
1/2 lb. beef sirloin (thinly sliced)
2 green onions
Cayenne pepper powder (to season)
Sauce
1/2 cup water
1/2 cup soy sauce
1/2 cup sake (cooking sake)
6 tbsp. sugar
---
Cooking Directions
Cut the tofu into 4 even pieces and beef into 2 x 2 inch squares. Thinly slice konnyaku (about 0.3 inch wide) and boil. Use the age (fried bean curd) as is. Slice the green onion diagonally (about 0.2 inch wide).
Mix "sauce ingredients" into a pot, add all the other ingredients besides the green onion, and heat.
Boil over high heat until the juice boils down and the ingredients look cooked. In the middle of cooking, flip over the ingredients to help it retain flavor.
Leave aside a small amount of green onion for decoration. Put the rest in the pot, and once it comes to a boil, turn off the heat. Sprinkle cayenne pepper powder to your preference before eating.
Ganmo, Kanikama , and Avocado Spring rolls garnished with Chili sauce Recipe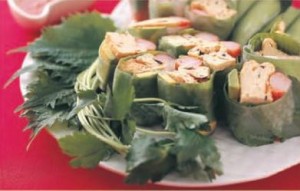 Ingredients (Serves 4)
4 sheets raw spring roll skin
Filling
4 sheets lettuce
1 pack ganmodoki (fried tofu fritter)
8 sticks kanikamaboko (imitation crab meat)
1/2 avocado
4 tbsp. Thai-style chili sauce (product sold)
Mitsuba (Japanese wild parsley) or Chinese parsley
Green shiso and cucumber etc. (to your preference)
---
Cooking Directions
Dip the raw spring roll skin in water, place it between a plastic wrap, and leave it aside for 5 minutes.
Boil the ganmodoki in hot water. Each should be cut into 4 pieces in the shape of a cross.
Peel the avocado's skin and cut vertically into 8 slices.
Place the lettuce on top of the raw spring roll skin, and top it with 14 portions of ganmodoki, kanikama, and avocado. Gather the sides and front of the spring roll skin to roll into a bundle. Place the ends of the wrap facing down, leave it aside for 2 to 3 minutes to let it settle.
Cut each wrap into 3, serve onto a dish with side vegetables, and garnish with Thai-style Chili sauce.
Stuffed Tofu with Pork and Shrimp Recipe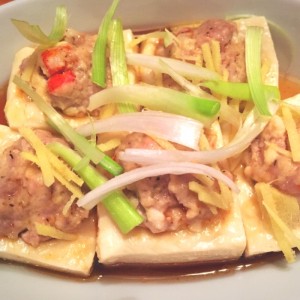 Ingredients (Serves 2)
1 package silky tofu
1 tbsp. corn starch
6 tbsp. ground pork
3 tiger shrimps
Salt to taste
Pepper to taste
1/2 tsp. sesame oil
Sauce
4 tbsp. mentsuyu (noodle soup base)
1 tbsp. sesame oil
Sriracha to taste
Garnish
---
Cooking Directions
Cut tofu in half horizontally and then cut each half into 6 pieces (total 12 pieces). Scoop out about 1/2 tablespoon of tofu from each piece. Place the excess tofu in a bowl.
Chop shrimp until they are finely minced.
Add the shrimp and ground pork in the bowl with excess tofu, season with salt, pepper and sesame oil. Mix them well.
Sprinkle corn starch over the tofu holes and stuff the mixture into each hole.
Put wrap on the tofu pieces and microwave for 5 minutes or until the mixture is fully cooked.
Cut ginger and green onions into thin strips.
Make sauce by mixing soy sauce, sesame oil and sriracha.
Pour the sauce over tofu and garnish with the gingers and green onions.
Home Made Tofu Recipe
If you learn how to make tofu this way, you can use this method to make tofu from any kind of milk substitute such as almond or even coconut.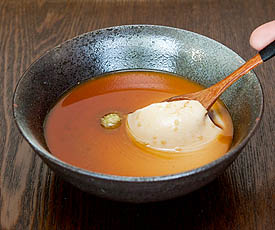 Ingredients (Serves 2)
2 cups unsweetened soy milk
1/2 cup dashi stock soup
1 Tbsp. soy sauce
1 Tbsp. mirin
2 tsp. gelatin
3 Tbsp. mentsuyu (noodle soup base)
Wasabi per taste
---
Cooking Directions
Put water in a small bowl and mix in the gelatin.
Pour soy milk, soy sauce, and mirin in a pot and heat it up.
Add the gelatin while mixing.
Take the pot off the heat and pour it into another container to cool.
Once cooled off, put it in the refrigerator until chilled.
Serve with mentsuyu noodle soup base and a dash of wasabi.
Tips
To create a dessert with this homemade tofu, instead of the soy sauce, mirin and mentsuyu soup sauce, add ice cream or vanilla essence.
Recipe and photo by: Geko-Tei
Tofu Avocado Salad Recipe
This is a refreshing tofu salad great for vegans and vegetarians. Get your protein and vitamins in one dish. You can have fun with the dressing and make it your own!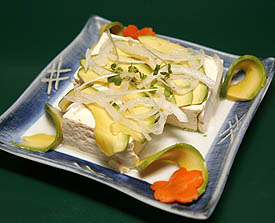 Ingredients (Serves 1)
1/2 block firm tofu
1/2 avocado
1/2 onion
Kaiware sprouts for garnish
Sauce:
1 Tbsp. Soy sauce
1 Tbsp. Sesame oil
1 tsp. Sugar
---
Cooking Directions
Mix the sauce ingredients together.
Slice onion thinly and soak in water for 10 min.
Cut tofu into 3 blocks.
Slice the avocado.
Place tofu on the plate, then avocado, onion and the kaiware sprouts on top as garnish.
Pour the sauce over it.
Tips
Change the amount of sauce ingredients by preference.
Recipe and photo by: Goro
Chilled Tofu with Edamame Sauce Recipe
This edamame sauce is a traditional sauce in Japan which can be used in a savory or sweet dish. Just replace the mirin, dashi stock and soy sauce with sugar and soy milk you have edamame whip cream!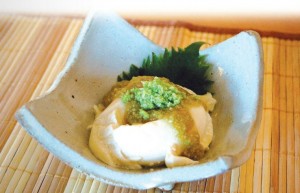 Ingredients (Serves 2)
1 block silken tofu
3/4 cups bonito dashi soup stock
1 Tbsp. mirin
1 Tbsp. usukuchi soy sauce (light soy sauce)
1/2 cup un shelled edamame
Potato starch for thickening
---
Cooking Directions
Drain tofu.
Un-shell the edamame and put it in the food processor.
Put bonito dashi soup stock, mirin, and usukuchi soy sauce in a bowl and bring it to boil.
In a small bowl, put cold water and dissolve potato starch in it.
Turn the heat off the pot and add the edamame and potato starch.
Place the tofu on a plate and pour the edamame sauce over the tofu.
Tips
The sauce made here with dashi soup stock, mirin and soy sauce can be used for many other things such as for tempura or vegetables.
Recipe and photo by: Kokoro Restaurant
Spicy Tofu Shrimp Spring Roll with Broad Beans Recipe
Crispy on the outside and tender on the inside. This spicy shrimp spring roll with broad beans is great for potluck dinner parties or even for a quick snack. Once you master the spring roll, you can put anything in it!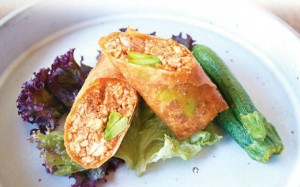 Ingredients (Serves 4)
8 sheets of spring roll wrappers or wonton wrappers
7 oz. shrimp
1 block of firm tofu
1/2 cup of shrimp
1 clove garlic
1 inch ginger
1 tsp. cooking sake
1 Tbsp. vegetable oil
Potato starch
Vegetable oil for deep frying the spring rolls
Seasoning sauce:
5 Tbsp. ketchup
1 tsp. Korean chili sauce
Salt to taste
Pepper to taste
---
Cooking Directions
Clean the shrimp and sprinkle cooking sake over it.
Dice the shrimp, garlic, and ginger into small pieces and sauté them in a frying pan.
Drain water from the tofu.
Crumble the tofu in small chunks and add them to the pan.
Add the seasoning sauce and sauté it for a few minutes.
Place the sautéed ingredients on the wrapper and place 4~5 broad beans on top of it.
Wrap the wrapper and use potato starch in water to glue the wrapper together.
Heat the oil to 350°F and fry the spring roll until it browns the wrapper.
Recipe and photo by: Necco
Tofu Kimchi Recipe
You will be surprised how well pork and kimchi go together, and the tofu balances out the spiciness of the kimchi and saltiness of the pork. This is an appetizer you must try if you like spicy and flavorful meals!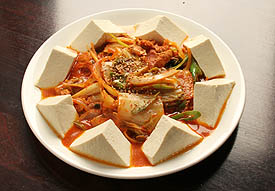 Ingredients (Serves 2-4)
7 oz. kimchi
4 oz. pork belly
1 block tofu
1/2 onion
1/2 leak
1/2 tsp. grated garlic
1/3 tsp. grated ginger
1 Tbsp. chili pepper
1 Tbsp. vegetable oil
Pepper to taste
1 Tbsp. sugar
1 tsp. sesame oil
1/2 jalapeño
---
Cooking Directions
Cut the tofu into 1.5-inch triangle blocks. Place it on a paper towel to drain the water.
Thinly slice the onion and cut the leeks diagonally.
Cut the kimchi and the pork belly into 1.5-inch size.
Heat the frying pan and grease with vegetable oil.
Sauté the kimchi and pork belly.
When the pork is cooked, season it with chili pepper, pepper and sugar.
Add the onion, leek, jalapeño, and sesame oil and sauté them until cooked.
Place the sautéed pork and vegetable in the middle of a plate and place the tofu around it.
Tips
Tofu can be cut in to square blocks instead of triangular.
Aged kimchi is sweeter and more sour, which goes well with pork.
Recipe and photo by: Juju Pocha
Tofu Chicken Salad Recipe
This is a quick and healthy salad to make that combines veggies and proteins in one meal. If you top it over a pasta it could be a pasta salad as well!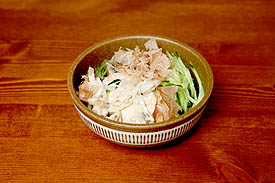 Ingredients (Serves 2)
1/2 block silken tofu
4 shiso leaves
2 oz. cooked chicken breast
1/2 cucumber
3 Tbsp. mentsuyu (noodle soup base)
3 Tbsp. sesame oil
1 tsp. bonito flakes
---
Cooking Directions
Julienne shiso leaves and cucumber.
Cut tofu into four blocks.
Tear cooked chicken breasts into strips.
Place tofu on the plate, top it with the shiso leaves, cucumber and chicken.
Pour the mentsuyu noodle soup base over it.
Heat sesame oil in a sauce pan and pour it over the dish.
Sprinkle bonito flake on top.
Tips
Heat and pour sesame oil right before serving.
Recipe and photo by: Yokohama Yakitori Kobo
Tofu Okonomiyaki (Japanese Pancake) Recipe
A Pancake with no flour! Okonomiyaki is a Japanese savory pancake, and since Okonomi means "as you wish" you can put any ingredients you want in it. You can make it vegetarian, vegan, or meaty!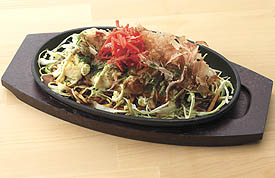 Ingredients (Serves 2)
1 cup shredded cabbage
1/2 silken block tofu
Bonito flake
Okonomiyaki sauce
Aonori sea weed flake
Red pickled ginger
Potato starch
Vegetable oil
---
Cooking Directions
Cut tofu into 4 blocks and slice it thinly.
Put potato starch around tofu and deep fry it till the surfaces turn brown and crunchy.
Place the fried tofu on a plate.
Heat and grease the pan and lightly fry the cabbage.
Place the tofu on a plate, put the cabbage, okonomiyaki sauce and mayonnaise as you prefer.
Lastly, sprinkle some aonori seaweed flake, bonito flake, and red pickled ginger on top.
Tips
Do not cook the cabbage to much so that you can enjoy the texture of the tofu and the crunchiness of the cabbage.
Recipe and photo by: Tsujita Artisan Noodle LA
Tofu Panna Cotta Recipe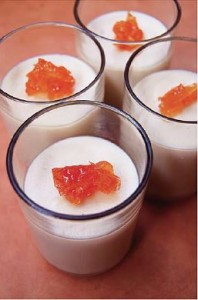 Tofu can be amazingly transformed into a dessert dish depending on how the ingredients are combined. This is a dessert vegans will appreciate.
Ingredients (Serves 4)
1/2 block soft tofu
1/2 cup maple syrup
1/3 cup soymilk
1 tsp. lemon juice
1/2 tsp. agar powder
Orange marmalade for garnish (refer to the orange marmalade recipe)
---
Cooking Directions
Warm the tofu in the microwave for 30 – 60 seconds.
Combine the ingredients other than tofu in a pan and bring to a boil.
Put the tofu of 1) and the contents of 2) in a blender and blend well.
Pour the tofu mixture into a serving dish and place in the refrigerator to chill and harden.
Garnish with marmalade.
Gochiso Magazine, Nijiya Market
Please follow and like us: