Have you seen a vegan scrambled eggs made with tofu? Tofu, also known as bean curd, is not only popular in Asian or vegetarian dishes, but is one of the most nutritious foods around. As you probably know tofu is made from soy beans, but what you might not know is that it is loaded with protein, calcium and Vitamin E.  Tofu can be eaten fresh, boiled, or fried and is so versatile you can simply toss it on a salad, put in your soup or use it as a meat substitute. Here are some delicious traditional tofu recipes straight from Japan! Get creative and enjoy your healthy tofu meal!
How to cook Tofu?
Agedashi Tofu Recipe
One of the most popular tofu menus at Izakaya Restaurant!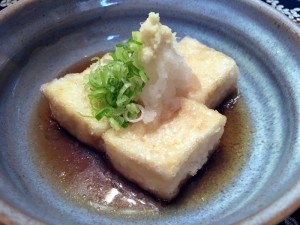 Prep time:
Coock time:
Total time:
Ingredients (Serves
4

)
14 oz tofu (soft or firm)
2"daikon radish
1 green onion
1 cup dashi stock
2 tbsp. soy sauce
2 tbsp. mirin (sweet cooking rice wine)
5 tbsp. potato starch
A small piece of ginger
---
Cooking Directions
Drain the tofu by wrapping it with 2 layers of paper towels and place on a plate or cutting board. Place a flat plate or small cutting board on top of the tofu to squeeze the liquid out for about 15 mins.
Boil dashi stock in a saucepan and add 2 tbsp. of soy sauce and 2 tbsp. of mirin. Bring to the boil and set aside.
Cut the green onions into thin slices. Peel and grate daikon and ginger. Drain liquid from daikon.
Remove tofu from paper towels and cut tofu into 8 pieces.
Coat the tofu with potato starch and deep fry until they turn light brown and crispy. Remove the tofu and put on a plate lined with a paper towel to drain the excess oil.
To serve, place the tofu in a serving bowl and pour the sauce over the tofu. Garnish with grated daikon, ginger and green onion.
Tofu Hot Pot Recipe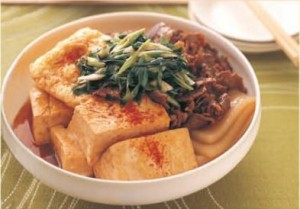 Ingredients (Serves 4)
1 package medium firm tofu
1 package block konnyaku
1 package (4 pieces) age (fried bean curd)
1/2 lb. beef sirloin (thinly sliced)
2 green onions
Cayenne pepper powder (to season)
Sauce
1/2 cup water
1/2 cup soy sauce
1/2 cup sake (cooking sake)
6 tbsp. sugar
---
Cooking Directions
Cut the tofu into 4 even pieces and beef into 2 x 2 inch squares. Thinly slice konnyaku (about 0.3 inch wide) and boil. Use the age (fried bean curd) as is. Slice the green onion diagonally (about 0.2 inch wide).
Mix "sauce ingredients" into a pot, add all the other ingredients besides the green onion, and heat.
Boil over high heat until the juice boils down and the ingredients look cooked. In the middle of cooking, flip over the ingredients to help it retain flavor.
Leave aside a small amount of green onion for decoration. Put the rest in the pot, and once it comes to a boil, turn off the heat. Sprinkle cayenne pepper powder to your preference before eating.
Ganmo, Kanikama , and Avocado Spring rolls garnished with Chili sauce Recipe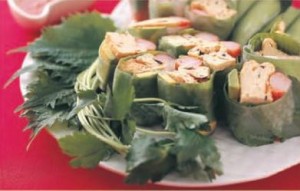 Ingredients (Serves 4)
4 sheets raw spring roll skin
Filling
4 sheets lettuce
1 pack ganmodoki (fried tofu fritter)
8 sticks kanikamaboko (imitation crab meat)
1/2 avocado
4 tbsp. Thai-style chili sauce (product sold)
Mitsuba (Japanese wild parsley) or Chinese parsley
Green shiso and cucumber etc. (to your preference)
---
Cooking Directions
Dip the raw spring roll skin in water, place it between a plastic wrap, and leave it aside for 5 minutes.
Boil the ganmodoki in hot water. Each should be cut into 4 pieces in the shape of a cross.
Peel the avocado's skin and cut vertically into 8 slices.
Place the lettuce on top of the raw spring roll skin, and top it with 14 portions of ganmodoki, kanikama, and avocado. Gather the sides and front of the spring roll skin to roll into a bundle. Place the ends of the wrap facing down, leave it aside for 2 to 3 minutes to let it settle.
Cut each wrap into 3, serve onto a dish with side vegetables, and garnish with Thai-style Chili sauce.
Stuffed Tofu with Pork and Shrimp Recipe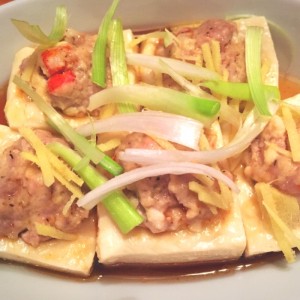 Ingredients (Serves 2)
1 package silky tofu
1 tbsp. corn starch
6 tbsp. ground pork
3 tiger shrimps
Salt to taste
Pepper to taste
1/2 tsp. sesame oil
Sauce
4 tbsp. mentsuyu (noodle soup base)
1 tbsp. sesame oil
Sriracha to taste
Garnish
---
Cooking Directions
Cut tofu in half horizontally and then cut each half into 6 pieces (total 12 pieces). Scoop out about 1/2 tablespoon of tofu from each piece. Place the excess tofu in a bowl.
Chop shrimp until they are finely minced.
Add the shrimp and ground pork in the bowl with excess tofu, season with salt, pepper and sesame oil. Mix them well.
Sprinkle corn starch over the tofu holes and stuff the mixture into each hole.
Put wrap on the tofu pieces and microwave for 5 minutes or until the mixture is fully cooked.
Cut ginger and green onions into thin strips.
Make sauce by mixing soy sauce, sesame oil and sriracha.
Pour the sauce over tofu and garnish with the gingers and green onions.
Tofu Panna Cotta Recipe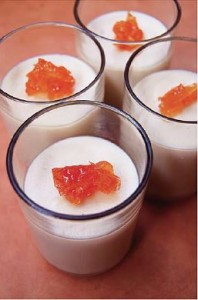 Tofu can be amazingly transformed into a dessert dish depending on how the ingredients are combined. This is a dessert vegans will appreciate.
Ingredients (Serves 4)
1/2 block soft tofu
1/2 cup maple syrup
1/3 cup soymilk
1 tsp. lemon juice
1/2 tsp. agar powder
Orange marmalade for garnish (refer to the orange marmalade recipe)
---
Cooking Directions
Warm the tofu in the microwave for 30 – 60 seconds.
Combine the ingredients other than tofu in a pan and bring to a boil.
Put the tofu of 1) and the contents of 2) in a blender and blend well.
Pour the tofu mixture into a serving dish and place in the refrigerator to chill and harden.
Garnish with marmalade.
Gochiso Magazine, Nijiya Market
Please follow and like us: