What is Donburi (Rice Bowl)?
Donburi is the Japanese word for a serving bowl, often slightly bigger than a regular rice bowl. Donburi also refers to the meal itself, which is rice topped with seasoned dishes in a donburi bowl. For example, a beef bowl, gyu-don (donburi is often shortened to "don")  is a common dish both in and out of Japan, thanks to fast food chains. Historically, donburi is a relatively new dish created by a tempura restaurant in Tokyo. In 1837, the first tempura donburi was served at the restaurant Sansada in Asakusa, Tokyo. Until then, all dishes were served on separate plates, which was time consuming for busy working class merchants in Tokyo. At first, donburi was considered a meal for the working class, but its convenience and affordability gained popularity. So other restaurants started to offer donburi, and it has become a staple of Japanese people's lives. Many popular Japanese dishes have turned into popular donburi dishes, like unagi, cutlet, sashimi, and beef. Donburi is usually accompanied by a side of pickles and miso soup to complete the meal. In the US, donburi was first recognized in the form of a Japanese import, Yoshinoya Beef Bowl. In 1979 America, it was unique to see fast food cooked with fresh ingredients, served in a bowl. The first Yoshinoya was opened in Los Angeles, and quickly became an option for those seeking a low-cost, healthy lunch. At the same time, it was evident that Japanese food was becoming more and more accepted by Americans, and one dish that stood out was teriyaki chicken. A few companies, including Yoshinoya, started to market a teriyaki chicken bowl as a healthy alternative to beef bowls and since then, it has become a mainstream lunch. Following Yoshinoya's lead, other Asian fast food companies created their own bowl options for the lunch crowd, making the trend popular. Although Americans may not know the word donburi, it's obvious that they know what it means, as the rice bowl is now a fixture of the American diet.
How to cook Donburi? (Donburi Recipes)
Gyu Donburi (Beef Rice Bowl) Recipe
Gyu(Beef)-don is the most popular donburi (rice bowl) in Japan and the U.S. because of Yoshinoya.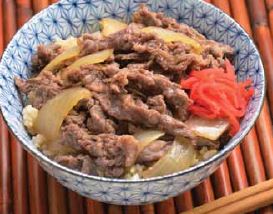 Prep time:
Coock time:
Total time:
Ingredients (Serves
4

)
---
Cooking Directions
Slice the onion then place it into a sauce pan with the water and wafu dashi. Cook over medium heat until the onion becomes tender.
Cut beef into bite-sized pieces. In a prep bowl, pre-marinate with white wine, sugar, mirin, salt, and soy sauce.
Add the beef mixture to the pan and heat for 5 minutes.
Serve on top for rice.
Oyako Donburi (Chicken and Egg Rice Bowl) Recipe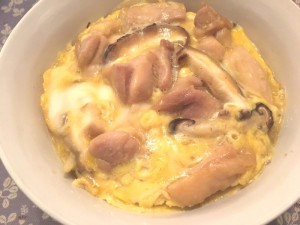 Ingredients (Serves 4)
---
Cooking Directions
Cut up chicken into small bite-sized piece and add 1 Tbsp. of soy sauce and Japanese sake over it and leave about 15 minutes.
Boil dashi stock in the skillet and add 2 Tbsp. of sake, 3 Tbsp. of soy sauce and 2 Tbsp. of mirin. Bring to a boil and then simmer on medium heat.
Once the soup has been simmering for a few minutes, add chicken, thin sliced onion and shiitake mushroom.
Beat eggs in a bowl, then pour into the pan and let it cook for a few minutes. Try not to let the egg cook too much, about 1-2 minutes, a slightly runny texture is the preferred way to serve oyako don.
When the eggs are done, turn off the heat and pour the egg and chicken over a bowl of cooked rice.
Una Tama Donburi (Eel and Egg Rice Bowl) Recipe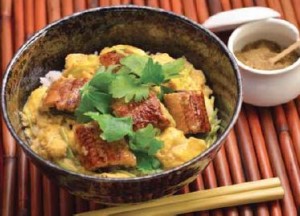 Ingredients (Serves 4)
1 unagi kabayaki (glazed grilled eel)
6 eggs
2 oz men-tsuyu, 3 times concentrated type (Japanese soup base made from soy sauce, mirin, sake, and dried bonito)
7 oz water
2 tsp. sugar
2 Tbsp. Japanese sake
1 mitsuba (trefoil)
Japanese sansyou pepper powder (optional)
4 servings of cooked rice
---
Cooking Directions
Slice the unagi kabayaki (eel) into bite-sized pieces. Slice the mitsuba into 1 inch lengths and separate the leaves.
Mix the water, men tsuyu, and sugar in a pot.
Add the unagi kabayaki (eel).
Pour in the eggs and sprinkle in the mitsuba stems. Remove from heat when the eggs start to cook.
Serve over rice with garnish of mitsuba leaves.
Katsu Don (Pork Cutlets Rice Bowl) Recipe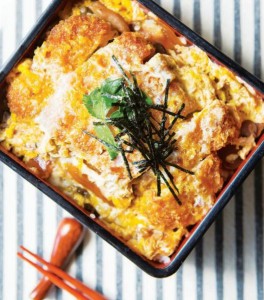 Ingredients (Serves 3)
Sauce
---
Cooking Directions
Put all ingredients for sauce in a bowl and stir.
Cut the tonkatsu (pork cutlets) into bite-size, slice onion, shred mushrooms.
Put the sauce (1) in a large pan, add the onion and mushrooms (2) and cook on medium heat.
When the onion becomes brown, add the tonkatsu.
Beat and stir eggs in a small bowl. When the sauce (4) boils, pour eggs all over and around the tonkatsu and sprinkle on the mitsuba.
Cover and steam until the egg is cooked as you like for 1-2 minutes.
Put cooked rice into bowls and put the tonkatsu and egg, and pour the sauce (6) on top.
Sprinkle shredded nori on top.
Recipe by: Takashige Sato (Chef at Ojiya Japanese Restaurant)
Yakitori Don (Grilled Chicken Rice Bowl) Recipe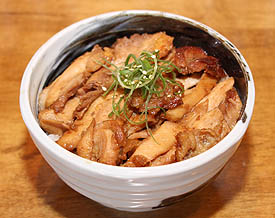 Ingredients (Serves 1)
---
Cooking Directions
In a small bowl, combine shoyu and mirin, microwave for 1 minute without a lid or plastic wrap.
Put chicken thigh on a heated pan and grill on high heat.
Grill both sides until surface become brown and crispy.
Slice the chicken (3).
Serve cooked rice in a donburi (rice bowl), pour 2/3 of sauce (1). *keep the sauce for step 6
Boil the remaining of sauce (5) and Japanese sake in a pot, and then add the chicken (4).
Arrange the nori on the rice and top with the chicken, and pour the sauce (6).
Recipe by: Yakitori Koshiji
Tomato Tuna Rice Bowl Recipe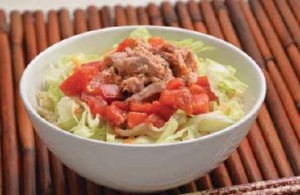 Ingredients (Serves 2)
1 large tomato
1 can (5 oz) tuna
2 handfuls sliced lettuce
1 Tbsp. miso
1 Tbsp. olive oil
2 servings of cooked rice
---
Cooking Directions
Cut the tomato into cubes.
Pour off the liquid in the tuna can.
Mix olive oil and miso to make the dressing.
In serving bowls arrange the lettuce, tomato and tuna on top of the rice.
Drizzle the dressing over the dish.
Tofu Mentaiko Rice Bowl Recipe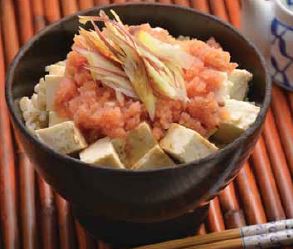 Ingredients (Serves 2)
---
Cooking Directions
Cut the tofu into bite-sized pieces.
Remove the skin of the mentaiko.
Slice the myoga.
In each serving bowl, place all the ingredients on top of the rice. Add soy sauce as desired.
Zuke Donburi (Soy Sauce Marinated Rice Bowl) Recipe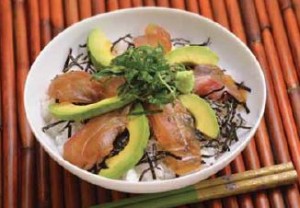 Ingredients (Serves 2)
---
Cooking Directions
Heat the sake and mirin in a prep bowl by microwave. When the liquid starts to bubble, stop cooking. Add in the soy sauce and let cool.
Slice the sashimi and place it into the sauce from Step 1.
Slice the avocado and cut oba into a chiffonade.
Place rice in serving bowls, sprinkle the shredded nori on the rice.
Arrange the sashimi and avocado on top of the nori, then top with oba and wasabi.
Gochiso Magazine, Nijiya Market
Please follow and like us: