Contents:
What is Gyoza?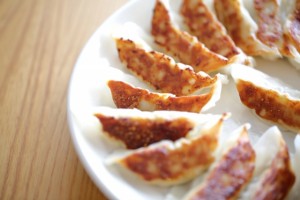 Crisply pan-fired skin, wrapping a hot juicy filling is the perfect dish with rice or as a snack with beer. We are talking about gyoza, or Japanese dumplings, a food popular with kids and adults alike.
You may think that gyoza originated in China, but surprisingly, similar foods have existed for a long time in other countries, such as India, Nepal, and Mongolia. This is because growing wheat, which started Mesopotamia, spread throughout countries along the Silk Road. The wheat-eating cultures that reached China influenced gyoza-making. In China, gyoza usually refers to sui-gyoza (boilied dumpling), but pan-fried gyoza (pot-sticker gyoza) is the more popular choice in Japan. It comes in a variety of forms and flavors, with various regions marketing their own local versions. It has become a mainstay of Japanese cuisine and continues to be a favorite among many.
You can enjoy gyoza with a wide variety of flavors simply by using different fillings. Use a generous portion of meat if you're looking to satisfy your hunger. For healthy eating, use vegetables as the main ingredient. The possibilities are endless when you eat gyoza with different dipping sauces.
If you want to enjoy freshly cooked, hot gyoza, it's definitely best to make them at home. Here we'll show you how to make pan-fired gyoza step by step, with all the important details.
How to cook Gyoza?
Pork Gyoza Recipe
Depends on vegetable you choose, Gyoza will be different taste and crunchy. With cabbage, your gyoza will be refreshing and crunchy. With hakusai (Chinese cabbage), it'll be sweet and juicy. Simply choose the one you like.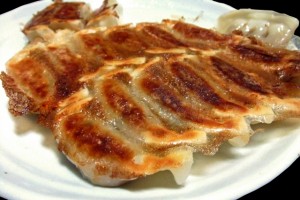 Ingredients (Serves
25

pieces)
25 gyoza wrappers
5.25 oz ground pork
3.5 oz cabbage (or hakusai)
1 oz garlic chives (or green onions)
1/2 clove garlic
1 small chunk ginger (1 /2 oz)
Seasonings
1/2 tsp. salt
1 tsp. sake
1 Tbsp. soy sauce
1 Tbsp. sesame oil
Pinch of pepper
For wrapping
Potato starch (as needed)
For pan-frying
Vegetable oil, sesame oil (as needed)
1/2 cup of hot water
---
Cooking Directions
Making the filling
Mince the cabbage (or hakusai), garlic chives (or green onions), garlic and ginger.
Place the cabbage (or hakusai) into a bowl, add 1 /3 tsp. of salt (not included in recipe). With your hands, thoroughly rub salt into the cabbage. Once water seeps out of the cabbage and it becomes soft, wrap in a paper towel and drain thoroughly.
In a separate bowl, mix the ground pork and seasonings until sticky. Once the fat in the meat is broken down and the meat begins to appear whitish, add 2 tablespoons of water. Continue mixing until it becomes stickier.
Add the cabbage (or hakusai), garlic chives (or green onions), ginger, and garlic to the meat mixture, and mix until the ingredients are fully combined.
Refrigerate the mixture for about an hour to let the flavors blend.
Wrapping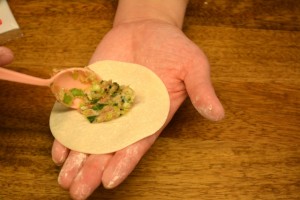 Hold a gyoza wrapper in the palm of your hand, add some filling mixture, and moisten the edges with a bit of water.
Fold the gyoza in half and pinch the edge closed.
Fold the edges to form a pleat with your left index finger, and pinch it with your right index finger.
Create 1/4-inch pleats while pinching the top wrapper tightly against the bottom wrapper. Continue until the pleats completely close the seam.
Sprinkle potato starch on a tray and arrange the gyoza without letting them touch each other.
* It is best to pan-fry the gyoza as soon as they are wrapped. If you don't plan to cook them right away, cover with plastic wrap and store in the refrigerator.
Pan-frying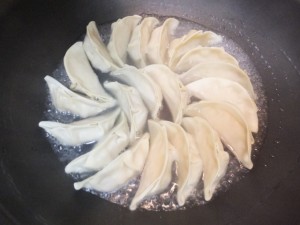 Have some vegetable oil, sesame oil and hot water ready.
Heat a fry pan over medium heat, and lightly coat with vegetable oil.
Shake off any excess starch from the gyoza. Arrange them in the pan so that they do not touch each other.
Pour about 1 /2 cup of hot water over the gyoza and quickly cover with a lid.
Steam-fry until most of the hot water has evaporated. Uncover, turn up the heat, and remove the excess water while shaking the pan.
Once the water has completely evaporated, drizzle the gyoza with sesame oil and turn up the heat.
Continue to cook for another 1 to 2 minutes. When the bottoms become golden brown and crispy, the gyoza are ready to serve.
Enjoy them hot with your favorite dipping sauce.
Dipping sauce
Dipping sauce should not be overlooked as an accompaniment to gyoza.
The popular choice is a combination of vinegar and soy sauce with a few drops of chili oil, but with a bit of ingenuity you can enjoy a variety of flavors.
Dipping Sauce Variations
Directions:
Add the ingredients in the order described for each sauce. Be sure to mix well each time an ingredient is added.
The amount specified is for reference. Use more or less depending on your likings.
• Yuzu pepper sauce (citrusy Japanese hot sauce):
It offers a taste adults enjoy and is the perfect match for beer.
1 tablespoon ponzu (citrus accented, seasoned soy sauce), pinch of yuzu pepper
• Taberu-rayu (Japanese-style thick, crunchy chili oil):
Nijiya's Taberu-Rayu will transform a typical dipping sauce into a sumptuous sauce packed with a blend of many ingredients!
1 tablespoon of Nijiya's Taberu-Rayu, 1 tablespoon ponzu
• Salt-based sauce with green onions:
The simple, salty taste will encourage you to keep eating the gyoza.
1 /4 green onion (finely chopped), 1 tablespoon sesame oil, 1 tablespoon lemon juice 1 ½ tsp. salt, 1 pinch of pepper, ground white sesame (to taste)
• Wasabi oil sauce:
The (nasal) pungency of the Japanese horseradish is sure to become addictive.
1/2 tablespoon wasabi paste, 2 tablespoons olive oil, 1 tablespoon vinegar, salt and pepper (to taste)
• Sweet vinegar sauce:
It'll be a hit with the kids!
1 tablespoon tomato ketchup, 1 tablespoon vinegar, 1 tablespoon sugar, salt (to taste)
Hearty Vegetable Suigyaoza (Boiled Dumpling) with Molokhia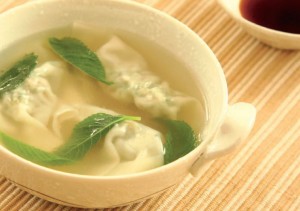 The sticky molokhia helps to bind the dumpling filling perfectly. When you've had enough of the fried dumplings, boil the dumplings in broth and add more molokhia!
Ingredients (Serves 24 dumplings)
About 6 stalks molokhia
2 leaves cabbage
2 stalks garlic chives
4 inches negi (Japanese leek)
1 shiitake mushroom
1/2 clove ginger
1/2 clove garlic
4 oz. minced pork
24 dumpling wrappers
1/2 tsp. soy sauce
1 tsp. sesame oil
1/2 Tbsp. flour
1/4 tsp. sugar
1 tsp. salt
Pinch of pepper
---
Cooking Directions
How to cook Dumplings
Slice the cabbage into small pieces, and place in a strainer. Sprinkle with salt and mix. Slice the other vegetables into small pieces, and place in a bowl. (Use the molokhia stems, too.)
When the cabbage is wilted, squeeze out the water and add the cabbage to the bowl of vegetables. Add the minced pork and seasonings, and mix well until the meat becomes sticky.
Spoon the necessary amount of the filling into the dumpling wrapper, and encase it. (Place the filling at the center of the wrapper and then fold the wrapper over it. Dab a small amount of water along the edge on one side of the half-folded wrapper. Tuck the filling around the edges by folding over the other side of the wrapper. (unmoistened side and pressing it down onto the moistened side.)
*You can fry some of the dumplings and boil the rest.
How to Boil Dumplings
Put an appropriate amount (depending on how many dumplings you cook) of dashi soup stock (bonito, kelp, or other broth) in a pan. Place the pan over medium heat. Add dumplings, cover and boil for about 5 minutes.
After dumplings are cooked, add molokhia leaves and remove from heat. Serve with soy sauce and vinegar or ponzu (citrus accented, seasoned soy sauce).
Shrimp Gyoza (Japanese Potstickers) Recipe
This is a great appetizer that you can wow your guests with on any occasion! When you bite into the gyoza, you will enjoy both the crispy outside and the juicy shrimp and pork in the inside!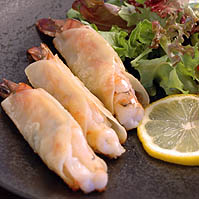 Ingredients (Serves 2)
16 oz ground pork
6 amaebi sweet shrimp
1/4 cup onion
2 clove garlic
2 Tbsp. sesame oil
Salt to taste
3 Tbsp. mirin
3 Tbsp. cooking sake
6 sheets gyoza wrapper
La-yu chili oil to taste
Soy sauce to taste
---
Cooking Directions
Put sesame oil, salt, and mirin in a bowl along with the finely chopped onion and garlic.
Add the ground pork to the bowl and mix it well.
Take the heads and shells off the shrimp.
Place the gyoza wrap on a cooking tray or plate.
Make a stick shape with the ground pork and place it on the gyoza wrap.
Place the shrimp over the pork and wrap up the gyoza wrap.
In a heating pan, pour 2 tablespoons of sesame oil and 1 teaspoon of mirin and water. Place the gyoza in the pan and bring it to boil.
Turn the heat down to medium and cook until the pork and shrimp is cooked and the gyoza wrap also turns crispy and light brown.
Mix La-yu chili sauce and soy sauce as a dipping sauce.
Cooking Directions
Use fresh ground pork.
Mix up the seasonings and ground pork the day you cook. Don't prepare it before and store it in the refrigerator. The aroma will go away.
When pan frying the gyoza, don't cover the pan with lid, the gyoza dough will melt away.
Recipe and photo by: Ryozanpaku
Frozen Gyoza: Super Easy Recipe!
Preparing gyoza is pretty meditational; making the dough, filling it and wrapping it. Not sure if you want to make gyoza from scratch? That's totally fine! Try the premade frozen gyoza that you can get in most supermarkets. These are as tasty as the home made ones and easy to cook! If you want an authentic Japanese gyoza brand, go to the frozen section in the Japanese or Asian grocery store, but if you are a vegetarian you might want to check Trader Joe's or Whole Foods for vegetarian options since most of the Japanese/Asian brands are made with meat. Don't forget to pick up a gyoza sauce, or you can make this at home out of soy sauce, a dash of vinegar and chili sauce or paste.
How to cook Frozen Gyoza more deliciousely?
Gyoza is a healthy snack as well as the perfect entree for an Asian themed dinner or potluck. So how do you cook frozen gyoza? It's super easy! (You actually might not need recipe) Just heat them up in the microwave, but if you want softer gyoza steam or boil them. A soft gyoza is great on a salad or in a ramen. If you prefer your gyoza crispy, you can pan fry them in only a few minutes. Here are a few tips for getting the gyoza crispy on the bottom and soft in the middle. First, grease the pan with oil and then put in as many gyozas as you want. Next, heat them on high heat for a few minutes until the bottom turns golden and then add water to half the height of the gyozas. Finally, cover the pan and when most of the water is gone remove the lid so that rest of the water can evaporate. That's it, you're done! The savory juicy flavor will fill your mouth with muchas goodness. Happy gyoza eating!
 
Gochiso Magazine, Nijiya Market
Please follow and like us: