Quick & Easy Mushroom and Nagaimo Gratin Recipe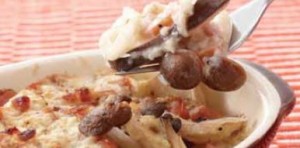 Ingredients (Serves 4)
3.5 oz. king trumpet mushrooms
3.5 oz. shimeji
1 onion
4 sausages
2 eggs
7 oz. nagaimo
1/2 cup soy milk
2/3 tsp. salt
A dash of pepper
---
Cooking Directions
Cut stems off the shimeji and divide into sections. Cut the king trumpet mushrooms into 1/3-inch round slices.
Slice the onion and cut the sausages into tiny pieces.
Remove fibrous roots from the nagaimo, and grate with skin on. Combine the nagaimo with the soy milk, salt, pepper, and eggs. Add the sausages.
Arrange the mushrooms and onion in an ovenproof dish. Pour in the nagaimo mixture, and bake in an oven for 10 minutes till browned.
Brown Shimeji Muffins Recipe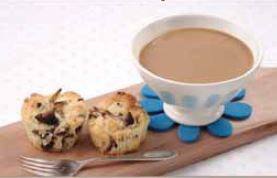 Ingredients (Serves 4)
3.5 oz. brown shimeji
0.2 oz. unsalted butter
A pinch of salt
2 oz. unsalted butter
2 oz. granulated sugar
1 whole egg
1 egg yolk
1 cup cake flour
1 tsp. baking powder
3 oz. yogurt
1/2 cup raisins
---
Cooking Directions
Put the butter (0.2 oz.) in a heated skillet and saute the stem-cut and loosened brown shimeji. Sprinkle with salt and cool.
Preheat an oven to 350°F (180°C) and soften the remaining butter (2 oz.) at room temperature.
Mix the butter and sugar in a blender: slowly add the whole egg. Blend well by adding the egg yolk and yogurt. Sift in the flour and baking powder and mix further.
Add raisins to the mixture from Steps 1 and 3 and pour into a mold approx. 3/4 full.
Bake for 20 to 25 minutes.
Tofu Steak Topped with Kinoko Soboro (Powdered Fish) Recipe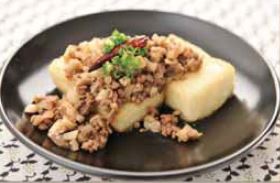 Ingredients (Serves 4)
3.5 oz. each king trumpet mushrooms, maitake, brown shimeji, white shimeji
7 oz. ground beef
2 cakes of firm tofu
Nijiya yakiniku sauce (as desired)
Potato starch or flour (as desired)
Sesame all (as desired)
Green onion (as desired)
1 red pepper
---
Cooking Directions
Drain the tofu. Cut the mushrooms into rough small pieces.
Cut the tofu in half diagonally, sprinkle with the potato starch. Grill in the sesame oil, and arrange on a plate.
Heat a skillet with sesame oil: saute the red pepper and then the ground beef. Add the mushrooms continuing to saute and season by adding the yakiniku sauce.
Add Step 3 on top of Step 2 and sprinkle with finely-chopped green onions.
Chicken Wings & Kinoko Cooked in Ponzu Recipe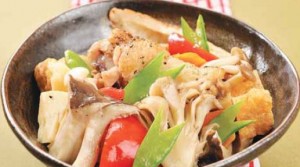 Ingredients (Serves 4)
3.5 oz. each king trumpet mushrooms, maitake , brown shimeji, white shimeji
4 chicken wings (approx. 8-1/2 oz.)
1/2 tsp. salt and a dash of pepper (for base flavoring)
2 chikuwa (tube-shaped fish paste cake)
1 atsu-age (thick deep-fried bean curd)
2 oz. bamboo shoot (cooked in water)
2 oz. carrot
1/2 red paprika
3 oz. snow peas (or sugar snap peas), strings removed
Dashes of salt and pepper
200ml water
5 Tbsp. ponzu soy sauce
---
Cooking Directions
Sprinkle salt and pepper on the chicken wings and grill in a skillet untill browned.
Add the chopped bamboo shoots, carrot, and atsu-age cut into bite sizes, red paprika, mushrooms, and chikuwa cut diagonally in half, and saute. Season with salt and pepper, pour in the water and simmer covered for 3-4 minutes.
Add ponzu soy-sauce twice separately.
After the flavors blend, add the snow peas cut in half. Don't overcook. Ingredients should be colorful when served.
Gochiso Magazine, Nijiya Market
Please follow and like us: