Contents:
What is Okonomiyaki?
It's a pancake made with water / egg / flour batter mixed with squid, beef or pork as well as cabbage or any vegetable of your choice. It's cooked on a heated teppan grill and served with sauce and toppings such as aonori (seaweed flakes).
Okonomiyaki can be roughly divided into three types: Hiroshima-style, Osaka-style and Tokyo-style (a.k.a monja-yaki). What makes the Hiroshima-style more distinctive than the other two is that the ingredients are stacked upon one another in layers.
In Hiroshima-style okonomiyaki, a large helping of cabbage is stacked on a thin crepe. The typical toppings include squid tempura and, if it's winter, even oysters. Surprisingly, the use of mayonnaise is not considered authentic to the Hiroshima-style. Because it's made in such a way that enhances the natural flavors of the ingredients, maybe it's a good idea to try the Hiroshima-style without mayonnaise first.
Okonomiyaki restaurants
Today's Hiroshima-style okonomiyaki restaurants originated from street vendors that emerged at the Shintenchi Entertainment Quarter during the postwar period. Later, when those vendors were forced to leave the site, many of them moved into a building called "Okonomi Village," which is now a famous sightseeing spot. Those who didn't move into the building started their own restaurants. Today, Hiroshima has about 2,000 okonomiyaki restaurants, the nation's highest number of okonomiyaki restaurants per capita. This shows how passionate people in Hiroshima are about okonomiyaki.
Okonomiyaki sauce
You would probably agree that the sauce is an important part of okonomiyaki. Worcestershire sauce was mainly used in the early days. However, Worcestershire sauce is very spicy. It's also so thin that, when poured over okonomiyaki, it runs off the edges. So, a local sauce maker in Hiroshima worked on developing a thick sauce that would be perfect for okonomiyaki. That was the origin of "Okonomi Sauce." Its primary ingredients are vinegar, vegetables and fruits such as tomatoes, onions and apples. Consumers liked its distinctive sweetness and thick consistency, and the popularity of "Okonomi Sauce" spread rapidly throughout the nation.
Okonomiyaki provides balanced nutrients
Okonomiyaki is made with a wide variety of ingredients and is considered nutritiously well-balanced. It covers all four basic food groups. Out of the 30 kinds of food items that are recommended to eat each day, okonomiyaki provides 12 of them with such nutrients as proteins, fats, and vitamin B from the meat and egg, carbohydrates from grains, and vitamins A and C from vegetables. Overall, okonomiyaki is considered an excellent food, given its variety of ingredients and nutritional balance. If you top it with cheese or sakura ebi (tiny dried shrimp) to add calcium, okonomiyaki becomes an ideal health food.
Make Hiroshima-style okonomiyaki at home! (Okonomiyaki recipe)
You may be thinking that even though okonomiyaki looks pretty tasty, it must be hard to make on your own. But you'll be surprised! Once you get the hang of it, you can easily make delicious Hiroshima-style okonomiyaki on your own using an electric griddle.
Hiroshima-style Okonomiyaki Recipe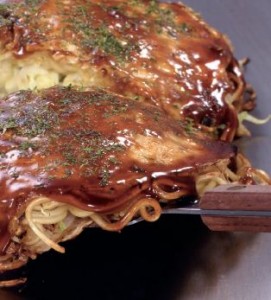 Ingredients (Serves
5

)
3.5 oz flour (all-purpose flour)
3/5 cup water
1/2 tsp. mirin (sweet rice cooking wine)
26 oz cabbage (shredded)
1 oz Japanese green onion (chopped)
5.25 oz moyashi (bean sprouts)
5 packages yakisoba noodles (chuka noodles)
7 oz sliced pork belly
5 medium-size eggs
Optional (according to your preference):
Okonomi sauce
Yakisoba sauce
Tenkasu (bits of deep-fried tempura batter)
Aonori (seaweed flakes)
Katsuo-bushi (dried bonito flakes)
---
Cooking Directions
Combine the water, mirin and flour in a bowl. (Adding mirin helps brown the crepe evenly.)
Set the temperature of your griddle at 320 to 356°F. Using a ladle, pour the batter (about 1.4 oz) onto the center of the griddle and spread it from the center into a thin, circular crepe (about 8 inches in diameter).
Over the crepe made in step 2, place the topping in the exact order as follows (this is very important): cabbage, tenkasu, Japanese green onion and moyashi. Top with three slices of pork belly without overlapping them. Pour a small amount of the batter (about .35 oz) to cover the top.
Once the crepe is done, flip it over. Raise the temperature to at least 400°F to cook the meat through.
Once the meat is done, lower the temperature to about 320 to 356°F again to steam-cook the vegetables.
Once the vegetables are done, push the crepe aside to make some space for cooking noodles. Stir-fry noodles while keeping them from clumping together. (Before stir-frying, sprinkle the noodles with a small amount of water and let stand for a while. Any clumps will be broken down by alpha amylase activity- enzyme breakdown of starch.)
Add about 0.35 oz yakisoba sauce Oust about as much as drawing three horizontal lines over the noodles) and continue to stir-fry. Gather up the noodles to form a circular mound about 8 inches in diameter.
Slide the okonomiyaki (the one with the vegetables) on top of the yakisoba, and press down gently. (Make the center high for a better presentation.)
On the space beside the okonomiyaki, break an egg and spread it into a circle about the same size as the okonomiyaki. Slide the results of step 8 over the egg, and press down gently.
Once the egg is cooked, flip the okonomiyaki over and turn off the heat. Cut into appropriate sizes for eating.
Place the okonomiyaki on a serving plate, and top it with Okonomi Sauce and aonori.
Other Styles of Okonomiyaki
We've been mainly talking about Hiroshima-style okonomiyaki, but let's talk about Osaka-style and Tokyo-style okonomiyaki. Although there is not conclusive proof, it appears that okonomiyaki is from Tokyo. But when speaking about okonomiyaki, people in Japan will immediately think of the Hiroshima-style or the Osaka-style. The biggest difference between the three types is that the Hiroshima-style includes yakisoba noodles, whereas the Osaka-style and Tokyo-style don't. Okonomiyaki is a staple food for people from Osaka, along with takoyaki (fried octopus balls), and their okonomiyaki is fluffier than the other two styles. The secret is mixing graded yam into the batter. The other difference is that the Osaka-style will mix all the ingredients in the batter except for the meat such as sliced port, shrimp or squid, which is added later. On the other hand, for the Tokyo-style you mix everything into the batter and then cook it. Which should you try first? If you are really hungry, go with Hiroshima-style, if you want your okonomiyaki fluffy, go with the Osaka-style, and if you want the standard, go with the Tokyo-style!
Let's try Osaka-Styll Okonomiyaki!
Osaka-style Okonomiyaki Recipe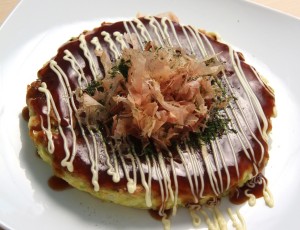 Ingredients (Serves 4)
1 cup (120g) Otafuku Okonomiyaki Powder or all-purpose flour
3/4 cup (180cc) water
3 eggs
4 oz. (120g) cooked pork or chicken or shrimp, cut into bite- size
10 large cabbage leaves (500-600g), chopped
2 pcs green onion, chopped
1 1/2 Tbsp. vegetable oil
1 cup Otafuku Okonomi Sauce
Mayonnaise, bonito flake and green seaweed, as desired
*You can change the meat, seafood and vegetable ingredients to suit your taste.
---
Cooking Directions
Mix Otafuku Okonomiyaki Powder (or flour) with water in medium size bowl.
Stir eggs, meat and vegetables ingredients in the batter.
Heat oil on a griddle, a hot plate or in a large skillet.
Pour enough batter to make a single-serving griddle cake (about 6"across and 1/2"thick.)
Cook both sides on medium-low heat until golden brown (about 5 min each).
Move the pancake to serving plate and immediately spread Okonomi Sauce over top. Add some mayonnaise on top of you like.
Recipe and photos by: Otafuku
Essentially, meals are a time to enjoy conversation, be entertained and relax. So dishes like okonomiyaki are valuable because they're easy, fun, and entertaining to make. Making okonomiyaki would also be a great experience for children, since it can be a part of effective dietary education. So gather up your family members and have a great time making okonomiyaki together.
Easy Okonomiyaki Kits
Just like a pancake mix, okonomiyaki batter has its own mix that makes preparing this dish so easy. The go-to brand for the okonomiyaki mix is of course, Otafuku, the same brand that makes the okonomiyaki sauce. These products are available in your local Asian supermarkets or on Amazon.com. As "okonomi" means "as your preference" and "yaki" means to grill or fry, so put in as many any ingredients as you want and fry them together.
Otafuku Okonomiyaki Flour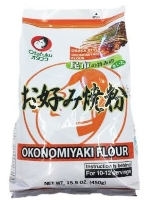 A simple okonomiyaki mix that includes kombu kelp dashi. Just mix the powder and add all the other ingredients and you will have a perfect okonomiyaki!
Product Info & Photo Credit: https://otajoy.com/
Otafuku Okonomiyaki Kit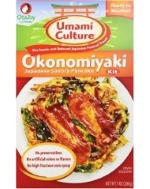 For the perfect Osaka-style okonomiyaki, buy this kit. This comes with a kombu kelp dashi powder, yam powder, tenkasu (tempura flakes), and aonori seaweed flake. This product comes in two sizes, two servings and four servings.
Product Info & Photo Credit: https://otajoy.com/
Otafuku Okonomi Sauce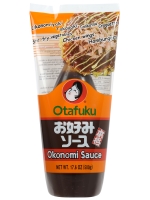 Okonomi sauce is basically a sweeter version of Worcester sauce made of vegetables and fruits. Otafuku have two types of sauce: a regular okonomi sauce and the spicy okonomi sauce. These sauces are also great for steamed vegetables, chow mein, or marinating meats. You won't be sorry to have one in your fridge!
Product Info & Photo Credit: https://otajoy.com/
Gochiso Magazine, Nijiya Market
Please follow and like us: