When the weather becomes cooler, people tend to have bigger appetites. Let's eat nutrition-rich food to shake off the fatigue remaining from the hot summer weather! Here we'll introduce some seafood for the fall season.
Oyster
Oyster is referred to as the milk of the sea. Its nutritional value is outstanding, with the highest amounts of glycogen, taurine, vitamin A, B, and C, niacin, zinc, and iron compared to other seafood. It will nourish you well!
Nijiya purchases bottled, ocean-fresh raw oysters delivered by air from Washington State. Japanese farming methods have been introduced to the contracted farm, and the oysters are grown in a clean environment. Harvested just before shipping, the extremely fresh meats are bottled right after the shells are cracked. They taste rich, sweet, and creamy. The highest quality is truly worthy of being called the milk of the sea.
Oil-Marinated Oysters Recipe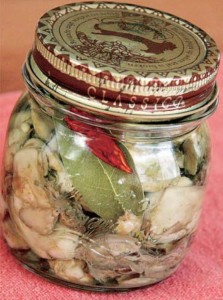 Ingredients (Serves 3-4)
10-1/2 oz. oysters
1 clove garlic
1 bay leaf
1 red chili pepper
Vegetable oil, as needed
Salt, as needed
---
Cooking Directions
Sprinkle salt on the oysters, and rub lightly by hand. Rinse well. Set aside on paper towels to dry well.
Heat a frying pan over high heat. Dry-fry the oysters until the moisture has evaporated.
Place the oysters (2), crushed garlic, bay leaf, and red chili pepper in a jar you have sterilized in boiling water. Add enough vegetable oil to cover the oysters. Place the lid on the bottle and store in the refrigerator.
* Best after 2 or 3 days. Can be preserved for about 2 weeks if the bottle is kept refrigerated
Wild Sockeye Salmon from the Copper River
Nijiya's sockeye salmon is different from any other because the salmon is wild-caught in the Copper River! This shows our strong commitment to provide our customers with safe, healthy, natural, genuine sockeye salmon that isn't farm- raised. Instead, this wild-caught fish is grown in Alaska, where nature rules. The distance from the outlet of the Copper River to the tributary where the adult salmon spawn is about 500 kilometers (311 miles), a very harsh journey. The salmon that conquer these severe conditions to travel to the spawning grounds are rich in nutrition; their fat level is said to be among the richest of all sockeye salmon. Copper River salmon enjoy the highest rating in the world because of the extraordinary quality of their meat and fat content.
Lomi Lomi Salmon Recipe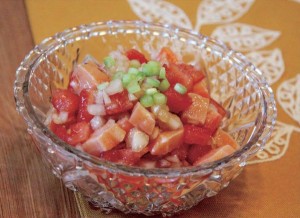 Ingredients (Serves 2-3)
3-1/2 oz. bar of sashimi-grade salmon
1/4 onion
1/2 tomato
1 Tbsp. olive oil
1 tsp. shoyu (soy sauce)
Lemon juice to taste
Green onion, chopped (as desired)
---
Cooking Directions
Dice the salmon into cubes of about 1/2 inch. Peel the tomato and remove the seeds. Dice the tomato into cubes of about 1/2 inch. Chop the onion and place it in water.
Squeeze the excess moisture from the onion. Mix all the ingredients in a bowl.
Place the mixture in a serving dish. Top with chopped green onion.
Wild Salmon Roe Marinated in Soy Sauce
Nijiya's soy-sauce marinated salmon roe uses only Alaskan wild salmon roe. In summer, we carefully select delicious seasonal salmon, process its fresh roe at the site and freeze it. Our salmon roe maintains its excellent flavor throughout the year, because it's preserved fresh. The selection of roe is carried out under strict standards by skilled people. Only selected, highest-quality roe can carry the Nijiya brand name. Moreover, our salmon roe is marinated in a special, original sauce. The flavor is just right, neither too sweet nor too salty.
Salmon and Salmon Roe Sushi in a Cup Recipe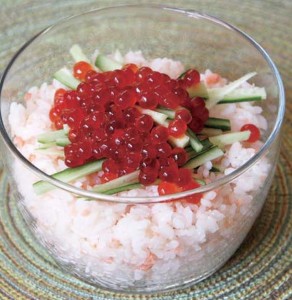 Ingredients (Serves 2)
2 cups cooked rice
2 Tbsp. sushi vinegar
3 Tbsp. salmon roe
3 Tbsp. salmon flakes
1/2 cucumber, grated
2 tsp. white sesame seeds
---
Cooking Directions
Mix the warm cooked rice and sushi vinegar to make sushi rice. Add the salmon flakes and white sesame, and mix.
Place the sushi rice in a cup. Top with grated cucumber and salmon roe.
Sea Urchin
Japan is said to be the world's number-one consumer of sea urchin. Purple sea urchin, northern sea urchin, green sea urchin, shortspined sea urchin, etc., are on the market mainly as products of Japan. Today, Nijiya recommends red sea urchin. Red sea urchin is hard to spot, as it lives in deep water. Moreover, it's a very delicate creature; if it is injured even slightly, it sheds its spines and dies. Therefore, red sea urchin is considered to be extremely valuable. It tastes particularly rich and creamy. In Japan, red sea urchin is highly valued for its uperior quality. We have committed to purchasing sea urchin directly from the processor, as we want our customers to experience the difference in taste. By purchasing it from the processor, we're able to deliver extremely fresh, delicious sea urchin to our customers. It is true to say, "Sea urchin requires no cooking skills. The only thing that matters is its freshness." Sea urchin is best eaten raw. We recommend eating sea urchin with cold tofu or cucumber slices, so you can enjoy the flavor with even a small portion of sea urchin.
Sea Urchin Warship Roll Recipe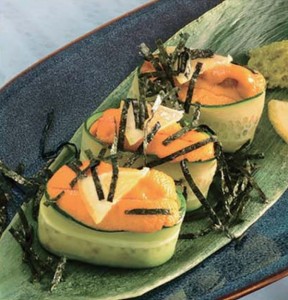 Ingredients (Serves 2)
Sea urchin
Cucumber
Sushi rice
Lemon
Chopped nori (dried seaweed), all as desired
---
Cooking Directions
Slice the peel of the cucumber into long, wide strips with a slicer.
Wrap the sushi rice with the cucumber slices to form warship rolls.
Top the rolls with the sea urchin and lemon, and place on a plate. Sprinkle with the chopped dried seaweed.
Serve with soy sauce and wasabi.
Gochiso Magazine, Nijiya Market
Please follow and like us: