Contents
The nutritional and health benefits of soy milk
Recently, soy milk has drawn increasing attention from health-conscious people. Because it is plant-derived, it's low in fat and has zero cholesterol. For people who want the health benefits of soybeans but don't actually want to eat them, soy milk is a great alternative because it lets you take in all the abundant nutrients of soybeans efficiently. Its most notable nutrient is soy isoflavone, which plays an important role in maintaining hormonal balance and preventing osteoporosis. Soy milk is also rich in B-complex vitamins, vitamin E, and minerals. One glass a day can support the health of people of all ages. Over the years, the flavor and aroma of soy milk has improved, thus making it easier to drink. Soy milk is a very versatile beverage; you can just drink it as it is, or use it in dishes and desserts.
How to cook soy milk?
Tan Tan Udon (udon noodles in spicy soup) with Soy Milk Recipe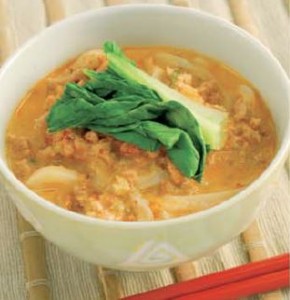 Ingredients (Serves
2

)
2 servings of frozen udon noodles (or 7 oz. somen noodles)
3.5 oz. ground pork
1 head chingensai (baby bok-choy)
4/5 cup Nijiya Organic Soy Milk (regular)
1 1/5 cup chicken broth
2/3 green onion, chopped
1 tsp. garlic, chopped
3 Tbsp. white surigoma (ground sesame seeds)
2 tsp. tobanjan (Japanese chili paste)
1 Tbsp. sesame oil
2 Tbsp. Nijiya Organic Miso
---
Cooking Directions
Cut off the ends of the chingensai and pull off each leaf. Cut the leaves to separate the leafy parts from the tough stems. (Cut the stems in half lengthwise.) In a pot, bring water to a boil. Blanch the chingensai; put in the stems first and then the leafy parts. Take the chingensai out and dip in cold water.
Heat the sesame oil in a frying pan over medium heat, and add the ground pork. Cook until it crumbles. Add the green onions and garlic. Once you smell a strong aroma, add the tobanjan, surigoma, and miso and continue to stir fry. Pour in the soy milk and chicken broth. Bring to a boil.
Cook the udon or somen noodles and put in serving bowls. Pour the results of step 2 over the noodles and place the chingensai on top.
Spicy Soy-Milk Nabe (one-pot dish) with Beef and Winter Vegetables Recipe

Ingredients (Serves 4)
1/2 head nappa cabbage
1 bunch of Tokyo negi (green onions)
10.5 oz. beef (thinly sliced)
[Soy Milk Soup]
2 1/2 cups Nijiya Organic Soy Milk (regular)
4/5cup dashi soup stock
4 Tbsp. Nijiya Organic Miso
1 to 2 Tbsp. kochujang (Korean chili paste) (optional)
2 Tbsp. sake
1 Tbsp. soy sauce
1 to 2 tsp. grated garlic
---
Cooking Directions
Cut the nappa cabbage coarsely into about 2-inch lengths.
Slice the negi at an angle into several pieces.
In a nabe pot, combine all the ingredients for the soy milk soup and bring it to a boil. Once the soup has reached a boil, add the beef and cabbage. Simmer for 7 minutes. Add the negi before serving.
Kintoki-imo Pudding (Japanese sweet potato) Recipe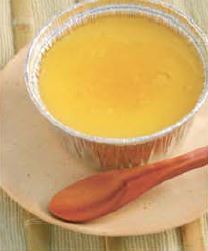 Ingredients (Serves 4 to 5 pudding cup)
[For pudding batter]
4/5 cup Nijiya Organic Soy Milk
5 Tbsp. whipping cream
1.4 oz. sanontou (Japanese brown sugar) or sugar
A few drops of vanilla extract
2 large eggs
The yolk of one large egg
Honey (to taste, optional)
Butter (to taste)
---
Cooking Directions
Thoroughly wash the kintoki-imo and then pat it dry. Cut into slices 1/2 inch thick. Place the kintoki-imo slices in a microwave-safe shallow dish, and cover with plastic wrap. Microwave for 4 minutes (till tender). Remove the skin, being careful not to burn yourself. Strain the kintoki-imo.
Butter the inside of each pudding cup.
Heat the soy milk, whipping cream, sanontou, and vanilla extract in a saucepan over medium heat. Turn off the heat just before it reaches a boil.
In a bowl, beat the eggs and egg yolk. Whisk the results of step 3 into the egg mixture. Add the results of step 1 and mix well. Using a strainer, strain the pudding mixture into another bowl.
Pour water into a frying pan to a depth of 3/5 and bring it to a boil.
Pour the results of step 4 into the cups, and skim any small air bubbles away from the surface.
Place the cups in the hot water in the frying pan "5". Cover and steam for about 10 minutes. (Wrapping the lid with cloth will prevent water from dripping onto the pudding, which will cause small holes on the surface.)
Gently shake the pudding cups. When the center wiggles a bit, it's done. Let it cool down and refrigerate for about 30 minutes. If you like, pour honey over the top.
Gochiso Magazine, Nijiya Market
Please follow and like us: