Top 5 Reasons to Attend Sushi Chef Institute
Students can acquire necessary sushi skills in ONLY 2 MONTHS with our unique curriculums
Licensed institute by US Federal government & the State of California
Issue I-20 to apply for M-1 student visa
Learn traditional to contemporary styles of popular sushi & rolls
Job placement support by our Sushi Chef Agent service
About Sushi Chef Institute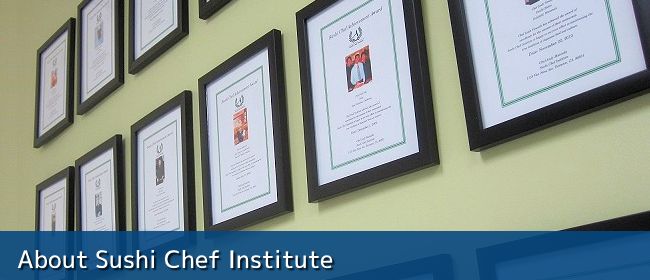 Are you looking for a good Sushi School?
Would you like to receive the highest quality of sushi making education? Would you like to be a master in Japanese cooking? We are sure to meet your expectations. Sushi Chef Institute is a Sushi School for anyone who wants to learn Sushi making and traditional Japanese cooking.
The instructor, Chef Andy Matsuda, was the first person authorized to serve as a sushi instructor in California's Private Postsecondary and Vocational Education Institution. He has been publicized in People Magazine, New York Food Magazine, and US newspapers and appeared on local Fox 11 TV. In addition to teaching students at SCI, he has taught instructors at Le Cordon Bleu (French culinary school). Chef Andy Matsuda was also chosen as one of the "100 Japanese world respected people" in the Newsweek Japanese Edition Pop Up (Issue Oct. 17, 07).
On June 6th 2008, SCI became the only sushi school in the U.S. to offer I-20 (for M VISA) to international students. We will support your dream and hope to see you soon in our class at SCI.
SCI Classes Offer
Japanese instructor with over 30 years of experience.
Small class size for undivided attention to each student.
Expert skills in a 2-month concentrated curriculum.
Complete details of Sushi skills and Japanese cooking techniques.
How to prepare over 30 kinds of fish and shell fish.
Instruction on food calculations, regulations and opening a restaurant.
Hands-on instruction in a professional kitchen.
Field trips to fish market and food company.
During and After Graduation
Participate in many exciting events and catering services.
Support in finding a job, over 80% of graduates find jobs.
Internship to Japan for qualified graduates.
SCI Also Offers
I-20 (for M VISA) to international students.
Consulting for all aspects of restaurant business.
Sales of DVDs and textbooks produced by Sushi Chef Institute.
SCI private label Japanese knives from Osaka, Japan.
Japanese cooking utensils.
Opportunities to sample new products from food manufacturers.
Information for accommodations in Los Angeles.
>> More detail
Chef Andy Matsuda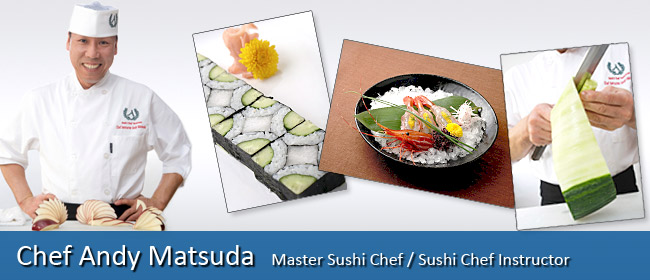 Chef Andy Matsuda (Master Sushi Chef / Sushi Chef Instructor)
Chef Andy Matsuda was born near Kobe, Japan in 1956. When he was 9 years old, the family started a small Japanese restaurant, where he learned the joy of cooking. After graduating from high school, he began to work as an apprentice at 'Genpachi', one of the most famous restaurant in Osaka, for 5 years. He also became a member of Sushi Chef Organization called 'Yosei-kai'. At the age of 23, he returned to his hometown to help expand the family business. Once that was completed, at the age of 25, his new challenge in life was to move to Los Angeles, California.
His first job was in Little Tokyo as an assistant, but within a week was promoted to Chief Sushi Chef.
Since then, Chef Matsuda has worked at fine Sushi Bars in Santa Monica, Aspen, New York, and also has had the opportunity to work for major hotels learning to cook other ethnic cuisine, such as French, Italian, Thai, and many other cuisines.
At the age of 36, Chef Matsuda faced the biggest challenge of his life; he was diagnosed with Colon Cancer and began the battle for his life. Going through 4 years of intensive treatments and self reflection, he began to understand the relationship between food and health, people and environment.
Overcoming Cancer, he was full of appreciation and wanted to somehow pay back his dept of gratitude to American Society. This is his gift to America.
In 2002, he started Sushi chef training school in downtown, Los Angeles, "Sushi Chef Institute". He teaches beginners and professional chefs from all over the world.
Chef Matsuda's vision to the future
As a Chef, I would like to impart my knowledge of Sushi to various people, in accurate and comprehensive manner, in order for them to discover new aspects of Sushi and gain more interests in this field. Also I would like to teach and pass on my way of gratitude toward nature, love among individuals and peace among countries. I hope to instill the core of my teaching philosophy, which is based on my profound appreciation for the nature, family and society, to people from all walks of life.
>> More detail
Sushi Professional Course (2 months to become a Sushi Chef)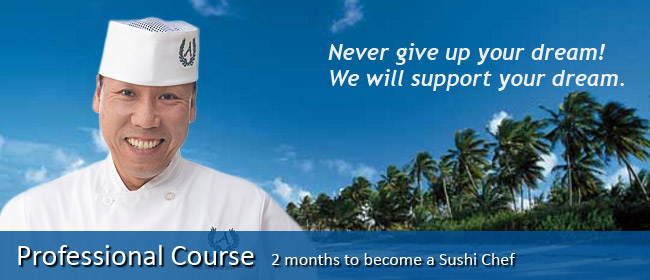 Professional Course consists of Professional 1 and Professional 2 Classes.
Our Professional Course is high-leveled contents to become a sushi chef in 2 months.
In fact, some students have opened their restaurant right after the graduation.

Professional Course is the best for people who want to become a sushi chef at the earliest.

Outline of Professional Course

This course covers Japanese ingredients and stocks, popular Japanese cuisine, preparation of sushi rice, how to make traditional and modern (California/American) style rolls, and sauce making for rolls.

In depth training of techniques on making and presenting nigiri, traditional style sushi (chirashi and box sushi, etc.) and sashimi, as well as preparing fish and shellfish are also covered in this course.

This course also includes how to maintain and sharpen Japanese knives, basics of Japanese cooking techniques of grilling, frying, steaming, simmering, garnishing, plating and decorating.

Sushi bar simulation is conducted while attending school; this gives our students an outlook of what is it like to take orders from a customer and in turn create and serve their dishes.

The importance of knowledge with food cost and estimation, hygiene management, catering operation and restaurant business management are other subjects covered in this course.
>> More detail

Sushi Chef Institute:

1123 Van Ness Ave., Torrance, CA 90501
Office: +1-310-782-8483
Fax : +1-310-218-0026
E-mail: mail@sushischool.net
Web: www.sushischool.net




Please follow and like us: