Contents:
Takoyaki – What is it? How to make it?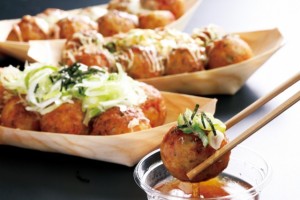 Takoyaki literally means fried tako, octopus. This is a mouthwatering street food that originated in Osaka, Japan. Takoyaki is basically a bite-sized dough ball with an octopus chunk inside. It is great as a quick lunch or even an appetizer for dinner. Many Japanese love to host takoyaki parties with their friends and make takoyaki together. It's a fun activity and conversation flows when making takoyaki with the takoyaki hot plate. If you want a real authentic takoyaki, find someone from Osaka, they live and breathe takoyaki. If you don't have a friend from Osaka, we've got it covered!
Here is a simple and easy takoyaki recipe for you! You might need several tries, but don't get discouraged, it's same with any Japanese natives as well!
Takoyaki recipe & Takoyaki Batter recipe
Takoyaki Batter Recipe
Ingredients (Serves about 30 pieces)
1 1/2 cup flour
3 1/2 cups dashi soup
3 eggs
2 in. yam grated (optional)
1 Tbsp. mirin
1 Tbsp. light soy sauce
---
Cooking Directions
Whisk the eggs in a bowl. Then add in the grated yam and dashi-soup.
Add flour little by little, so there will be no lumps.
Add soy sauce and mirin. Mix well.
Store in the refrigerator.
Takoyaki Recipe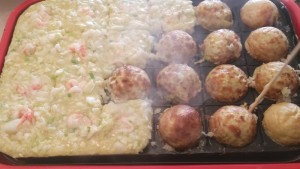 Ingredients (Serves
approx. 30 pieces

)
0.3 lb octopus (cooked)
Green onion (small cut) an appropriate amount
1/4 to 1/3 cabbage (chopped)
Tenkasu (crunchy bits of deep fried flour-batter)
Takoyaki sauce, mayonnaise, bonito, etc. your choice
*For the takoyaki batter, please refer to "Takoyaki Batter Recipe" above
---
Cooking Directions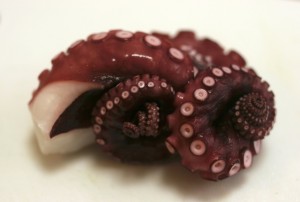 Cut octopus in small size in 1/2 in.~ 3/4 in. and cook well.
*You can use shrimp (or any of your preference) instead of octopus.
Mince cabbage.
Take out the batter and mix cabbage and green onion well.
Pour batter into well oiled takoyaki pan.
Add octopus in each hole, sprinkle tenkasu.
When the bottom of the balls have hardened, separate the connected batter in between each of the halves with skewers.
Then turn over each piece 180 degree, stuffing in the edges as you are turning. The batter flows out from the inside of each ball and creates the other side of the takoyaki ball.
Wait few minutes until the bottom has hardened, turn the balls a few times to make a good round shape.
When the balls become brown all around, it's ready! Sprinkle bonito flake and add takoyaki sauce and mayonnaise.
Ingredients
Takoyaki is a great finger food, perfect for dinner parties or just as a snack. So, what are takoyaki ingredients? Traditionally, takoyaki ingredients are
diced tako (octopus)
,
green onion
,
cabbage
,
pickled ginger
, and
tenkasu (tempura bits)
. The ingredients of the batter are:
flour
,
eggs
,
dashi soup stock
,
soy sauce
, and occasionally
mirin cooking sake
and
grated yamaimo yam
. The dashi soup stock gives a savory flavor to the takoyaki, and after it is cooked you can put takoyaki sauce or mayonnaise on top of it along with the aonori seaweed flake, or dried tuna flake. The dashi soup stock is made of kombu kelp, tuna flakes or dried shiitake mushrooms, and this dashi can also be bought in Asian super markets. When deep-frying the takoyaki it should be slightly crispy on the outside and soft in the inside. The dashi soup stock makes the inside more soft than fluffy, and that is how it's supposed to be. If you want to be creative, you can add some unique takoyaki ingredients such as
cheese
,
bacon
,
shrimp
,
mochi
or whatever you desire. For vegetarians or to sneak some extra vegetables into your kid's meal, you can put in your favorite veggies such as finely
minced carrots
,
zucchini
,
spinach
or even
potato salad
in the batter. If you want a spicy takoyaki, then add
kimchi
or
jalapeno
. Takoyaki is traditionally supposed to be a savory dish, but you can definitely make it sweet, like a Danish pancake ball. In this case, make sure to use
milk
instead of the dashi soup stock and soy sauce for the batter. Dust the pancake ball with
powdered sugar
or put
jam
inside it after it's cooked. Mixing
chocolate chips
in the batter will be delicious too. How about some takoyaki for dinner or for lunch? Have fun with the ingredients and be creative!
The Best Pan for making Takoyaki
What is Takoyaki Pan?
Are you adventurous? Then instead of buying a premade or frozen takoyaki you can make this delicious Osaka treat in your own kitchen. So what do you need to make takoyaki? There are two types of appliances for making takoyaki, an electric takoyaki maker and a takoyaki pan, made from either cast-iron or non-stick Teflon, that goes right on your stovetop. Both of these items resemble a waffle maker with a dozen or more round molds to pour your batter in, but instead of clamping it shut you shape the balls by turning them as they cook. Where can you get these awesome takoyaki makers? Your nearest Asian supermarket should carry them, but if not an online shop like Amazon will definitely have them.
Let's try our Takoyaki recipe and host a party!
When you try our takoyaki recipe in an electric maker or stovetop pan be sure to grease the molds with oil before pouring in the batter, just as you would with a waffle maker. Also, you should get a bamboo stick or a barbeque skewer to flip the takoyaki balls while they cook. For people who like hosting dinners or entertaining friends, the electric takoyaki maker is a good choice because you can make takoyaki right on your table. It's a great conversation piece and you can have your guests try to make their own takoyaki balls.
Super Easy Meal – Enjoy Premade Takoyaki at Home!
The question is how do you bring this delicious Osaka street food to your home? The good news is you don't need to go all the way to Japan! So, leave your passport at home and head to the local Asian supermarket. The frozen food section will have premade frozen takoyaki that all you need to do is heat up. I would suggest sticking with a major Japanese brand such as Nissui, JFC or Kibun, since these food manufacturers and suppliers are experts in bringing this delicious Osaka treat straight to your kitchen. Frozen takoyaki comes in about 18 to 20 pieces per package, which can be made all at once or a few at a time. Make sure to get the takoyaki sauce if it doesn't come with a packet. If you can't find a Japanese takoyaki sauce, then Worcestershire or your favorite BBQ sauce will work fine. For an alternative dipping experience try real Japanese mayonnaise, this is also a popular option in Japan.
Frozen takoyaki is great for snacks, a quick bite for lunch or appetizers for a dinner party. The best part is that it's super easy to make, you just heat it up in the microwave, frying pan or the oven. If you want it crispy on the outside and soft and creamy on the inside, microwave it first and then fry it in a pan. After that, sprinkle a generous amount of sauce on top and you're done! This Japanese treat has a very savory flavor and gives you a crispy, creamy, chewy texture all together. If you want to be really authentic, put a dash of bonito and aonori seaweed flake on the top for extra flavor. Oh, just be careful not to burn your tongue when you pop the takoyaki ball in your mouth, it's very hot inside!
Please follow and like us: