Instant ramen noodles are dehydrated by flash-frying it in hot oil that makes a cheap, quick, and easy meal, which can be ready to eat in 3 minutes.
Contents:
What are Instant Ramen Noodles?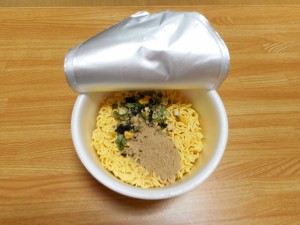 With so many authentic ramen houses now in major cities in the US and all over the world, I hope you know the difference between a ramen dish and instant ramen noodles. Instant ramen noodles are associated with college students, an ideal meal for those with a limited budget and even less time to cook. Instant ramen noodles are dehydrated by flash-frying it in hot oil that makes a cheap, quick, and easy meal, which can be ready to eat in 3 minutes. A bowl of ramen in a ramen house, on the other hand, is a somewhat high-end dish made with fresh ingredients and each ramen houses' original signature broth, and can cost anywhere from $10 to $15. Just remember, whether you are enjoying instant ramen noodles or fresh ramen noodles, the soup can be salty and is mainly meant to be a sauce to flavor the noodle and not a soup to drink. So, if you want to cut down on sodium, don't drink up the soup.
History of Instant Ramen Noodles
One of the greatest inventions of Japan is instant ramen noodles. Momofuku Ando, the founder of Nissin Foods, created the first instant noodle in 1958. He came up with the idea of creating instant ramen noodles right after World War 2 to end hunger in Japan, but at that time he didn't have the budget to go forward. For more than a decade, he dedicated his time going through hundreds of trials and errors trying to figure out how to preserve noodles for a year, most of the time sleeping only 4 hours a day. Back in those days, all the noodles were made fresh and there was no way to preserve them for a longer period. Ando had an "a-ha!" moment when he saw his wife deep fry a tempura dish. That was when he thought of the flash-frying technique which you fry the noodle at a very high temperature. This is how the first instant ramen noodle was born, and, as they say, the rest is history. Instant ramen noodles even made it to space on-board the US Space Shuttle Discovery when Soichi Noguchi, the Japanese astronaut, brought along special instant space noodles which the noodle pioneer Ando has created.
Types of Instant Ramen Noodles: cup or a packet
There are two types of instant ramen noodles. The cup noodles come in a cup shaped container with the noodles with the ingredients already in it, just pour hot water in the cup, wait for three minutes, and enjoy. The noodle package, however, takes a little more preparation since it only comes with the dried noodles and a soup seasoning, so you will want to add toppings such as boiled eggs, spinach, tofu, and cheese, or anything else you like. Then all you do is boil the noodles for three minutes, add the soup seasoning packet and your toppings. With a little creativity you can turn your instant noodles into a fancy meal! The dehydrated noodles are pre-cooked in the flash-fry process so you can just break them up and use them as salad toppings or give any dish an extra crunch. For more recipe ideas, go to any noodle company's website.
Best seller Instant Ramen Noodles
Nissin Top Ramen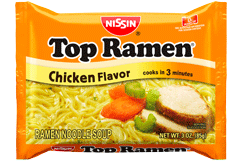 Top Ramen is synonymous with instant ramen noodles and is produced by Nissin Foods. This is where it all started, the original instant ramen noodles. Top Ramen noodles come in six flavors: Chicken, Beef, Shrimp, Oriental, Chili, and Picante Beef. If you are new to Top Ramen, start with the classic Chicken flavor.
Product Info & Photo Credit: http://www.nissinfoods.com/products/topramen
Sanyo Foods Sapporo Ichiban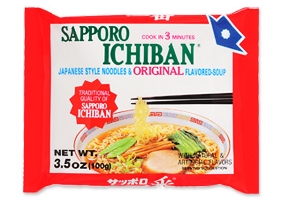 Sapporo Ichiban by Sanyo foods is another top selling instant noodles brand. Sanyo foods was founded in 1958 and specialized in manufacturing dried noodles. It was not until 1966 that their signature instant noodle line, Sapporo Ichiban, was born. The CEO at the time traveled to Sapporo Hokkaido in the most northern part of Japan where he ate an exceptional ramen. This bowl of ramen inspired him to create the Sapporo Ichiban instant noodle and serve the same delicious taste at home. Sapporo is famous for its Miso ramen and Sanyo Foods is the first to incorporate this flavor into their instant noodles, now a classic flavor that all instant noodle companies offer. Today, Sapporo Ichiban noodles come in seven flavors; original, shio, chicken, beef, shrimp, Hot & Spicy Chicken, and of course miso.
Product Info & Photo Credit: http://sanyofoods.us/products/original.html
Myojo Chuka Zanmai

If you want an upscale instant ramen noodles experience, you have to try Chuka Zanmai, the premium instant ramen noodles of Myojo. The price is slightly more than Top Ramen but Chuka Zanmai gives you restaurant quality noodles. The soup is rich and flavorful, loaded with umami seasonings, and even ramen connoisseurs in Japan highly praise Chuka Zanmai. These instant noodles come in three classic flavors; the hearty and savory Miso Soybean Paste, Oriental Salt and Soy Sauce, for those who want a lighter soup.
Product Info & Photo Credit: http://www.myojofoods.co.jp/products/chuka_zanmai/
Myojo Charumera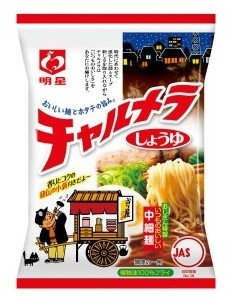 Myojo's other top selling instant noodles line is Charumera. The name Charumera comes from the Portuguese word charumela, which was a type of flute blown by the street vendors while selling the ramen noodles. Look for the flute playing ramen seller on Myojo Charumera's package. Charumera comes in three classic flavors, Shoyu, Tonkotsu Shoyu, and Miso, and all have been a favorite of Japanese instant ramen lovers for more than 60 years.
Product Info & Photo Credit: http://www.myojofoods.co.jp/products/charumera/
How Instant Cup Noodles were born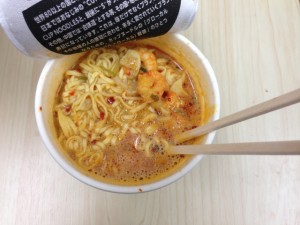 Momofuku Ando, the inventor of instant ramen noodles had another "a-ha! " moment after visiting the US in 1966. In Japan, ramen noodles are served in a ramen bowl, but in the U.S. Ando saw Americans breaking up instant ramen noodles and eating them in a cup. This is how instant cup noodles were born. The contents are simple, dehydrated vegetables, noodles and sauce, and then you just pour hot water in the cup, wait for three minutes and it's ready to eat. Instant cup noodles are a brilliant idea because you do not need an extra bowl or cup, just hot water and a utensil. It's great for a quick lunch in the office or at home, and its light weight and ease of preparation make instant cup noodles great for camping. Some people even like to snack on it just like chips!
Top Selling Instant Cup Noodles
Nissin Cup Noodles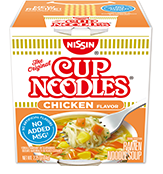 The king of all cup noodles, the iconic Top Noodles, have eight flavors; Chicken, Beef, Shrimp, Chicken Vegetable, Hearty Chicken, Spicy Lime Shrimp, Hot & Spicy Shrimp and Spicy Chile Chicken. Starting in 2016, Nissan cup noodles have less sodium and use no MSG or artificial flavors. It's easy to pack so you can just toss it in your bag for a quick meal anywhere you like, and since you only need hot water you could eat cup noodles while travelling on a train or a plane. It's a hearty quick meal on a go!
Product Info & Photo Credit: https://www.nissinfoods.com/products/cupnoodles
Maruchan Instant Lunch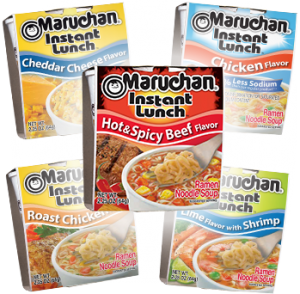 Maruchan took it up a notch and have 22 flavors: Chicken, Lime Chicken, Lime Chili Chicken, Creamy Chicken, Roast Chicken, Hot & Spicy Chicken, Sriracha Chicken, Beef, Hot & Spicy Beef, Roast Beef, Shrimp, Chili Piquin with Shrimp Hot & Spicy Shrimp, Lime Chili with Shrimp, Chipotle Chicken, Lime with Shrimp, Chicken Tortilla, California Style Vegetable, Cheddar Cheese, Jalapeno Cheddar, 35% Less Sodium Chicken and 35% Less Sodium Beef. You can definitely call yourself an Instant Noodle connoisseur after eating all these flavors!
Product Info & Photo Credit: http://www.maruchan.com/our-products/instant-lunch
Sapporo Ichiban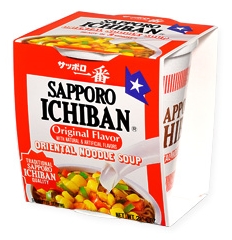 Sapporo Ichiban, another all Japanese instant noodles brand comes in four flavors and all include dehydrated vegetables of corn, carrot and leek. The Original flavor is the classic shoyu, which is the soy sauce + chicken broth. The Chicken flavor is light but flavorful, and comes with imitation chicken made from soy. The Beef flavor is beef stock + shoyu with corn, carrot, green peas and imitation beef also made from soy. Lastly, the Shrimp flavor, which is made with chicken stock + shrimp broth, brings out the sweetness of the seafood. In addition to the dehydrated vegetable, this one comes with freeze dried shrimps.
Product Info & Photo Credit: http://sanyofoods.us/products/original_cup.html
Please follow and like us: