Awabi is a gourmet food that, when consumed raw, tastes exquisite with its firm, chewy texture full of sea aromas. Even when cooked, awabi always delivers delicate, savoy sweetness.
Known to be the most nutritious shellfish, awabi has also been used for medicinal purposes and is believed to be effective in treating eye problems.
Contents:
Natural Awabi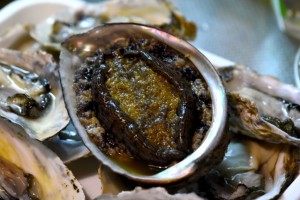 A great number of quality awabi can be found in the waters around Japan, which are known to be among the world's most flourishing fisheries. Since ancient times, Japanese dried awabi has been considered a highly prized export item, and it was once priced as high as gold and silver. Today, due to over-harvesting, there are no wild-bred awabi left. Those in the market are naturally farmed. In natural farming, artificially bred juvenile awabi are released into restricted areas of the ocean to be reared under natural conditions. Still, this hasn't changed the fact that awabi is one of the highest priced, most desired food items in the world. In the Pacific Ocean along the coasts of the U.S. and Mexico, awabi were once harvested in great numbers. However, awabi is now considered to be endangered and a total ban has been placed on the harvesting of awabi. Awabi feed on seaweed alone and grow at a very slow rate; it takes ten to twenty years to reach a marketable size. Over-harvesting can result in substantial damage to awabi habitats, and the recovery from such damage could take years.
Awabi Farming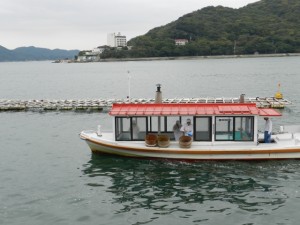 In America, wild shellfish such as awabi, oysters and clams live on the ocean floor, filtering seawater for food. Therefore, they tend to be contaminated with heavy metals and other toxic substances, which is why it's against the law to distribute and sell wild shellfish as food products. Those sold at supermarkets or eaten at restaurants are quality-controlled awabi that have been farmed in seawater. Awabi farming is painstaking because it's a time-consuming, financially inefficient business. Despite the careful attention paid to the quality and temperature of the seawater, the growth rate of awabi is extremely slow. In fact, it takes over ten years for awabi to grow into a size large enough to be shipped to sushi restaurants. That's the reason they're priced so high. However, there is also a strong demand for smaller sized awabi –meaning too small for use in sushi–that are available at reasonable prices. A six-year-old awabi can be purchased at half the price of a twelve-year-old awabi, and the price for a three-year-old awabi is half that of the six-year-old one. Although smaller in size, it still tastes delicious.
False Awabi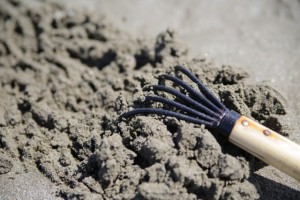 Tokobushi is a shellfish that looks most similar to awabi, and it's hard to tell the two apart. People generally think that tokobushi is a smaller version of awabi, but that's not accurate. Compared to the awabi, the tokobushi shell has more holes and a flatter appearance, and contains less meat. Its distinctive sea aroma and the appearance of the meat are certainly similar to those of awabi, but its chewy texture and overall flavor are totally different. Tokobushi is typically used in simmered dishes whereas awabi is often served raw (sashimi style). At Asian or gourmet markets, you can find canned or frozen shellfish labeled as "ABALONE" that are sold at surprisingly low prices, these are actually "false awabi," such as korogai and rabasugai.
Tasty Three-Years-Old Awabi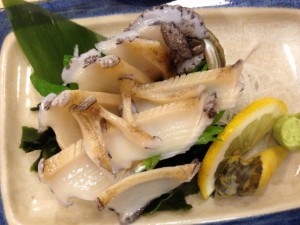 The three-years-old awabi is about 2.5 inches in diameter, and it's best eaten raw. Using a spoon, shuck the meat from the shell. Remove the small gut and chop the meat into six or so bits without washing it. Now you have one of the finest hors d'oeuvres in the world. First, try it with a splash of yuzu juice. Your mouth is filled with ocean aromas. Next, taste it with a little bit of soy sauce. Your mouth explodes with the savory awabi flavors. Now, squeeze yuzu juice over the gut and take a bite.
It's so delicious! You simply have to try it!
Let's Cook Awabi! (Awabi Recipe)
Spicy Boiled Awabi and Konnyaku Recipe
Good snack with alcohol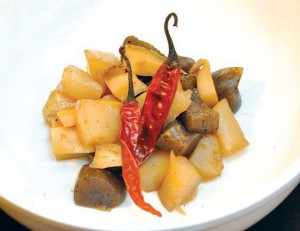 Prep time:
Coock time:
Total time:
Ingredients (Serves
2

)
2 middle size awabi/abalone
1 sheet konnyaku
Sesame oil, as needed
1 Tbsp. Japanese sake (rice wine)
2 Tbsp. mirin (Japanese sweet cooking rice wine)
2 Tbsp. dashi
2 Tbsp. shoyu (soy sauce)
Shichimi Togarashi (a mixture of red pepper and other spices), as desired
---
Cooking Directions
Steam awabi steeped in Japanese sake.
*Don't steam awabi for over 15 mins (appropriate time is 10 to 15 mins)
Cut awabi and konnyaku into bite-size pieces.
Stir-fry [2] with sesame oil.
Add Japanese sake and dashi stock to [3] and boil it to evaporate alcohol.
Add mirin and shoyu, Shichimi Togarashi.
Recipe and photos by: The Surfside Sushi
Gochiso Magazine, Nijiya Market
Please follow and like us: