Bento is a Japanese term for a packed lunch taken to school, work, travel, or as a meal on the go.
Contents:
What is Bento?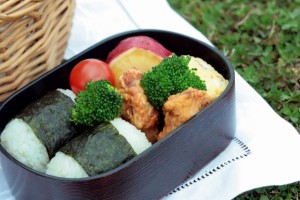 The first bento that a Japanese person will experience is the home-made bento prepared by their mother for school. For a Japanese mother preparing a healthy, balanced and portioned bento is an expression of her love for her children, making bento more than just lunch, but a family connection.
Japanese cuisine is all about presentation and having a variety of healthy foods. The rule of thumb for a healthy meal in Japan is one that contains a grain, protein, vegetable and fruit. These items are all assembled in a bento to make a complete meal, and most importantly are arranged in a fun way. For example, a mom will shape the food into animals, flowers or popular cartoon characters, which makes the kids excited to open their bento to see what their mom made. This surprise makes the food fun and encourages children to eat a healthy meal.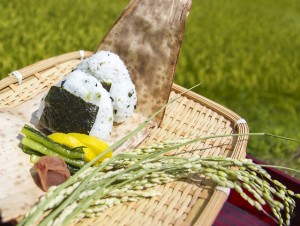 The Bento tradition can be traced back to 16th century Japan when people packed their lunch in a lacquered wooden box for picnics, and today bento has become an integral part of Japanese culture. Bentos can be purchased at supermarkets, department stores, convenience stores, train kiosks and bento shops throughout Japan and are sold in disposable containers larger than the home-made bento box. Similar to a home-made bento, the bentos people buy for lunch are healthy and arranged in way that is pleasing to the eye. Bento is not only for lunch at school or work but also great for potlucks, parties, and the still popular picnic. For a healthy lunch try a Japanese bento, and bringing a beautifully packed bento box to a party will sure wow your friends.
10 Most Popular Bento Dishes
Japanese bento is all about putting together a well-balanced meal packed neatly, and creatively, in a single box. Bento dishes in Japan are designed to be eaten without microwaving them, and the meals should be delicious even when it is cold. Let's take a look at popular dishes for bento in Japan. All you have to do is make these for dinner and leave some for the next day to pack in your bento box!
1. Karaage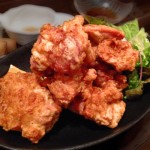 Karaage, pronounced "kara- agay", is Japanese fried chicken and it's a crowd pleaser. Marinate the chicken with teriyaki or soy sauce, fry it with corn starch and voila, you have a Japanese karaage!
2. Tamagoyaki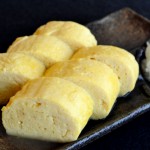 "Tamago" is egg and "yaki" means fried or grilled. Tamagoyaki is a rolled omelet which is a must-have dish for the Japanese moms to add a ray of yellow to their bento. Making tamagoyaki is easy, just beat some eggs, add a drop of soy sauce, a teaspoon of sugar, make thin layer of omelet and then roll it up. Cut this into inch sized pieces and there you have it.
3. Hambagu (Japanese Hamburger Steak)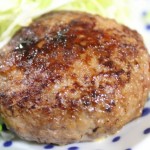 Hambagu is a Japanese hamburger steak made from a patty of ground beef or pork, chopped onion, eggs, and panko bread crumbs. Season it with teriyaki sauce and you can have a delicious hambagu for dinner and your bento!
4. Buta Shogayaki (Pork Ginger)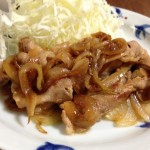 Buta shogayaki, pork ginger, is another popular dish in Japan. Marinate thinly sliced pork with soy sauce, grated ginger and garlic, mirin, sake, sugar and cook it all together in a frying pan. This is especially great with rice.
5. Niku Dango (Meat Ball)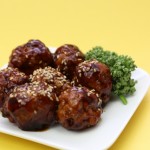 Niku dango is basically a Japanese meat ball. Mix together ground meat, chopped onion, eggs, and panko bread crumbs, shaped them into balls then either deep fry or boil them. After the niko dango are cooked then mixed them together with sauce made from sake, mirin (sweet sake), sugar and soy sauce, or you can just use teriyaki, Worcester or tonkatsu sauce. These are great for appetizers, too.
6. Kinpira (Sautéed Root Vegetable)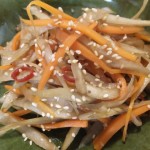 Kinpira is a root vegetable dish that your sauté with sake, mirin (sweet sake), sugar and soy sauce. The gobo kinpira is a mixture of burdock root and carrot and renkon kinpira is made from lotus root. Sprinkle it with sesame seed and you have a delicious and nutritious bento dish.
7. Potato Salad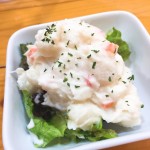 Japanese potato salad contains carrot, onion, cucumber and boiled egg. Smash the boiled potato and eggs quickly boil or steam thinly sliced carrot, and then add these together along with thinly sliced onion and cucumber. The key is to use real Japanese mayonnaise. If you make too much, you can also use it for a sandwich filling.
8. Piman Nikuzume (Ground Meat Stuffed in Green Pepper)
Piman is green pepper in Japanese. You stuff ground beef or pork, chopped onion, eggs, and panko bread crumbs in a half of the green pepper then fry it in a pan or bake it in the oven. You can also top it with cheese to add a little variety.
9. Salad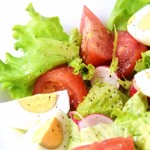 This is the dish where you want to bring in the colors. You might think of leafy greens when you think salad, but you can also use steamed vegetable such as broccoli, carrots, and zucchini. To make your salad full of color, add baby tomatoes or even sprinkle corn on top of it. Make sure you have a small separate container for the dressing so you won't have a soggy salad and your salad will also stay fresh longer.
10. Nimono (Simmered Dish)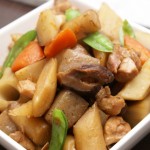 Nimono is a name for any simmered dish with the Japanese seasoning essentials: dashi soup, sake, mirin (sweet sake), sugar and soy sauce. Nimono is often simmered root vegetables, chicken or fish.
Bento Recipes
Karaage (Japanese Fried Chicken) Recipe
The most popular and basic bento menu in Japan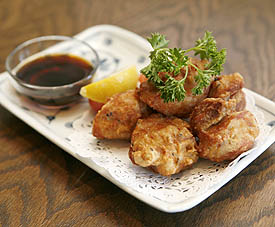 Ingredients (Serves 4-5)
2 lb. chicken thighs
2-3 eggs
3 1/3 Tbsp. (50ml) sake (Japanese rice wine)
2 tsp. (10ml) shoyu
7 mg garlic grated
7 mg ginger grated
35 mg potato starch
Flour, as needed
Salt and black pepper, as needed
Lemon, for garnish
---
Cooking Directions
Mince garlic and ginger.
Put [1] in a bowl, and add sake and shoyu.
Add chicken thighs into [2].
Add eggs, flour, potato starch, salt and black pepper, and whisk to combine.
Marinade for 20 minutes.
Fry the chicken in a pan at 350°F until it is thoroughly cooked.
Tips
Appropriate ratio of sake and shoyu is 5:1. If you'd like to increase or decrease sake or shoyu, keep this ratio.
Recipe and photo by: Japanese Restaurant Shin (心)
Tebasaki Karaage (deep fried chicken wing) Recipe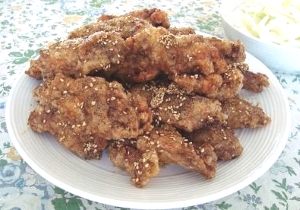 This is a local favorite chicken wing dish in Nagoya, Japan. There are more "tebasaki" restaurants in the downtown Nagoya compared to other parts of Japan. If you visit this city and walk around, you will find a good "tebasaki" restaurant in 10 minutes. However, homemade is tastier than anything you could get at the restaurants. Also it is easier to make than you thought.
Ingredients (Serves 30 pieces)
30 pieces chicken wing
5 Tbsp. potato starch
3 Tbsp. white sesame seeds
Black pepper
2 cups white sesame oil for deep fry
Sauce
5 Tbsp. soy sauce
6 Tbsp. mirin
1 Tbsp. brown sugar
4 Tbsp. sake
1/2 tsp. grated garlic
---
Cooking Directions
In a sauce pan, bring all of the ingredients for the sauce to a boil over low heat, and then turn the heat off.
PAT THE WINGS DRY, COAT WITH STARCH.
Lay chicken wings on cooking papers, sprinkle the wings with salt. Cover the wings with cooking papers, gently press, and let it stand for 5 minutes to remove excess water from the wings. In a large plastic bag, put the wings and potato starch. Seal bag and shake to coat.

In an 11 inch wok or a deep pan, heat 2 cups of oil to 350°F. Deep fry the wings, 6-8 pieces at a time, for 5-6 minutes on each side. Meanwhile, make sure the oil doesn't become too high. The wing should not be burned. When the wings reach golden color, transfer them onto a rack lined sheet tray with tongs to drain the excess oil. To avoid oil splashing, make sure the tongs are not wet before using.

Dip fried wings into the sauce, 2-3 pieces at a time. Then take them out mmediately.

Sprinkle sesame seeds and black pepper over the wings. Enjoy.
Recipe and photos by: Yasuko Muro
Dashimaki Tamago (Japanese rolled omlette) Recipe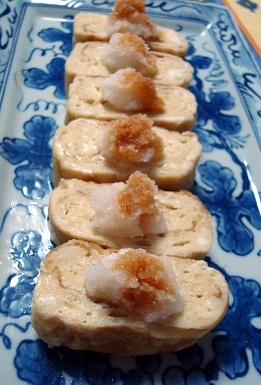 Dashimaki tamago is the most familiar dish on any menu; breakfast, lunch box and appetizer. Let's make the plain dashimaki tamago first.
Quickness is the key word here. There is no time to stop while preparing this dish. To make it the best, cooking with a special square fry pan (Japanese omelet pan) is recommended.
Ingredients (Serves 1 roll)
3 eggs
3 Tbsp. dashi
1 Tbsp. brown sugar
1 tsp. soy sauce
White sesame oil
5 Tbsp. daikon oroshi (grated Japanese radish), as desired
1 Tbsp. soy sauce, as desired
---
Cooking Directions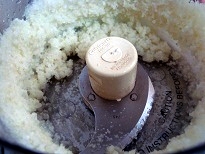 DAIKON OROSHI
Daikon is usually grated with a hand food grater called "oroshigane". Also it could be grated with a food processor. Best when it is served in a few hours.

MAKE THE EGG MIXTURE
In a medium sized bowl, whisk eggs with dashi, sugar and soy sauce. The surface of the egg mixture should not be very foamy.
COOK AND ROLL
Heat 2 teaspoons of white sesame oil in a square fry pan over medium heat.
When the pan gets moderately hot, pour a half of egg mixture into the pan, lean the pan over all sides to make the mixture thin and even. Before the egg mixture is thoroughly cooked, roll the mixture from the near side to the other side. Pull the rolled omelet to the near side of the pan, and then oil the pan again with a teaspoon of oil, pour the rest of the egg mixture evenly into the pan, also underneath the omelet. Roll the mixture again from the near side to the other side.
Repeat these steps until egg mixture is used up.

SERVE
Cut into one inch pieces. Serve with soy sauce and daikon oroshi if you like.
Recipe and photos by: Yasuko Muro
Mentai (seasoned cod roe) Dashimaki Tamago (Japanese rolled omlette) Recipe
Dashimaki Tamago is very basic Japanese dish and popular bento menu.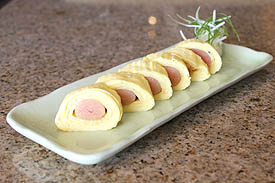 Ingredients (Serves 1 roll)
3-4 eggs
2 Tbsp. Japanese dashi stock
2 Tbsp. mirin (Japanese rice wine)
1 piece mentai (seasoned cod roe)
Daikon (Japanese radish) grarted, as desired
Vegetable oil, as desired
---
Cooking Directions
Whisk the eggs, Japanese dashi stock and mirin in a bowl.
Filter [1] with a sieve.
Heat the pan over medium heat, and pour oil.
Pour 1/2 egg mixture in the pan. When the bottom of the egg set, put mentai on the omlette and roll into a log shape from one side to the other side.
Move the rolled omlette to the side, and apply oil.
Pour the egg mixture to cover the bottom of the pan again.
Repeat step [4]-[6] for about 5 times until egg mixture is used up.
Turn off heat. Place the omelette on the bamboo mat and wrap it up.
Cut the omelette into bite-size pieces and serve on a plate.
Garnish with grated daikon.
Recipe and photo by: Hakata Yamaya
Chikuwa Bird Recipe
So cute! Kids enjoy their bento.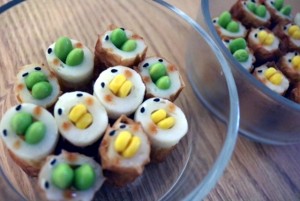 Prep time:
Coock time:
Total time:
Ingredients (Serves
6 birds

)
2 chikuwa
6 pieces edamame
6 pieces corn
12 pieces black sesame
Mayonnaise, as needed
Ketchup, as needed
Cheese, as needed
1/4 cucumber
---
Cooking Directions
Cut the chikuwa into three pieces.
Cut cheese and cucumber into shorter size than the cut chikuwa pieces.
Insert the cheese or cucumber into chikuwa's hole (This is for making edamame and corn to stay in)
Put corn or edamame into the chikuwa's hole to imitate a beak.
Put mayonnaise and place black sesame to imitate the eyes onto mayonnaise. (Use toothpick or something pointed)
Put ketchup to create cheeks.
Recipe and photos by: Shiorin
How to Pack and Decorate Bento

Japanese bento is all about balance. It needs to be well balanced in nutrients, color and portion. The golden rule to pack a Japanese bento lunch is to include well balanced meal in our bento box, on that is nicely portioned with carbs, fruits and vegetables, and a protein. Also, Japanese bento boxes are also smaller than typical western lunch containers, so you will need to practice a technique to pack it nice and neat. This will also help you with eating a healthier portion. So, how do you put all of the food in these small bento boxes? Use silicone cups made for cupcakes or other small containers as dividers.


Other important rules are the food presentation and color. In Japan, food presentation is an important part of food culture. A good meal should look good, and this goes with meals at home as well as with bento lunches. How you decorate and pack your bento box and how colorful you make it is important. The more colorful a meal is, the more nutritious it is. You want to pack your bento box with many colorful food ingredients. For example, red for tomato, yellow for eggs, green for cucumber, white for rice, brown for chicken, and purple for eggplant or blueberry. Be creative and have fun, try to fit in as many colors as possible. One more thing to be aware of is food safety. Bento foods are meant to be eaten cold and the Japanese bento foods are tasty even if it's cold. Make sure you wait till the food cools down before putting on the lid. When you put the lid when the food is still warm the moisture collects and that will make the food go bad faster. Another tip is to put shiso leaf or salted ume plum in the box to keep the food fresh.

A Bento for Kids: Puts a Smile on their Face

Are you having a hard time getting your kid to eat their lunch? Here is a great way for your picky eater to finish their lunch. It takes a little bit of practice but once you get the hang of it, it's super fun. With a little experimentation and preparation, you will have a fun and healthy meal for your little ones. There are tricks to make heart-shaped eggs, or turning a sausage into an octopus by slicing the bottom of the sausage. There are even nori seaweed cutters that can cut out the shapes of faces or animals that can then decorate rice. You can turn a sandwich, rice, a slice of cheese, or even eggs into all sorts of shapes such as a flower, heart or an animal using a food or cookie cutter. Use cute food picks to decorate baby tomatoes or any slice of fruit. You can find cute and fun bento decoration ideas by searching online for "chara-ben," which is short for character bento. Also check out bento recipe books for more inspiration. It may be a lot of work, but imagine your little ones' face lighting up when they open their bento boxes.

Where to get Bento Lunch?

Where do you find bento? Japanese food is very popular and nowadays you will certainly find a bento in any local Japanese or Asian grocery store, and due to the popularity of Japanese food and the convenience of bentos these are becoming available in some neighborhood shops. Bentos are usually located near the deli section since they are prepared fresh every day. If you are lucky, you might be able to find a place that delivers bento straight to your office. The main items found in a bento are rice, one main dish, a pickled vegetable, and side dishes. What is great about bento is that there are so many combinations you can get a different kind of bento every day.

Types of Bento

Makunouchi Bento

The most traditional bento is the makunouchi bento. Makunouchi bento has rice with black sesame sprinkled over the top, pickled ume plum in the center with grilled fish as the main dish.

Nori Bento

Nori bento is another classic Japanese bento and comes with nori seaweed flavored with soy sauce and bonito flakes over the rice.

Sake Bento, Karaage Bento

Grilled salmon is the main dish in the sake bento and another popular bento, karaage bento, has fried chicken as the main protein. The pickled vegetables that come with the bento consist of plum, eggplant, or daikon radish, and is meant to be eaten with the rice to add flavor. The final component of a bento are the side dishes such as tempura or steamed vegetables.

With so many options it is easy to see why Japanese people love bento, and once you have tried enough bentos you can start to make your own at home. One thing to keep in mind is that Japanese cuisine usually comes in a smaller portion, but the healthy components in the bento makes for a well-balanced meal. Most Japanese restaurants will have bentos on the menu, so if you want to try an authentic bento before buying one in a grocery store then visit your local Japanese eatery.

Please follow and like us: