Fish roe is literally fish eggs. Given that every species of fish in the world has a different type of roe, there are many different kinds and qualities.
Contents:
Delicious, Nutritious Fish Roe
Some roe is more expensive than the fish (or parent) that produces it. A good example is caviar, which is sturgeon roe. Caviar is known as one of the world's three greatest delicacies. Other well-known fish roe are karasumi, which is mullet roe, and kazunoko, or herring roe. In this issue, we'll talk about fish roe in general. Fish roe seldom appears as a main dish, but it certainly spices up the table. It's also a wonderful accompaniment to white rice. It's no wonder the Japanese love fish roe! There are so many types to enjoy, including ikura (cured salmon), kazunoko, tarako (cod roe) and mentaiko (marinated cod / pollack roe). We can enjoy fish roe in nimono (simmered dishes) and yakimono (grilled dishes), and it can also be eaten raw. This article features some of the more familiar types of fish roe.
Ikura (Salmon Roe)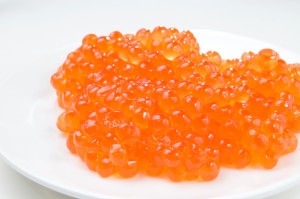 You already know that ikura is salmon roe, but did you know the word "ikura" is Russian? In Russia, the term "ikra" refers to fish roe in general. While salmon roe has been eaten in Japan for a long time, we began calling it ikura during the Meiji era (1868-1912). It is said that during the Russo- Japanese War (1904-1905), the preserved loose salmon roe Russian soldiers ate found their way to Japan, together with the name "ikra," which later became "ikura." Ikura, as a preserved food, was initially salty. Today, slightly sweetened ikura and ikura marinated in soy sauce have become the mainstream form of this roe. Ikura is a very nutritious food, as even one tiny roe contains many nutrients. lkura is rich in vitamins, and recent studies have shown that it's a plentiful source of DHC, known as a brain-stimulating fatty acid. For this reason, ikura is also called "brain-stimulating fish roe."
Masago (Capelin Roe)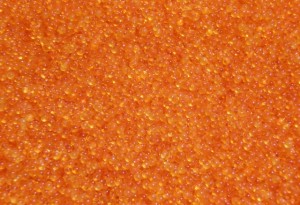 Do you know what fish masago comes from? The answer is the shishamo smelt. However, the term "masago" doesn't refer exclusively to shishamo roe but instead means "foodstuff that is very small, like sand on the beach." Masago has a long history, and Japanese have loved this fish roe since ancient times. Today, masago is usually made from seasoned shishamo roe. We often see masago in gunkan-maki rolls (battleship- shaped sushi rolls). It's rich in protein, a life supporting nutrient and in sodium, which helps the body absorb nutrients. Try masago in your next sushi or marinated dish!
Tobiko (Flying-Fish Roe)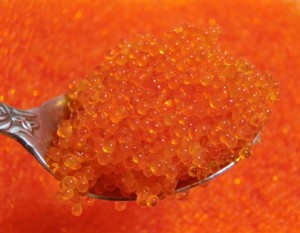 Tobiko (or tobikko) is literally an egg of the tobiuo (flying fish). This roe is clear, with a golden hue. Tobiko adds a colorful accent to the table. It has a pleasant texture and bursts in the mouth when crushed. Tobiko is a bit sweeter than ikura. Japanese, who have been eating fish for centuries have developed a culture of marinating tobiko in salt. Tobiko contains vitamins and protein, but it's also a feast for the eyes. Why don't you enjoy chirashi zushi ( vinegared rice with pieces of raw fish and other ingredients arranged on top), including succulent tobiko that pops in your mouth? You'll love it!
Kazunoko (Herring Roe)
Kazunoko (herring roe) is a fixture in every home during the New Year celebration period. Kazunoko was so named because herring was called kadoiwashi long ago in Japan. Roe, or "ko (child)," of kadoiwashi, or "kadonoko," became "kazunoko" over the years. We don't know exactly when, but, because a block of kazunoko contains so much roe, the Japanese began eating kazunoko as a good luck dish to bring many offspring. As this roe pops in the mouth, it makes a crunchy sound and releases a savory flavor. Rich in DHA, EPA and vitamin E, kazunoko is not only delicious but highly nutritious too.
Tarako / Mentaiko (Cod Roe)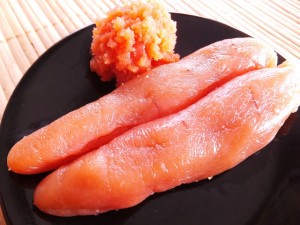 Tarako is an egg of the tara (cod / pollack). Tarako is one of the fish roe commonly eaten today, but it has a relatively short history. The Japanese began eating tarako regularly in the Meiji era. In those days, Pacific cod were scarce and fishermen began fishing for Alaskan pollack instead. Thus we started to eat Alaskan pollack roe. Tarako and mentaiko both contain vitamins known to maintain youthful skin and prevent cancer. Njjiya Market sells tarako and mentaiko without artificial colorings. Our tarako products are especially flavorful, thanks to a process of one week of aging and the addition of yuzu citrus … a secret ingredient! Try Nijiya's tarako and mentaiko!
Uni (Sea Urchin)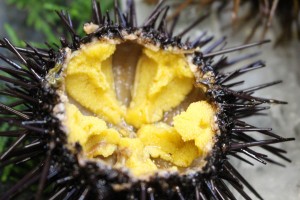 It may not be fish roe in the strict sense, but the yellow or orange flesh of uni is also a form of roe. That's because what we commonly know as uni is actually the ovary/testis of uni. One uni produces only four to five edible parts (blocks of roe), so it's understandable that uni is expensive. Uni is rich in vitamin A, B1, B2, iron, glutamic acid and protein, among other nutrients. Given its high nutritional value, uni is an excellent food for those who are recovering from illness.
Gochiso Magazine, Nijiya Market
Please follow and like us: