Gari (pickled ginger) is thinly-sliced, sweetened pickled ginger and is an indispensable garnish with sushi. Because its crispy texture and refreshing and piquant taste eliminates the smell of fish, it makes sushi consumption an enjoyable experience. When eaten between bites of sushi, it cleanses and renews the palate.
Contents
"Sushi shoga = ginger" may be the more familiar term in America.
Demand for gari has rapidly increased along with the sushi boom in America. It is safe to say that the appreciation of gari has already spread among others besides Japanese.
It appears that the origin of the word, gari, stems from the crunchy "gari-gari" sound produced when you bite into the ginger. The moniker is used in sushi restaurants just as soy-sauce as "murasaki," sushi rice as "shari," and tea as "agari" all came to be generally accepted.
Aside from its role of cleansing the palate, gari works to sterilize. It is a good idea to eat gari with sushi to prevent food poisoning. Furthermore, because it is effective in enhancing appetite and/or warming the body, it is indeed a perfect match with sushi.
Gari is not merely an accompaniment for sushi. It can be used in a variety of dishes in many inventive ways. It can be tempura-fried by squeezing out the moisture or added to tartar sauce by slicing the gari into fine pieces. Gari is easily made at home by soaking sliced strips of ginger root in sushi vinegar. Please try gari in a variety of ways.
How to cook Gari?
Gari Chirashi Sushi Recipe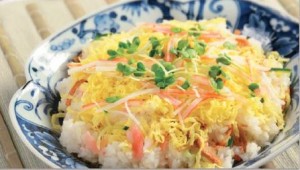 Ingredients (Serves
2

)
2 cups cooked rice
3 Tbsp. sushi vinegar
1/2 cucumber, julienned
1 oz. pickled ginger (gari), julienned
3 pieces inariage (seasoned deep-fried tofu pockets), julienned
1/3 pack radish sprouts
Imitation crab (as desired), shredded into strips
---
Cooking Directions
Add vinegar gradually to warm rice. Fan the rice to cool or stir gently with a hard spatula.
Squeeze out the moisture from the cucumber and sprinkle with salt (not listed in ingredients).
Cut the radish sprouts in half.
Mix the imitation crab, cucumber, gari, and inariage into the rice. Garnish with the sprouts.
Gochiso Magazine, Nijiya Market
Please follow and like us: