Contents:
What is Gindara?
Gindara is a relatively expensive fish in Japan. It is known for its soft-textured flesh with high fat content, and it's an excellent fish for simmering or baking. The best ways to eat gindara are probably kasu-zuke and saikyo-zuke. Cooking gindara by these methods will remove the excess water from the fish and trap the fat content within the fish. Gindara becomes even more flavorful when cooked together with the flavors of sake lees or Saikyo miso.
In Japan there are stores that specialize in kasuzuke, and each year trips to Alaska are made in order to purchase gindara.
In English, gindara is generally called "black cod," but its formal name is "sablefish." Incidentally, do you know why we call it "gindara"? It's due to the fact that even though its skin appears to be black on the store shelves, the color of a freshly-caught gindara is actually a gleaming silver ("gin" in Japanese).
Despite its name "gindara," it doesn't belong to the cod family (called "tara" in Japanese); instead, it's classified as a member of the Anoplopomatidae family in Scorpaeniformes.
Gindara can be found over large areas of the oceans along the western coast of North America, from Mexico's Baja north to California's San Francisco, Canada's Vancouver Island, and Alaska. It's also found in the north of Hokkaido's Uchiura Bay. The gindara live in deep waters at depths of 490 to 4,900 feet (usually 1,300 ft. to 3,280 ft.). Gindara spawn from January to April and favor slopes on muddy ocean floors at depths of 980 to 1,640 feet. As for the number of eggs, a gindara approximately 23 inch (60 cm) in length will lay about 82,000 eggs. If the fish is more than 35-inch long, it will have about 1,277,000 eggs. The gindara's average lifespan is 20 to 30 years. However, the oldest gindara is 94 years old, confirmed in Alaska. It's amazing that there is a fish that can live longer than the average lifespan of the Japanese people.
I remember hearing about one Japanese fish trader who went to a supermarket in the U.S. to make a presentation of a fish product. He also brought along gindara kasuzuke as a sideshow. However, the people at the presentation were more intrigued by the kasuzuke (sideshow) than the main product that the trader was promoting. So, he let them sample the kasuzuke, and they loved it. Someday in the near future we may see gindara kasuzuke on the shelves of American supermarkets. If you plan to hold a home party for your American friends, why not serve some gindara kasuzuke? It may become an instant hit. If that happens, please let your guests know that they can buy gindara at Nijiya Market!
All of the gindara sold at Nijiya Market is made in U.S. Try our fresh gindara caught along the coasts of San Francisco and Alaska, as well as frozen Alaskan gindara which is available throughout the year.
How to Cook Gindara (Gindara Recipes)
Gindara Kasuzuke Recipe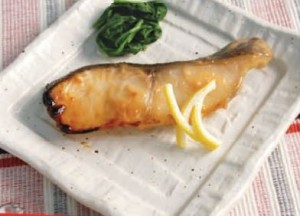 Ingredients (Serves
4

)
4 pieces gindara fillet (about 4 oz. each)
14 oz. Sake-lees
1/3 cup miri
3 Tbsp. sake
4 oz. brown sugar
Salt (2% of the total fish weight)
---
Cooking Directions
Sprinkle the gindara with salt and let it sit in the refrigerator for about 2 hours.
Mix the rest of the ingredients in a bowl (if possible, let it sit overnight so the flavors blend well).
After 2 hours, remove the gindara from the refrigerator and rinse under running water. Wipe off the excess water with a paper towel.
Spread the kasuzuke marinade from [2] liberally on the gindara. Let them sit in the refrigerator for about 3 days.
Remove all the marinade from the fish. Bake in the oven at a low temperature.
Tips
You can make a large amount of gindara kasuzuke at one time. After marinating the gindara for 3 days, remove the lees from the fish, then simply wrap each piece in plastic wrap and freeze. It will keep for up to 30 days, so you can enjoy delicious kasuzuke anytime.
Simmered Gindara Nitsuke Recipe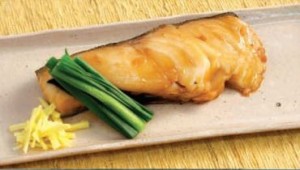 Ingredients (Serves 4)
4 pieces gindara fillet
0.5 oz. sliced fresh ginger root (with skin on)
2 bunches of green onions (sliced into 1-inch lengths)
A:
1/5 cup soy sauce
1/5 cup mirin
1/5 cup sake
2 Tbsp. water
2-1/2 Tbsp. sugar
---
Cooking Directions
Prepare boiling water, and quickly immerse the gindara. As soon as the gindara turns whitish, drain it. Lightly wash the fillet under running water. Wipe away the excess water from the gindara.
Cut the ginger root into thin slices but don't discard the skin. Keep it for the meantime.
Place all the ingredients in [A], gindara and ginger skin in a pot, and cook.
Once it has come to a boil, lower the heat. Cover with a drop-lid and simmer for 7 to 10 minutes.
Transfer the cooked fillet onto plates. Simmer the remaining sauce over high heat for 1 minute. Add some green onions to the sauce and simmer for another 30 seconds. Pour the sauce over gindara. Serve with green onions and ginger slices on top.
Gindara Agedashi (deep-fried gindara) Recipe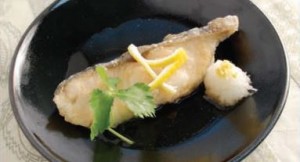 Ingredients (Serves 4)
4 pieces gindara fillet
4 Tbsp. daikon oroshi (grated daikon radish)
1 tsp. shoga oroshi (grated fresh ginger root)
4 mitsuba (bunch)
1-1/3 tablespoons katakuri starch
1-1/4 cups vegetable oil
A:
4/5 cup bonito stock
3-1/3 Tbsp. regular soy sauce
3-1/3 Tbsp. mirin
---
Cooking Directions
Prepare daikon oroshi and shoga oroshi separately. Slice the mitsuba into lengths of about 1 inch.
Wipe away the water from the gindara and dredge them in katakuri starch, coating them entirely.
Deep-fry the gindara in oil at 350°F.
Combine all the ingredients in [A] in a saucepan and heat. When it begins to boil, turn off the heat.
Transfer deep-fried gindara onto serving plates. Pour [4] over them and top with daikon oroshi, shoga oroshi and mitsuba.
Yu-an Style Grilled Gindara Recipe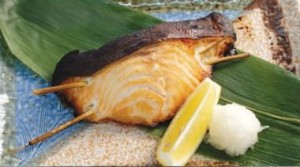 Ingredients (Serves 4)
4 pieces gindara fillet
Daikon oroshi (or lemon)
A:
1/5 cup regular soy sauce
1/5 cup mirin
1/5 cup sake
1 small piece of yuzu (with flesh)
---
Cooking Directions
In a bowl, combine all the ingredients in [A] to make marinade. Soak the gindara in the marinade for 10 to 15 minutes.
Lightly wipe away the excess water, and grill.
Serve with daikon oroshi.
Easy Foil-baked Gindara Recipe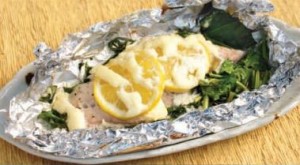 Ingredients (Serves 4)
4 pieces gindara fillet or chunks (about 3.5 oz. each)
7 oz. spinach (or any variety of green vegetable)
4 Tbsp. mayonnaise (1 Tbsp. per each piece of gindara)
Salt and pepper (as appropriate)
1 lemon
Vegetable oil (as appropriate)
---
Cooking Directions
Cut 4 square pieces of aluminum foil, with each being larger than the fish fillet.
Spread vegetable oil over each square of foil.
Cut the spinach into 1-inch lengths and divide into four equal portions. Place each portion on each square of foil. Sprinkle gindara with salt and pepper and place them atop the spinach.
Set aside 4 slices of lemon to be used as a garnish later. Squeeze the rest evenly over the fillet pieces.
Place 1 tablespoon of mayonnaise over each piece of fillet (a nice presentation can be achieved if you use a squeezer).
Fold the foil over the gindara and crimp the edges to seal. Bake in the oven at 350°F for about 15 minutes. Open the foil and top each fillet with a lemon slice.
Gochiso Magazine, Nijiya Market
Please follow and like us: