Among summer vegetables, this bumpy, warty-skinned vegetable is a relative newcomer. In the past few years, however, goya's health-enhancing properties have drawn attention throughout Japan.
Because goya can be grown in home gardens during he peak summer season, it has become a popular vegetable. In fact, goya is now so popular that its seeds sell out quickly at garden centers.
Contents:
Goya (Bitter Melon), a Summer Vegetable
In Okinawa, known for the longevity of its population, goya has been a regular part of the diet for a long time. The popularity of goya among the islanders is based on its health benefits and irresistible bitterness. The recent boom has increased goya consumption tol5,000 tons per year. Okinawa alone accounts for 40 percent of the total production in Japan. Goya and mozuku seaweed are the most famous specialty health foods in Okinawa.
Goya is also called niga-uri (bitter gourd) for its distinctive bitterness (niga-rni in Japanese). Bitterness is one of the five basic tastes, and due to the bitterness of goya, people either love the vegetable or hate it. However, when people who hate goya discover that the bitterness can be relished along with the health benefits, they come to enjoy a renewed sense of taste and eventually find the bitterness irresistible.
Goya is an annual vine of the Cucurbitaceae family native to either tropical Asia or Africa. Goya is also grown and eaten in India, Thailand, Vietnam, the Philippines and China. The Japanese word for goya is tsurureishi, and historical records indicate that the vegetable already existed in the city of Edo. The people of Edo, however, used goya for medicinal purposes only. Goya came to Okinawa during the Ryukyu period. In Okinawa, where the idea that "medicine and food come from the same source" was widespread, goya was readily accepted as a food and later became a local specialty.
The Okinawa Prefectural Agricultural Research Center has for many years worked to develop new varieties of goya by collecting goya from around the world. Their research led to the development of the murubushi in 1991 and the shiokaze in 1995, both of which have enjoyed broad acceptance.
A Shade-Producing Plant that Can Block Sunlight
The cultivation of goya starts with seeding in early March. Because it's native to the tropics, the plant can't survive cold temperatures: consequently, a warm germination room and greenhouse are essential. The goya seed has a hard shell and may not germinate if sown as it is. Thus the shells are first lightly cracked with pliers before planting. After about ten days in temperatures above 77°F (25°C), strong shoots start to pop up. The root is the first to emerge: the way it pushes open the shell toward the sky conveys a feeling of energy and vitality.
The sprouts will be approximately 8 inches in length after 20 days or so, indicating that they're ready to be transplanted. If you continue to grow them any further in the germination room, tendrils will develop and the seedlings will get tangled with one another, which is troublesome.
To transplant the seedlings, raised beds are constructed for soil containing a sufficient amount of compost, which is then covered with black mulch to ensure an even ground temperature. A trellis net is secured to five-foot posts placed in a row approximately 16 feet apart. Preparation is then complete.
The seedlings are transplanted at two-foot intervals. Now that they're free from their small germination pots, the goya start to grow vigorously in the spacious beds.
Like the morning glory and luffa, goya is a vine plant, so it's also grown for the purpose of creating shade during the hot summer season. The plant quickly produces many leaves and spreads over a wide area to receive all the sunlight it needs for efficient carbon assimilation. These leaves provide abundant shade. This growing pattern characterizes the plant's survival strategy.
Vine plants grow by twining their stems around posts and other plants. Tendrils, which are modified leaves, are slightly curled when they emerge from the leaf axils. Then, they start growing like slender moustaches. Tendrils keep growing in their attempt to find a support to twine around, all the while swaying their tips from side to side.
When a tendril contacts a support, it wraps around it and pulls the vine closer. The tendril spirals and serves like a coil spring, anchoring itself loosely to the support. Because the tendril is a modified leaf, it has front and back sides. When one side of the leaf is stimulated, it coils. However, if the tendril continues to coil in one direction only, it won't have the elasticity needed to absorb tension. So, once the tendril coils in one direction it then coils in the opposite direction, as if designed by nature to withstand pulling forces.
In 60 days or so, the entire trellis will be covered in green with a scattering of small dots of yellow flowers. Goya grow female and male flowers, and the female flowers become fruit. Once pollination has been carried out by such insects as bees and gnats, male flowers disappear. Many miniature-sized goya now form from female flowers, which can be seen among the green leaves. In about 10 days they grow large enough to harvest.
Nijiya Farm's Organic Goya
The peak harvest is from July to September, during which vibrant green, plump, bumpy-skinned goya can be harvested at the rate of two to three per plant per week. Nijiya Farm's goya are far superior in color and shape to those produced by other farms. With the distinctive flavor of organic produce and abundant nutrients, they're indeed a pride of Nijiya Farm.
Approximately one in 500 harvested goya has a partially white or whitish appearance. It tastes the same as regular goya, though, so only the color is different. This is believed to be a pattern of mutation. Sometimes, a region of the DNA in a gene that determines plant pigment moves to a different location, causing changes in the color of the crop.
A gene invaded by a new gene is further stimulated and disrupted, resulting in irregular coloration. This phenomenon is called a transposon, or a jumping gene.
Transposons are used to create color variations of morning glories and other flowers. Similarly, if you pick seeds of the goya in which a transposon has occurred and cultivate them through generations, you should eventually be able to produce white goya.
Although during peak season, goya is worthy of being called a shade-producing plant with its abundant large leaves producing forest-like effects, by October it has exhausted all the nutrients in the soil. With the cooler temperature, the fruit becomes smaller. Those marked for seed collection for next year have ripened to a beautiful yellow and are nearly to the bursting point. If these goya aren't picked soon they'll become overripe and expose their seeds. Before it becomes overripe, if you pick the goya and cut it in half, you'll see the bright-red interior of a fully ripened goya. The seeds are then washed clean, dried and saved for next year.
Nutrients of Goya
There are countless catch phrases to promote goya, such as "goya for fighting summer fatigue," "goya is a source for a long, healthy life," "goya health method," "the goya diet" and so on. So, what nutrients are found in this amazing vegetable?
The bitterness comes from the substances momordicin and charantin, which can increase appetite and decrease blood glucose level. For that reason these substances are also called plant insulin.
Goya is rich in vitamins. For example, its vitamin C content is four times greater than that of spinach and three times greater than that of a lemon. It is said that goya contains 76 mg of vitamin C per 3.5 oz (100 g). Other nutrients of goya include beta-carotene (vitamin A), vitamins Bl, B2, E and K, potassium, calcium, folic acid, pantothenic acid, copper, etc. Surprisingly, even its seeds and pulp contain linoleic acid, which is known to help break down body fats and tum them into energy. Another noteworthy fact is that goya contains abundant soluble dietary fiber, which is essential to the human body. With this much nutrition packed inside, it may well be possible for goya to help prolong life expectancy as a healthpromoting vegetable. In fact, among all the prefectures in Japan, Okinawa, where goya has long been eaten, has the highest percentage of people aged over 100 years in relation to total population. This is further proof of the incredible power of goya.
The best way to grow goya, a vegetable with excellent nutritional value, is farming without the use of synthetic fertilizers or pesticides, by which we mean organic farming.
The beauty of organic farming is that it can naturally produce the nutritional values inherent in vegetables that support health.
The basis of organic growing lies in accepting Mother Nature as she is, encouraging the unique characteristics and growing ability of each plant, and maintaining and promoting the endless cycle of nature. That makes it possible for us to harvest crops without losing their natural flavor and nutrition, and to enjoy the blessings of each season to the fullest.
Basic Cooking Preparation for Goya
For those who love the bitter taste:
• Rub with salt
Cut the goya in half lengthwise and remove the seeds. Cut each half into 1/4 inch slices. Add 1 teaspoon of salt per one medium goya. Rub thoroughly and set aside for 10 minutes. Use your hands to squeeze out the liquid.
For those who don't like the bitterness:
• Rub with salt and sugar, and then parboil
Cut the goya in half lengthwise and remove the seeds. Cut each half into 1/4 inch slices. Add 1/2 teaspoon of salt and 2 teaspoons of sugar per one medium goya . Rub thoroughly, and set aside for IO minutes. Place in hot water for 10 seconds, followed by immersion in cold water for 10 minutes. Squeeze out the liquid.
How to Store Goya
This method will retain goya's green color. Cut the melon in half lengthwise and remove the seeds. Wrap each goya half in paper towels, and place in a thick plastic food-storage bag. Store in the refrigerator for up to 2 weeks.
How to cook Goya? (Goya Recipes)
Goya Gyoza (Pot Stickers) Recipe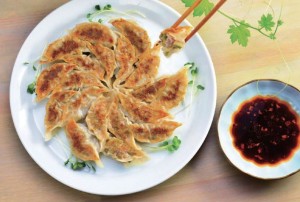 Ingredients (Serves
24 pieces

)
1 goya
4 oz. ground pork
1 tsp. minced ginger
1 Tbsp. soy sauce
2 Tbsp. sake
1/2 Tbsp. corn starch
Salt and pepper to taste
1 Tbsp. sesame oil
24 gyoza wrappers
2 Tbsp. vegetable oil
---
Cooking Directions
Cut the goya in half lengthwise and remove the seeds. Mince the flesh. Sprinkle the minced goya with salt (not listed in Ingredients) and set aside for 10 minutes. Squeeze out the liquid.
Place the goya in a bowl. Cover with water, stir gently, and drain. Squeeze out excess water.
Place the ground pork and goya in a bowl. Add ginger, sesame oil, soy sauce, sake, corn starch, salt and pepper. Knead well.
Heat vegetable oil in a non-stick frying pan with a lid. Wrap the ingredients of Step 3 in gyoza wrappers, and arrange them in the pan.
Cook the gyoza over medium heat until browned on the bottom. Add 1/5 cup of water. Cover the pan and cook for 7 minutes.
Remove the lid and continue cooking until the water evaporates.
Goya and Cheese Spring Rolls Recipe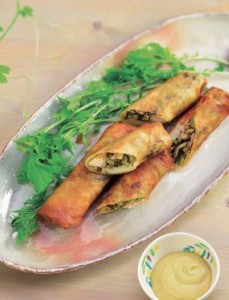 Ingredients (Serves 6 pieces)
6 spring roll wrappers
1/2 goya
1/2 tsp. salt
Cheese of your choice (about 1 cup, shredded)
1 Tbsp. flour
Cooking oil for deep-frying
---
Cooking Directions
Cut the goya in half lengthwise and remove the seeds. Slice each half thinly, and rub with salt. Set aside for 10 minutes.
Squeeze out the liquid. Place goya slices and cheese on a spring-roll wrapper. Fold the wrapper by following the instructions on the package. Use a mixture of equal amounts of flour and water to glue the edges of the wrapper.
Deep-fry the rolls at 3500F until the shell is golden brown.
Goya Cake Recipe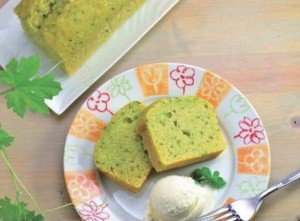 Ingredients (Serves 3×7-inch loaf)
1/2 cup goya, grated
1 tsp. lemon peel, grated
2 eggs
4 Tbsp. vegetable oil
1/3 cup sugar
1 cup all-purpose flour
1 tsp. baking powder
---
Cooking Directions
Place baking paper in a loaf pan. Preheat the oven to 325°F.
Place the eggs and sugar in a bowl and mix with a whisk. Add vegetable oil and grated goya. Mix well.
Mix the flour and baking powder in a bowl. Sift into the mixture (Step 2) and stir gently.
Pour mixture into the loaf pan. Bake in the preheated oven for about 20 minutes. Insert a bamboo skewer into the cake and pull it out. If it comes out clean, the cake is done.
Remove the cake from the oven. Allow the cake to cool before you remove it from the pan.
Goya Soy Milk Soup Recipe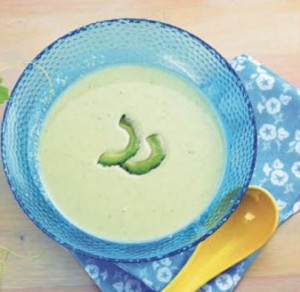 Ingredients (Serves 2)
3 oz. goya
1-1/2 cups unsweetened soy milk
1 bag Nijiya Wafu Dashi
Salt and pepper to taste
---
Cooking Directions
Cut the goya into bite-size pieces, and liquefy in a blender.
Mix the goya juice and soy milk in a pot. Cook mixture over medium heat.
Add Wafu Dashi and stir.
Season with salt and pepper. Remove from the flame just before.
Goya and Pear Pickles Recipe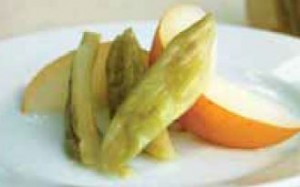 Ingredients (Serves 2)
Marinade:
6.8 oz. vinegar
3.4 oz. water
1.7 oz. white wine
2 Tbsp. sugar
1/2 tsp. salt
---
Cooking Directions
Cut the goya in half length-wise, remove seeds and pith. Chop into 2 inch long sticks, 0.8 inches in width. Rub in some salt. Rinse, drain and pat dry. Remove the core of the pear and cut into 6 wedges. Pack the goya and pear in a sterilized jar.
Pour the marinade ingredients into a pan and cook over high heat. Bring to a boil. Pour the marinade into the jar over the goya and pear. Close the lid. This can be refrigerated for up to 2 weeks.
Goya Pizza Toast Recipe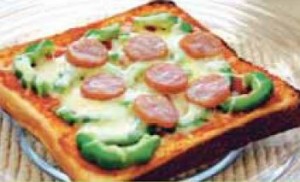 Ingredients (Serves 2)
2 inches goya
2 thin slices of bread
2 Tbsp. tomato sauce
1/4 cup shredded cheese
1 sausage, sliced thinly
---
Cooking Directions
Cut the goya in half, remove seeds and pith. Thinly slice and rub in some salt. Rinse, par-boil, drain and pat dry.
Spread the tomato sauce onto each slice of bread and top with goya, cheese and sausage. Bake in a toaster oven until golden.
Goya with Sesame Sauce Recipe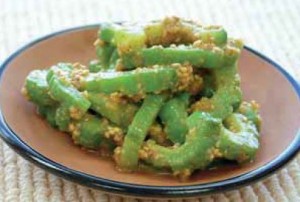 Ingredients (Serves 2)
Sauce:
2 Tbsp. ground sesame
1 Tbsp. Nijiya tsuyu tennnen (natural soup stock)
1 Tbsp. mirin
---
Cooking Directions
Cut the goya in half, remove seeds and pith and rub in some salt. Parboil, drain and pat dry.
Combine the sauce ingredients in a bowl. Add goya and mix well.
Flower Shaped Goya Humburger Recipe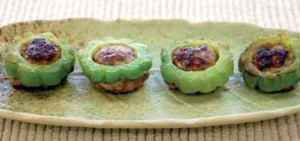 Ingredients (Serves 2)
1/2 goya
3.5 oz. ground beef and pork (mixed together)
1/8 onion
3/4 inch carrot
1 tsp. flour plus additional flour for sprinkling
Salt and pepper (to taste)
---
Cooking Directions
Cut goya into 0.4 in. thick slices remove seeds and pith and rub in some salt. Rinse, drain and pat dry.
Mince onion and carrot and place in a bowl. Combine ground beef and pork, 1 tsp. flour, salt and pepper. Mix until well blended. Make golf-ball-size meatballs.
Sprinkle a little flour onto each goya and press a meatball into the center from one side. (One side will be covered with meat, the other side will look like a goya flower with the meat in the center)
Heat a frying pan with oil. Place the flowerside goya down and cover with a lid. Steamfry both sides until fully cooked.
Goya Champuru Recipe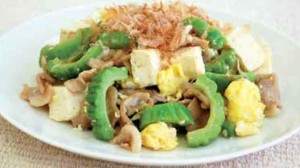 Ingredients (Serves 2)
1 goya
3.5 oz. thinly sliced pork
1/2 cake firm tofu
1 egg
2 tsp. sesame oil (divided)
1 tsp. oyster sauce
1 tsp. soy sauce
Salt and pepper to taste
Bonito flakes as needed
---
Cooking Directions
Cut tofu into bite-size pieces and drain excess water using a strainer. Cut goya in half, remove seeds and pith and rub in some salt. Rinse, drain and pat dry.
Heat a pan with 1 tsp. of the sesame oil. Cook a runny scrambled egg and set aside.
In the same pan, add the remaining sesame oil and fry the pork, goya and tofu in order.
Return the scrambled egg to the pan and add oyster sauce and soy sauce. Season with salt and pepper. Serve with bonito flakes on top.
Gochiso Magazine, Nijiya Market
Please follow and like us: