Contents:
Recommending vinegar consumption
During the summer months, it seems that many people complain of fatigue, using up more stamina than usual, and feeling out of sorts with no cause. This is said to be due to our bodies' becoming acidic because of changes in modern eating habits. It is known that the body's natural healing power is strongest when the body maintains a slightly alkaline state. In other words, those whose physical constitution is slightly alkaline are less vulnerable to fatigue, disease and/or injury because of an enhanced natural healing power. Conversely, those whose bodies are acidic have their natural healing power compromised, becoming easily tired and taking more time to recover from diseases. What can we then do to make the body slightly alkaline? The answer is simple – vinegar, to be exact!
As you already may know, vinegar offers many benefits. As long as you consume the required amount, the body can be maintained in a slightly alkaline condition. That's because the body's citric acid plays a major role. Vinegar contains 2% organic acid among its components. Though the amount is rather negligible, acetic acid as the main component of vinegar and other organic acids convert into acetic acids in the body.
The State of Vermont in America is known for many residents who live well into old age. This is where apples are grown in abundance. Residents of Vermont often drink what they refer to as "Vermont Drink" by mixing apple vinegar and honey diluted with water. While they enjoy this delicious drink, they maintain their health without really knowing it. In addition, vinegar comes with sterilizing power and deodorizing benefits. It gives more peace of mind than using chemicals in the kitchen to sterilize a cutting board or deodorize a fishy smell, etc.
Vinegar TRIVIA (Is vinegar good for you?)
● Calcium is compatible with vinegar. When calcium is consumed, the body eliminates most of it. However, when vinegar is taken with calcium, the body absorbs almost all of it.
● If we consume one Tbsp. (15 ml) of vinegar a day, it is supposed to be beneficial for stiff shoulders, poor circulation, constipation, etc.
How to use Japanese Vinegar?
Fruit Vinegar Recipe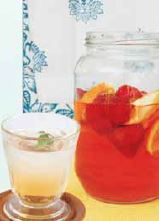 Ingredients (Serves
4

)

18 oz. seasonal fruits
*Apples, pineapples, strawberries, bananas, papaya, etc. but you can substitute any fruit
17 oz. vinegar
17 oz. crystal sugar
(Use the ratios of 1:1:1 as a rule of thumb for fruit, vinegar, and sugar. You may use less sugar to reduce sugar intake)
---
Cooking Directions
Wash a wide-mouthed jar and sterilize by boiling.
Wash and cut the fruit.
Put fruit and crystal sugar in that order in the jar and pour in vinegar.
Leave in a cool, dark corner for one week to cure. Remove the fruit from the jar after 2-3 weeks (although the fruits can be consumed, they are sour, and so are recommended for use in jams and/or blended juices).
*Fruit vinegar can be preserved in the refrigerator for 2-3 months
Fruit vinegar can be diluted in milk, soda, or water to taste and can be enjoyed by adding shochu, wine, and spirits. Try using it in any recipe that calls for vinegar.

Seafood Marinade Recipe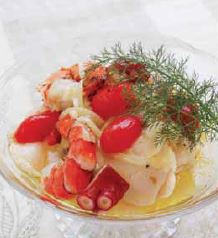 Ingredients (Serves 4)
4 scallops (sashimi grade)
8 pieces white fish sashimi
4 shrimps
1/2 octopus tentacle
1/4 onion
4 cherry tomatoes
● Marinade:
5 Tbsp. vinegar
4 Tbsp. olive oil
1 Tbsp. yuzu pepper
Dashes of salt and pepper
---
Cooking Directions
Thinly slice the onion, rub in salt, soak in water, and drain. Cut the cherry tomatoes in half.
Peel and devein the shrimp and boil quickly in salted water. Cut the scallops in half. Chop the octopus into 1/3-inch pieces.
Combine the ingredients for the marinade in a bowl and mix thoroughly with all the other ingredients.
*The dish can be served right away, but is even more delicious if left to marinate for 2 to 3 hours in the refrigerator.
Chicken Wings Cooked in Sweet Vinegar Recipe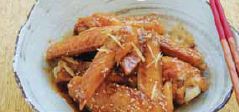 Ingredients (Serves 4)
12 chicken wings
2 Tbsp. white sesame seeds
1 Tbsp. salad oil
2 Tbsp. sake
Dashes of salt and pepper
Lemon peel (as desired)
● Sauce
3 Tbsp. vinegar
2 Tbsp. soy sauce
2 Tbsp. sugar
---
Cooking Directions
Score along the bones on the back of the chicken wings in two places and sprinkle with salt and pepper.
Heat salad oil in a skillet and grill the chicken wings skin side down until browned and then grill the other side. Add sake and cover to steam over medium heat.
Add the sauce ingredients and mix in. After the sauce thickens, reduce over high heat and pour the sauce over the wings. Quickly stir in the white sesame seeds. Garnish with lemon peels as desired.
Salted Pork and Vegetables Sour-tomato Stew Recipe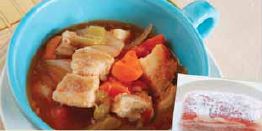 Ingredients (Serves 4)
Salted pork:
7 oz. boned pork rib
2 tsp. salt
1 onion
1 carrot
1/2 celery stalk
2 cloves garlic
1 can whole tomatoes (14.5 oz.)
1 cup water
1/2 cup vinegar
1 Tbsp. olive oil
Dashes of salt and pepper
---
Cooking Directions
Rub salt onto the pork rib and tightly wrap in cellophane. Refrigerate for 3 days to make salted pork.
Finely mince the garlic and chop the carrot and celery. Cut the onion in half and then into eight pieces. Slice the pork into bite-sized pieces.
Put olive oil in a pot and add the garlic, pork, and vegetables in that order. Sauté until the vegetables are tender. Crush the whole tomatoes by hand, and add to the pot. Add water and 1/2 cup vinegar vinegar and cook for 20 minutes over low heat.
Adjust the flavor by adding salt and pepper (as salt comes from the salted pork, taste to see if needed).
White Fish Steamed in Spicy Leave
Ingredients (Serves 4)
1 whole or 4 fillet of seasonal white fish
1/2 tokyo leek
1″ piece of ginger
Cilantro (as desired)
● Marinade
1 green part of Tokyo leek
1″ piece of ginger
2 Tbsp. sake (cooking sake)
Dashes of salt and pepper
3 Tbsp. sesame oil
● Sauce
1 Tbsp. soy sauce
2 tsp. vinegar
1 tsp. mirin (sweet cooking rice wine)
A dash of pepper
1 Tbsp. sesame oil
---
Cooking Directions
Remove the scales from the fish, cut out the guts, and score several notches on the fish.
In the case of fillet of fish, score as well.
Place the fish in the marinating sauce and let the flavors seep in. Soak in the marinade for 30 minutes on both sides. In the meantime, thinly slice the white part of Tokyo leek into 3-inch pieces to make fine strips of leek, cut ginger into thin slices and soak both in water.
Place a steaming rack stand in a Chinese wok. Add water and bring to a boil. Steam the fish on a plate on top of the steaming stand for 1o to 13 minutes.
Remove the fish with the plate as is and pour the sauce on top.
Arrange the vegetables with the fish. Drizzle the sesame oil heated in a sauce pan and sprinkle with cilantro leaves to serve.
Gochiso Magazine, Nijiya Market
Please follow and like us: