A variety of fermented foods such as sake, soy sauce, and miso have been supporting the diets of Japanese people since ancient times. An essential ingredient in these fermented foods is the edible fungus called koji (Aspergillus oryzae).
Contents What is Koji?
Shio-koji, made with salt, and shoyu-koji, made with soy sauce, are both handmade by Nijiya. Shio-koji is made with kome-koji (rice malt) that breeds from koji on steamed rice. We do not use any unnecessary ingredients. The result is a safe and secure all-purpose seasoning.
Koji is good for beauty and health and contains the nine essential amino acids. Women may especially favor these benefits:
1: Relief of Fatigue (through vitamin B6)
2: Stress Reduction (through amino acids such as GABA)
3: Eliminate Constipation (through lactic acid bacteria)
4: Anti-Aging (through antioxidants)
5: Fair Skin Effect (through antioxidants and improvements to intestinal flora)
Koji is not only good for your body but it tastes good too. It is said that products using koji, enhance the immune system and help remove allergens. That is why we recommend eating Koji every day even if it's only a small amount.
Cooking with koji makes foods last longer without preservatives. The addition of koji in recipes creates a richer taste. Koji can be used with any cuisine as an all-purpose seasoning.
What is Shio-Koji?
Shio-Koji Make tasty fish ever more flavorful
Fish and shellfish are abundant in vitamins, minerals, DHA, EPA, etc. Seafood contains high-quality animal proteins and is low in calories, so it should be a regular part of a healthy diet. Fish is also nutritious but can be difficult to prepare. Many people avoid seafood because they do not know how to cook it. Here is Nijiya's Shio-Koji to the rescue.
Shio-koji is a traditional flavor enhancer from Japan where rice-malt, salt, and water are combined, fermented, and matured. Since olden days, it has been used as a bed for pickling vegetables and fish. Today, shio-koji is known as "a magical flavor enhancer making any food delicious," simply by using it as a salt substitute. Since its introduction at Nijiya Markets, shiokoji has been a popular product with diverse uses. Nijiya's shio-koji has a homemade, natural flavor with a focus on quality. As a fermented food, shio-koji is packed with many healthy nutrients. Women appreciate its effectiveness in combating fatigue, reducing stress, eliminating constipation, and in providing anti-aging and skin beautifying results. With Nijiya's shiokoji, you can easily enjoy fish while avoiding the hassle in preparing it.
Basics of marinating fish in shio-koji
Thoroughly cover fish fillets with 1 to 2 teaspoons of Nijiya's shio-koji. Wrap in plastic sheets and marinate in the refrigerator for a half to a full day. Remove from plastic and grill. With this simple shio-koji marinade, you can enjoy grilled fish fillets that are soft and umami enhanced.
For sashimi, cover the sashimi with about a teaspoon of Nijiya's shio-koji. Wrap in a plastic sheet and refrigerate between two hours and half a day (according to your taste). Serve the sashimi sprinkled with yuzu pepper or other condiment.
MACKEREL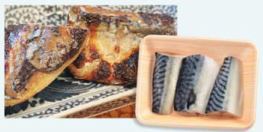 Mackerel is so nutritious that it is called "the king of blue-skinned fish." Although it is often described as fatty, this fat is rich in DHA and EPA and is good for the body.
Mackerel's dark red meat contains many vitamins and minerals, especially iron. These nutrients act to prevent anemia, gastrointestinal diseases, etc. Vitamin B2, which beautifies the skin and prevents hardening of the arteries, is most abundant in blue-skinned fish. The calcium in mackerel works to form healthy bones and nails. Of all the blue-skinned fish, mackerel offers the most nutrients.
SALMON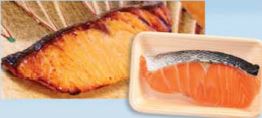 Salmon is flavorful as well as healthy. Its high-quality proteins are good for digestion and absorption, and its fats, containing EPA and DHA, are mainly unsaturated. It is also abundant in vitamin B complex, which promotes metabolism, and in vitamin D, which aids in the absorption of calcium by the bones. Another healthy characteristic of salmon is that it is rich in vitamin E, which protects cells with its anti-oxidation power.
GINDARA (sablefish)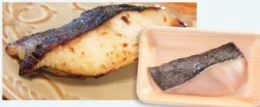 "Gindara" may be thought of as a type of cod, but it is a different species of fish. Its white meat contains more fat than protein, and the fat has high-quality omega-3 fatty acids, which work to prevent lifestyle diseases. Gindara is a rich source of vitamin A, which many people are deficient in, and its vitamin E is a beauty-enhancer.
HOTATE (Japanese scallop)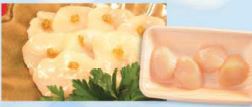 Hotate is unique in that it is extremely rich in protein and low in fat. Amino acids such as succinic acid and glutamic acid, abundant in all shellfish, make it light yet rich. Seafood in general contains a lot of taurine, but hotate offers more taurine than any other fish or shellfish. There is no need for concern about side effects for consuming too much because the body eliminates surplus nutrients. Taurine is effective in recovering from eyestrain and preventing low vision.
How to use Koji for cooking?
Grilled Salmon Shoyu Koji Pasta Recipe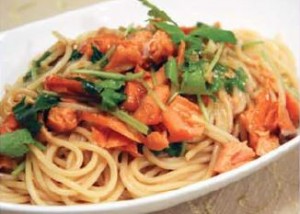 Ingredients (Serves
2

)
1 fillet grilled salmon
6 oz. pasta
10 stalks mitsuba
1 clove garlic
1 Tbsp. olive oil
1-1/2 Tbsp. shoyu koji
---
Cooking Directions
Cut the grilled salmon into easy to serve pieces. Cut the mitsuba into pieces of about 1 inch. Slice the garlic. Cook the pasta according to package directions.
Spread olive oil in a pan; add the sliced garlic on low heat. When the garlic becomes aromatic, raise the heat and add the cooked pasta with 4 tablespoons of cooking water. Add the other ingredients and serve.
Shio Koji Mayo Potato Salad Recipe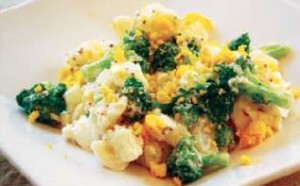 Ingredients (Serves 4)
1 potato
10 clusters of broccoli
2 boiled eggs
[Sauce]
2 Tbsp. mayonnaise
1 Tbsp. shio koji
1/2 Tbsp. whole-grain mustard
---
Cooking Directions
Peel the skin from the potato, and cut into bite-sized pieces. Boil until soft, drain out the boiling water and put the pot on high heat till the remaining water evaporates.
Before the potato cools, mix the sauce ingredients together and blend half of it with the potato.
Cut the broccoli into easy-to-eat pieces and boil. Put the broccoli into a strainer and let it cool under some running water, then dry.
Separate the egg whites and the yolk from the boiled eggs (boiled in medium heat for 12-13 minutes). Mix the remaining half of the sauce, broccoli and egg whites (torn into small pieces) with potato from Step 1.
Serve in a bowl and sprinkle the boiled egg yolk on top.
Kinoko Gohan Recipe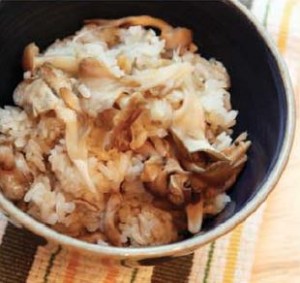 Ingredients (Serves 4)
21 oz. rice
7 oz. your favorite kinoko (mushrooms)
[A]
1-1/2 Tbsp. shio koji
1 Tbsp. shoyu
1-1/2 Tbsp. mirin (sweet cooking rice wine)
1/2 Tbsp. sesame oil 864 ml of water (Adjust scale marks /refer to the rice cooker level)
---
Cooking Directions
Put the rinsed rice into the net. Cut the mushrooms into small pieces.
Put all the ingredients in [A] into the rice cooker. Add water, and then add the rice. Mix well. Add the mushrooms and cook the rice.
Shio Koji Mitarashi Dango Recipe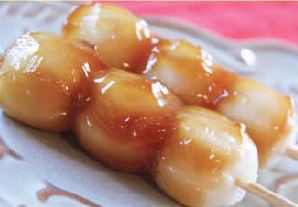 Ingredients (Serves 4)
4 oz. dango flour
Warm water (as needed )
[Sauce]
1 Tbsp. shio koji
1 Tbsp. soy sauce
1 Tbsp. sake (cooking sake)
2 Tbsp. sugar
2 Tbsp. mirin (sweet cooking rice wine)
2 Tbsp. potato starch
---
Cooking Directions
Follow the instructions on the package of dango flour for the amount of water. Knead. Roll into 1 inch diameter balls.
Boil the dango in a pot. When they start to float continue boiling for another 2 minutes. Remove with a slotted spoon or strainer, rinse with water, and then slide 3 to 4 dango onto a skewer.
Put the sauce ingredients except potato starch in a pot, and heat on medium. When the mixture starts to boil, lower the heat, and mix in the potato starch dissolved in water (1 to 1 ratio) to thicken the sauce. Coat the dango with the sauce and serve.
Fried Shoyu Koji Pork with Shishito Peppers and Bean Sprouts Recipe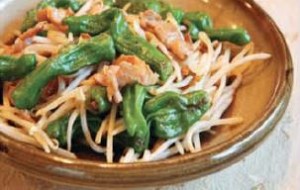 Ingredients (Serves 4)
12 shishito peppers
5 oz. bean sprouts
4 oz. pork meat
1 clove garlic
1 Tbsp. sake (cooking sake)
[Sauce]
1 Tbsp. sesame oil
1 Tbsp. shoyu koji
Salt and pepper (to taste)
---
Cooking Directions
Remove the stems from the shishito peppers and take off the root from the bean sprouts. Cut the garlic into thin slices. Cut the pork meat into bite-size pieces.
Fry the thinly sliced garlic with sesame oil on low heat in a frying pan. Fry the garlic until aromatic and fry the pork meat on medium heat. When the meat is partially done, add the shishito peppers and bean sprouts and quickly stir fry. Add the sake to the mixture and cover the fry pan with a lid. This step will cook the shishito peppers.
Add salt, pepper, and shoyu koji to the mixture and lightly stir fry.
Tataki-Cucumbers and Kani-kama SHoyu Koji Salad Recipe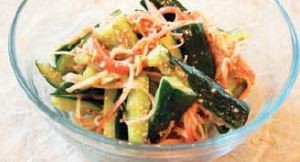 Ingredients (Serves 2)
1 Japanese cucumber
2 pieces kanikama (Imitation crab meat)
[Sauce]
1 Tbsp. shoyu koji
1 tsp. vinegar
1.tsp. mirin (sweet cooking rice wine)
2 tsp. sesame
---
Cooking Directions
Cut the cucumbers into easy-to-eat pieces and sprinkle with salt. Wait a few minutes. Then wrap the cucumbers in a paper towel and press to remove moisture. Peel the kani-kama into thin strings.
Mixing the sauce ingredients together. Add the cucumbers and the kanikama to the sauce.
Spicy Garlic Shoyu Koji
Put round slices of togarashi (red chili pepper) and one garlic clove (sliced) into the shoyu koji bottle. Shake well. Refrigerate overnight. It goes well with a bowl of rice or can be used as seasoning for dishes that need some spicy garlic flavor and aroma.
Gochiso Magazine, Nijiya Market
Please follow and like us: