Masago (capelin roe) and tobiko (flying-fish roe) are smaller fish eggs. Both come in a beautiful orange color. At first glance, they look similar, but tobiko has a firmer consistency and is used as imitation caviar. Masago, roe from the smelt family, is small and soft. When you compare the two side by side, the distinction is evident.
Contents:
Fish are certainly good to eat and enjoy but fish eggs are also delicacies. Caviar, sturgeon roe, is well known for being a very expensive variety of fish eggs. The fish eggs that appeal to the Japanese palate are ikura, salmon roe. Ikura is perfect over hot, steamed rice. Its thick, succulent, consistency offers a unique texture and bouncy sensation in your mouth.
What is difference between Masago and Tobiko?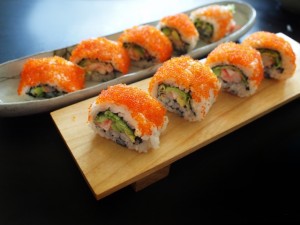 Though tobiko is more often consumed in Japan, masago is more readily available abroad. These small roe add accent to food and enliven mealtimes with their bright orange color. The crispy sensation that explodes in the mouth and the hint of sweetness that spreads gradually are indeed addictive. There are a variety of ways to enjoy masago. You can eat these in hand-rolled sushi, makisushi, chirashi sushi, gunkan-maki, etc., or use them as toppings for sushi or salads. Masago can also be marinated in soy sauce and served as side dishes to rice or as sake relish.
How to cook Masago and Tobiko?
Masago Pasta Recipe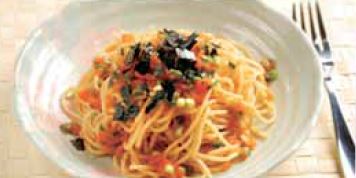 Ingredients (Serves
2

)
1.8 oz. masago
2 green onions, cut into small pieces
1 Tbsp. olive oil
1 Tbsp. butter
1 tsp. soy sauce
5.6 oz. pasta
Shredded nori (as desired)
Kaiware-daikon (as desired)
---
Cooking Directions
Mix the masago, green onions, olive oil, butter, and soy sauce in a bowl.
Boil the pasta, and add it to the mixture of Step 1.
When the butter has melted, put the pasta on a plate. Top with nori and kaiware-daikon.
Tobiko and Avocado Dip Recipe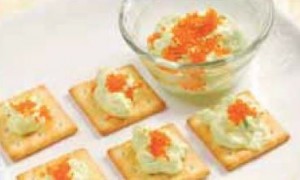 Ingredients (Serves 2)
Tobiko as needed
1/2 avocado
2 Tbsp. mayonnaise (adjust the amount to taste)
A dash of lemon juice
Salt and pepper to taste
---
Cooking Directions
Peel and mash the avocado in a bowl. Drizzle with lemon juice. Add mayonnaise and mix until well blended. Season with salt and pepper.
Transfer to a serving dish. Garnish with tobiko.
Serve the dip with bread or crackers.
Gochiso Magazine, Nijiya Market
Please follow and like us: