Mizuna belongs to the Brassica family and is a type of mustard like komatsuna, takana, and daikon.
Contents
What is Mizuna?
Mizuna has been a popular vegetable in Japan since ancient times. Many people enjoy the pungent kick of mizuna. With its powerful antioxidants, mizuna has long played an important role in the health of the Japanese people. It is said that mizuna originated in Japan, where cultivation began in the Heian period (794 – 1185). Today, mizuna is a designated kyo-yasai (a vegetable certified to be from Kyoto). The popular mustard leaves that grow abundantly in Kyoto are a fixture in kyo-ryori (Kyoto cuisine). Mizuna is eaten throughout Japan, and fields of it are found everywhere.
Seeds are planted in autumn or early spring. After 90 days, when the plants are approximately a foot tall, they are harvested and shipped. Mizuna's appeal is its soft but crunchy texture. A perfect accompaniment to hot pots, mizuna is widely assumed to be a wintry crop. In reality, mizuna is grown throughout the year and in recent years has become available through all four seasons. Mizuna, when left to grow for more than 90 days, can reach 20 in. or taller. Its stalk becomes as thick as a small chopstick. Tall mizuna retains its crunchiness, softness, and unique fragrance, but only when it's grown organically. Organic mizuna, however tall, provides the flavor that's unique to this vegetable. Because agrochemicals aren't used, mizuna can grow taller only during the cold period of winter through spring. This gives mizuna its status as a seasonal vegetable. Mizuna is best when prepared with little or no heat. It's ideal for salads, ohitashi (seasoned boiled vegetables), aemono (chopped vegetables with dressing), soup, and zoni (rice cakes boiled with vegetables), where it retains its unique crunchiness.
Mizuna in the U.S.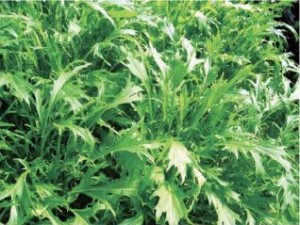 Surprisingly, mizuna is eaten not only in Japan but is now also found in the salad sections of supermarkets across the globe.
Leading chefs love the unique texture of mizuna, which is different from lettuce and other leafy vegetables, and recently mizuna has found its way to the menus of fine-dining restaurants around the world. Before we knew it, mizuna became a salad ingredient loved by consumers worldwide.
The vegetable is described as "Japanese mizuna: tangy and mildly peppery, like mustard greens." It is also recognized for its powerful antioxidant property, like other members of the Brassica family. Today, mizuna is found in many salad mixes–packaged mixtures of arugula, red oakleaf lettuce, green endive, red leaf, mizuna, and other leafy greens for easy salad making.
Nutritional Value
Marketers often characterize mizuna as an ideal food for women because it's an excellent source of skin-beautifying substances and contains abundant nutrients women need.
Don't be fooled by its slender shape and light color. Like carrots, broccoli, and other green and yellow vegetables, mizuna is rich in nutrients that are good for the skin and general health, such as vitamin C, beta-carotene, iron, calcium, and dietary fiber.
Texture and Taste
Mild, crispy, and crunchy, mizuna goes well with any dish, but it's particularly good in salad. Indeed, mizuna adds extra flavor to any ordinary mix. Or, it can be boiled for a few seconds and drizzled with your favorite soy sauce dressing and dried bonito flakes or topped with sesame. Mix it with boiled pork, chicken, fish, mushroom, or just about anything. Mizuna is also great in all kinds of hot pots, such as mizutaki (chicken and vegetables), yosenabe (meat, seafood, and vegetables), shabu-shabu (thinly sliced meat cooked in broth), and sukiyaki (thinly sliced beef cooked in sweet soy sauce). Mizuna is also added to miso soup and other types of soups. Zoni soup, prepared on New Year's Day, contains mizuna in many regions of Japan. At the end of the year, supermarkets sell mizuna by the basket for use in New Year's dishes.
Cultivation of Mizuna
The cultivation of mizuna begins in mid-September. Soil is tilled into mounds approximately 8 in. high and 4 ft. wide, and a layer of fertilizer is buried at the center of each mound. Two T-tapes are then laid onto the topsoil, and mizuna seeds are planted in four rows on both sides of the tape, with a seed-planting machine. After the seeds are planted, the soil is watered. In three days, small seed lobes begin to sprout in pairs. All the seeds will have sprouted by the end of the week. In the third week the stalks will begin to extend and larger leaves will appear. Soon, you will have healthy mizuna. If there are problems, you'll know after the first week because only a small portion of the seeds will sprout. In the following week, what few seed lobes you had will be gone. When you dig up the seeds and examine them with a magnifying glass, you'll see that numerous mites have attached themselves to the sprouted seeds and fed on the seed lobes. These tiny insects keep the seeds from sprouting and growing. Mites are insects of 0.012 in. to 0.019 in. size–even smaller than aphids–that fly and land on the leaves of eggplant and Jew's m­allow at the end of the summer vegetable season. Scattered by winds like powder that can travel through the mesh of screen doors, these tiny parasites change shape into any of seven different forms depending on the environment and the plant on which they live. They're variously called "spider mites," "russet mites," and "dust mites."
Mites are the biggest enemy of organic farming, particularly in the cultivation of winter leafy greens such as spinach, mitsuba, and komatsuna. However, these unloved insects begin to weaken when the lowest nighttime temperature drops to 59°F or so. When the days become this cold, it's time to start planting mizuna.
Organic Farming

The basic principle of organic farming is to prepare and maintain fields in a natural way that allows crops to develop fully. The downside of organic farming is that this same natural environment is beneficial to injurious insects and weeds.
To prevent the attraction of insect pests and the growth of harmful weeds, it's important to decide exactly when to plant, what shape to mound the soil, and how to water the seeds/plants.
If the field can be turned approximately three times during mizuna cultivation season when the lowest temperature drops to 59°F or below and mites don't breed, and you can expect a great harvest.
Tall, organically grown mizuna is so much crunchier and tastier than conventionally grown mizuna and retains all the natural flavor and nutrients of the vegetable. Because organic mizuna is grown only in the cold season, winter is still the best time to eat this year-round vegetable.
Gochiso Magazine, Nijiya Market
Please follow and like us: