What is Mochi?
Mochi is a Japanese rice cake, seen generally in the form of a little, round cake which could be eaten with condiments like soy sauce, grated daikon, or seaweed. As a confection, it also could be eaten with kinako (roasted soy bean flour) or anko (azuki bean paste). Traditionally, pounding steamed glutinous rice in a large mortar makes mochi, called "usu", with a wooden mallet called "kine". Mochi tsuki is the Japanese term for the traditional style way of beating the steamed glutinous rice to make mochi. The tacky mounds of rice are made from mochigome, a sweet and sticky rice, distinct from the steamed rice daily eaten.
Contents:
Mochi History
Mochi was initially made for Kami("gods") at shrines as offereing. This offering was subsequently cut into little bits and given to individuals for fortune and good health. Afterwards, the mochi came to be eaten on several festive occasions throughout the Heian Era (794–1185) and it became an essential part of the Japanese new year.
How to cook and eat Mochi?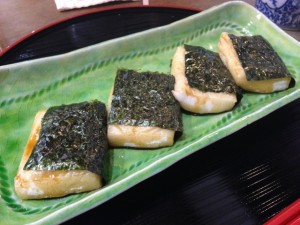 Nowadays, mochi becomes a popular Japanese food and you can enjoy mochi year round. Mochi is quite light, and the variations for groundwork are numerous. When eaten fresh, mochi is a soft and sweet cake and frequently joined with dipping sources. The air dried kind of mochi is occasionally roasted on a brazier before being added to the soup groundwork or dunked in a mixture of sugar and soy sauce, or other sauces. In the kind of manju or daifuku, soft cakes are filled up with other fixings or sweet red bean paste. Mochi can be made at home using automatic mochi makers, which were created to steam sweet rice and knead it into mochi.
Mentai Mayo Mochi Dumpling Wrap Pizza Recipe
Very easy Japanese mochi pizza!


Prep time:
Coock time:
Total time:
Ingredients (Serves
4

)
2 pieces mochi
1 Tbsp. mayonnaise
Cheese (as much as you like)
8 slices dumpling wrap
Parsley flake (for topping)
---
Cooking Directions
Slice the mochi in to 4 pieces and then cut into half  (make eight equal slices in one mochi).
Peel the skin of mentaiko (cod roe) and mix with mayonnaise.
Put the dumpling wraps on an almi foil wrap.
Put 2 slices of mochi, cheese, 2) on the dumping wrap and sprinkle with parsley flakes.
Toast for around 5 mins. It get burn easily so be careful not to toast too much.
Recipe by: Shiorin
Agedashi Mochi Recipe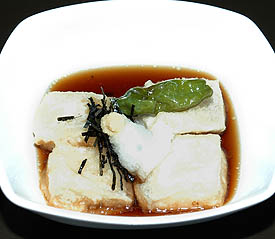 Ingredients (Serves 2)
2 pieces mochi
1 shishito
1/2 cup (100cc) dashi soup stock
Japanese radish grated for garnish
Ginger, fresh and grated for garnish
Potato starch, as needed
Nori (seaweed), as needed
---
Cooking Directions
Cut mochi into halves
Sprinkle mochi with potato starch.
Deep-fry mochi at 350 degrees F until mochi swells, then fry shishito in the same pan.
Drain excess oil from mochi and shishito.
Boil dashi soup stock in a pan.
Add mochi [4] into the pan and simmer for 1 minute.
Place mochi on a plate.
Put grated daikon and ginger, fried shishito on top, and sprinkle shredded nori.
Recipe by: Ojiya Japanese Restaurant
Gohei Mochi Recipe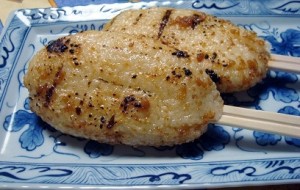 Ingredients (Serves 10 bars)
For steamed rice, slightly more water added than usual to made the rice stickier
360 ml rice (2 Japanese go cups)
405 ml water (2&1/4 Japanese go cups)
*1 Japanese go cup = 180 ml
For sauce, mixed and prepared in a 9 inch deep pan
3 Tbsp. soy sauce
3 Tbsp. mirin
1.5 Tbsp.s miso
6 Tbsp. brown sugar
4 Tbsp. sake
3 Tbsp. white sesame seed
1/2 tsp. grated ginger
1 Tbsp. finely chopped roasted peanut or walnuts
10 pairs of disposable wooden chopsticks
White sesame oil
---
Cooking Directions
MAKE THE DOUGH OF MOCHI
In a large bowl, mash steamed rice with the back of a rice spatula. Steamed rice should not be thoroughly mashed. You will see some grains remaining.
SHAPE
Lay plastic wrap on a plate. Drop a few drops of white sesame oil on the plastic wrap and spread. Scoop about 6 tablespoons of rice onto the plastic wrap. Place a pair of disposable wooden chopsticks in the center of the rice. Shape the rice into flat oval. Make sure the rice is being attached to the chopsticks and will not fall off while cooking.

GRILL
Grill the mochi over a grill net (or a grill pan) over medium heat until the both sides are lightly brown for about 3 minutes each.
SAUCE AND SERVE
Gently heat all of the ingredients for the sauce, bring it to a boil. Keep gentle boiling for about 1 minute until the sauce gets a little thicker. Not very thick and sticky. Spread the sauce over the mochi, serve immediately.
Tips
Mochi can be prepared the previous night. Grill and sauce the day of serving.
Recipe and photos by: Yasuko Muro
Imo Mochi (Potato Cake) Recipe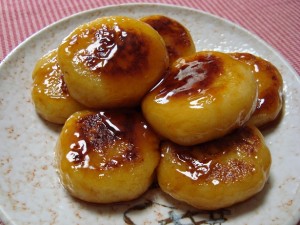 Ingredients (Serves 20-25 pieces)
For mochi dough
2 lb yellow potatoes
1 tsp. salt
2 cups potato starch
For sauce, mixed and prepared in a small bowl
4 Tbsp. soy sauce
12 Tbsp. water
12 Tbsp. brown sugar
4 TTbsp. mirin
2 Tbsp. potato starch
4 Tbsp white sesame oil
Tiny square pieces yakinori*, if you like
---
Cooking Directions
MAKE THE DOUGH OF MOCHI

In a medium (3-4 qt) sized cooking pot, cover potatoes with cold water and bring to a boil. Turn the heat down to low, gently boil until there is no resistance when the center is pierced with a stick, for about 15-25 minutes, depending on size.

Transfer the potatoes to a bowl of cold water with tongs to remove excess heat. Discard the water in the bowl. The potatoes are still warm. When the potatoes get enough cool to touch by hand, peel them.
In the potato bowl, add salt and potato starch. Mash the potatoes, mix together, knead well.

SHAPE
Shape the mochi dough into 2 inches diameter sticks, and cut into 1/2 inch thick pieces. Add extra starch if the dough is too sticky to shape. Shape into a flat round.

PAN-GRILL
Heat a teaspoon of white sesame oil over medium heat in an 11 inch fry pan. Place the mochi, pan-grill to golden brown both sides, for about 1-2 minutes on each side.

GLAZE
Once turn the heat off. Mix the prepared sauce once again. Carefully spoon the sauce over the mochi, about 1.5 tablespoons for each piece. Flip the mochi, and cook over low heat, glaze, for 1 minute or less.

SERVE IMMEDIATELY
Sprinkle yakinori* over the mochi, if you like.
Tips
*Yakinori: Nori is dried sea vegetable which is used to wrap sushi. It is sold in package of large (8×7.5-inch) flat sheets. Nori should be toasted until crisp before using. Now many of packages come already toasted and are labeled as yakinori.
Pumpkin or sweet potatoes can be substituted for yellow potatoes.
Mochi can be made up to 5 days ahead, grilled and sauced the day of serving. Cover and keep in the fridge.
Sauce can be made up to 7 days ahead. Mix the sauce well again, when you use it.
Recipe and photos by: Yasuko Muro
Please follow and like us: