Contents:
What is Mochi?
Mochi is a Japanese rice cake, seen generally in the form of a little, round cake which could be eaten with condiments like soy sauce, grated daikon, or seaweed. As a confection, it also could be eaten with kinako (roasted soy bean flour) or anko (azuki bean paste). Traditionally, pounding steamed glutinous rice in a large mortar makes mochi, called "usu", with a wooden mallet called "kine". Mochi tsuki is the Japanese term for the traditional style way of beating the steamed glutinous rice to make mochi. The tacky mounds of rice are made from mochigome, a sweet and sticky rice, distinct from the steamed rice daily eaten.
Mochi History
Mochi was initially made for Kami("gods") at shrines as offereing. This offering was subsequently cut into little bits and given to individuals for fortune and good health. Afterwards, the mochi came to be eaten on several festive occasions throughout the Heian Era (794–1185) and it became an essential part of the Japanese new year.
How to cook and eat Mochi?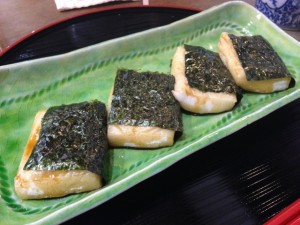 Nowadays, mochi becomes a popular Japanese food and you can enjoy mochi year round. Mochi is quite light, and the variations for groundwork are numerous. When eaten fresh, mochi is a soft and sweet cake and frequently joined with dipping sources. The air dried kind of mochi is occasionally roasted on a brazier before being added to the soup groundwork or dunked in a mixture of sugar and soy sauce, or other sauces. In the kind of manju or daifuku, soft cakes are filled up with other fixings or sweet red bean paste. Mochi can be made at home using automatic mochi makers, which were created to steam sweet rice and knead it into mochi.
Mentai Mayo Mochi Dumpling Wrap Pizza Recipe
Very easy Japanese mochi pizza!


Prep time:
Coock time:
Total time:
Ingredients (Serves
4

)
2 pieces mochi
1 Tbsp. mayonnaise
Cheese (as much as you like)
8 slices dumpling wrap
Parsley flake (for topping)
---
Cooking Directions
Slice the mochi in to 4 pieces and then cut into half  (make eight equal slices in one mochi).
Peel the skin of mentaiko (cod roe) and mix with mayonnaise.
Put the dumpling wraps on an almi foil wrap.
Put 2 slices of mochi, cheese, 2) on the dumping wrap and sprinkle with parsley flakes.
Toast for around 5 mins. It get burn easily so be careful not to toast too much.
Recipe by: Shiorin
Agedashi Mochi Recipe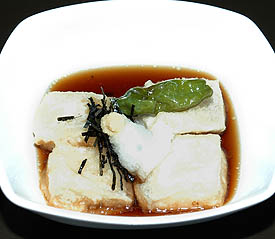 Ingredients (Serves 2)
2 pieces mochi
1 shishito
1/2 cup (100cc) dashi soup stock
Japanese radish grated for garnish
Ginger, fresh and grated for garnish
Potato starch, as needed
Nori (seaweed), as needed
---
Cooking Directions
Cut mochi into halves
Sprinkle mochi with potato starch.
Deep-fry mochi at 350 degrees F until mochi swells, then fry shishito in the same pan.
Drain excess oil from mochi and shishito.
Boil dashi soup stock in a pan.
Add mochi [4] into the pan and simmer for 1 minute.
Place mochi on a plate.
Put grated daikon and ginger, fried shishito on top, and sprinkle shredded nori.
Recipe by: Ojiya Japanese Restaurant
Please follow and like us: