A New Breed of Murasaki-imo Everyone Is Talking About: "Purple Sweet Road"
At Nijiya, you find satsuma-imo shipped directly from Nijiya Farm. As you cut into the deliciously purple skin of this satsuma-imo, you find that the meat is also a beautiful purple color. The vivid purple color is due to B carotene and anthocyanin pigment, which is a type of polyphenol. It sounds good for the body, doesn't it?
Called "Purple Sweet Road," this particular murasaki-imo (meaning "purple potato" in Japanese) is a new breed of potato registered in 2006. A cross between Naruto-kintoki and murasaki-imo, Purple Sweet Road combines the taste of Kintoki and the nutritional value ofmurasaki-imo. The pretty purple color is one secret of the popularity of Purple Sweet Road, but this potato is liked by many because it's delicious when baked, steamed, or cooked in various recipes.
The anthocyanin contained in Purple Sweet Road helps maintain our health. A type of polyphenol, anthocyanin is a purple pigment found in large quantities in blueberries, prunes, strawberries, etc. Anthocyanin is known for its powerful anti-oxidant action and is very effective in improving liver function and keeping us healthy. The anti-oxidant action of anthocyanin is even powerful enough to remove free radicals. In addition to
anthocyanin, Purple Sweet Road contains nutrients such as B carotene, vitamin B 1, vitamin C, potassium, and magnesium. Because its skin contains beneficial polyphenols and is highly nutritious, we recommend that you eat our organic Purple Sweet Road with the skin.
At Nijiya Farm, the Purple Sweet Road begins shipment in the autumn. Get ready to be amused with the delicious Purple Sweet Road on your plate. It was grown right next to our popular organic satsuma-imo, "Kintoki"!
How to Cook Purple Sweet Road?
Tips on cooking:
To keep the potato sweet, avoid heating the potato quickly. Instead, bake or steam it over a long period so that the enzyme that converts starch into sugar fully demonstrates its function. If you're using a microwave, wrap the potato in a wet paper towel and cover with clear wrap (keep both sides open), and cook slowly on a low power setting. The cooked potato can be eaten as is, or it can be pureed and used in various recipes. However, if your recipe uses baking powder or other alkaline ingredient you must add fresh lemon juice or another acid to prevent the color from changing to green. Combine Purple Sweet Road with vinegar or mayonnaise to enjoy the natural purplish-pinkish color of this tasty potato.
Purple Sweet Road Yokan (sweet jelly) Recipe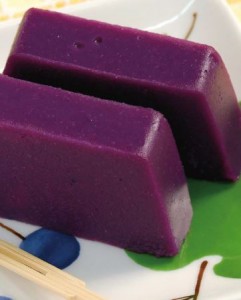 Ingredients (Serves
5

)
Approx. 14 oz. Purple Sweet Road
3/4 cup water
1/2 tsp. gelatin powder
2 oz. sugar
Pinch of salt
1 Tbsp. milk
---
Cooking Directions
Peel the Purple Sweet Road by removing more skin than usual, and place in water for 20 minutes. Put the Purple Sweet Road in a pan, add just enough water to cover the potato, and cook until soft.
Discard water and puree the potato while still hot.
Put the water and gelatin powder in a pan, and mix them over medium heat until the powder dissolves. Boil the mixture for 1 minute, and then add the sugar, salt, and milk. Remove from heat and mix until the sugar dissolves.
Add the gelatin mixture to the potato little by little, and mix well.
Pour the mixture into a container moistened with water, and flatten the top surface.
Chill the container in a refrigerator. When the jelly is firm, remove it from the container and cut into pieces of the desired size.
Purple Sweet Road Soup Recipe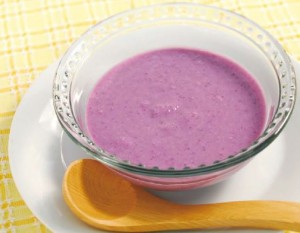 Ingredients (Serves 5-6)
7 oz. Purple Sweet Road
1 onion
1 oz. butter
Roasted garlic (to taste)
3/4 cup water
1 cup milk
1 tsp. additive-free powder soup stock
3 Tbsp. cooked rice (may be cold)
---
Cooking Directions
Peel the Purple Sweet Road and slice it into pieces 112inch wide. Cut the onion in half and slice it against the grain.
Melt the butter in a pan. Cook the onion and Purple Sweet Road slowly over medium heat.
Add the roasted garlic and water and bring to a boil. Add the powder soup stock.
Add the rice, mix well and cook for about 3 minutes.
When the mixture reaches an appropriate thickness and consistency, add the milk while mixing, let cool, and process the mixture in a food processor or a mixer.
Transfer the mixture back into the pan and heat it over medium to low heat. Add salt and pepper to taste. Pour the soup into a cup and sprinkle with grated cheese to taste.
Tips
"Pink Vichyssoise": Squeeze 1/2 lemon and add the juice to the soup. When the citric acid in lemon comes in contact with the anthocyanin in Purple Sweet Road, it's magic! Enjoy the beautiful pink color, and also the delicious taste. Serve chilled.
Purple Sweet Road Rice Recipe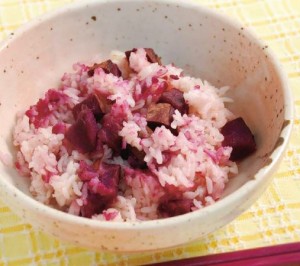 Ingredients (Serves 4)
16oz. uncooked rice
4 oz. Purple Sweet Road
Salt and vinegar to taste
---
Cooking Directions
Wash the rice and soak in water.
Just before you start cooking the rice, add diced Purple Sweet Road, salt, and vinegar. (By adding salt and vinegar, the beautiful color of murasaki-imo will remain intact. A little salt also adds an accent to the taste.)
When the Purple Sweet Road rice is done, mix the potato well with the rice.
Purple Sweet Road Salad Recipe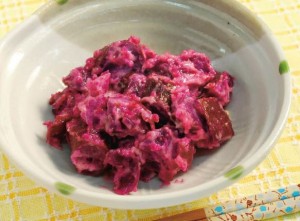 Ingredients (Serves 4)
7 oz. Purple Sweet Road
Mayonnaise, salt and pepper (to taste)
---
Cooking Directions
Cut the Purple Sweet Road into bite-size pieces and soak in water for a while. Heat in a microwave until soft.
While the potatoes are still hot, mix in mayonnaise, salt and pepper to taste. For an, attractive finish, crush the potatoes slightly but allow them to keep their shape.
Purple Sweet Road Pudding Recipe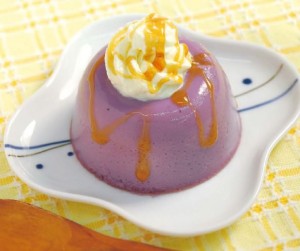 Ingredients (Serves 8 pudding molds)
7 oz. Purple Sweet Road
1-1 /2 oz. sugar
2 eggs
1 oz. butter
3/4cup milk
1/4 cup fresh cream
---
Cooking Directions
Cook the Purple Sweet Road until soft (by boiling or in a microwave on low heat setting).
Puree the potato while still hot. Put water in an oven proof to approx. 1/2 inch in depth, place in the oven and preheat the oven to 320°F (160°C).
Mix the butter, sugar and beaten eggs into the pureed Purple Sweet Road. Mix in the milk and fresh cream.
Gochiso Magazine, Nijiya Market
Please follow and like us: