Nagaimo is a root vegetable from the family Dioscoreaceae. There are three major groups of yams generally referred to as "yamanoimo" (Dioscorea japonica): yamanoimo, jinenjo (Japanese yam), and daijo (water yam). Yamanoimo have been consumed in Japan since the olden days.
Contents:
About Nagaimo (Japanese Yam)
Raw grated nagaimo has a unique sticky texture. Nagaimo transforms plain rice and noodle dishes into special treats such as mugitoro-gohan (a bowl of boiled rice and barley with grated yam on top) and tororo soba (buckwheat noodles served with grated yam on top). Nagaimo is not only delicious but also offers excellent nutritional benefits.
Nutritional Value of Nagaimo
People always remark on nagaimo's stickiness. This sticky substance is mucin, which contains galactan and mannan bonded with proteins. Mucin aids metabolism and cell proliferation that are linked to anti-aging and preserving the youthfulness of the skin. It is said that eating nagaimo regularly improves basic physical fitness.
Nagaimo is rich in digestive enzymes such as amylase, diastase, etc. These digestive enzymes not only aid digestion of the nagaimo itself but also help digest foods eaten with nagaimo. Eating nagaimo is said to prevent a heavy sensation in the stomach. While most starchy tubers and roots need to be heated, nagaimo can be eaten raw because of its powerful digestive enzymes.
Nagaimo is also rich in zinc and dietary fiber, vitamin Bl, dioscorine, polyphenol, lectin, etc. It can be enjoyed raw, cooked, or grilled.
Handling Nagaimo
1. Your hands get itchy…
You may experience itchy hands when peeling or touching nagaimo. Peeling can break the crystals of calcium oxalate contained in nagaimo, which causes skin irritation. When itching occurs, soothe your skin by applying lemon juice or diluted vinegar.
2. Sprouting nagaimo
As the temperature gets warmer, you may see sprouts growing on the surface of nagaimo. Unlike those of potatoes, the sprouts of nagaimo aren't toxic. However, it's best to remove the sprouts and use the nagaimo as soon as possible.
3. Storing nagaimo
A whole nagaimo that's wrapped in newspaper and stored in a dark, cold place can be kept fresh for two weeks or so. A cut nagaimo will start spoiling from the cut edges, so wrap it tightly in plastic wrap to store and use it within a week or so.
How to cook Nagaimo? (Japanese Yam Recipes)
Tofu Salad with Avocado and Mountain Yam Recipe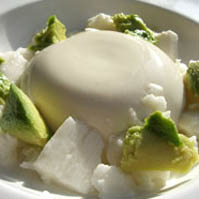 Ingredients (Serves 2-3)
1/2 block tofu
1/4 avocado
2 inch naga-imo (mountain yam)
Salad dressing (makes 10 servings):
1/4 cup of vegetable oil
1/2 cup vinegar
1 onion
1 Tbsp. chopped olive
1/2 green pepper
2 small myoga (Japanese ginger) or a stick of celery
3 Tbsp. mirin
3 Tbsp. Usukuchi soy sauce (light soy sauce)
3 Tbsp. soy sauce
Salt to taste
---
Cooking Directions
Cut tofu into 2~3 blocks.
Slice avocado and place it on top of the tofu.
Skin the mountain yam and wrap it in a plastic wrap. Break it into pieces with a rolling pin.
Place the mountain yams over the tofu.
Put all the ingredients for the salad dressing in a blender and mix together.
Pour the dressing over the tofu.
Recipe and photo by: Izayoi
Nagaimo-no-buta bara maki (nagaimo wrapped with boned pork ribs) Recipe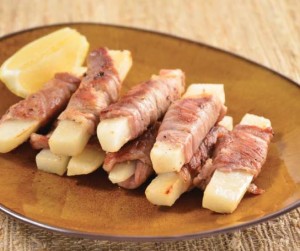 Ingredients (Serves
2

)
4 inches (10cm) nagaimo
6 slices boned pork ribs
Salt and pepper, to taste
Lemon, as needed
1 teaspoon sesame oil
---
Cooking Directions
Peel nagaimo and cut into approx. 1/2 inch sticks. Cut boned pork ribs in half and salt and pepper both sides.
Wipe off viscous liquid with a paper towel and wrap nagaimo sticks with the boned pork ribs.
Pour sesame oil in a heated skillet and grill 2) until golden brown. Serve on a plate and garnish with lemon slices.
Deep-Fried Nagaimo Recipe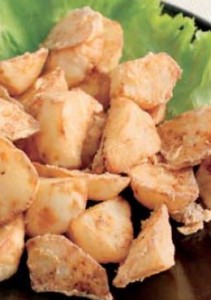 Ingredients (Serves 2)
An appropriate amount of nagaimo
1 clove of garlic, salt (to taste) and vegetable oil (as needed)
---
Cooking Directions
Wash the nagaimo with the skin on. Remove the root hairs then chop into chunks.
Heat the vegetable oil in a frying pan, and add the minced garlic to the oil for flavoring.
Deep fry the nagaimo until the skin turns golden. Sprinkle with salt.
* You can peel the nagaimo, if you prefer. Also, for a crispier texture you can dredge the nagaimo in katakuri-ko starch prior to deep frying.
Nagaimo Negi-yaki (green onion-grilled nagaimo) Recipe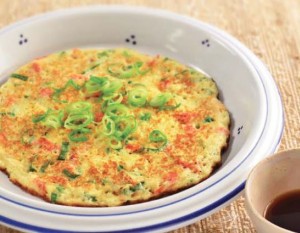 Ingredients (Serves 2)
7 ounces (200g) nagaimo
4 to 5 green onions (finely chopped)
2 tablespoons flour
1 egg
2 tablespoons dried sakura shrimp
Dash of sesame oil
1 tablespoon salad oil
Ponzu, to taste

---

Cooking Directions
Grate nagaimo in a bowl. Add the egg, flour, and salt and mix thoroughly. Add the chopped green onions and sakura shrimp and mix well.
Heat the salad oil in a skillet and pour in the mixture all at once. Put a lid on the skillet and cook slowly over medium heat.
When the color of the chopped green onions turns bright, flip the mixture over to cook the other side.
Remove the lid and turn the heat higher. When the mixture turns golden brown, pour off the sesame oil. The nagaimo negi-yaki is done when it is crispy.
Place on a serving dish and serve with ponzu.
Nagaimo Juice Recipe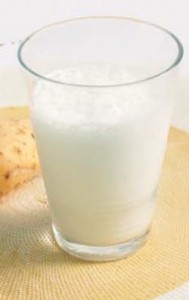 Ingredients (Serves 2)
3.5 oz. nagaimo
4/5 cup milk
2 tablespoons honey
3 to 4 ice cubes
---
Cooking Directions
Put all the ingredients together in a blender and then blend until smooth.
* You can also add apple, banana or any other fruit you like to boost the flavor.
Gochiso Magazine, Nijiya Market
Please follow and like us: