Nigiri Sushi is the most popular form, the small rectangular ball of rice topped with a slice of fish (sashimi).
Contents:
Nigiri Sushi is "hand-pressed sushi"
When it comes to sushi, nigiri sushi (握り寿司) is probably the most popular form. Literally meaning "hand-pressed sushi", nigiri sushi is the small rectangular ball of rice topped with a slice of fish (sashimi) – the image most people have, when we hear the word sushi. As was mentioned in "SUSHI – HISTORY," the traditional form of sushi was not in any way the form of nigiri sushi we know today. In fact, nigiri sushi is only about 300 years old, when fish was kept fresh through refrigeration techniques. It is the epitome of the Hayasushi, and is currently being eaten around the world as "sushi".

Nigiri sushi consists of two parts – the neta and shari (sushi rice). Shari is the small ball of rice, usually vinegar rice (sumeshi), which acts as the bed. While the size of the shari varies depending on the chef/restaurant, bigger is not always better. Nigiri sushi from supermarkets and lesser expensive places tend to increase the amount of rice to make the consumer feel more "stuffed", while expensive sushi restaurants will keep the shari small so that the customer can enjoy different types of nigiri sushi. Some places may use up to 400 grains of rice, but places like the famous Sukiyabashi Jiro (from the movie, Jiro Dreams of Sushi) only uses around 100 grains. Overall the average weight is said to be around 20 grams or 0.7 ounces, which is roughly about 1/8 of a bowl of rice.
But nigiri sushi is about the neta. You don't go to a sushi restaurant dying to eat their rice (although taste of rice is important), you go for their fish. And yes, neta is the topping that goes on the shari. While the word "neta" has become more popular, the correct terminology is actually "tane" meaning" seed". If you can visualize, the bed of rice (shari) is the soil, and the fish becomes the seed. Neta can be anything, from fish, shellfish, grilled fish, simmered fish, eggs, vegetables and even meats. And between the shari and neta, you'll often see the Wasabi, which adds that tearful sting to your nose (but is also what makes nigiri sushi better). The purpose of wasabi isn't simply there to add spice to your nigiri sushi. Wasabi (real wasabi, that is) works to disinfect the fish and reduce the fishy smell. Because of that Japanese people will use wasabi for other dishes aside from nigiri sushi.

Kinds of Nigiri Sushi
Depending on the type of neta, a sushi chef will arrange the nigiri sushi differently. There are three main types of nigiri sushi that you will often see at a sushi restaurant.
Regular Nigiri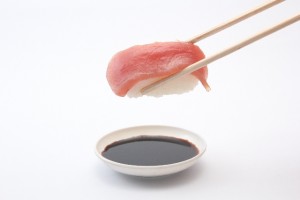 For most fish, nigiri sushi will be prepared the normal way, with the sliced fish on top of the rice. This is most common for neta such as maguro (tuna), toro (fatty tuna), sake (salmon), hamachi (yellowtail) and so forth. However one thing you may want look at is whether there are any yakumi (toppings) on the fish. Some restaurants will have ground ginger on top which means it is to be served with soy sauce. Others may have toppings with red daikon radish (momiji) or with scallions which means the chef has already put ponzu sauce on it. For more details on the correct way of eating sushi.
Gunkan Maki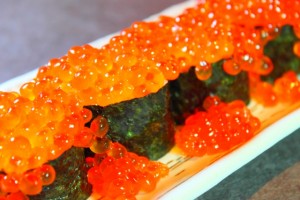 Many debate as to whether this is considered a maki-sushi or a nigiri, because there the word "maki" is in the name. However, gunkan maki is normally associated with nigiri sushi because the shari (sushi rice) ball is used as the base and it is prepared individually. Gunkan maki is a nigiri sushi that is surrounded by a sheet of nori (dried seaweed) to make it into a bowl-like casing. Gunkan maki is mostly used with neta that may fall apart or is scattered, such as uni (sea urchin), negi-toro (minced fatty tuna with scallions), ikura (salmon roe), masago (smelt roe), and tobiko (flying fish roe). While rare, you may also see some creative gunkan maki with diced scallops (usually seasoned), diced hamachi, and other diced or minced fish. While the purpose of the gunkan maki may be to simply prevent the neta from falling apart, it allows the eater to enjoy the nigiri sushi with the scent of dried seaweed. For some neta, this may actually taste better than eating them with just rice.
Nori Ribbon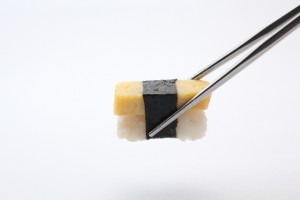 While there isn't an official name for this, like the toppings on some nigiri sushi, sometimes you'll also see a thin strip of nori wrapped around the nigiri sushi. This is done for neta that lacks moisture and will not stick to the bed of rice. Neta such as tako (octopus), mirugai (geoduck clam), aoyagi (round clam), and tamago (egg) are some of the nigiri that may have the nori ribbon wrapped around it to keep it from falling off.
Popular Nigiri Sushi Menu Ranking
So what is the most popular nigiri sushi out there? We performed an online survey and the results are out! The survey was filled out by U.S. residents, and therefore will not reflect the popularity of sushi in Japan. Here are the top 10 popular nigiri sushi with some user comments (and my personal response):
Q. Which is your most favorite Nigiri Sushi?
1. Maguro / Toro (Tuna / Fatty Tuna) Nigiri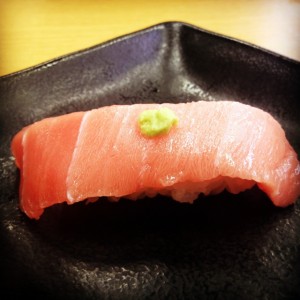 It's probably not fair to categorize tuna and toro together, because they are so popular on their own. But yes, tuna is the number one sushi according to the survey. Did you know that there are different types of tuna? Most of the tuna at sushi restaurants will be hon-maguro (bluefin), mebachi (big eye), and kihada (yellowfin) in order of quality/taste. kihada tuna was not even considered sushi-quality (mostly used in canned tuna) but since the ban on tuna fishing during certain seasons, and certain countries buying up the inventory on good bluefin tuna, yellowfin tuna has gradually hit the sushi market. Kihada will have a pinkish color (unless artificial coloring is used) with a dry surface. Mebachi is dark red with a wet smoother surface. Hon-maguro is kind of in the between, with a good amount of red and white (fat). A real bluefin big toro (otoro) will look like one of those Kobe beefs from Japan. Toro is divided into medium toro (chutoro) and big toro (otoro) depending on the fattiness and location of the belly.
"The fatty meat of the toro melts in your mouth. I could eat this every day." (Boudewijn, Male 30's)
"Texture is important in any sushi, and the texture of tuna is perfect for the mixture of rice and a dipping sauce of wasabi and shoyu. However, the fish is the most elegant part of the sushi, and would prefer to just eat it by itself, as the rice has much glucose building elements, making it a problem for diabetics. However, the fish does need to be fresh to be good for sushi. Smell the fish before eating, as an ammonia odor is present in old fish." (Steve, Male 50's)
"Because when maguro is fresh and served nigiri style the flavor speaks for itself." (Graciela, Female 30's)
"I can not imagine leaving the sushi restaurant without eating tuna nigiri sushi. Tuna is the most basic and delicious to eat as sushi." (Mari, Female 40's)
– Hah, don't we all wish we could eat it every day. Only if it weren't so expensive. Yes folks, the bluefin otoro is the creme of the crop, usually the most expensive item on the menu. It's always going to have MP (Market Price) on the menu, and usually costs anywhere from 2 to 4 times the cost of the regular bluefin tuna. At a famous sushi restaurant in Ginza, Tokyo, one piece of otoro costs $35!

2. Sake (Salmon) Nigiri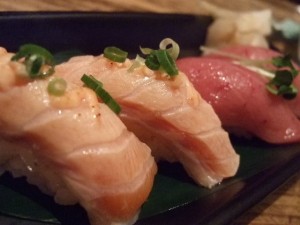 The number two spot is the fish everyone likes, salmon. It is readily available at your local supermarket, and has become increasingly popular at sushi restaurants both in the United States and Japan. And there's no doubt about why. At some restaurants, they will sear the salmon and serve it with ponzu.
"Salmon is a great all around fish to enjoy. If it is wild it tastes even better." (Nelson, Male 40's)
"I like the taste and it is soft. I like salmon sashimi and grilled both." (Misao, Male 40's)
"It's consistently good, and there are different rolls that are great with salmon in it." (Eri, Female 40's)
"The taste is mild and wonderful. I like eating salmon and this sushi fits the bill." (Rodney, Male 40's)
– Yes, wild salmon definitely makes a great sushi. If you have a chance, look for the "phantom salmon" or keiji. It is a young salmon that's not supposed to be in the harvest area. It is famous for its rarity (about 1 keiji for every 10,000 wild salmon caught) but also for its leaner fresher taste. I've seen it once or twice here in the United States.

3. Hamachi (Young Yellowtail) Nigiri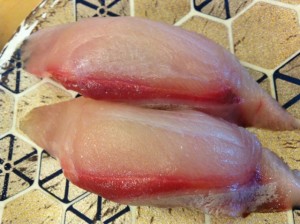 I am sure you've heard a sushi chef make the pun – How Much? from hamachi. Despite "hau macchi" being a popular joke among Japanese sushi chefs, it's not as popular of a nigiri sushi in Japan. In Japan, people prefer the kanpachi (amberjack) which is very similar to hamachi, but leaner. Chefs will avoid answering the biological question by saying "it's a younger version of hamachi", but in reality they are a different fish, just in the same family. Hamachi is fatty, almost like tuna with some people referring to the yellowtail belly portion as "hamachi toro". Buri is actually the same fish as the yellowtail but harvested in the winter when the fish is fatter. Buri can be found at some sushi restaurants, but most likely you'll see it on the kitchen menu, grilled or simmered.
TIP: Recently the hamachi kama, the collar bone portion of the yellowtail has become popular. It is usually served grilled, and that's also a delicacy.
"Delicious. Hamachi is a little bit more buttery than salmon or even maguro. I love to eat it as a set with other fish." (Amanda, Female 20's)
"Yellowtail has cleanest fish taste and doesn't leave a fishy after taste in the mouth" (Melo, Female 30's)
"I had my first hamachi at the Yamashiro restaurant in Hollywood, which was as a happy hour and birthday get-together for my daughter. We had "melt-in-your-mouth hamachi nigiri sushi, which is plain delicious without any wasabi, as it is almost truffle-like in its unique flavor. Unfortunately, hamachi is quite expensive, and best made over a Japanese coal BBQ for taste and flavor of a Japanese bar. (Steve, Male 50's)
"Hamachi is great tasting fish for nigiri with fatty taste without the premium toro price." (Austin, Male 40's)
– Hamachi nigiri is a popular dish, for its flavor but also for its availability. Yellowtail is much easier to raise and catch so the price of hamachi is much less than a bluefin tuna.
4. Uni (Sea Urchin) Gunkan Maki / Nigiri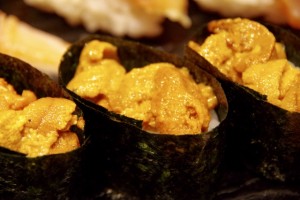 Another sushi that is an acquired taste, but once in love, it's an eternal love. Freshness is key, and there are people that never liked it because they didn't have the right sea urchin, but in most decent sushi restaurants in the CA area, you'll get the good uni from Santa Barbara. Others will get it from Hokkaido, the number one uni spot in Japan. If you are lucky, see if you can find a place that has San Diego uni, very rare, but some say it's better than those from Japan. Uni is served gunkan maki, although some places will serve it to you in the regular nigiri style. If you have trouble putting soy sauce on it, here's a tip: dip the gari (ginger) into soy sauce, and use it as a brush to put the soy sauce onto the uni.
"Uni delivers an incredible sweetness of flavor, but with an unusual texture that melts in your mouth." (Tony, Male 50's)
"Love creamy taste. Also it's expensive so I feel good when I eat it." (Mika, Female 30's)
"Creamy, sweet, briny goodness. Tastes great with nori and rice." (Miki, Female 30's)
"Uni has an acquired taste to it. It has unique creamy flavor that is so satisfying." (Rina, Female 20's)
– Talk about poetry. The sensation of the uni melting your mouth also is an acquired sensation. We also had some San Diegans who took part in the survey rightfully bragging about their uni. Uni lovers, you have every reason to be jealous.

5. Unagi (Freshwater Eel) Nigiri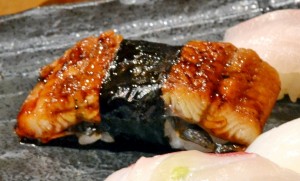 You'll often see unagi (freshwater eel) and anago (sea eel), but as the English name suggests, they are different. Unagi tends to be more fatty and are prepared "barbequed on a marinated surface", whereas the anago is leaner and sauce is put on after it is grilled. Unagi is a popular dish to be served as a nigiri or in the United States can also be seen used in rolls. Did you know that that delicious sweet sauce (called tsume) is made from the unserved bones and heads of the unagi?
"Unagi is mostly cooked or grilled. I enjoy it with rice and without. When I first met my mother in law, she served me smoked eel and it was supremely delicious. Since then, I have eaten eel smoked, grilled, steamed and sautéed. It is another of my favorite dishes. Although it is quite expensive, I can always find it at one of the local Japanese or Korean grocery stores where they sell it already grilled and served with rice and seaweed." (Rasa, Female 50's)
"I just love grilled eel and when served with that sauce it's magical." (Kellie, Female 30's)
"I also like unagi don. I like unagi fish but I dont usually eat at home so I always want to eat at restaurant." (Misako, Male 40's)
– Yes, on special occasions, I pick up a slice of grilled unagi myself and gobble it down with steamed rice. So good.

6. Amaebi (Sweet Shrimp) Nigiri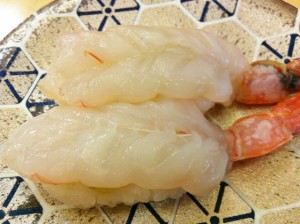 Rightfully called the sweet shrimp (ama means sweet and ebi means shrimp), amaebi will melt in your mouth and fill it with sweetness. Nowadays many restaurants have live sweet shrimp, where the chefs will kill the delicious poor thing in front of your eyes to ensure freshness. The fresher the shrimp, the more plump the meat will be. You usually get the crunchy fried head or a miso soup with it too, which is a great plus.
"When fresh, it has very juicy and bouncy texture. I love the firm flesh and juiciness, I like eating the head with miso soup." (Felix, Male 20's)
– It's a tough choice when the server asks you miso soup or fried head, because you want both. Or why not both by ordering two pieces!
7. Ikura (Salmon Roe) Gunkan Maki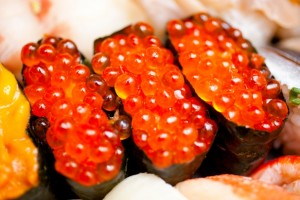 Roe is a term used for all fish eggs, and ikura is used specifically for salmon eggs. Unlike other fish eggs, ikura is large and plump. When you bite into it, it pops in your mouth and you get that juicy taste. Ikura is usually pickled in soy sauce or salt, so you really don't have to dip it in soy sauce, but nevertheless, I see many people doing so anyways. It will be served in the gunkan maki style and some places may add a cucumber slice to it.
"I enjoy the popping sensation of the ikura as I am eating it, and it's an especially good pairing with the crunch of the nori." (Emi, Female 20's)
– Well said. The great thing about the gunkan maki is that you can enjoy the Ikura with the nori flavor. However, they are eggs and are high on calories!

8. Hotate or Hotategai (Scallop) Nigiri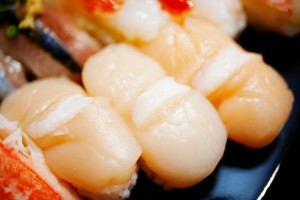 One of the most popular seafood ingredients, and an obvious choice for nigiri sushi lovers. Hotate's soft and sweet taste goes really well with the slight vinegary taste of the sushi rice. There are restaurants that sear the top portion of the hotate which is also a great way to eat it. Although most places will serve hotate with wasabi and soy sauce, you should definitely try it with sea salt and lemon.
"If fresh, very sweet and delicate. Texture is smooth and creamy. Does not need to be enhanced by anything." (Rene, Male 50's)
– Couldn't have summed it up better. From texture to flavor, it really makes a great nigiri sushi.

9. Saba (Mackerel) Nigiri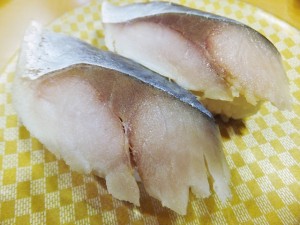 Saba is usually served in two ways – one being very common, and the other being preciously rare. To eat saba raw, it requires more freshness than any other fish out there, since it will quickly develop a pretty bad fishy smell, and the fish meat becomes wobbly. That is why most sushi restaurants will use a technique called "shime" or pickling. Often called shime-saba, it is the most common form of eating saba. But depending on the chef, the pickling time differs (ranging from 1 hour to half a day), and the taste differs as well. Saba is rich in fish oils, so to get rid of the smell, chefs will often serve it with battera (sweet kelp) or if they don't offer it, eat it with gari (ginger). Rarely found here in the United States, and even rare in Japan, are chefs that serve raw saba. If you do see it, it means it's super fresh, and definitely worth a try. Caution: Due to rarity, it may cost two to three times the normal saba.
"I like saba nigiri also because I can taste the sushi chef's taste or skills. The taste is supposed to be different in each restaurant. If saba tastes good, I want to try other nigiri sushis and come back to the restaurant again.. If Sushi chef uses a packed saba bought at a retailer shop, I can tell. I wouldn't come back to such restaurants." (Yuki, Female 50's)
– Whoa, if there was a word for sushi sommelier, you'd just might be it! Yes, the shime process differs depending on the chef, and it really is a good way to see if the restaurant is right for you. kohada is another nigiri sushi that is served using the shime process.
10. Ika (Squid) Nigiri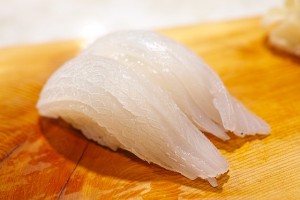 Funny how people are turned off when they hear squid, but get excited when "calamari" is used. But for nigiri sushi lovers, squid is squid, and it's a delicacy. With a beautiful transparent white meat, people enjoy the chewy texture more so than the bland taste (there is a slight taste in it). It is often served with green shiso leaf to add a hint of mint to it. It's not a sushi for novices, but you'll get a pleasant surprise from your sushi chef if you tell him you want ika. It's a very popular nigiri sushi neta in Japan.
"Squid is an acquired taste for which I have enjoyed for many years. I used to buy squid steaks at a local store called "Trader Joes" but now they only sell squid rings. On occasion I find the steaks at one of the Asian stores by my home. But if not, I go to eat at the many Asian restaurants by my home." (Jason, Male 30's)
– It really is an acquired taste, and you sure are a sushi connoisseur for putting ika on top of your list.

Some non-ranking recommendations
If you like saba, kohada is a connoisseur's choice. Very small and lean size, it is also a pickled fish. For clams, mirugai (geoduck) and aoyagi (round clam) is also popular, but clams are usually an acquired taste, due its tough texture. Masago (smelt roe) and tobiko (flying fish roe) are often used as decoration or for added texture, but sushi restaurants do offer the red and orange small fish eggs as sushi.
Let's make Temari Sushi!
Temari Sushi Recipe
Let's go out on a sunny day and bring temari sushi!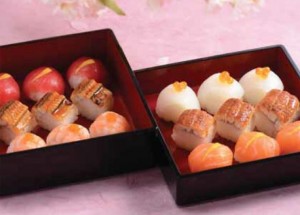 Ingredients (Serves
2

)

Sushi toppings:
Tuna sashimi
Sushi shrimp
Kabayaki eel (grilled eel)
Salmon sashimi
Squid sashimi
Tobiko
Ikura
Yuzu
Other ingredients (as desired)
Sushi Rice
3 cups rice
1/2 cup sushi vinegar
Specially-made sushi vinegar:
1/2 cup granulated sugar
2 Tbsp. salt
Scant 1 cup vinegar
Combine the seasonings by mixing well till the sugar is dissolved and let stand for 24 hours.
This is covenient to make in quantitiy and store in the refrigerator.
Tool:
---
Cooking Directions
Cut each of the sushi toppings into bite-sized pieces (size to wrap whole)
Mix natto with the sauce and mustard included in the package.
Place a topping on a sheet of plastic wrap; put a sushi rice ball (0.2 oz.) on the topping. Shape the sushi into a ball, twisting the plastic wrap (do not apply too much pressure).
Unwrap the plastic wrap; arrange on a plate and serve by garnishing with yuzu, tobiko, ikura, etc., as desired. Be creative and enjoy your favorite toppings.
Temari Sushi recipe by Hitoshi Sugiura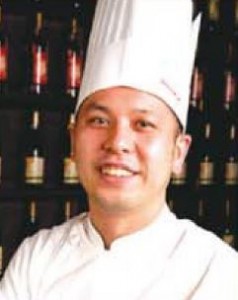 After gaining experience in many restaurants in Kansai and Tokyo, Sugiura flew to America. While training at a New York restaurant, he worked on the development of a co-product. In 2013, after having returned to Japan, he was offered the opportunity to present a meal for a Tiffany's VIP party, the Blue Book Collection, held at Rockefeller Center. In 2014, he won first place in a cooking competition sponsored by Le Cordon Blue Japan.
Please follow and like us: