Oba is known as one of the Japanese aromatic vegetables. It has a more elegant aroma and a more subtle flavor than Western herbs, and is an essential ingredient in Japanese cooking. Oba goes perfectly with sashimi and sushi.
Contents:
Oba -Japanese Aromatic Vegetable-
The food you prepare turns out differently when you use aromatic vegetables. The aromas of aromatic vegetables boost your appetite and help you enjoy the taste of food. Aromatic vegetables often play supporting roles as condiments, but their presence cannot be overlooked. In fact, the nutrition these vegetables provide is as powerful as that of other vegetables used as main ingredients. The world of cooking is experiencing a boom in herbs. To the Japanese, the most familiar herb is Oba (green perilla), a plant of the mint family.
Shiso (pedlla)
Shiso (perilla) is a member of the mint family, which also includes herbs such as basil, mint, rosemary, sage, marjoram, oregano, thyme and lemon balm.
There are several varieties of Shiso: Akajiso (murasaki-shiso, or purple red perilla), Aojiso (green perilla), and Hojiso (ear shiso). Akajiso is often used in umeboshi (pickled plum) and sports drinks. Aojiso is used in a number of Japanese dishes and as a garnish for sashimi. It is also called Oba. Hojiso refers to the flower buds of Akajiso and is also used as a sashimi garnish.
The outstanding nutritional value of Shiso has been studied in recent years, and Shiso is now used in many medicated energy drinks and health foods. The food industry has developed popular products such as Aojiso salad dressing and Yukari furikake (a condiment for rice) .
Oba (green peiilla)
The name "Oba" is used only in reference to Aojiso (green perilla). "Oba" was originally a product name used when shipping Aojiso but is now accepted as the generic name.
Oba has a refreshing flavor and unique fragrance. Thanks to its excellent aroma and color, Oba is well known not just as a garnish but also as a healthful food. It's enjoyed in a variety of ways on dinner tables in many homes. Oba plays an outstanding supporting role in Japanese cuisine, as a condiment to Somen noodles, a garnish for sashimi, and as a tempura ingredient.
Oba offers excellent nutrition and has long been valued for its medicinal benefits. Rich in carotene, calcium, vitamin A, vitamin B2, vitamin C and minerals, Oba is a nutritionally perfect vegetable. The main reasons Oba is used as a garnish for sashimi are its disinfectant and antiseptic properties as well as its pleasant aroma. That unique aroma helps boost the appetite because the perillaldehyde contained in Oba promotes the secretion of gastric juice.
Perillaldehyde also has an antibacterial effect. So Oba is served with sashimi to help prevent food poisoning. Moreover, beta carotene is believed to be better absorbed when taken with oil. Be creative, and enjoy Oba not just as a condiment but also by deep frying and stir frying it.
Tips
Wipe dry each Oba leaf after washing to ensure easy separation of sheds. When shredding Oba (green perilla), it's important to know the direction in which to do it. Place the Oba with the stem horizontal to you, and roll up the leaf and shred.
How to Cook Oba? (Green Perilla Recipes)
Deep-Fried, Ground Chicken Wrapped in Oba Recipe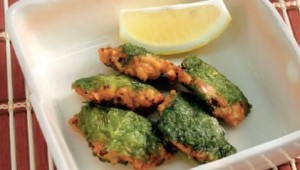 Ingredients (Serves
4

)
14 oz. ground chicken
15 to 20 Oba leeives
1 clove chopped ginger
1/2 stalk chopped naganegi (Japanese leek)
Pinch of salt and pepper
Pinch of katakuriko (potato starch)
Daikon oroshi (grated Japanese radish) (to taste)
Ponzu (citrus based, seasoned soy sauce) (to taste)
---
Cooking Directions
Place the ground chicken, chopped ginger and chopped naganegi in a bowl. Add salt and pepper and mix well.
Spread katakuriko on the back of each Oba leaf, add a spoonful of the ground chicken mixture and wrap.
Deep fry well over medium heat. Finally, deep fry over high heat to crispy perfection. Serve with daikon oroshi (grated Japanese radish) and ponzu.
Oba Miso (green perilla in bean paste) Recipe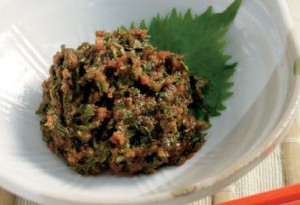 Ingredients (Serves 4)
60 Oba leaves
5 Tbsp. miso (soybean paste)
3 Tbsp. sugar
3 Tbsp. mirin (sweet Japanese cooking wine)
---
Cooking Directions
Chop the Oba into large chunks.
Put mlso, sugar, and mirin in a pan and mix while heating the pan.
Add the Oba and cook until the moisture evaporates.
* The Oba leaves will stick together at first. But as the water evaporates, the Oba will blend evenly with the miso.
Gochiso Magazine, Nijiya Market
Please follow and like us: