Contents:
What are Soba Noodles?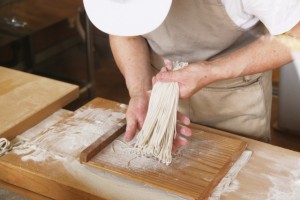 Originally, soba was eaten in the form of sobagaki (a dumpling made of soba flour kneaded with boiling water). Until then, the majority of people had enjoyed eating udon noodles, and soba had been viewed as secondary when compared to udon. However, as soba restaurants emerged and spread across the city of Edo (now known as Tokyo), the situation was reversed and soba became more dominant. Back then soba was sold under the name Ni-hachi (two eight) soba. There are two theories about the origin of this name: one is that soba was made of 80 percent soba flour and 20 percent wheat flour; and another is that the price of one bowl of soba was 16 mon (2 x 8).
Types of Soba
When the soba seed (buckwheat seed) is milled, the center of the endosperm is first milled into flour, so its outer seed coat and embryo are likely to be the last to be milled. For that reason the flour made in the initial stage of milling consists mostly of the inner portions of the soba seed, whereas the flour made in the last stage of milling consists more of the outer layers of the soba seed. According to the milling stage, soba flour is generally divided into the first-milling flour, second-milling flour and third-milling flour. Soba can be categorized into the following three types, based on which flour is used:
Sarashina soba: Made primarily from the first-milling flour, with a white appearance. It has a firm, chewy texture.
Yabu soba: Made from both the first-milling flour and the second-milling flour. It has a well-balanced color and flavor.
lnaka soba: Made from all the three flour types. The noodles are thick, dark and rough in texture. It has a strong aroma and natural soba flavor.
Soba is also cultivated outside Japan. It is widely produced in China, Canada and the U.S. state of South Dakota. Soba is harvested in the fall, and the soba flour is exported in vacuum-sealed packages to maintain that just-ground freshness. Japanese soba is considered outstanding in terms of flavor and appearance, but the qualities of foreign soba noodles have also been improving in recent years due to the advancement of transportation systems and storage methods.
Nutritional Value
Soba is a simple health food that's highly nutritious but low in calories. Its protein content is twice that of white rice and 1.5 times as much as wheat flour. It's also packed with three to four times more B-complex vitamins than white rice and wheat flour. Soba contains choline, which protects the liver, and rutin, which is effective in preventing brain hemorrhage.
It's also a good source of dietary fiber. In addition to regulating bowel movements, dietary fiber binds to cholesterol, thus preventing it from being absorbed in the body. It also slows the absorption of glucose, thus regulating the blood glucose level. Soba can play a role in preventing many adult diseases, including the hardening of the arteries, obesity and diabetes.
Different Soba Styles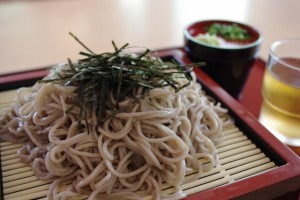 Are you ready to dig into the world of soba? First off, there are many styles of soba dishes from cold soba noodles meant for dipping to warm soba served in a soup, and on top of that there are a variety of dipping sauces and different toppings. With soba there are so many options to explore.
Let's start with the cold soba, which come in three varieties: zaru soba, mori soba and seiro soba. Soba became popular in Japan during the 16th century. Cold zaru soba was the original style served on a zaru, which is a bamboo sieve basket. Later, soba was put on a regular plate and this was called mori soba because mori means to mound something on a plate in Japanese. So initially the difference between zaru and mori soba was the plating method. The third type of soba, seiro soba, was named after how the noodles were prepared. During the early 17th century soba noodles tended to break into pieces while boiling in a pot, so in order to keep the noodles whole restaurants started to steam them in a seiro, which is a lacquer box with a wicker sieve inside. This is how the steamed, or seiro, soba was born. Over time, steaming soba in a lacquer box faded away and now soba is cooked in a regular pot, but the method of serving soba in a traditional seiro has remained. This can be kind of confusing, just remember that zaru, mori and seiro soba all refer to cold soba and today restaurants use these names interchangeably. The easiest way to tell zaru and mori soba apart is that zaru soba comes topped with nori (dried seaweed) while mori is just noodles, also the addition of nori makes zaru soba more expensive than mori soba.
Soba on the Go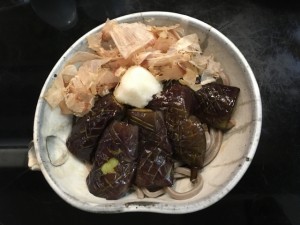 In the 18th century, after soba became a common part of Tokyo cuisine another way of serving soba became popular, the bukkake style. Since busy edo-ites, or residents of Tokyo, were always on the go they didn't have time to dip the noodles for each bite so instead they just started pouring the dipping sauce on the soba. In Japanese, bukkake means to splash liquid over something and bukkake soba refers to pouring the sauce directly on the noodles for a quicker, but still delicious, meal. During the winter people started to pour warm sauce onto their noodles and this innovation led to the creation of warm soba, the kake style, in which the soba noodles are served in a warm broth. Unlike cold soba that has many different styles, warm soba is always called kake soba, and if you are looking for a great meal on a chilly day this is a perfect dish.
In addition to cold and warm, soba styles can also be named after their different toppings; kitsune soba is topped with a fried tofu, tanuki soba with crunchy tempura flakes, tororo soba with a Japanese yam puree, and tempura soba with tempura toppings. For non-veg options, most of the tempura soba includes shrimp and kamo namban soba comes with duck and leek.
To sum it up, don't be overwhelmed by the many different types of soba, if you are in the mood for a chilled dish order zaru, mori or seiro soba and if you need warmed up order kake soba. After that choose a topping and enjoy. One last thing, when your noodles are finished you will get a soba yu, which is the warm water that the soba was boiled in. Add the soba yu into your remaining soba dipping sauce and drink up all the nutrients of soba along with the sauce.
How to eat Soba?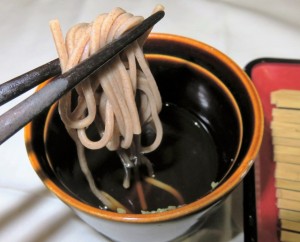 It is said that soba should be enjoyed in the throat. If you want to enjoy the flavor of soba itself, zaru soba is the best choice. Pick up a small amount of soba noodles with your chopsticks and dip it only halfway into a soy sauce-based tsuyu. Then, slurp it all up while simultaneously drawing air into your mouth, and, without chewing much, let it slide down into your throat. You can enjoy the soba's aroma, the feeling of the soba's texture and the flavor of the tsuyu sauce all together when the noodles pass down into your throat. Since soba is an alkaline food, it goes perfectly with foods such as duck meat, itawasa (sliced fish cake with wasabi soy sauce), atsuyaki (Japanese-style egg omelets) and Japanese sake.
Soba has been a part of many quaint scenes and customs in Japanese people's lives since the Edo period, as represented by soba restaurants, soba deliveries, Ni-hachi soba, eating soba with sake, eating soba after drinking sake, etc. In the world of rakugo (Japanese comic monologue), performers slurp up soba noodles with air, making exaggerated slurping sounds. This is certainly a good way to enjoy soba, but when you're with someone who isn't Japanese, please tone down the slurping.
Soba is called "buckwheat" in English, and is known all around the world. Soba is widely used in pancakes and crepes in France, and in breads in Russia. For Americans, soba hasn't yet become so prevalent, so for a start it's important that Japanese people enjoy soba and convey their love of this food throughout their Japanese communities.
Then, soba will naturally spread among Americans as well. Soba is one of the ultimate Japanese dishes. Just like sushi, I hope the word "soba" will someday become prevalent in the U.S. The Japanese have a unique tradition of having soba dishes for dinner or even after dinner on the New Year's Eve. It is often said in Japanese that a good life is "living thin and long", rather than "living large but short." Because soba is, well, "thin" and "long", it is the perfect dish to represent this idea of a long lived life. So for this year, I think it is a wonderful idea to add a few tasty soba noodle dishes for your New Year's Countdown party!
How to cook Soba?
Soba Salad Recipe
Ingredients (Serves
1

)
1 package frozen soba
6 cherry tomatoes, cut in half
3 okras, sliced
1/2 cucumber, sliced
1/6 purple onion, sliced
2 Tbsp. men tsuyu (noodle soup base)
1 Tbsp. olive oil
1 Tbsp. vinegar
Wasabi (to taste)
Salt and pepper (to taste)
For Garnish
Bonito flakes and boiled egg
---
Cooking Directions
Microwave frozen soba according to instruction. Rinse through under cold water and drain well.
Put cooked soba in a bowl and add tomatoes, okra, cucumber and purple onion.
Make sauce by mixing men tsuyu, olive oil, vinegar and wasabi. Season with salt and pepper.
Pour the sauce over the soba mixture. Mix well.
Garnish with bonito flakes and boiled egg.
Cold Soba (Hiyashi Soba) Recipe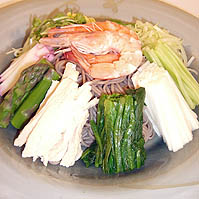 Ingredients (Serves 1)
3 oz. dried Japanese soba noodles
2 shrimps
1.8 oz. chicken breast
1 egg
Kamaboko (fish cake), as desired
1/2 asparagus
1/4 Japanese cucumber
Nagaimo (Japanese yam), as desired
Spinach, as desired
Kaiware daikon (radish sprouts), as desired
Sesame paste, to taste
Mentsuyu (noodle soup base), to taste
Roasted sesame, to taste
---
Cooking Directions
Boil soba according to instruction. Rinse through under cold water and drain well.
Strip the shell of the prawn, remove the digestive tract, and then boil. Boil quickly chicken breast, asparagus and spinach, and cut into 1.5 inch.
Pour mixed egg in the pan to make egg crepes, and shred it. Cut the nagaimo and the cucumber into rectangles, 1.5 inch. Cut the kaiware daikon and kamaboko, too.
Serve soba in the plate, and place other ingredients on soba. Cool in the refrigerator.
Mix sesame paste, mentsuyu and roasted sesame to prepare dressing.
Pour dressing [5] just before eating.
Recipe and photo by: Kappo Hana
Tororo Takana Soba Recipe
Ingredients (Serves 1)
3 oz. dried Japanese soba noodles
Sesame oil, as needed
2 oba leaves (green perilla)
Shredded nori (seaweed), as desired
Negi (green onion), as desired
1 inch nagaimo (Japanese yam)
200g karashi takana (spicy takana leaf mustard)
40cc shoyu (soy sauce)
20g oyster sauce
200cc dashi stock
10g doubangjian (broad bean chili paste, Chinese seasoning)
20g sugar
Sesame oil, as needed
---
Cooking Directions
Shred oba leaves, cut green onion into thin rounds, and grate nagaimo.
Mince karashi takana with food processor.
Coat a pan with the sesame oil and stir-fry takana [2].
When good smell, add doubangjian, shoyu, sugar, oyster sauce and keep stir-frying.
When takana and seasonings mixed well, pour dashi stock.
When dashi stock reduced bit, turn off heat, and cool.
Boil soba according to instruction. Rinse through under cold water and cool in water with ice.
Drain soba noodles well and mix sesame oil, then combine with ingredients [6].
Serve [8] in the plate, and place nagaimo, oba, green onion, shredded nori on soba.
Tips
Boil soba noodles 1-2 mins shorter than boiling time of instruction, because of putting them in water for a while later.
Recipe and photo by: Hakata Yamaya
Gochiso Magazine, Nijiya Market
Please follow and like us: