Teppanyaki literally means "grilling on the griddle," teppan meaning "iron griddle" and yaki meaning "to grill."
Contents:
Best Teppanyaki Restaurant "Benihana"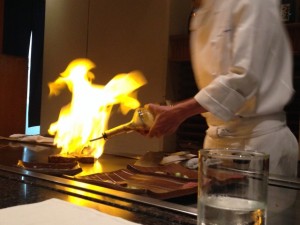 With over 70 international restaurant locations, Benihana, indeed, is the most well known and arguably the best teppanyaki restaurant in the world. Benihana's unique entertainment-dining style established itself as a pop culture icon, such that even a person who hasn't been to Benihana knows what it's all about. At Benihana, a variety of meat and seafood are cooked and grilled right before the diners' eyes by chefs who multitask between cooking and entertaining. The chef's performance includes juggling food with spatulas and building steaming volcanoes out of tower of cooking onions. The end results are, as you know, delicious. Although it sounds like a grand dining experience, its beginning was rather humble.
In 1959, a young Japanese man named Hiroaki Aoki came to America to compete in international wrestling. He decided to stay in America and open a restaurant, but he didn't have any money. So to save seed money for the restaurant, he drove an ice cream truck around Harlem. To make his ice cream more desirable, he put a miniature Japanese umbrella on top and people loved it, buying enough so Hiroaki, also known as Rocky, managed to save $10,000. In 1964, Rocky opened a restaurant on West 56th Street in New York City, and named the restaurant Benihana, after his father's restaurant in Tokyo. Before he became a restauranteur, Rocky's father was an actor and a tap dancer. It was actually his father who gave Rocky the idea of serving food in a theatrical way. Soon, Benihana's dinner-entertainment caught the media's attention as well as the eyes of big corporations, and Benihana's soon became a dining sensation in America. In Tokyo, there are 4 Benihana locations, but only one of them serves teppanyaki.
Benihana's Teppanyaki Menu
Some may call it tacky, but you can't leave Benihana without ordering teppanyaki. It is what they are known for and the key to the fun experience of Benihana dining. An order of teppanyaki comes with soup, salad, hibachi shrimp (where you can see the chef toss a shrimp tail into his pocket), hibachi vegetables (where they create the famous "volcano onion"), dipping sauces and steamed rice. Protein choices include steak, chicken, tofu and a variety of seafood. Some of them are uniquely named; for example, filet mignon and colossal shrimp with lemon butter is called the Samurai Treat. Perhaps it is a homage to Rocky's ancestors, who were actually samurai in Japan. Towards the end of the meal, your chef will ask if you want your plain steamed rice to be cooked on the grill. Say yes without hesitation. The rice absorbs the umami from the vegetables and protein previously cooked on the grill, where it turns into delicious fried rice. You can also order additional noodles or brown rice. For those raw fish lovers out there, there is fresh sushi available, but sadly, no show comes with it. Similarly, the teppanyaki menu is available during lunch hours, but only with a few protein choices. There are also salad and rice bowls available with a choice of protein. Benihana's teppanyaki menu in Japan is slightly different from the one in the States. Each course is named after an American state, and there are 8 courses to choose from. The most affordable course is called the "Hawaii course" and comes with mussel soup, vegetable grills, shrimp, white fish, squid balls, cubed steak from Australia, salad and rice or bread for $35. The most expensive course is the "Colorado course" which includes lobster and A5 grade wagyu steak, and costs about $180.
Benihana Locations
The Benihana corporation owns 64 teppanyaki restaurants (including 4 international locations), and 33 sushi restaurants around the world, with its headquarters in Florida. There are also 11 franchised Benihana teppanyaki restaurants in the world.
New York:
Midtown West (The original location)
Navigation: 47 West 56th Street, New York, NY 10019
Ring: 212-581-0930
There are 2 more locations in New York State.
California:
SAN DIEGO, CA
Navigation: 477 Camino Del Rio South, San Diego, CA 92108
Ring: 619-298-4666
SAN FRANCISCO, CA
Navigation: 1737 Post Street, San Francisco, CA 94115
Ring: 415-563-4844
SANTA MONICA, CA
Navigation: 1447 4th Street, Santa Monica, CA 90401
Ring: 310-260-1423
There are 12 more locations in California State.
Florida:
MIAMI BEACH, FL
Navigation: 1665 NE 79th Street Causeway, North Bay Village, FL 33141
Ring: 305-866-2768
There are 9 more locations in Florida.
Texas:
DALLAS, TX
Navigation: 7775 Banner Drive, Dallas, TX 75251
Ring: 972-387-4404
There are 6 more locations in Texas State.
For a complete listing of Benihana restaurant, please access to Benihana website.
Surf: http://www.benihana.com/
What is Teppanyaki?
It's safe to say that Benihana's restaurant is responsible for introducing and popularizing the Japanese word "teppanyaki" to the world. What is teppanyaki, anyway? People vaguely understand that's it's a style of cuisine using a flat grill. Teppanyaki literally means "grilling on the griddle," teppan meaning "iron griddle" and yaki meaning "to grill." In Japan teppanyaki was used to cook okonomiyaki, Japanese savory pancakes, in the early 20th century. The style of chefs cooking in front of diners on the grill was started by the steak restaurant, Misono, in Kobe, Japan in the mid-1940s. Inspired by sushi bars, where sushi chefs prepare and serve food right in front of diners, Misono restaurant started to cook and serve steak directly to their diners. This style of restaurant was a big hit among Westerners, and soon Misono became a tourist destination. Benihana adopted this style of teppanyaki, and added the performances to enhance the dining experience. Benihana in Japan does offer similar entertainment-dining at its location in Tokyo, but most other teppanyaki restaurants in Japan focuses on perfecting the chefs' culinary skill rather than their juggling style. People in Japan also enjoy the teppanyaki style of cooking at home. Most Japanese households own a "hotplate," a smaller electric-powered table top griddle. These "hotplates" are safely designed to use indoors at the family dinner table. People often enjoy stir fried noodles rather than grilling various foods at home. In Japan, teppanyaki style can also be seen at street festivals where cooks prepare stir fried noodles and savory pancakes. Sometimes people refer to teppanyaki as hibachi. Are they same thing? Although traditionally, the Japanese word hibachi means a small heating device or an open topped container with charcoal, lately, hibachi and teppanyaki are considered to be the same thing among Westerners. At the same time, there are differences and similarities between teppanyaki and the Korean style of BBQ called yakiniku. In both, food is cooked in front of diners, but chefs cook teppanyaki while diners cook yakiniku by themselves. Also, teppanyaki uses a solid flat iron surface, whereas yakiniku often uses a curved surface with drain holes so excess oils from the meat will drain off. Finally, yakiniku is mainly for meat, and teppanyaki can be for cooking anything from meat to vegetables to seafood to Japanese pancakes.
Benihana style teppanyaki is unique, and often imitated by competitors. If you want to try to experience being a chef-entertainer for the day, Benihana actually offers training for the public. All you need is to be at least 18 years old and have the ability to pay the tuition ($200+) and you can be a guest chef at Benihana to entertain friends, to cook and to serve. The training includes one-on-one sessions with their master chef, learning the art of teppanyaki, and how to make Benihana's fried rice and of course, a couple of signature moves.
*All prices, numbers and menu descriptions mentioned in the article are from the time of this article's publishing. So keep in mind, they may have changed since then.
Please follow and like us: