Tsukemen is cold ramen noodles that you dip in a sauce. Tsukemen is said to have been first served in Japan in the mid 1950's, and its popularity spread quickly.
Contents:
Tsukemen – History of the Dipping Ramen
Although not entirely well-documented, tsukemen must have come from the Japanese tradition of eating soba noodles. Soba (buckwheat noodles) can be eaten hot or cold, but when cold, it is served on a zaru (bamboo sheet) with a dipping sauce. Similarly, tsukemen is cold ramen noodles that you dip in a sauce. The sauce, however, unlike zaru soba, is served warm. Ramen is Japan's original fast-food. It is quick to make, and also quick to eat. Keeping the noodles cold allows the customer to eat and dash.
Tsukemen is said to have been first served in Japan in the mid 1950's, and its popularity spread quickly. The founder of Taishoken, one of the very first ramen shops in Japan, came up with the idea of dipping cold noodles into the hot broth and decided to give it a try. As "cold ramen" took off, a restaurant by the name of "Tsukemen Daio" (The Big King of tsukemen) opened in Tokyo in 1971, and this shop is said to be the origin of the term tsukemen.  As is the case with tsukemen from Tsukemen Daio, the soup served with tsukemen which is usually a gyokai-tonkotsu.  This broth is a combination of tonkotsu and seafood (like niboshi or katsuobushi) and it is full of umami.
Tsukemen in the United States is rather new, and many ramen restaurants that opened in the 80's and 90's did not serve tsukemen.  Perhaps these owners felt there was no potential in tsukemen or they simply did not know about tsukemen because it did not become popular in Japan until the mid-70's after a wave of Japanese immigrants set up their ramen shops in America. In 2011, when ramen's popularity was growing, the raman restaurant Tsujita opened in the Sawtelle district of West LA. With competitors like Daikokuya and Shinsengumi already thriving, Tsujita specialized in tsukemen, taking their ramen to a whole new level.  With tonkotsu ramen still being popular, the addition of this new dipping noodle to the LA ramen scene sparked an even bigger craze. There are still lines every day to get Tsujita's tsukemen even after other ramen shops started to offer tsukemen.
The introduction and success of tsukemen encouraged more and more ramen chefs to bring other popular styles of ramen from Japan to America. In the Gardena Marukai store in LA, Japanese ramen chains opened in their temporary food court that featured various ramen Americans had never tasted before. Along with the boom of ramen in Los Angeles, ramen shops soon spread to Las Vegas, San Francisco, and to other parts of the United States.
Ramen vs Tsukemen
What was it about tsukemen that infatuated so many ramen fans? The answer to this million dollar question is unknown. It could very well be the fact that unlike ramen, which is served in a hot broth, tsukemen was considered more as a "cold ramen". And in Los Angeles, where summers get really hot this cold dipping noodle maybe hit the spot more so than hot ramen.
The idea of cold noodles, besides making it faster and easier to consume, come from a Japanese preference for chewy noodles. Noodles become softer when boiled, but by chilling the noodles for a short time, the noodles stiffen up and become chewy. In the U.S., that extra step of chilling the noodles will usually cost at least a buck or two more than a regular ramen. And yet, in Japan and in the United States, the popularity of tsukemen is still strong.
Q. Do you like Tsukemen?
Let's take a look some ramen lovers' comments about tsukemen:
"I am a lover of all types of ramen. Tsukemen is a nice alternative to what I consider regular ramen." (Sergio, Male 30's)
"Tsukemen has a totally different texture than ramen, which is quite substantial. The thick noodles can be eaten easier, and add texture to an otherwise boring dish. I just recently found out about tsukemen through a ramen house" (Steve, Male 50's)
"I love tsukemen. Very simple and easy. Good for both cold and hot [climates]. That is good." (Tomoko, Female 40's)
"Yes, when it's summer time, I order tsukemen because it's fun to dip in hot soup and I can eat more than a bowl of regular size ramen." (Jennifer, Female 30's)
"It's like eating a cold soba and dipping in the soup or soy sauce. Delish!!" (Viv, Female 50's)
"I like to eat tsukemen on a hot day, but eating it in winter is too cold for me." (Yunshun, Female 20's)
"The Japanese noodle dish consisting of ramen, which is eaten after dipping in a separate bowl of soup, is amazing. Whenever I feel stressful, I always order a tsukemen. It helps me release stress. I would like to emphases the smell of the tsukemen. I am addicted to that smell as well." (Jonathan, Male 20's)
"I find it fun and just a different way to eat noodles. Plus, because they don't sit in the soup, the noodles don't get soggy." (David, Male 30's)
"This is my favorite kind of Japanese-type noodles, but I don't consider it ramen." (Amanda, Female 20's)
"Noodles are thicker consistency–broth is more concentrated." ("A", Female 30's)
And how about some that are in a mixed bag about tsukemen.
"I'm just so-so with tsukemen. I find it difficult to find the right balance of dipping. Unlike Chinese-style, the Japanese version's soup is very strong and salty (the ones I've tried); so when I misjudged the amount soaked into one bundle it can be a bit too much – especially when eating a full bowl/plate of noodles." (David, Male 40's)
"Sometimes it is nice for a change. Certain places are known for their tsukemen, so I will eat it when I am in one of those places. I prefer it all combined, as long as the noodles are fresh." ("S", Male 50's)
"I'm not a fan of tsukemen. Not enough hot steamy broth to warm you up, or satisfy your taste buds." (Tony, Male 50's)
"Very rarely. I like that ramen is a noodle soup dish. Tsukemen just feels like ramen trying to be like zaru soba, and I don't think it needs to." (Patrick, Male 40's)
"I like tsukemen, but I don't like when the broth gets cool and the fat coagulates. I also don't like that the noodles are usually cold." (Marc, Male 30's)
"I prefer my noodles to stay warm and submerged in hot soup. Also, it gets a bit messy." (Cora, Female 30's)
All of the comments are very true. I think there are pros and cons for a tsukemen, but overall it is a great dish. When you do think of ramen, you envision a nice hot bowl of noodles rather than dipping cold noodles into it, so when some people say "Tsukemen is just not a ramen" I can relate to that. Perhaps it is better to just create a new noodle-dish genre just for tsukemen.
Eating Tsukemen Right (Aside from dipping)
I've always wondered why somebody would put a lemon or lime on top of their noodles, like you do when squeezing a lime into a bowl of Pho. But for tsukemen, it seems like you are supposed to squeeze citrus on the noodles. As was mentioned before, citrus flavor, like vinegar increases your appetite, and that's the reason for adding it to your dish. A touch of citrus also adds a nice zest to the thick salty pork broth.
Should you dip the entire noodle or just a part? There is no rule regarding this, although I'm sure every tsukemen master has his or her own method for the perfect dip. In zaru soba for example – and I am in no way saying you should follow this – a renowned food critic once said that you are supposed to dip just the bottom edge of the noodle, and not dip the entire noodle into the sauce. And after dipping it, you are supposed to swallow without chewing. Obviously, this is not friendly for your stomach, and you're not going to fully enjoy the noodles, but there are people that have "rules" for everything. Me? My technique varies depending on how salty my mouth gets. I'll start out with a full dip, but as time goes on, I'll dip less, or vice versa.
Tsukemen dipping sauce is not designed to be consumed straight, because it is highly concentrated (although I do see a lot of Japanese people drinking the soup after finishing their noodles). A tsukemen connoisseur would tell you that you want to leave some soup after you finish your noodles so that you can make something called "wari-soup". "Wari" means to dilute or mix with something and for tsukemen, many restaurants in Japan will offer plain broth after you finish your noodles to dilute your tsukemen soup and make it more drinkable, and more delicious.  I've only seen one ramen shop in the U.S. that serves "wari-soup."
Another way to finish the left over dipping sauce is to make "wari-meshi". After diluting the soup with a little broth, the shop will give you a hot bowl of steamed rice, and then you dump the sauce into the bowl to make porridge (ojiya). This is a great way to finish your tsukemen, except for the fact that you just ate god-knows how many ounces (10-14oz) of noodles (carbs) and then you are adding another bowl of rice (carbs) on top of it. But hey, if you're hungry, it's worth a try to ask for the wari-soup and the wari-meshi.
Best Tsukemen Restaurants
Tsujita Artisan Noodle
Los AngelesHawaii
This is the restaurant that made tsukemen BIG in the U.S. With lines on the weekend getting as long as 2 hours despite the fact that they opened a second store, Tsujita Annex, right across the street! But the reason for this is that Tsujita Annex DOES NOT SERVE tsukemen. They have a completely different menu, and for those who are looking for tsukemen, you have to wait in line at Tsujita LA. Rumor has it that they will, or have, opened a THIRD location in Glendale.  Let's hope this new shop serves tsukemen!
Ramen Factory Minca / Kambi Ramen House
New York

These two restaurants are the go-to places in New York for ramen and both specialize in tsukemen and tonkotsu broth ramen. Minca opened in June of 2004 and Shigeto Kamada was one of the founding members of the new ramen boom in New York. In 2008, he opened his second store Kambi. Since then, he has served authentic Japanese ramen using great tonkotsu broth to the Yankees in Manhattan.
Orenchi Ramen
San Francisco – Bay Area

Meaning "My House", Orenchi is a restaurant in Santa Clara that specializes in ramen, but also serves izakaya items. Their top item is tsukemen, but you should also try their other tonkotsu-broth ramen. People tend to go to an izakaya to eat and drink and then go to a ramen shop to finish their night, but at Orenchi you can do it all at one place. Drink, eat their izakaya appetizers, and then top it off with tsukemen. Ooh, that's a lot of food!
Silverlake Ramen
Los Angeles
This restaurant opened in 2012 and you wouldn't believe it if you've been there. It's a hip place, in the old classy neighborhood of Silverlake, the last place you'd expect a good ramen restaurant to open. And yet it's there, decorated so that it's not too modern and blends in well with the surrounding neighborhood atmosphere. Yet you go there at 4p.m., the least busy hours you'd expect and you're still going to have to wait because the locals LOVE it. This restaurant often competes with Tsujita for the number one ramen spot in LA.
Ramen Tatsu
Las Vegas
Not to be confused with Tatsu Ramen in Los Angeles with the fancy iPad ordering system, Ramen Tatsu in Las Vegas is a completely different ramen shop. Ramen Tatsu opened in 2013 and specializes in tsukemen. With over 15 ramen shops popping up in the last 5 years, Las Vegas isn't just a gambling haven, but is also high-quality ramen haven. And when you are looking for tsukemen, Ramen Tatsu is your go-to spot.
 
*All prices, numbers and menu descriptions mentioned in the article are from the time of this article's publishing. So keep in mind, they may have changed since then.
How to Cook Tsukemen
Easy Tsukemen Recipe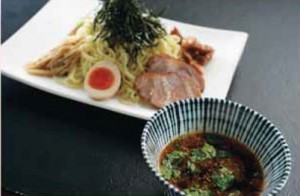 Ingredients (Serves
2

)
1 pack Nijiya Ramen (soy flavor)
Toppings (all ingredients as desired)
Naruto (sliced fish cake)
Yakinori (roasted seaweed)
Menma (pickled bamboo shoots)
Hardboiled egg
Char-siu (marinated pork slices)
Green onion
---
Cooking Directions
Boil a generous amount of water.
While the water comes to a boil, make the dipping sauce. Prepare a bowl that's a size smaller than the ramen bowl, pour in the ramen soup mix, and stir with 3/4 of a cup to 1 cup boiling water to dissolve (use as desired).
Boil the noodles for approximately two minutes with the remaining hot water (adjust the time according to your firmness preference).
While the noodles boil, place all ingredients, except the yakinori and green onion, into the dipping sauce.
Transfer the boiled noodles to a strainer and immediately rinse with cold water. The noodles will cool more quickly if they're loosened by hand as you rinse them.
Be sure the water is well drained, and place the noodles on a plate.
Place the yakinori and green onion in the dipping sauce right before you eat, and then place the noodles in the sauce. Add some taka-no-tsume (chili peppers), garlic chips or katsuobushi (powdered flakes or smoked, dried bonito) for desired flavor.
Recipe and photos by: Gochiso Magazine, Nijiya Market
Easy Tsukemen Kits
What do you need to make tsukemen at home? Is there a perfect tsukemen recipe? Tsukemen is all about the dipping sauce and the noodles, and these easy tsukemen kits come with both these items. So, you just boil your noodles, mix together your dipping sauce from the packet, and then add your favorite toppings such as boiled egg, green onion, or your favorite meat!
Myojo Chuka Zanmai Hiyashi Tsukemen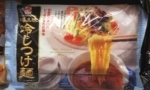 Myojo is one of the top noodles brand in Japan and their noodles are restaurant quality. This is Myojo's refrigerated fresh noodle tsukemen kit. The package says it is for cold tsukemen noodles but you can also eat the noodles warm. It comes with a sweet sesame dipping sauce and a small mustard packet. The cold noodles are great for a hot summer day! Go to the refrigerator or freezer section at your local Asian super market to find Myojo's tsukemen.
Myojo Gyokai Tonkotsu Ramen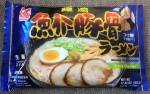 Although the package says ramen, these noodles can also be eaten as tsukemen. This fresh noodle ramen kit includes a tonkotsu pork flavor sauce, which is the traditional type of tsukemen sauce. If you make this kit into tsukemen rather than ramen, then you will want to add about half the amount of water required for the ramen soup base to make the tsukemen dipping sauce. Make sure to read the directions or your dipping sauce will be too watery!
Marutai Tsukemen Spicy Miso Taste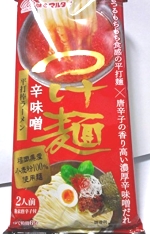 Marutai is a well-known noodle brand from the Kyushu region in Japan. Kyushu is known for their ramen noodles and it is definitely a treat to be able to have an authentic ramen or tsukemen at home. As you can tell from the red package, this kit comes with a spicy miso dipping sauce. These are dried noodles, so you will you have to boil the noodles. The noodles and soup seasoning serves two, so call a friend and have a delicious meal. Marutai noodles are available on Amazon.com. It is a little more expensive than regular instant ramen noodles, but well worth the price.
*All prices, numbers and menu descriptions mentioned in the article are from the time of this article's publishing. So keep in mind, they may have changed since then.
Please follow and like us: