Udon noodles are white, thick and long flour noodles often served in a dashi-based soup. The texture is supple and chewy; eating udon noodles is like eating fat dumplings in noodle form, and there's a good reason for that.
Contents:
What are Udon Noodles?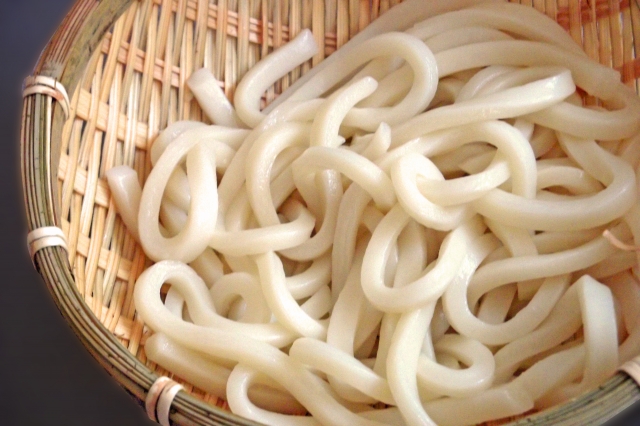 There are so many kinds of noodles out there, especially within the Asian food universe. What are your favorite noodles? Ramen noodles in rich tonkotsu soup? Pho (Vietnamese rice noodles)with extra chili? Shrimp pad thai? Or do you get lost in the countless options of stir fried noodles at Chinese restaurants? How about udon noodles? What are udon noodles, you ask? Udon noodles are white, thick and long flour noodles often served in a dashi-based soup. The texture is supple and chewy; eating udon noodles is like eating fat dumplings in noodle form, and there's a good reason for that. Just like all other noodles' origin, udon is believed to have come from China. During the 8th century, when regular trade between China and Japan began, doughy dumplings arrived in Japan, and then over the next couple of centuries, they slowly developed into their current long thick noodle form.
Udon is very simple food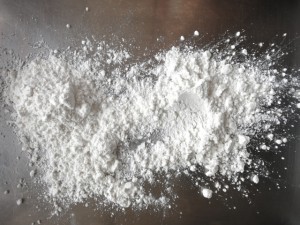 Udon is essentially water, salt and flour, and because of this simplicity, udon has become a popular alternative to rice in Japan. Traditionally, warm udon is served in a dashi-based soup, with toppings like tempura, meat and vegetables. Udon noodles themselves are rather plain, so they go well with a variety of broths and styles, for example, hot or cold. Let's break it down. There are 4 basic styles of udon noodles.
Styles of Udon Noodles
Kake udon, bukkake udon (no jokes please), zaru udon and kamaage udon. Kake udon is probably the most seen form of udon noodles in a bowl with a dashi-based soup. Toppings are minimal; chopped scallions, seaweed or a soft boiled egg. Bukkake udon is similar to kake udon but with less broth, or simply consumed with pure soy sauce. The broth may accompany the udon in the bowl, and diners can pour it over the udon themselves. Zaru udon is made of cold udon noodles served on a zaru, a flat raft-like surface made with bamboo, and is accompanied by a cold dashi-based soup for dipping. Tempura is a typical side dish for zaru udon, and diners can enjoy dipping both the udon and tenpura together in the same broth. Kamaage udon is perhaps the purest of them all, as the udon is served in the hot water that the noodles were originally boiled in. You just pick up a few strings of udon noodles and dip in the accompanying broth. Each style offers a slightly different texture of udon noodles, depending on how the noodles are prepared and served.
Boiling Ways and Toppings for each styles of Udon Noodles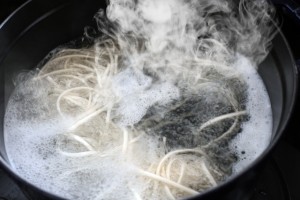 Most udon noodles are boiled, and shocked and washed in cold water to keep their firmness and to get rid of a slight slimy surface, except for kamaage style. Kamaage udon is designed to enjoy the slight sliminess and chewiness of udon's original form by serving the noodles in boiled water. If you prefer firm noodles, go with zaru udon or bukkake udon. Kake udon is al dente with good chewiness.
Now that you've mastered the basic 4, let's add some fun-toppings and broth! Traditionalists will suggests toppings like scallions, seaweed, eggs (raw or soft boiled), tempura, tenkasu (bits of deep fried tempura batter), thinly cut braised beef, age (thinly sliced tofu, deep fried and seasoned) or fish cakes. More creative broths like carbonara, curry and creamy sauce are gaining popularity as much as the traditional dashi soup.
The most famous Udon is Sanuki Udon.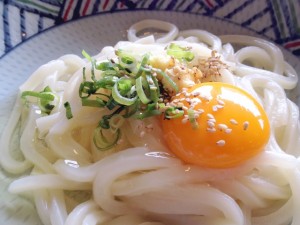 If you have traveled to Japan, you might have seen the different textures and shapes of udon noodles found throughout the country or at specialized udon restaurants. Popular styles are Sanuki udon and Inaniwa udon, followed by Kishimen and Goto udon. Kishimen is known for its flat shape which resembles fettuccine, except for being thinner and more pale in color, with a silky texture. Goto udon was born on the Southern island of Goto near Nagasaki prefecture. Noodles are thin and long, and use oil as a finishing coat to avoid having the noodles stick together. The added oil makes its texture supple. Inaniwa udon are dry noodles from Akita, in northern Japan. Its uniqueness comes from the use of potato starch as a dusting powder as well as its flat thin shape and smooth texture. The most famous and popular udon is Sanuki udon from Kagawa prefecture. They are thick and chewy, and are considered the quintessential udon. In other words, to understand Sanuki Udon is to understand the basics of udon.
The people of Kagawa have traditionally made udon noodles by hand to welcome guests, to celebrate holidays, and on other joyous occasions. The main characteristic of Sanuki udon is koshi, firmness. Sanuki udon noodles are firm, yet bouncy and chewy. Many popular udon restaurant chains serve Sanuki style udon. The consumption of Sanuki udon exceeds any other kind of udon in Japan. So much so that Sanuki udon has become a tourist attraction for Kagawa prefecture. The reason that Sanuki udon has become popular relies on Kagawa's high quality products. The essentials for udon noodles (wheat flour, salt and soy sauce) are special products of Kagawa, which is famous for its beautiful natural features, due to its location in Shikoku Island, facing the Seto Inland Sea. It's often referred to as Japan's Mediterranean.
How to cook Udon?
When you dine out at udon restaurants, sometimes you can see udon makers kneading fresh udon. You too, can make fresh udon noodles at home, but that'll be another story for another time. You can easily buy udon noodles at grocery stores, including regular supermarkets in the US, and often times, you'll find more than one variety. Most commonly seen are vacuum packed fresh udon, dried noodles, frozen noodles and udon in a cup, a la cup noodles. Needless to say instant udon noodles are the easiest to cook. All you need to do is to boil water, pour into the container and wait for a few minutes; this is not the best specimen of udon noodles. But when you are craving udon noodles, udon in a cup is your best friend. If you have a few more minutes, you may able to recreate restaurant quality with frozen udon noodles. The manufacturers freeze udon noodles right after they are cooked to perfection, so diners at home can enjoy the best. Just boil them for a few minutes and put them in the sauce of your choice or, put them in cold water immediately after boiling for cold zaru udon. Either way, you can enjoy perfect chewy al dente udon noodles at home. That doesn't mean vacuumed udon or dry noodles are inferior. They have their advantages. Fresh vacuumed udon noodles may lack firmness, but they are ready to use without boiling, so put them in any soup to make a complete meal. For example, add them to your leftover chicken noodle soup and voila, you have a hearty meal right there. Dry noodles are great, because you can control the firmness. Just put them in boiling water, and cook them according to the instructions, and if you prefer a very firm texture, cook a minute or so less. Dry udon noodles are usually thinner than others and are lighter in texture. One bonus hack for dried udon noodles for ramen lovers: add 4 tsp. of baking soda per 1 liter of boiling water when you cook udon, and the noodles will turn into chewy ramen noodles!
Let's make delicious Udon Broth (Soup) !
Udon is best enjoyed with the harmony of its texture and broth. The basic udon broth base is simple and comforting, made with dashi and soy sauce. You can, of course buy ready made udon soup at grocery stores. It is called "udon tsuyu" (udon broth) or udon soup, and is either ready to use or you may need to add some water to dilute it. They are easy, fast and delicious, so with ready made soup and frozen udon noodles, you can have store quality udon noodles at home way before you finish an episode of The Mind of a Chef. If you prefer making udon soup from the scratch, here's the basic recipe.
Udon Soup Recipe
Ingredients (Serves 4 cups)
Dashi stock (4 Cups)
4 cups water
1 sheet kombu (about 2/3 foot)
About a handful (20g) dried bonito flakes
3.5 Tbsp. mirin (sweet cooking rice wine)
3.5 Tbsp. soy sauce
---
Cooking Directions
Put water and kombu in a pot, with mid-low heat cook 30 minutes to an hour. Make sure it doesn't boil over.
When the stock reaches its boiling point after an hour or so, add the bonito flakes and turn down the heat to low, keeping it on for just a minute, then turning the heat off.
Bonito flakes will sink to the bottom of the pot, so strain the broth using cheese cloth or paper towels. (This is the basic dashi stock that you can use for anything. It'll keep fresh in a tightly sealed jar for up to a week in refrigerator.)
With medium heat, boil dashi stock, mirin and soy sauce together in a pot. When the broth is boiled, turn it to low heat, and taste with a spoon (be careful, it's hot!).
Adjust the flavor to your liking by adding more soy sauce for saltiness and mirin for sweetness. You can add a pinch of salt or a half tablespoon of sugar, if you prefer.
Now your udon noodles are ready to serve!
Make sure the broth is cooled down to the room temperature, then store it in a jar to use for later. Refrigerated in a jar, your udon broth will last for up to a week. The udon soup recipe works well as a cold noodle soup too.
Kitsune Udon Noodles Recipe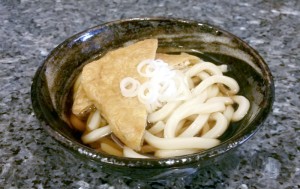 Ingredients (Serves
1

)
Frozen udon noodles for 1
Kitsune
1 deep-fried tofu
1/4 cup bonito broth
1 tsp. mirin (sweet cooking rice wine)
1/2 tsp. sugar
1 tsp. soy sauce
---
Cooking Directions
Prepare Kitsune
Cut deep-fried tofu into 4 equal parts (or any shape you like).
Pour boiling water over the deep-fried tofu to remove excess oil.
Put broth, mirin, sugar and soy sauce into the pan and cook deep-fried tofu with low heat, until the broth is gone.
Kitsune Udon
Bring water to boil.
Put the frozen udon noodles into the boiling water.
Udon will naturally get loosened; do NOT stir.
After the udon noodles are loosened, stir softly, drain and rinse with cold water.
Put the udon noodles into the udon broth (cold or hot), put the kitsune on top. Add some garnishment, i.e. chopped Japanese onion or cooked spinach.
Niku (Meat) Udon Noodles Recipe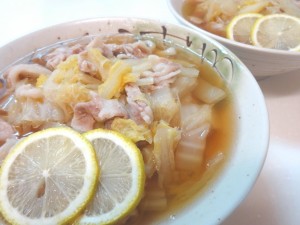 Ingredients (Serves 2)
Packet for 2 servings (8-ounce) udon noodles
1/3 lb pork belly (thinly sliced packaged*), chopped into bite sized pieces
4-5 leaves hakusai (nappa cabbage), cut into bite sized pieces
4 slices lemon
Shichimi togarashi (Japanese mixed chili pepper)**, if you like
For soup, mixed and prepared in a small (2 qt) cooking pot
2 cups dashi
2 Tbsp. soy sauce
2 tsp. mirin
1/4 tsp. salt
---
Cooking Directions
BOIL THE UDON NOODLE
Follow the directions on the packet, boil noodle, and drain well.

MEANWHILE, MAKE THE SOUP
In a small (2 qt) cooking pot, bring the prepared soup, cabbage and pork to a boil over medium heat.
Adjust the heat to keep gentle boiling, cook until the pork and cabbage are cooked through.

SERVE IMMEDIATELY
Divide the well-drained noodle among 2 serving bowls, ladle the hot soup into the bowls, and place 2 slices of lemon onto them. If you like, sprinkle a pinch of shichimi togarashi*.
Tips
*Thinly sliced pork can be found at Japanese supermarkets. In Japan, meat is usually sold thinly sliced packaged or a small block packaged.

**Shichimi togarashi
Shichimi togarashi is a spice mix which is produced from 7 ingredients. Most shichimi togarashi recipes include chili powder, yuzu peel, sesame seed, poppy seed, hemp seed, aonori powder, and sansho powder in their blend.
Recipe and photos by: Yasuko Muro
Hiyashi (Cold) Zaru Udon Nooldes Recipe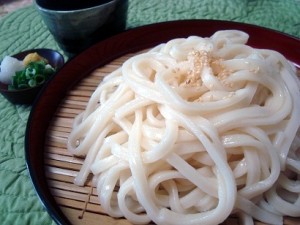 Ingredients (Serves 2)
Packet for 2 servings (8-ounce) udon noodles
1/4 tsp. sesame seeds
For dipping sauce, boiled in a sauce pan, cooled
2/3 cup dashi
2 Tbsp. soy sauce
2 Tbsp. mirin
For yakumi (accompaniments for the dipping sauce)
4-inch spring onion, finely chopped
1/2 tsp. freshly grated ginger
1/2 tsp. daikon oroshi (grated Japanese radish)
---
Cooking Directions
PREPARE THE YAKUMI
Divide yakumi among 2 small plates.
Spring onion, ginger, daikon, sesame and lemon are suitable for the yakumi, which add a kick and flavor to the dipping soup.
*In the picture, for one serving
– Front left: grated ginger
– Front right: grated daikon
– Back: finely chopped spring onion.

BOIL THE UDON NOODLE
Follow the directions on the packet, boil noodle and drain.

COOL THE NOODLE DOWN
Transfer the drained noodle into a large bowl. Chill the noodle under running water for about 20 seconds. Then drain well.

SERVE
Divide the drained noodle into 2 special plates for cold noodle* or pasta plates. Put sesame on top.
Divide the prepared dipping sauce among 2 small serving bowls.
Set the dipping sauce and yakumi aside with each noodle plate.
Tips
EATING GUIDE
*Special plate for cold noodle
Cold noodles are often served on special plates. This special plate is usually composed of 2 parts, plate (saucer) and zaru (strainer). Zaru strains off the water from the noodles. The cold noodle served on zaru is called "zaru udon".
Cook's Note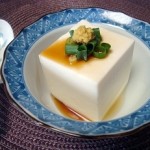 Dipping sauce and yakumi can be used for Hiyayakko (cold tofu).
Dipping sauce can be made up to 5 days ahead. Cover and keep in the fridge.
Soba (buckwheat noodle) can be substituted for udon noodles.
Recipe and photos by: Yasuko Muro
Yaki Udon Noodles Kimchi Style Recipe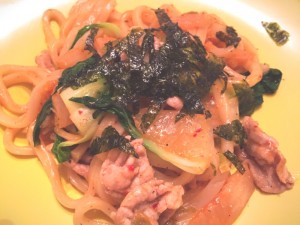 Ingredients (Serves 2)
8 oz. frozen udon noodles for 2
100g pork
1 cup kimchi
3 heads bok choy
1 Tbsp. water
Soy sauce (to taste)
1 Tbsp. sake (cooing sake)
Sesame oil for frying
Shredded seaweed for sprinkle
---
Cooking Directions
Cut bok choy into bite-sized pieces. Microwave frozen udon noodles according to instruction. Set them aside.
Heat sesame oil in frying pan, add pork and stir-fry until the meat is cooked. Then add bok choy and 1 tbsp. water, and cook for a few minutes.
Add udon noodles, kimchi, and cooking sake in the pan, then mix well. Season with soy sauce.
Put on a plate and sprinkle on shredded seaweed.
Shrimp Mentaiko (cod roe) Udon Noodles Recipe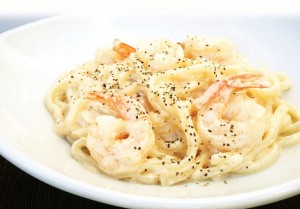 Ingredients (Serves 1)
Frozen udon noodles for 1
5 shrimp
1 egg yolk
1 cup heavy cream
5 oz. parmesan cheese
0.5 oz. butter
1/3 Tbsp. salt
1 Tbsp. mentaiko (cod roe)
Black pepper, as desired
Vegetable oil
---
Cooking Directions
Put the frozen udon noodles into the boiling water, or microwave the frozen udon noodles according to instruction.
Combine egg yolk, heavy cream, parmesan cheese, butter and salt in the bowl.
Heat vegetable oil in frying pan, stir-fry shrimp.
When shrimp is almost cooked, add [2] and mentaiko.
Toss the sauce and shrimp well to mix.
Add udon noodles [1] and heat for about 1 min.
Serve [6] on a plate, and garnish with pepper.
Recipe and photos by: Café Fujiyama
Avocado Bacon Udon Noodles Recipe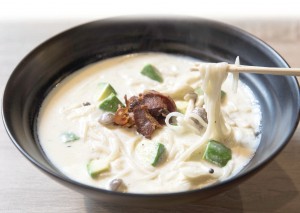 Ingredients (Serves 1)
Dry udon noodles or frozen udon noodles for 1
1/4 avocado
30g sliced onion
30g shimeji mushrooms
20g mozzarella cheese
1 sliced bacon
350 – 400ml white stew
---
Cooking Directions
Peel an avocado and dice. Cut bacon into 1/2 inch width. Remove ferrule of shimeji mushroom and unravel.
Add [1], onion and stew on a pan, and simmer on medium heat for about 5 mins.
Boil udon noodles and drain water.
Add mozzarella cheese and simmer for 1 min.
Serve udon noodles in a donburi (bowl), and pour sauce [4].
Recipe and photos by: Shin-Sen-Gumi
Frozen Udon Noodles
Frozen udon noodles are super easy to cook. These frozen noodles are precooked and then frozen so all you have to do is heat them up in a microwave for 2-3 minutes or a minute in boiling water. Frozen udon noodles are great for udon soup, chow mein, or even for pastas!
NISSIN Frozen Udon Noodles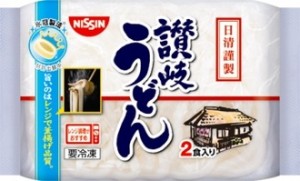 Nissin is the ramen noodle manufacturing company founded by the instant ramen noodles inventor Momofuku Ando. Try Nissin's fresh frozen noodles for an authentic taste! The noodles come in two or five servings per package.
Shirakiku Frozen Udon Noodles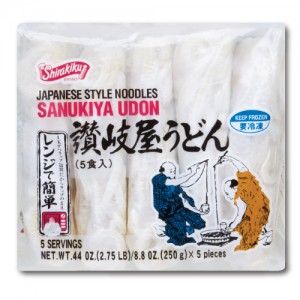 Shirakiku's frozen udon noodles come in 5 servings per package. The thick and chewy texture of udon is great with any soup or fried noodle dishes. Shirakiku is a Japanese food manufacturing company that carries varieties of Japanese food products in the U.S. You can find it at your local Asian supermarket such as Hmart.
Please follow and like us: