Wakame and Mozuku Seaweek are also kinds of Japanese seaweeds. Although seaweed is a staple in our diet, there are still many things we still don't know about it.
Contents:
The ocean is a valuable source of minerals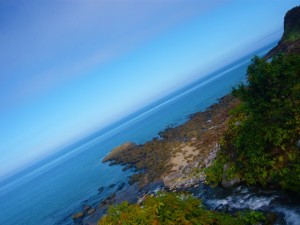 Abundant minerals are dissolved in seawater, which nurtured the first living organisms on earth. Additionally, minerals on land are dissolved by rainwater, delivered into rivers, and eventually carried into the sea. Thus seaweed is rich in minerals, surpassing any land food in type and amount. Often described as green and yellow vegetables of the sea, seaweed is rich in nutrients, including vitamins, minerals, and dietary fiber. Japan is surrounded by ocean and has long incorporated large amounts of seaweed into its culture. Studies have shown that those who inhabit locales with high seaweed consumption tend to live longer. Here we introduce some of the seaweed varieties that make healthy and delicious options for summer cooking.
Wakame Seaweed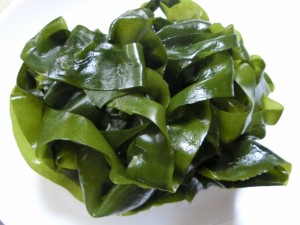 For Japanese people, wakame is the king of seaweed. The history of its consumption is long, reportedly dating back as far as the Jomon period (12,000 B.C. – 300 B.C.). Wakame spread throughout Japan presumably because it's easy to dry, preservable, and light enough to carry around. Wakame is a perennial seaweed. Fresh, delicious wakame repeats its one-year life cycle from spores to maturity every year. Wakame contains a good balance of dietary fiber, vitamins, and minerals (calcium, magnesium, phosphorus, and iron), and is effective in removing excess cholesterol from the body and preventing blood-pressure elevation. The dietary fiber in wakame is gaining attention not just for its high content but also for its quality. Wakame contains various types of dietary fiber, including cellulose (water-insoluble dietary fiber) and alginate (water-soluble dietary fiber). The water-soluble dietary fiber stored between the cells-such as alginate and fucoidan has unique properties found only in seaweed, which is attributable to the fact that it grows in a different environment from land plants.
How to remove the excess salt from wakame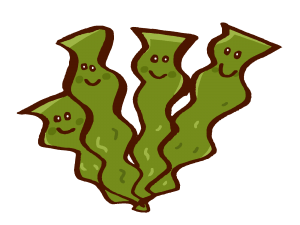 Rinse briefly under running water to wash off salt.
Soak in plenty of water for about 3 minutes to remove excess salt.
Drain well in a colander.
Once hydrated, the volume of wakame increases 2 to 3 times. Simply adjust the texture to suit your preference.
Mozuku Seaweed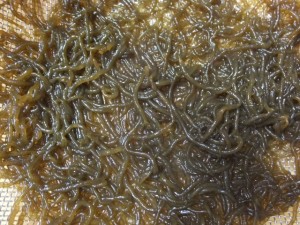 Among the various types of seaweed, mozuku may be the least familiar. The processed mozuku sold in stores looks similar to mekabu, and many people may find it difficult to tell which is which. However, while mekabu is a particular part of the wakame plant, mozuku is a completely different variety of seaweed. Mozuku can be roughly divided into "ito-mozuku" and "futo-mozuku." The scientific name for ito-mozuku is "Namacystus decipiens." It grows wild around the Noto Peninsula and along the coastline of the Sanin region. lto-mozuku is known for its thin slimy surface and smooth, slippery texture. The scientific name for futo-mozuku is "Cladosiphon okamuranus." It is endemic to Okinawa and the Nansei Islands and can is rarely found around mainland Japan. This thick mozuku is slimy inside and has a firm, crunchy texture. Futo-mozuku stores the sliminess within its fiber. When it is fully mature, futo-mozoku contains plenty of the slimy substance and has a refreshingly crunchy texture. Many people tend to think that futo-mozuku is an adult version of ito-mozuku, but they're two different kinds of seaweed. Like other seaweed, mozuku is rich in minerals such as sodium and calcium. The slimy substance in mozuku is from dietary fiber known as fucoidan and alginate, which are noted for their health benefits. Once inside the stomach, fucoidan adheres to the gastric mucosa with its powerful slimy property, coating and protecting the entire gastric mucosa. Mozuku is also well known as a health food that can naturally supplement our intake of essential minerals, vitamins, and other nutrients.
Mozuku-su (vinegared mozuku seaweed)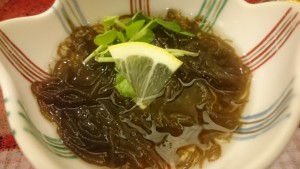 Sunomono (general term for vinegared dishes) has the effect of easing fatigue and reviving the appetite. Sunomono with "mozuku" seaweed is known for its great nutritional value. Eating mozuku daily helps you maintain health and strength and prevent disease. Consider Okinawa, which produces and consumes more mozuku than any other prefecture in Japan. It is well-known that the people of Okinawa have one of the longest life expectancies in the world. In this issue we take a look at "mozuku-su," or vinegared mozuku seaweed, which is easy to prepare.
Origin
In shallow subtropical waters, wild hosomozuku seaweed grows by attaching itself to other seaweeds; hence the name "mozuku," which literally means "attach to seaweed" in Japanese. Okinawa is the primary producer of mozuku. Comprised of many mozuku farms, Okinawa currently accounts for 95% of all mozuku consumed in Japan, of which 90% is produced by farming. Farmed mozuku has a slightly different texture than wild mozuku. However, it is harvested in the same sea rich in minerals and other nutrients: thus, farmed mozuku offers the same nutritional value as wild mozuku.
Pull of nutrients
Mozuku-su products sold in supermarkets are mixtures of mozuku with either sanbaizu (a mixture of roughly equal parts of vinegar, soy sauce and sugar or mirin), tosazu (Tosa vinegar), kurozu (black vinegar), or other vinegar sauces packed in ready-to-eat plastic containers. Like konbu (kelp), wakame seaweed, and other seaweeds, mozuku is also a rich source of dietary fiber. However, mozuku offers an additional health benefit that comes from the substance known to give all seaweeds their distinctive sliminess. What makes mozuku slimy is a water-soluble dietary fiber (polysaccharide) called fucoidan. Mozuku contains more fucoidan than any other seaweed, and in recent years it has drawn attention as a health-promoting food with the power to prevent various diseases. Mozuku also contains ample amounts of fatty acids, carotenoids, amino acids, vitamins, calcium, iron, and other minerals beneficial to our health. What is particularly beneficial about mozuku-su is that it combines all the nutrients of mozuku with the health benefits of vinegar. Vinegar breaks down lactic acid, which is a known cause of fatigue, and promotes the digestion and absorption of food. You can eat mozuku as is, but a little arrangement can transform it into a delicious appetizer that accentuates your meal.
How to cook Wakame and Mozuku?
Mozuku and Cucumber Sunomono Recipe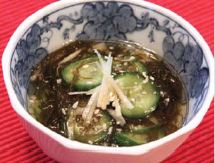 Ingredients (Serves
2-3

)
2.8 oz. mozuku
1/2 cucumber
1 one-inch piece of ginger, shredded
1.4 oz. rice vinegar
1 1/2 tsp. soy sauce
Ground sesame (to taste)
Salt (to taste)
---
Cooking Directions
Slice cucumbers into rounds and sprinkle with salt.
Wash and drain mozuku and put it in a bowl. Add cucumber, ginger, vinegar, and soy sauce, and mix well.
Pour into bowls. Sprinkle with ground sesame.
Wakame Garlic Butter Soy Sauce Recipe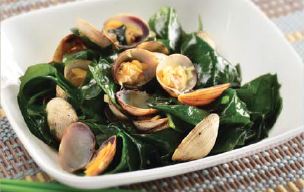 Ingredients (Serves 2)
3 1/2 oz. wakame
Raw clams in the shell (as desired)
1 clove Garlic minced
0.35 oz. butter
1/2 Tbsp. soy sauce
Pepper (to taste)
---
Cooking Directions
Heat butter and garlic in a pan. Add the clams.
When the clams open, add wakame, pepper, and soy sauce to taste.
Wakame Salt yakisoba Recipe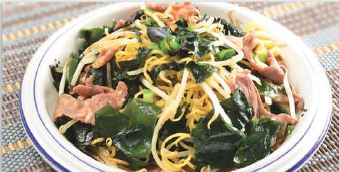 Ingredients (Serves 1)
2 1/2 oz. wakame
1 oz. pork
1 package yakisoba
1 tsp. sake (Japanese cooking sake)
Salt and pepper (to taste)
3 1/2 oz. bean sprouts
2.8 oz. green onions, chopped
1 Tbsp. oil
1/2 tsp. Nijiya Chuka-Dashi
1 tsp. soy sauce
---
Cooking Directions
Rinse wakame and cut into bite-sized pieces. Rinse sprouts.
Heat a pan with oil. Cut pork into small pieces and heat in pan. Add sake. When the meat changes color, add the noodles.
Do not mix. Instead, spread the noodles. Add sprouts, wakame, dashi, and salt.
After everything is cooked, add onions and soy sauce. Mix well.
Top with pepper, if desired.
Mozuku Miso Soup Recipe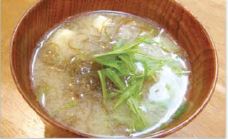 Ingredients (Serves 4)
3 1/2 oz. mozuku
6 oz silken tofu or soft tofu
1 1/4 tsp. Japanese dashi powder
3 cups water
0.7 oz. aburaage
0.7 oz. mizuna
3 Tbsp. miso
---
Cooking Directions
Cut the mozuku and mizuna into bite-sized pieces, and the aburaage into 0.4-inch cubes. Cut tofu into 1/2-inch cubes.
In a medium saucepan, add water over medium heat. After boiling, stir in the dashi powder.
Add the aburaage, mozuku, and tofu to the soup. Stir gently without breaking the tofu.
Put 1 Tbsp. of miso in a ladle (or strainer) and blend it with soup until it is thoroughly mixed. Continue this process until the miso is all used. Be careful not to boil the miso soup because miso will lose flavor.
Pour into bowls. Top with mizuna.
Mozuku, Tuna, Onion Salad Recipe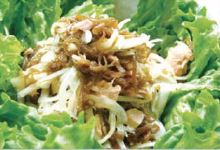 Ingredients (Serves 4)
4.2 oz. mozuku
2 small cans Nijiya Tuna, 80 gram (2.82 oz.) size
1/2 onion
1/2 a head of lettuce
1/2 lemon juice
1 tsp. soy sauce
1 Tbsp. olive oil
Pepper (to taste)
---
Cooking Directions
Cut mozuku into bite-sized pieces, slice onion thinly.
In a bowl, combine mozuku, tuna, and onion. Top with lemon, soy sauce, pepper, and olive oil. Mix well.
Serve over lettuce.
Simply mix with mozuku-su Recipe
No need for seasonings!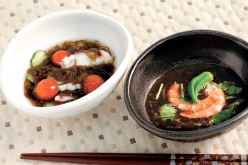 Ingredients (Serves 1)
Japanese cucumber
Mitsuba (Japanese honewort)
Mioga (Japanese ginger)
Yuzu orange
Oba (green perilla) leaves
Nagaimo (Mountain Yam)
Wakame seaweed
Onion
Ginger
Okura
Tomato
Spinach
Cabbage
Shirasu (boiled whitebait)
Chirimen (boiled and dried whitebait)
Squid
---
Cooking Directions
These ingredients go well with mozuku-su. You can sprinkle sesame or shichimi (red pepper powder with seven kinds of spices) on top. It's so easy!
Mozuku somen noodles Recipe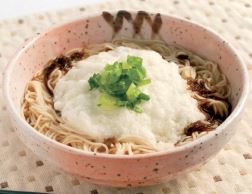 Boil a bundle of somen noodles and rinse in ice water. Mix equal parts of mozuku-su and ready-made somen dipping sauce (undiluted). Place noodles in the sauce mixture. Add shredded nagaimo and chopped Japanese green onion to taste.
Mozuku salad Recipe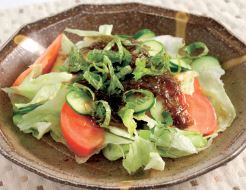 Just toss with vegetables!
Add chopped tomato, Japanese cucumber, oba (perilla) leaves, lettuce, and other vegetables of your choice and toss with mozuku-su. Add a dash of sesame oil to finish.
Gochiso Magazine, Nijiya Market
Please follow and like us: