Contents:
Best Yakiniku Restaurant, "Gyu-Kaku"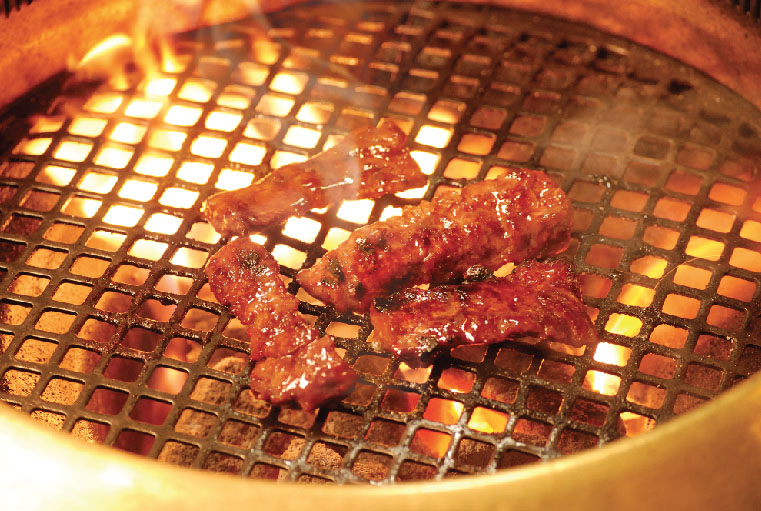 Fact: Yakiniku smells insanely good. When you pass by any Gyu-Kaku restaurant in the world, the smell of grilled meat allures you. Even if you are going to a meeting and don't have time to stop for a yakiniku lunch, you'll be thinking about it all throughout the meeting, at night, until you have yakiniku in your stomach. Lucky for you, Gyu-Kaku restaurant is expanding and there'll be one near you soon.
What is Gyu-Kaku, you ask? If you ever had Japanese style BBQ, where you grill your own meat, chances are, you have been to Gyu-Kaku. Gyu-Kaku Japanese BBQ restaurants have been spreading like wildfire, but in a good way, as there are about 700 Gyu-Kaku restaurants in 10 countries, including Japan, Singapore, Taiwan, the United States and Canada. That makes Gyu-Kaku the largest yakiniku (Japanese BBQ) restaurant chain in the world! Gyu-Kaku has achieved this popularity thanks to their reasonable prices, quality of meat, and top notch service. Add to this, a chic interior and you have the combination for the perfect date spot.
Gyu-Kaku's success didn't happen overnight. Gyu-Kaku began in a humble 600 square foot location in Tokyo that resembled a small studio apartment in New York City. From this modest beginning, Gyu-Kaku was able to revolutionize the yakiniku industry.
First, their customer service was unique. Instead of just giving away discount coupons good for the next visit, customers were asked to give negative comments on their dining experience, in exchange for a coupon. From this, Gyu-Kaku made an effort to address these issues and as a result, diners came back for more.
Another reason for the expansion was the price. Before Gyu-Kaku, there really wasn't a reasonably priced yakinku to be found, as this style of cuisine was considered 'special occasion food' for Japanese people. By making yakinku accessible to all, Gyu-Kaku was able to change the culinary landscape, without sacrificing the stylish decor.
Last, and probably most important, is the taste. Gyu-Kaku make their own dipping sauces and marinates meat in special house made yakiniku sauce as well. Although the menus are different in the United States and Japan, each country can enjoy many selections from the large menu, which means there's something for everyone.
Gyu-Kaku chose Southern California as their first US location in 2001, and opened in Hawaii the next year. The reason for those locations makes sense when you consider the large Japanese expat population in those two communities. From there, it grew rapidly in North America. Currently, there are forty locations in the US and in Canada, with twenty-six more slated to open within a year.
Gyu-Kaku single-handedly put Japanese "Yakiniku" culture on the map, not only in North America, but also in Asian countries, where booming economies mean booming interest in Japanese cuisine. Of course it is debatable whether Gyu-Kaku is THE best yakiniku restaurant, however, it certainly is the most popular chain, and its contribution to the yakiniku culture is unmatched.
Gyu-Kaku Menu
They say beauty is in the eye of beholder. This holds true for taste as well. With nearly 700 restaurants in 10 countries, where favorite flavors vary, how does Gyu-Kaku keep its reputation as the best yakiniku? The secret is to slightly differentiate the menu from one location to another, while using the same quality meat and house blended yakiniku sauce.
For example, in Japan, people LOVE to eat white rice with their yakiniku. So at Gyu-Kaku Japan, one of the most popular dishes other than beef, is simply a bowl of rice. While some prefer plain white rice, Gyu-Kaku created a rice bowl dish specifically to complement their famous short rib, kalbi yakiniku. In this dish, piping hot white rice is topped with seasoned seaweed nori, scallions and Gyu-Kaku's original yakiniku sauce. The customer can then crown their rice with grilled kalbi. To make this Gyu-Kaku experience complete, most people add an egg and mayo (latter free of charge).
If that sounds too "Japanese" for you, U.S. locations offer an avocado salad, a spicy tuna on crispy rice to start the meal, and a great "happy hour" (happy hours vary by location, check your local Gyu-Kaku website for details). During happy hour, many dishes, including the popular kalbi chuck and pork belly, are a dollar off. With over 30 different cuts of meat, the Gyu-Kaku experience might seem a bit overwhelming at first. If you find yourself struggling to decide, the simple rule of thumb is to ask yourself, "Do I want to eat lean meat or try something a little more indulgent?" If you decide on the latter, try the prime kalbi short rib, which is Gyu-Kaku's signature. Pork toro and pork belly are also good choices, as they have that 'melt in your mouth' effect. If you prefer lean meat but don't want to compromise flavor, both the filet mignon and the skirt steak make for great yakiniku. There is also a Kobe style meat on the menu, too, but just so you know, it's NOT Kobe beef, as the key word here, is "style".
Where is Gyu-Kaku?
In North America, you can find Gyu-Kaku yakiniku restaurants in California, Hawaii, New York, Texas, Nevada, Illinois, Philadelphia, Massachusetts, Florida and in Canada. Many locations are under development, and soon you'll see more.
California:
Beverly Hills
Navigation: 163 North La Cienega Blvd., Beverly Hills, CA 90211
Ring: 310-659-5756
There are 15 more locations in California State.
Texas:
Dallas
Navigation: 5290 Belt Line Rd. #115, Addison, TX 75254
Ring: 469-567-3237
There are 2 more locations in Texas State.
Hawaii:
Waikiki
Navigation: 307 Lewers St., Honolulu, HI 96815
Ring: 808-926-2989
There are 4 more locations in Hawaii State.
New York:
New York
Navigation:Ring: 646-692-9115
There are 3 more locations in New York State.
Massachusetts:
Boston
Navigation: 1002 Beacon St., Brookline, MA 02446
Ring: 617-264-6190
There are 1 more locations in Massachusetts State.
For a complete listing of Gyu-Kaku restaurant, please access to Gyu-Kaku website.
Surf: http://www.gyu-kaku.com/locations
What is Yakiniku anyway?
Yakiniku literally means grilled ("yaki") meat ("niku"). It used to refer to every grilled meat dish, but lately it has become more specific, referring to a unique style of Japanese BBQ consisting of sliced meat grilled over charcoal, propane or butane fueled fire, or electric grill. Sounds like American barbeque, doesn't it? The big difference is that American BBQ happens outdoors where there's usually a designated cook who grills big pieces of meat (burgers, steak, hot dogs), and plates everything nicely before we say grace. On the other hand, Japanese yakiniku happens indoors at restaurants. Yakiniku meat often comes thinly sliced and cut into bite size pieces because cooking happens at the table, and people grill meat as they eat.
Similarly, Korean BBQ also features food grilled at the table, but with a subtle difference. Japanese yakiniku restaurants offer everything from filet to intestine to shrimp, whereas Korean BBQ often specializes in only a few kinds of meat. While they offer kalbi and bulgogi, if want something different, like intestine, you have to go to another restaurant. In addition, Korean BBQ gives you lots of free side dishes, like kimchi, potato salad, and sometimes pancakes and lettuce to wrap the meat. When you go to Japanese style BBQ like Gyu-Kaku, you have to order all side dishes separately. From this, it sounds like Korean BBQ is a better choice… Not so fast! At Korean BBQ restaurants, you have to commit to a large plate. Customers are often asked to order enough of a specific meat to serve a minimum of 2 people. But what if you want filet, skirt steak, short rib, intestine AND pork belly? That's where Japanese yakiniku wins. With Japanese yakiniku, each plate is for one serving of meat and adults can easily eat more than one plate. So with yakiniku, variety really is the spice of life as there are more choices and flexibility, and if you still have room for the side dishes, you can always order those too. If you enjoy cooking your own meat at the table, Japanese yakiniku BBQs have their Korean rivals beat, as diners may cook their meal at their own pace.
*All prices, numbers and menu descriptions mentioned in the article are from the time of this article's publishing. So keep in mind, they may have changed since then.
Please follow and like us: