Yakisoba is a stir fried noodle dish made with vegetables and a meat like chicken, beef or pork belly. In Japanese yaki means grilled and soba means buck wheat noodle, but even though yakisoba has "soba" in its name the noodles grilled in this dish are similar to those found in ramen and not the buck wheat "soba" noodles.
Contents:
What is Yakisoba?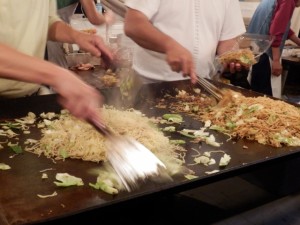 Nothing says "Japanese festival food" like Yakisoba. The smells and the sounds of yakisoba cooking on a hot steel plate are irresistible. Yakisoba is a quintessential element to most Japanese outings such as festivals, fairs and barbecues. Yakisoba is a stir fried noodle dish made with vegetables and a meat like chicken, beef or pork belly. In Japanese yaki means grilled and soba means buck wheat noodle, but even though yakisoba has "soba" in its name the noodles grilled in this dish are similar to those found in ramen and not the buck wheat "soba" noodles. The origin of yakisoba can be traced back to the Chinese stir-fried noodle, chow mein, which changed to yakisoba when teriyaki sauce was added in the early 20th Century. The main difference between Chinese chow mein and Japanese yakisoba is the sauce, which is a sweet Worcestershire sauce similar to teriyaki. Yakisoba is nutritiously well balanced in a sense that you have multiple vegetables sautéed with the noodle such as cabbage, carrot, sprouts celery, mushroom, onion and also any type of protein such as pork, beef, chicken, or even tofu. You can add extra toppings at the end like aonori (dried seaweed flake), vinaigrette ginger, and mayonnaise. Yakisoba is a go to recipe for Japanese Moms to make sure that their kids get a full serving of vegetables.
Different types of Yakisoba
Just to make sure, yakisoba is not ramen. Ramen noodles are made in a soup broth, while yakisoba is a stir fried dish. With that said, there are three types of yakisoba. The most popular one, and the classic festival food, is made with yakisoba sauce. The sauce is similar to teriyaki sauce, and a sweeter version of Worcestershire sauce. Then you have the simple shio yakisoba, which has a salty flavor. Lastly is kata-yakisoba, a deep fried crispy noodle with thickened sauce poured over it and is a popular dish in Chinese or Japanese restaurants.
Make your own Yakisoba!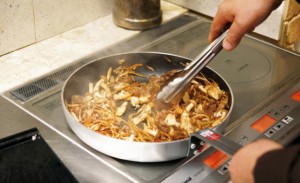 Did you know making yakisoba is easy? It's even quicker than ordering Chinese takeout food or a pizza. All you have to do is sauté chopped vegetable and your choice of protein and then add fresh noodles and cook for 2-3 minutes. Once everything is sizzling in the pan mix in the sauce package that comes with the noodles and you are done. If the yakisoba noodles don't come with the sauce package, you buy yakisoba sauce in the sauce section at your local Asian supermarket. For your little picky eaters, chop the vegetables super small and I assure they will eat the whole dish like magic! You can also use the noodles for a pasta dish as well. It will save you time since the noodles cook in just a few minutes and you don't have to worry about making your noodles to mushy!
How to cook Yakisoba? (Yakisoba Recipe)
Shrimp Shio (salt) Yakisoba Recipe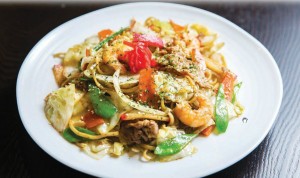 Ingredients (Serves
1

)
1 pkg fresh yakisoba noodles
5 shrimp
100g sliced pork belly
3 cabbage leaves
1/6 onion
1/8 carrot
1 handful moyashi (bean sprouts)
5 snow peas
30 kamaboko (fish cake)
1 tsp. garlic
Salt and black pepper, as needed
1/2 tsp. chicken broth powder
Vegetable oil, as needed
White sesame, aonori (green dried seaweed), red pickled ginger, as desired
1 Tbsp. hot water
1 1/2 Tbsp. oyster sauce
1 tsp. sake (Japanese cooking rice wine)
1/2 tsp. shoyu (soy sauce)
1/2 tsp. sugar
1 tsp. sesame oil
---
Cooking Directions
Cut vegetables, meat and shrimp. Slice the onion. Cut the carrot, cabbage and kamaboko. Remove head and tail of shrimps and cut. Remove strings of snow peas and shred. Cut pork belly into bite-size.
Combine hot water, oyster sauce, sake, shoyu, sugar and sesame oil in a small bowl.
Boil snow peas and shrimp for 1 minute and drain in a colander.
Put granted garlic and vegetable oil in a skillet, and heat on medium heat until fragrant.
When the skillet becomes hot, add pork and stir fry with granted garlic until the pork no longer pink.
Add carrots, cabbage, onion, kamaboko, moyashi, and stir until wilted. Then add [3].
Sprinkle with salt and pepper a few times, and add chicken broth powder and cook on high heat.
Stir-fry yakisoba noodles lightly, and add [2].
Cook for about 1 minute until liquid has evaporated, and season with salt.
Serve, garnish white sesame and aonori, red pickled ginger.
Recipe by: Ramen Toraji
Best Seller Fresh Yakisoba Noodles
Maruchan Nama (Fresh) Yakisoba Noodles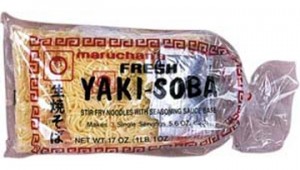 Maruchan is the noodle product line of the mega-food company Toyo Suisan. Maruchan's Nama (Fresh) Yakisoba Noodles comes in individually packed noodles of 3 servings with a yakisoba seasoning sauce. The fresh yakisoba noodles have a perfect al dente texture and will be very close to the fresh yakisoba noodles served in restaurants.
Myojo Nama Yakisoba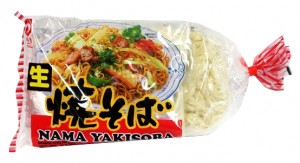 Myojo Foods is another noodle manufacturing company founded in 1950. Myojo Nama Yakisoba noodles also come in 3 packs of noodles and with a yakisoba seasoning powder. With yakisoba you can create your own style by adding any vegetable or meats to sauté with the noodles. Just change the sauce and voila!, you can turn it into a pasta dish as well. It will save you time since the noodles cook in just a few minutes while also getting a restaurant quality meal.
Shirakiku Fresh Chow Mein Noodles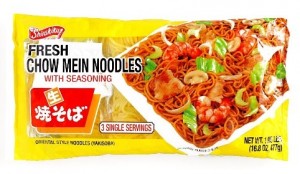 Shirakiku is Wismettac Asian Foods' Japanese food product line. Their yakisoba noodles are the Fresh Chow Mein Noodles. They also come with yakisoba seasoning. Shirakiku brand are available at any Asian supermarket as well as many regular US supermarkets.
Yakisoba Sauce: powder or sauce?
You can of course use the yakisoba seasoning that comes with the fresh yakisoba noodles, but if not, get the yakisoba sauce available at any Asian supermarket near your home. Not sure which one to get? Go look for the Otafuku yakisoba sauce for an authentic yakisoba taste.
Otafuku Yakisoba Sauce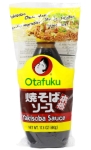 Otafuku is one of the leading sauce manufacturing companies in Japan and was founded in Hiroshima in 1922. From a humble start selling sake and soy sauce, Otafuku created its iconic okonomiyaki and yakisoba sauces, which are similar but sweeter version of A-one or Worcestershire sauce. The Otafuku Yakisoba Sauce is a miracle sauce. Put it in anything and you will have a savory dish that your whole family can't resist. You will not be sorry to have this sauce in your fridge.
Product Info & Photo Credit: http://www.otafukusauce.com/e/products/retail-yakisoba.html
OtaJoy Yakisoba Sauce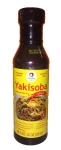 Otajoy Yakisoba Sauce is also an Otafuku sauce, great not only for yakisoba but any stir fry dish. It is made with 19 different spices, and is gluten free and vegetarian. This sauce is so versatile that you can use it with other Japanese dishes such as takoyaki , okonomiyaki (savory Japanese pancake) or with pretty much anything like steaks, burgers, steamed vegetables, roasted yams, teriyaki chicken or even on baked potatoes.
Product Info & Photo Credit: https://www.otajoy.com/products/otajoy-sauce-yakisoba-14-ounces
No Recipe Required! Ready to Eat Instant Yakisoba Noodles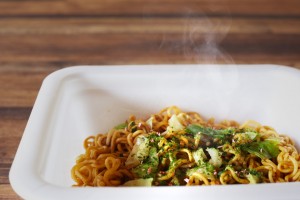 Not sure if you want to make yakisoba from scratch? No worries, we have instant yakisoba noodles for you! This is a quick and easy meal. Just boil water and pour it into the package with the noodles and the freeze-dried vegetables. Wait for 3 minutes then drain the water, add the sauce and toppings and you are done. Within 3 minutes you have a tasty instant yakisoba noodle meal ready to eat. Instant yakisoba is so easy to make you can even take it camping for a quick, delicious and nutritious meal.
Myojo Ippeichan Yakisoba Japanese Style Instant Noodles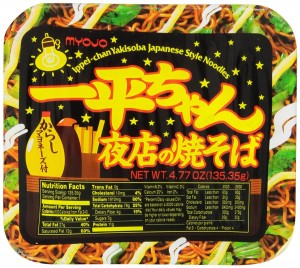 Let's start with Myojo's Ippeichan Yakisoba Japanese Style Instant Noodles. Myojo is one of the major food companies that specialize in noodles. They make all types of fresh and instant noodles including ramen, udon, and yakisoba. Ippeichan is their signature Yakisoba Japanese Style Instant Noodles that comes in a container with a strainer hole, so it is easy to make. They come in a few of different flavors: the classic Yakisoba flavor, the Mustard Mayonnaise flavor, and the Oriental or Shio Dare flavor which is their salt seasoned variety. The dried seaweed flakes that come with each packet is a bonus.
Product Info & Photo Credit: http://www.myojofoods.co.jp/products/ippei/
Maruchan Yakisoba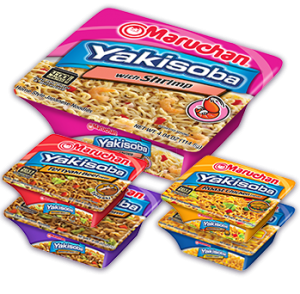 Maruchan Yakisoba is a noodle brand from one of the leading food manufacturing companies in Japan. If you have the desire to become an instant noodle connoisseur you might want to try all of their 11 flavors; Chicken, Roast Chicken, Cheddar Cheese, Four Cheese, Savory Soy Sauce, Shrimp, Spicy Chicken, Sweet & Sour Chicken,Teriyaki Beef, Spicy Teriyaki Beef, and Teriyaki Chicken. The Maruchan instant yakisoba noodles are cooked in the microwave. If you don't know where to start, try the classic Chicken or Teriyaki Beef flavors first and then try out the other flavors!
Shirakiku Goku-uma Yakisoba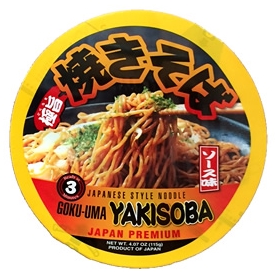 Shirakiku Goku-uma Yakisoba noodles come in a bowl shape container. The freeze-dried cabbage and sauce comes with it. Pour hot water and wait three minutes. Don't forget to drain the water! Some people make a mistake and think yakisoba is soupy like ramen, but it's meant to be eaten like a chow mein or pasta!
Sapporo Ichiban Chow Mein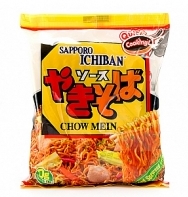 Sapporo Ichiban chow mein (yakisoba) noodles come in a bag with the seasoning and a seaweed powder topping. Be sure to read the instruction. This doesn't come in a bowl or tray, just the noodles and the seasonings so make sure you're in a kitchen when you cook these noodles. These noodles are great not only for yakisoba, but also for making pasta. Just add a cup of water and cook the noodles in a pan for three minutes. Make sure you drain the excess water then add your toppings and sauce and you are done!
Please follow and like us: