Japanese-People Approved Top Ramen-ya in America.
It seems like new ramen restaurants are opening every weekend. Not only that, these days all Japanese and sometimes even non-Asian restaurants are adding ramen to their menu. Ramen is, no doubt, the 'it' food right now. But, how do you pick the best ramen restaurant? Many ramen restaurants claim they are the best and all your friends are happy to tell you that their favorite ramen restaurant is the best, but can there really be so many 'best' ramen restaurants out there? We are here to help you pick the best ramen restaurant near you. Some are Japanese ramen chains and others are run by passionate ramen lovers, but all are delicious. These are the nations' top ramen restaurants, which can satisfy even the pickiest Japanese person.
12/5/2016 updated: 5 restaurants have been added to this list (Strings Ramen Shop / Wasabi / Monta / Venice Ramen / Afuri)
---
1. Totto Ramen
New YorkBoston
The chef at Totto ramen restaurant claims his body is made from ramen, because he eats and breathes ramen every day. That's a great indication of his passion for the craft, and it shows. At any given time during business hours there are people waiting outside of each of Totto's 4 locations. What's special about Totto ramen restaurant is that they have specialized in chicken based ramen since day one, sticking to their guns, even when pork based ramen was the only ramen people wanted.
What to order:
Their signature chicken paitan with rich chicken broth; miso paitan is also great with curly noodles and special koji-miso and ground pork. And, their fried chicken is as good as their ramen. Need something spicy? Totto ramen restaurant makes their own kimchi!
2. Nakamura
New York
What Chef Shigetomi Nakamura creates at this tiny Lower East Side ramen restaurant is a work of art. His torigara shoyu is a clear chicken base with a hint of seafood broth. The ramen noodles are perfectly al dente, and served in a pretty bowl. The ramen here tastes as good as it looks. Chef Nakamura can often be spotted sporting his signature hat in their open kitchen. He also has a signature move when he drains noodles; he raises the noodle strainer higher than himself and shakes down vigorously to get rid of excess cooking water.
What to order:
Torigara chicken or whatever the chef is making special that day. He creates unique ramen like summer chilled miso ramen with creamy XO sauce or fresh arrabiata tarako ramen.
3. Ippudo Ramen
New York
Ippudo is THE king of tonkotsu ramen. Ippudo ramen restaurants are everywhere in the world (13 countries and counting), including their original Japan location. Even at such locations like airports and food courts, they hold a high standard of Ippudo quality ramen. Tonkotsu is what they are known for, but they have a full bar menu as well as many izakaya dishes during the dinner service.
What to order:
Their signature ramen is either shiromaru, silky tonkotsu or akamaru, silky tonkotsu with Ippudo ramen restaurant's secret umami miso paste. Also Ippudo's tori-shio "chintan" ramen is a great departure from tonkotsu.
4. Mu Ramen
New York
People from Manhattan or Brooklyn don't like to brave the subway to go to Queens. But to get some of Chef Joshua Smookler's one of a kind ramen, at mu ramen, they do. In fact, they arrive earlier than the locals just to make sure they get a spot near the front of the line when the restaurant opens. Chef Smookler has a background as a fine-dining sommelier and a cook at Per Se. That's an impressive resume, and so is his signature mu ramen, which is beef based.
What to order:
His signature mu ramen is as good as it gets. The beef broth is creamy, yet light, and corned beef is the perfect topping. His tonkotsu is always evolving for the better. For a lighter bowl of ramen, get shoyu. Mu ramen restaurant makes it with a clear duck based broth.
5. Daikaya Ramen Shop
Washington DC
Daikaya Ramen shop is a DC favorite that serves Sapporo style ramen, which means you'll get noodles in a clear broth, known as a "chintan" stock. This stock is a combination of chicken, pork, and beef simmered over 16 hours to achieve a complex flavor. Daikaya imports their noodles from Sapporo, Japan for maximum authenticity. At the same time, as a popular ramen restaurant in America, Daikaya has created a non-traditional vegan ramen to meet various American diet. The vegetable ramen is finished in a wok to add depth in roasted vegetables. This ramen restaurant also serves a Japanese brunch menu during the weekend.
What to order:
Shoyu ramen uses a dark, rich soy sauce, just like traditional Sapporo ramen does. Mugi-miso ramen is Daikaya's original recipe and by using mugi-miso, instead of regular miso, it gives a lighter tone to this Sapporo favorite. Vegetable ramen is their vegan option and is a great choice for everyone who wants to eat a delicious and fresh veggie soup with noodles.
6. Strings Ramen Shop
Chicago
Strings Ramen Shop is known for its "Hell" ramen which features two of the hottest peppers known to man (along with other chili peppers) . Both ghost peppers and scorpion peppers are in the mix, and their combined heat has inspired the "Hell Challenge." If you can eat one bowl of Hell Ramen within a limited amount of time with only one glass of water to cool you down, the ramen is free. Who doesn't like that? But don't discouraged by the gimmicky approach to ramen. Strings Ramen is serious about their noodles and they make their own fresh daily.
What to order:
Not into spicy food? They got you covered. Strings Ramen is a ramen focused restaurant, where you can choose from 4 types of broth: shio (salt flavor, clear chicken soup); shoyu (soy sauce flavor with chicken, vegetables and seafood broth); tonkotsu (pork) and miso (miso paste with chicken or seafood broth). If you want to go light, go with salt or shoyu.
7. Wasabi
Chicago
One of a few Japanese owned Japanese restaurants in Chicago, Wasabi attracts not only Japanese, but anyone who is in search of authentic Japanese comfort food. What makes their ramen stand out? They use heritage berkshire pork from Iowa for their broth and also for their juicy tender char-siu/chashu. Known also as Kurobuta, Berkshire pork is as highly regarded as Kobe beef, for its beautiful marbling and flavor.
What to order:
Their tonkotsu broth is simmered over 45 hours to until it reaches a creamy perfection. Rich koku tonkotsu ramen comes with egg noodles, melt in your mouth pork belly char-siu/charshu, a soft boiled egg and garlic oil to enhance your ramen experience. Not into animal products? There's vegan tan tan noodles with seitan ragu (no GMO) served with healthy buckwheat noodles.
8. Ramen Tatsu-ya
Texas
From its kitschy Japanese decor to its long communal table, Tatsu-ya ramen restaurant screams hipsterville. But, don't disqualify Ramen Tatsu-ya because of it. Ramen Tatsu-ya actually serves authentic tonkotsu and other kinds of ramen for hungry Austinites and Japanese expats alike. The unique thing about this ramen restaurant is that Tatsu-ya created a variety of flavor bombs to make your favorite ramen extra… bomb.
What to order:
Tonkotsu original with your favorite bomb. Not into pork? Get OL' Skool which is light with its chicken shoyu broth. Vegetarian? Tatsu-ya ramen restaurant has got you covered. Their veggie ramen is great with tofu topping.
9. Monta
Las VegasTexas
Ramen cravings can happen anywhere, even in Vegas. Whether you are there for a boring work convention, the tumbling dice of the gaming table, or simply partying on a girls' night out, don't settle for less than average ramen on the Strip. Instead, head to Chinatown and hit Monta. They are the real deal, serving light tonkotsu soup noodles perfectly suited to absorb all the alcohol you might not remember drinking. Monta specializes in Kurume style tonkotsu, using a unique soy sauce from Japan.
What to order:
The menu is pretty straightforward and cheap! There is simple shoyu, which is a chicken based broth seasoned with soy sauce, miso ramen for miso lovers (add corn and butter!), and everybody's favorite tonkotsu. Their collagen rich tonkotsu is little lighter than average, but packed with umami.
10. Tsujita Artisan Noodle
Los AngelesHawaii
As its name suggests, Tsujita ramen serves skillfully prepared, artisan ramen noodles. When Tsujita opened in West Los Angeles, it changed the Los Angeles ramen scene forever. Tsujita's name is a regular on both national and local best ramen restaurant lists, if not usually ranked number one. There are only two things on the menu at this popular ramen restaurant: their famous tsukemen–dipping style noodles and tonkotsu. Both are pork based, but very different from one another. For more details, see
HERE
.
What to order:
Since there are only two items on the menu, go with your friends and get one of each. Don't forget to add their soft boiled egg!
11. Venice Ramen
Los Angeles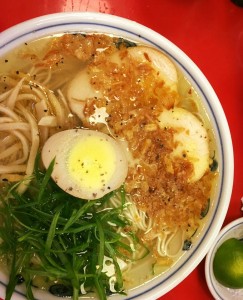 Hideki Mochizuki, Chef-Owner of Venice Ramen makes noodles and broth from scratch at his restaurant every day. These truly artisanal noodles have a great texture that's both firm and chewy. Their broth is not too shabby either. Rich Tokyo style tonkotsu with thin noodles is what made him famous in Tokyo back in 1994, but he is also proud of his chuka-soba, which he grew up with. Chuka-soba is a soy sauce based chicken broth with broad, curly noodles. Venice Ramen opened in the spring of 2016, and is located just a 1/2 mile from the famous Venice Beach. Only in Los Angeles can you find a good restaurant nesting in a dingy strip mall.
What to order:
Pick your poison: rich tonkotsu or light chuka soba. Their gyoza and simmered pork belly ('kakumi') are also outstanding, so go hungry!
12. Mensho Tokyo
San Francisco – Bay Area
Tokyo based Mensho ramen restaurant just opened its first US location in San Francisco. People come here for their creamy tori paitan, which is a rich cream chicken soup. Think Campbell's Cream of Chicken, but way, WAY better. It comes with both pork and duck char-siu meat, which just melts in your mouth. No wonder the line hasn't thinned out since this ramen restaurant opened its doors. The owner says his ultimate goal is to create umami packed ramen using local ingredients.
What to order:
Tori paitan and organic shoyu. They are both chicken based, but completely opposite of one another. Paitan is rich and creamy and organic shoyu is light with a clear broth. There's vegan tan-tan ramen, and you don't have to be a vegan to enjoy its umami packed deliciousness.
13. Orenchi Ramen
San Francisco – Bay Area
The Bay area's favorite ramen restaurant is now serving at two locations; at their original Santa Clara spot and at their newish San Francisco location. Orenchi is known for its rich tonkotsu broth, but also their 'limited-to-20-servings' tsukemen, dipping noodles. Tsukemen are thicker curly ramen noodles, and are served with an equally thicker umami packed tonkotsu dipping sauce. Get it with a soft boiled egg, you won't regret it. Of course, there's a long line at this ramen restaurant, so take an early lunch break to get there!
What to order:
Signature Orenchi ramen is rich tonkotsu ramen that comes with an egg. Tsukemen (limited servings) is served with sous vide pork shoulder and mango. Shio (salt) ramen is light pork based with a hint of yuzu citrus. The menu is slightly different at each location so check their website before you go.
14. Kizuki Ramen *Formerly Kukai Ramen
SeattlePortlandChicagoIndiana
"The most authentic ramen experience," is Kizuki Ramen's motto. The Japanese chain of ramen restaurants has 8 locations in America that are mostly in the Seattle area, with additional locations in Portland, Indiana and Chicago. Kizuki offers a variety of ramen on its menu: from garlic tonkotsu to veggie ramen and everything in between. This ramen restaurant is a great place to come with family and friends, because they also serve many izakaya items like agedashi tofu and fried chicken. So order a little bit of everything and share! FYI, their ramen restaurants in Japan are called "Kukai."
What to order:
There are only a limited number of garlic tonkotsu served each day, so get there early. The flavor is rich and garlicy, and oh so comforting. If you prefer something lighter, try their shio (salt) ramen broth which is based on kelp and bonito, and seasoned with French sea salt. Chicken rich ramen is made without pork, and is a little more familiar to American palate.
15. Afuri
Portland
Afuri is the newest ramen-ya in the United States on this list, but it is already a chain in Tokyo and has been in business since 2001. Many Japanese ramen-ya choose to place their first flagship restaurants in New York or Los Angeles, where many Japanese expats live and work, but not Afuri. They chose Portland, Oregon. Not because there are many hipsters who love ramen (well, it probably helped), but because of its proximity to Mt. Hood. There's a method to this madness: Being close to the mountains means having access to the best quality mineral water for making soup. That explains why their central kitchen in Japan, is located in Atsugi City, near Mt. Afuri, where the highest quality of natural mineral water can be used for their soup. That's serious dedication as most places simply set up an extensive water filtration system.
What to order:
You won't find popular tonkotsu (simmered pork bone) ramen here. Their signature Yuzu Shio ramen is what you come here for. Clear broth is carefully taken from chicken and seasoned with their own salt blend and a squeeze of yuzu, which is a Japanese citrus fruit known for its tangy sweet aroma. If you are craving for something richer, get Tori Paitan, which is a creamier chicken soup with chicken confit and butter.
 
*All prices, numbers and menu descriptions mentioned in the article are from the time of this article's publishing. So keep in mind, they may have changed since then.
Please follow and like us: