Those who are into cooking Japanese food should definitely look into investing in a donabe, or Japanese clay pot. Donabe cooking is great for making a single pot meal and cooking the perfect pot of rice. Donabe holds heat very well so you also save energy while making a healthy and delicious meal!
Contents:
What is Donabe: Japanese Clay Pot?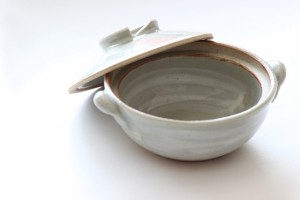 Donabe means clay pot or earthenware pot in Japanese. Donabe is often used during the winter time for nabe dishes or single pot meals such as hot pots, shabushabu, oden, sukiyaki, simmered dishes, hot soup, or stew. Cooks who are also a rice connoisseurs will cook rice in their donabe instead of en electric rice cooker. Donabe is also an important cooking item within Japanese food culture. It brings family and friends together, all of whom sit around a table with the donabe in the center.
Donabe is the original rice cooker in Japan and has a long history. You can get an artisan pottery donabe from companies who have been producing them for centuries. Most of the Japanese donabe pots you will find are glazed. It is easier to use and clean if it is glazed and also promotes natural far-infrared heating which allows the ingredients to cook evenly and also retain more moisture.
Donabe brings out the natural flavor of the ingredients and it's also more healthy and eco friendly than using regular stainless steel pots. Why is that? It's because donabe retains the heat longer than stainless steel, and once you build up heat in the donabe, you can lower the heat and simmer your meal. This allows the ingredients to cook gradually and for the natural flavors to come out, and it also does not break down the nutrients of the ingredients.
Donabe can be used on both gas and electric stove tops, but it takes more time to heat up on an electric stove top. Be careful, because donabe can not be used on induction cooktops, should not be put in a microwave. For the full Japanese experience, you should get a table top propane burner for your donabe host a hot pot or a nabe dinner party!
The Benefits of Using a Donabe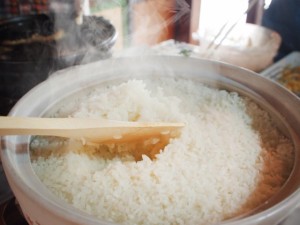 If you want to make the perfect short grain sushi rice, getting a good quality rice is important but you would also want to look into getting a donabe. So what are the benefits of cooking rice in a donabe? Usually, with a digital rice cooker it takes about 40-50 minutes to cook 2-3 cups of rice. With a donabe it takes half the time to cook rice due to the natural far-infrared heating system.
Rice is all about texture and its delicious aroma, and the last thing you want is mushy rice. Cooking rice in a donabe retains moisture without making it mushy. When you open the lid of the donabe, you will see the shiny rice standing up! Yes, standing up right. This will not happen with an electric rice cooker and cooking with electric rice cookers also dries the rice when it's warmed.
When you cook rice with the clay donabe, you want to start with low heat for 10 minutes until it boils and then simmer for another 15 minutes or so on low heat. This is how you get perfect rice that is naturally sweet and shiny. When you cook rice in a stainless steel pot you won't be able to get that shiny and perfect rice. Also boiling the donabe on high heat will give you soggy rice and may crack the donabe. If you want to have a okoge crust on your rice, you can cook your rice in the donabe a few minutes longer.
The other benefit in cooking with a donabe is you do not use any oil, which reduces fat and makes your meal healthier option. Once you cook rice with a donabe, you won't be able to go back to a electric rice cooker again! This is a perfect investment for serious cooks who loves to cook Japanese cuisine.
Seasoning the Donabe
Before you use your donabe, you will need to season it with rice water. The best way to do this is to make porridge in the donabe the first time you use it. You can also use the water from rinsing the rice, just fill the donabe 3/4 full with the rice water, bring it to boil starting low then increase to medium heat, once it has boiled simmer on low heat for 15 more minutes. The rice water will give a natural coating to the donabe and prevent it from cracking. Another thing to remember is donabe is made of clay and it does not react well to sudden temperature changes, that is why it's better to always start with low heat. One more thing to remember is the outside bottom of the donabe is not usually glazed. Make sure the bottom of the donabe is not wet when you put it over a stove top. If the bottom is wet and you turn the heat on, the donabe may crack.
How to Cook Rice with Donate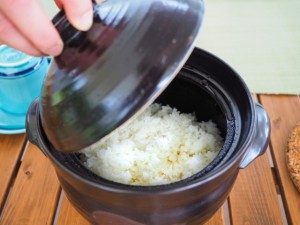 Prep time:
Cook time:
Total time:
Ingredients (Serves
3-4

)
2 cups rice
2-2 1/2 cups Water
1 inch square sheet kombu (kelp) as option
---
Cooking Directions
Put rice in a bowl and rinse with water until the water is clear.
Soak the rice in donabe for about 30 minutes.
Bring the donabe to a boil with the lid on from low to medium heat. Once boiled, lower the heat and simmer for 15 mins.
Turn off the heat and let it sit for another 20 mins.
Uncover the lid and fluff the rice.
Tips
To cook rice with umami flavor, add a small sheet of kelp kombu in the donabe.
You won't have a auto warm function like a digital rice cooker for donabe, so if you have left over rice, you want to freeze it
Best Donabe Rice Cooker
You don't have to travel all the way to Japan to get a donabe. Now that we know how donabe cooks delicious rice, let us give you couple of options for which ones to get. These donabe rice cookers are slightly taller than a regular donabe, and also comes with an inner lid which helps to stop water boiling over. They are also thicker than a regular donabe, so they retain heat longer. These donabe rice cookers are a must have item if you are going to make a lot of Japanese dishes. Once you master cooking rice with donabe, you can also host nabe meals for your friends and family!
1. Donabe Rice Cooker by Kamado San
This Kamado San donabe is made in Iga, Japan which is famous for the traditional pottery donabe wares. It comes with a top lid and a inner lid. This 33 oz donabe is for 2 go (cups) of rice but they also have other sizes as well. Remember this is not dishwasher or microwave safe.
>> "Donabe Rice Cooker by Kamado San" on Amazon.com
2. Donabe Rice Cooker by Kotobuki
Kotobuki Earthenware donabe for 1.5 cups is great for making rice for two people. It comes in matte black, which gives an authentic look for your dinner table.
>> "Donabe Rice Cooker by Kotobuki" on Amazon.com
3. Donabe Rice Cooker by Iwachu
Iwachu cast iron nabe is another beautiful rice cooker that cooks delicious rice. Iwachu is a Japanese company known for their cast iron wares world wide. This one is for 5 go which cooks 3cups of cooked rice. This is also great for sukiyaki and it comes in different sizes.
>> "Donabe Rice Cooker by Iwachu" on Amazon.com
4. Kakomi Donabe Rice Cooker by Kinto
Kakomi clay pot comes with a lid and a steam basket also made from clay. This modern clay pot donabe allows you to cook over gas, electric or an induction heat stove top. This is also microwave and dish washer safe. It comes in two colors, black and white, and two sizes, 1.2L and 2.5L.
>> "Kakomi Donabe Rice Cooker by Kinto" on Amazon.com
Other) Chibikuro-kun
This is not a donabe, but a great rice cooker that you can cook only in a microwave. Put 1 cup of rice to 1 to 1.5 cups of water and just microwave it. It comes with a rice measuring cup and a rice spatula. This item is great for traveling!
>> "Chibikuro-kun" on Amazon.com
Please follow and like us: