Contents:
The Revolving Sushi Revolution of KULA
Kula Revolving Sushi Bar since opening its first store in Irvine, California back in 2009 has quickly spread across Southern California, opening 9 locations in span of 6 years. In early 2016, KULA opened their first branch outside of California in the hot state of Texas where sushi restaurants are high in demand. And observing their long lines lined on weekdays (longer on weekends) at EVERY single branch, it's fair to say that their journey was a huge success, and more are likely to pop up in the coming years.
History of KULA Sushi
Kaiten sushi, or revolving sushi bar, became a huge hit in Japan back in the 1970's. Consumers loved the idea of being able to simply "grab" a plate of their desired sushi off of a belt conveyor belt circling the entire store. It was fun and quick, not needing to wait for the sushi chef to take notice of you, and making your sushi. It was also very affordable, most plates ranging from $1 to $6. KULA Revolving Sushi Bar opened its first branch in Japan back in 1977, in the busy streets of Sakai, Osaka Japan. In 1984, it broke precedent in making all of the plates $1, and their motto was "$1 for Real Sushi".
Since then, KULA Revolving Sushi has emphasized how to make sushi affordable, but at the same time, safe, fresh, and delicious. In 1997, it developed a "time expiration system", where the maximum time a plate of sushi is left circulating on the belt would be no more than 30 minutes. In 1999, it developed an automated sushi separation system, where "expired" sushi would automatically be removed from the belt.
With these innovative systems that assured its customers safe and fresh sushi at a very affordable price, KULA Revolving Sushi became one of the most popular kaiten sushi in Japan, with now 360 locations in Japan, 4 locations in Taiwan and 12 locations in the United States. KULA Revolving Sushi Bar has continued to break precedence by introducing innovative and high-quality menu items for a revolving sushi bar such as ramen, tempura bowl, aged tuna, Iberico pork bowl, puffer fish, and more.
In 2015, KULA Revolving Sushi Bar introduced the United States to its first "Full Installment Kula" in San Diego. This Full Installment Kula includes a touch panel ordering system, express lane ordering system, and Bikkura Pon Game. (See #Full Installment Kula for details). This allowed quicker and more accurate service, entertainment for kids (and adults), and fresher meals. This became a huge hit, and since then, many earlier Kula Revolving Sushi branches in the United States have been remodeled to the Full Installment Kula.
Organic, Made-from-Scratch Quality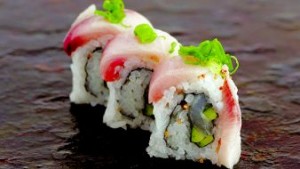 KULA Revolving Sushi Bar prides itself on quality. KULA uses organically grown rice and organically grown vegetables, and all of their sauces, including ponzu, are made in-house, with no MSG added. Their fish is delivered to them directly to preserve quality and freshness, most of them at top-notch sushi restaurant level. The automated sushi separation system keeps old, non-popular plates away from the mouths of its customers, and makes sure that only fresh ones are consumed. And the amazing part of it is that every single sushi item revolving around (including appetizers and desserts) are $2.25 a plate. Yes, even the bluefin (hon-maguro) toro. How do they do it? Mr. Uba, the President of KULA Sushi USA, Inc., says that their insistency on quality allowed them to reduce the cost. By making everything from scratch and not buying things premade, and by building trust and good relationships with their farm and fish suppliers, they have achieved ways on reducing cost, so that customers can enjoy top quality sushi at $2.25 a plate.
Ordering and Dining at KULA Revolving Sushi Bar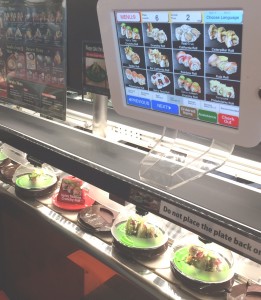 Currently KULA Revolving Sushi Bar has two types of branches: the Traditional branch and Full-Installment branch. Depending on the branch you go, the ordering system and dining experience will differ. However, due to the exponential difference in satisfaction from the Full-Installment branches, Kula Revolving Sushi Bar is in the process of changing all of its branches to the newer system. The question is when do you close and renovate the branch when the lines just never end. We'll just have to wait and see.
Traditional Branches – While Full-Installment is definitely a bigger hit, you'll still enjoy your time at the traditional branches. You'll still have fun picking up a plate from the belt-conveyor belt, and enjoy everything at the $2.25 price. When you go to a Traditional Branch, you have two choices, either enjoy the time looking at the various sushi and roll plates pass by you, or ordering whatever you'd like directly to the server. Of course the former is the preferred method and more fun, but because some of the popular items get eaten up so quickly, it never comes around to your table (depending on where you are sitting). In those cases, just simply call a server and order it directly, and they will bring a freshly made plate just for you, at no extra charge. There are also menu items that are not revolving like hand rolls and ramen. When you are done, a server will come by to count your plates and multiple that by $2.25 (plus other menu items that you may have ordered). A simple, brilliant and affordable way to enjoy sushi.
Full-Installment Branches – A Full-Installment Kula is all of the above but better. Why? First of all, you'll never have to call a server, because a touch screen panel is at every table, where you can surf the menu and order it from your screen. And you don't have to wait for an open server to bring that out to you, because every table has an express lane. Normal revolving sushi goes on one lane, and the direct order ones go on the other. Whenever you order something from a touch screen panel, your item comes directly to your table on the express lane. It's quite an experience to have. That's not all. When you are done, there is a slot where you can slide in your finished plates, and the machine will do all the counting for you. Oh but wait! When you put a plate in, it activates the Bikkura Pon feature on the top screen. An animation will count the plates but also give you targets to reach. When you reach the target number of plates, you get a prize! It is definitely an entertaining, mouth-satisfying, innovative experience that anyone – whether you are single, on a date, or having dinner with your kids – can enjoy.
Popular Menu Items
We asked people that have gone to KULA Revolving Sushi Bar, what their favorite menu item was. Here are some of the answers! (Drum roll!)
"Kitsune udon. How cool is it to just order a bowl of steaming hot udon in a sushi restaurant? I love it. . . it just arrives on the conveyor belt." (Boudewijn, Male 30's)
– Yes, KULA's kitsune udon is actually very popular menu, along with the tonkotsu ramen. It's filling and great price too!
"Nigiri: ikura, salmon, seared salmon, unagi, ramen, udon" (Kevin, Male 30's)
– I know you didn't mean it, but I would love to see a ramen and udon nigiri. I'm sure KULA will be the store that will figure it out too.
"Beer and chicken karaage. Wherever I go, I order beer and karaage first." (Shinsuke, Male 50's)
– Yes, KULA does have a selection of beer and wine, and chicken karaage (fried chicken) and beer is just so good together.
"My favorite on the menu would probably be the spider hand roll, as I personally love the large volume that the hand roll is served in. In addition, I also love crispy types of seafood and sushi, so of course this dish has become a no-brainer every time I visit here." (Tomomi, Female 30's)
– I've been to KULA Sushi many times and have picked up the spider cut Roll from the conveyor belt, but have never thought about making it into a hand roll! That is brilliant! Yes, KULA does offer to make rolls into a hand roll for the same price!
"I love that they have warabimochi! Nobody else has that as a dessert, and you can't beat the price." (Emi, Female 40's)
– They do have a nice selection of desserts on the menu! But I usually get too stuffed by the time I start thinking about desserts…
"I like the scallops at my most recent visit because it was all so tender." (Tim, Male 50's)
– Their scallops, whether raw nigiri, or the seared ones are so good. They have a lot of seared items like seared salmon and seared tuna as well. Oh and the Beef Sushi is worth a try!
Why Choose Kula? We asked about that too!
"It strives to be unique and [has good] customer service. It's almost like eating in Japan." (Javier, Male 50's)
– It is very unique. I like how the atmosphere of the restaurant is always full of smiles, which I think speaks on its own.
"Everything is fresh and the portions are nice. I can enjoy a variety of dishes before feeling full." (Tina, Female 40's)
– That is the best part. Especially rolls at other places are just so big and you can only try one or two types before getting full. But here, because they are in the right portion, you can definitely try a variety of plates.
"All the servers are very nice and the place is very clean and has a great menu" (Javi, Female 40's)
– Yes, you do not want to walk into a sushi restaurant that does not look clean.
"It is fun. High quality rice, very fair prices for menu items. [I] Like that you can order fresh and not just choose from conveyor belt offerings." (Angela, Female 50's)
– If you can't find what you are looking for, or if you don't feel confident in the freshness of what's circling around, you can always order directly to be made fresh without offending anyone. It's a great system, really.
"Very convenient and affordable" (Felix, Male 20's)
– Well said. But only if the line was a little bit shorter…
"It is fast and the options are good too. I like the beef nigiri a lot." (Graciela, Female 30's)
– With such a large selection, I wonder how many visits it takes to try them all…
At $2.25 a plate, you can't expect $100 omakase quality sushi, but you will not be disappoint. For that sudden urge for sushi on limited budget, KULA Revolving Sushi Bar will take you to a new level of casual sushi.
Locations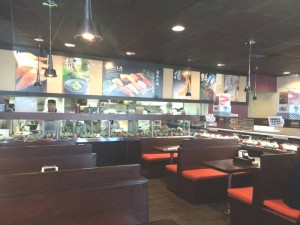 In California:
Irvine
Navigation: 2700 Alton Pkwy, Suite 133, Irvine, CA 92606
Ring: 949-553-0747
Little Tokyo
Navigation: 333 E. 2nd St., Los Angeles, CA 90012
Ring: 213-290-9631
Brea
Navigation: 1065 Brea Mall Suite 2050A, Brea, CA 92821
Ring: 714-582-5898
Rancho Cucamonga
Navigation: 9659 Milliken Ave., Suite 104-105, Rancho Cucamonga, CA 91730
Ring: 909-294-3429
Sawtelle (West LA)
Navigation: 2130 Sawtelle Blvd., Unit 111, Los Angeles, CA 90025
Ring: 310-597-4490
San Diego
Navigation: 4609 Convoy St. Suite F, San Diego, CA 92111
Ring: 858-715-4605
Laguna Hills
Navigation: 24155 Laguna Hills Mall Space 1080A, Laguna Hills, CA 92653
Ring: 949-273-1080
Cupertino
Navigation: 19600 Vallco Parkway, Suite 160, Cupertino, CA 95014
Ring: 408-851-0155
Torrance
Navigation: 1840 W. 182nd St., Torrance, CA 90504
Ring: 424-221-5731
Other than California:
Plano
Navigation: 100 Legacy Drive. Suite 100, Plano, TX 75023
Ring: 972-517-2400
*All prices, numbers and menu descriptions mentioned in the article are from the time of this article's publishing. So keep in mind, they may have changed since then.
Please follow and like us: