Mirin kasu is born from the brewing process of mirin (sweet sake) and is made of sweet rice, malted rice, and shochu. The sweet rice gives it stickiness and a granulated drop shape. The flavor of mirin kasu is faintly sweet, as distinguished from the stronger taste of sake kasu.
Contents:
What is Mirin Kasu?
History of Mirin Kasu
As described in the book "Wakan Sansai Zue" (Chinese and Japanese All things Encyclopedia) from the rnid-Edo Period, mirin kasu has been consumed since long ago as a "sweet confectionary." Aside from being eaten as is, with the natural sweetness of rice and delicate aroma, it has been used in a variety of ways in cooking and in making sweets. Natural mirin kasu can be found only at a kuramoto (brewer) where its manufacturing process has been protected since olden days. Kasu (lees) can rarely be generated from mirin that is mass-produced by adding sugar content and/or umarni. The rnirin kasu that has been produced naturally since time immemorial is a valuable by-product born from the malted rice enzyme in its raw state.
Mirin Kasu Nutrition
High quality mirin kasu consists of approximately forty per cent alcohol and water, thirty per cent carbohydrate, and the rest protein, fat, etc. Of particular importance is the fact that it is rich in an ingredient that works the same as a dietary fiber called "resistant protein." This is not easily digested in the stomach and travels unchanged to the small intestine, where it traps fats such as cholesterol. Because it is eliminated from the body as is, it can be expected to offer the benefits of relieving constipation, reducing cholesterol, and preventing obesity. Because mirin kasu contains alcohol, one needs to be careful when offering it to children.
Seasonal Treat
Nijiya's mirin kasu comes from a brewer who has been producing genuine mirin under the same manufacturing process since long ago. Once it is savored in the mouth, it leaves an indescribably refreshing and clean aroma. It offers a graininess derived from its raw ingredients as well as a rich sweetness. It is indeed a luxurious feeling to enjoy today something that was cherished by people of olden days! Understandably, mirin kasu appears on the market only during the period when mirin is pressed. In this sense, the taste of mirin kasu can be described as a seasonal treat.
How to Cook Mirin Kasu (Mirin Kasu Recipe)
Mirin Kasu Pickled Vegetables Recipe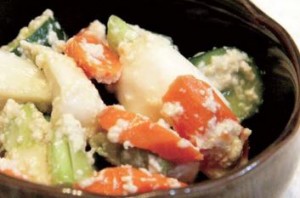 Ingredients (Serves 3-4)
3 kabu (turnip)
1.4 oz. cucumber
1 carrot
Salt (to taste)
For pickled sauce
2 Tbsp. Nijiya Mirin Kasu
1 Tbsp. white shoyu (soy sauce)
---
Cooking Directions
Cut the vegetables to bite size, sprinkle in a salt, wait 5 minutes, and wipe off the moisture with paper towel.
Put the vegetables and the pickle sauce inside a plastic bag and put in refrigerator for 3 hours – overnight.
Mirin Kasu Pound Cake Recipe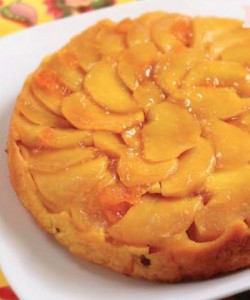 Ingredients (Serves 9-inch circular)
For the cake
1 Pack Nijiya Mirin Kasu (room tempeture)
5.6 oz. Nijiya Organic Flour
2.8 oz. sugar
3 eggs (room temperature)
1 tsp. baking powder
1 stick butter (room temperature)
2.8 oz. raisins that are marinated in orange liqueur
For boiled apples
2 organic apples
1 Tbsp. sugar (Please adjust to your favorite sweet.)
1 Tbsp. butter
Material of caramel
---
Cooking Directions
Preheat oven to 35D°F
Remove the core of apples and cut into 5mm long pieces. Boil the apples with sugar and butter over medium to low heat.
In a bowl, mix in butter and sugar, mix well. Add in Mirin Kasu, mix, and then add in the eggs one by one. Mix well.
Add in flour and baking power in the same bowl. Sprinkle raisins with flour and add it into the bowl.
In a 23cm circular baking tray, spread aluminum foil.
In a pan, make the caramel sauce with the sugar, and spread it onto the baking tray.
Add in the sliced apples.
Pour in the cake batter. Bake in the oven for 25-30 minutes, or until cooked. Insert a bamboo skewer into the cake and pull it out. If it comes out clean, the cake is done.
Remove the cake from the oven. Allow the cake to cool before you remove it. A dish is put over the cake and turned upside down, apple becomes the top.
Baked Cod with Mirin Kasuzuke Recipe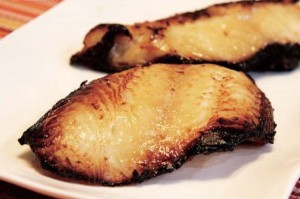 Ingredients (Serves 2)
2 slices cod fillets
Salt (to taste)
For pickled sauce
1.4 oz. Nijiya Mirin Kasu
0.7 oz. miso (soybean paste)
2 tsp. mirin (Japanese sweet cooking rice wine)
2 tsp. cooking sake (Japanese rice wine)
---
Cooking Directions
Sprinkle salt onto the cod and leave it for about 5 minutes. After, wipe off the moisture with paper towel.
Mix all the ingredients for the pickled sauce, and put it on both sides of the cod, wrap it well and place in the refrigerator overnight.
Lightly wipe the moisture off the cod, and bake on both sides with a grill.
Soymilk Banana Shake with Mirin Kasu Recipe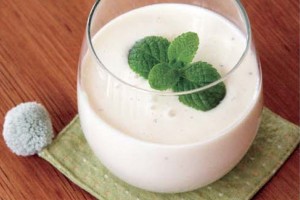 Ingredients (Serves
2

)
300ml Soymilk
1.4 oz. Nijiya Mirin Kasu
1 banana
1 Tbsp. lemon juice
---
Cooking Directions
Put all the ingredients into the mixer.
Mix.
Tips
You could enjoy with mint leaves and/or your favorite fruits.
Crispy Mirin Kasu Cookie Recipe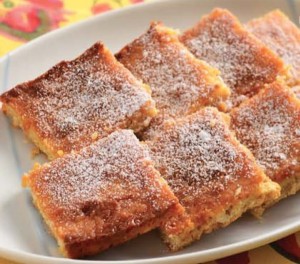 Ingredients (Serves 40x27cm baking pan))
1 pack Nijiya Mirin Kasu
1 can condensed milk
1 eggs (room temperature)
1 stick butter (room temperature)
5.6 oz. flour
1.8 oz. + 1 oz. cornflakes
---
Cooking Directions
Preheat the oven to 350°F
In a bowl, mix butter, 1/2 of mirin kasu, add 1/4 of condensed milk. Add in eggs and mix well.
Add in 1.8 oz. of cornflakes and mix while crushing it.
Add in the pre-sifted flour and mix well.
Mix cornflakes 1 oz..
Lay aluminum foil onto the baking pan and add in the batter by extending it while pressing (cover the whole pan)
Mix in the rest of the mirin kasu with the condensedmilk and pour over the pan.
Bake for 20-30 minutes.
Cut into desirable pieces while its still warm. When it cools, sprinkle powder sugar and enjoy.
Gochiso Magazine, Nijiya Market
Please follow and like us: