What is Miso Soup?
Traditionally many fermented products have been eaten in Japan, because the climate encourages the growth of microorganisms. These fermented products reflect the wisdom Japanese people accumulated over centuries of experience. In particular, the idea of fermenting soybeans, which are rich in nutrients but difficult to digest, has created natto (fermented soybeans), soy sauce and miso (fermented soybean paste). As they say, "A bowl of miso soup a day keeps the doctor away". Miso has been a health secret of the Japanese for many years. Why don't we review our basic diet and add miso soup to our daily menu?
How to cook Miso Soup?
Tofu Miso Soup Recipe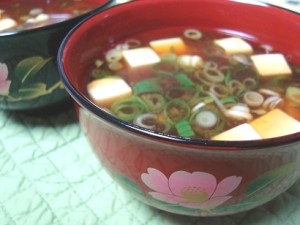 Let's get started by making the most popular tofu miso soup.
Prep time:
Cook time:
Total time:
Ingredients (Serves
2

)
2 cups dashi stock
4 tsp. miso
1/4 (3 to 4 oz.) block tofu *
4 inches spring onion, chopped
1 Tbsp. dried wakame**
2 tsp. daikon oroshi (grated Japanese radish), as desired
---
Cooking Directions
Pat the tofu dry. Cut tofu into 1/2 inch cubes. Wrap the tofu in cooking papers, set on a plate for 15 minutes to remove excess liquid.

Prepare the soup bowls. Divide the pat dried tofu, spring onion, wakame and daikon oroshi among 2 soup bowls.

Make the soup. In a small (2 qt) cooking pot, bring 2 cups of dashi stock to a boil. Turn the heat off, then set a small strainer on the edge of the pot. Put miso into the strainer and dissolve.

Serve. Divide the miso soup among the prepared soup bowls, step [2]. Serve immediately.
Tips
* Tofu is also known as soybean curd. The texture varies. For soups, silken tofu is often chosen, which is more delicate and smooth. Firm tofu contains less liquid compared to silken tofu and holds their shape well, so it is chosen for stir-fries. To keep tofu for 3-4 days in the fridge, cover tofu with cold water in a container, change the water every day.

** Wakame is sea vegetable. Dried wakame is deep green clolor and sold year round in Japanese supermarkets. Fresh wakame is brownish green and seen during the spring season. Wakame is delicious in soups or seaweed salads.
The order is very important. To keep its delicate flavor, miso should be added after the heat is turned off. Do not boil the soup after the miso is added.
Recipe and photos by: Yasuko Muro
Grilled Mochi and Leafy Green Miso Soup Recipe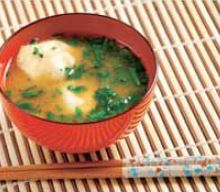 Ingredients (Serves 2)
2 pieces mochi
1.8 oz. shungiku
11.8 oz. dashi
2 Tbsp. miso
Neri karashi (Japanese mustard paste) as desired
---
Cooking Directions
Cut mochi in half and grill until lightly browned.
Bring a pan of water to a boil and quickly boil the shungiku. Drain, squeeze out excess water and finely chop the shungiku.
Heat the dashi in a pan. Stir in miso and cook over low heat for 2-3 mins.
Place mochi and shungiku in a soup bowl and pour in the miso soup. Add neri karashi as desired.
Clam Miso Soup Recipe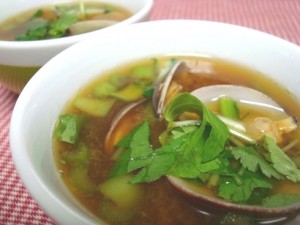 When seafood or meats are added into miso soup, dashi is not needed, because seafood and meats themselves are good source of flavor.
Ingredients (Serves 2)
2 cups water
1 Tbsp. miso
10-14 fresh clams
1/2 cup green vegetable, chopped (spring onion, komatsuna, mitsuba etc.)
---
Cooking Directions
Crean the clams.Pick healthy clams. Discard any clams that are broken or open. Lay a strainer in a medium sized bowl. It makes a sand riddle. Place the clams in the strainer and fill it with cool water. The clams should be almost covered with water. Add a tablespoon of salt, cover and place it in the fridge or a cool, quiet and dark place for 30-60 minutes. Gently lift up the strainer and discard the water in the bowl. Clean the outside of the shells with a stiff brush under running water.
*Clams self-clean as they breathe. If they feel like they are in a familiar place such as the sea, they will relax and breathe well. Then, they clean themselves better.

Boil the clams. Bring clams and 2 cups of water to a gentle boil over medium heat, gently boil until the clams open wide. Discard the clams that have not opened after 8 minutes.

Add the vegetables. Add vegetables when the all clams are open, cook for a minute.

Finish. Turn the heat off. Set a strainer, put miso into the strainer and dissolve. Serve immediately.
Recipe and photos by: Yasuko Muro
Tonjiru (pork miso soup) Recipe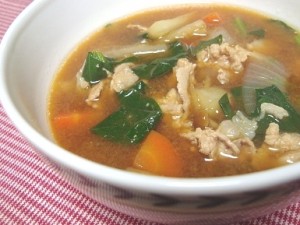 Ingredients (Serves 2)
2 cups water
2 Tbsp. miso
1/4 lb. pork belly (thinly sliced packaged)*, chopped into bite-sized pieces
2 cups bite-sized pieces of cut vegetables, gobo**, potato, daikon, carrot, onion, komatsuna, celery, green onion, mushroom etc.
---
Cooking Directions
Cut vegetables.

Boil pork and the root vegetables. In a medium (3-4 qt) sized cooking pot, bring water, pork and root vegetables to a boil over medium heat. Adjust the heat to a gentle boil, and keep gentle boiling until vegetables are cooked through. Covered if necessary.

Add mushrooms and green vegetables. Keep gentle boiling, until the mushrooms and green vegetables are cooked, for about 2-3 minutes.

Finish. Turn the heat off, set a strainer on the edge of the pot. Put miso into the strainer and dissolve. Divide the soup among 2 serving bowls. Serve immediately.
Tips
* Thinly sliced pork belly can be found at Japanese super markets. In Japan, meat is usually sold thinly sliced packaged or a small block packaged.

** Gobo is three feet long slender root vegetable, tastes sweet and earthy. Younger roots are thinner, has a tender crisp texture. Mature roots become fibrous and woody.
Recipe and photos by: Yasuko Muro
Let's cook miso dish
Miso Simmered Mackerel Recipe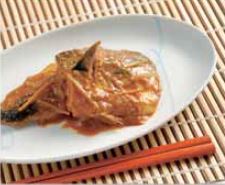 Ingredients (Serves 2)
1/2 of one mackerel filleted into two pieces
0.35 oz. ginger
5.4 oz. water
1 Tbsp. soy sauce
1 tsp. mirin (sweet cooking rice wine)
1 tsp. sake (cooking sake)
1/2 tsp. sugar
Miso to taste
---
Cooking Directions
Cut mackerel fillet in half. Insert a knife blade on the skin side and slit cross-wise. Slice the ginger into thin strips. Heat water in a pan to a boil. Add ginger, soy sauce, mirin, sake and place the mackerel fillet skin side up and simmer for a while.
Skim foam from the surface. Add sugar and continue cooking.
Gradually stir in miso, a small amount at a time. Check to taste. Continue simmering until the liquid thickens. Coat and glaze the mackerel with the sauce.
Salmon, Butter and Miso Rice Ball (Onigiri) Recipe

Ingredients (Serves 8 rice balls)
8 portions of cooked rice
1 fresh salmon
A pinch of salt
1 Tbsp. butter
2 inch green onion
3 Tbsp. miso
1/2 tsp. sugar
1 Tbsp. sake (cooking sake)
Nori as needed
---
Cooking Directions
Remove skin and bones from the salmon. Diagonally cut the salmon into thick slices. Sprinkle with salt and set aside.
Finely chop the green onions.
Melt butter in a pan and cook the salmon, while breaking it into flakes. Add green onions and stir fry.
Combine miso, sugar and sake in a small bowl.
Make 8 rice balls. Fill with the salmon and green onion mixture.
Coat each rice ball with nori. Spoon miso paste over each rice ball.
Niku-Miso (Miso Flavored Ground Beef) Recipe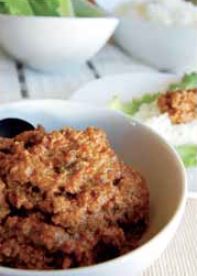 Since it is an almighty niku-miso, it is very convenient when you make them in large amouts and kept frozen. Niku-miso goes well with soba and somen as well as rice.
Ingredients (Serves 1 batch)
Marinade
1 clove garlic, granted
1/2 Tbsp. sake (cooking sake)
1/2 Tbsp. soy sauce
A pinch of pepper
1-1/2 tsp. tobanjan
2 tsp. sesame oil
1/2 onion
5-6 green chili peppers (jalapenos)
2-3 Tbsp. ground white sesame
4.2 oz. miso
1 cup water
1-1/2 Tbsp. sugar
1-1/2 Tbsp. sesame oil
Cooked rice
Sunny lettuce
---
Cooking Directions
In a shallow pan, combine ground beef and marinade. Mix well with your hands. Leave for 10 min. Mince the onion and green chili pepper.
Cook the ground beef over medium heat, mixing with a spatula so that there are no lumps. Add miso and water, continue to cook while stirring.
Add onion and green chili peppers, lower the heat and continue stirring until the liquid thickens. Add sugar. (Adjust the amount of sugar according to the amount of miso)
Stir with a spatula until the sauce thickens. Add white ground sesame and sesame oil and continue stirring without burning the mixture.
Cooking is done when the ground beef mixture becomes as thick as miso paste. Transfer to a dish.
To serve, spoon rice over a lettuce leaf, and top with the niku-miso.
Gochiso Magazine, Nijiya Market
Please follow and like us: