Contents:
About Nijiya Market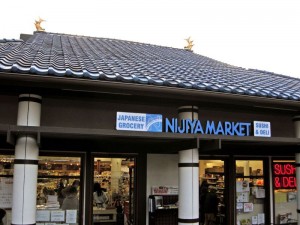 Opening our first store in San Diego back in 1986, they at NIJIYA Market have come a long way to prove not only that they can provide the best in high quality foods, but to provide the whole concept of LIVING. their services do not stop at the exit of their stores. They actually begin the moment the customer purchases their food and sets in on their customers' kitchen counter. They care about the outcome of the dinner their customers prepare, the taste and freshness, and how healthy it all adds up to.
At the present time, they have thirteen stores, a full bakery and full confectionery factory, fish and meat center, and newly formed coffee and pastry restaurant.
Their parent company, JINON Corp. is an enterprise that encompasses an ORGANIC FARM that produces wholly grown organic vegetable of different Varieties.
Store Location:
Southern California
San Diego Store
Rolling Hills Store
Sawtelle Store
Torrance Store
Puente Hill Store
Little Tokyo Store
Northen California
Mountain View Store
San Francisco Store
San Mateo Store
San Jose Store
New York
Hartsdale NY Store
Hawaii
University Store
Ala Moana Store
Nijiya Brand ~Quality Product~


Products that are safe and reliable: foods that provide an excellent source of nutrition while offering distinctive, traditional flavors: one of Nijiya Market's main efforts lies in the development of private brands that demonstrate such qualities.
Since they released Nijiya [Organic] Rice, their first private-brand product, they have continued to expand their selection of Nijiya brand products. Currently we have about 100 types of original products on their store shalves.
They strive to develop products that will make customers say, "No matter what the choice is, we can't go wrong with a Nijiya product".
The characteristics of quality Nijiya brand products are:
• They're healthy.
• They can be consumed with no concerns.
• The manufacturer, factory and production process are transparent.
• The ingredients are carefully selected.
• They're delicious.
They adhere strictly to these guidelines Nijiya brand products are created and placed in stores only after passing a rigorous internal inspection process. Some products go through the research and development process repeatedly over a period of several years, and others are regretfully canceled in the final stages because of a compromise they choose not to make. These carefully developed Nijiya-brand products come to fruition in the hands of satisfied customers. Below, they introduce some of the quality products that bear the Nijiya name.
USDA-Certified Nijiya Products


Among the many Nijiya brand products, some carry USDA organic certification.
In the United States, organic food certification is conducted by the Department of Agriculture (USDA) and the National Organic Program (NOP). Government-approved examiners inspect the products to ensure that standards are met. A report must be submitted each year. Only products having at least 95% organic content can receive the USDA organic mark (label), and they must also pass a very strict inspection. A tough approval system means that the resulting mark can be trusted.
You can order a part of their products via online:
http://www.nijiyashop.com/
Nijiya Farm ~From the Field of an Organic Farm~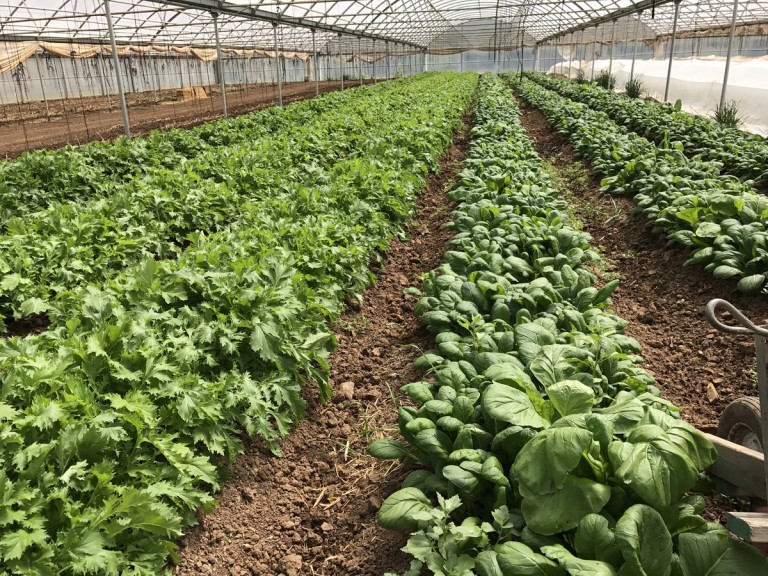 Nijiya Farm was established to organically grow Japanese vegetables In America, which are lndispensable Ingredients for Japanese cuisine.
The farm has a total land area of 100 acres. It is located near Rainbow, a town in northern San Diego County, California, which is famous for flower and plant nurseries as well as for the cultivation of avocado and citrus fruits. Being situated in a mountainous region, the farm is completely isolated from other farms and residential areas, and therefore it is an ideal environment for organic farming.
To grow many varieties of vegetables, the field is divided into 20 blocks and three greenhouses, with each block surrounded by oaks and bushes. They maintain an environment in which various plants, small animals, insects and microorganisms can live together in harmony.
There is no sewage water coming into or going out of the farm, and all of our equipment, materials and workers are closely monitored. Ever since Nijiya Farm was first approved as an organic farm in 2000, its field acreage has increased year after year, along with our quality and production volume.
They utilize the microorganisms on their property to improve the soil conditions, and the materials they bring in compliance with the USDA's Organic Foods Production Act. They make the best use of natural and human resources to grow high-quality Japanese vegetables. All of the organic vegetables grown at the farm are shipped to Nijiya Market and sold under the brand name "Organic Nijiya Farm."
Nijiya Production Policy
We are committed to 100% organic farming, which avoids the use of chemical fertilizers, chemical pesticides, herbicides, antiseptics and hormonal agents.
As for the seeds of the vegetables to be shipped, we use only seeds collected from organically grown vegetables after their second year's harvest.
We have a public inspection agency conduct regular inspections of the seeds, fertilizers and materials in order to meet the standards set by the Organic Foods Production Act.
We use only clean ground water. We do not use any water that is chemically altered or contaminated.
We do not perform any post-harvest treatments.
To guarantee the quality of all our products, we conduct HACCP (Hazard Analysis and Critical Control Points) based production management to detect any potential problems before they can occur.
Products from Nijiya Famr
Nijiya Farm grows many different types of vegetables every season to offer delicious vegetables at the peak of the season.
Daikon (Japanese Radish)
The daikon in Japan is the most commonly consumed vegetable from the Brassica family.
Mizuna
Mizuna, a Japanese mustard green, is a specialty vegetable of Kyoto.
Komatsuna
Komatsuna is a member of the Brassica family, and is knowwn to be rich in minerals.
Shungiku (garland chrysanthemum)
The name shungiku, meaning spring chrysanthemum, originated from the fact that it blooms in the spring.
Mitsuba
Mitsuba means "three leaves," which refers to its three jagged-edged leaves.
Moroheiya (Jew's Marrow)
Originating in Egypt, moroheiya is a summer vegetable that has a sticky texture.
Tokyo Negi (Japanese Leeks)
It takes nearly a year to grow Tokyo negi.
Ooba
Shiso (perilla leaves) is a commonly used Japanese herb, and its leaves can be either reddish purple or green.
Satsuma-imo
Satsuma-imo has balanced nutrients that include abundant dietary fiber, beta-carotene, essential vitamins, potassium and minerals.
Ultimate Japanese Gourmet Magazine, Gochiso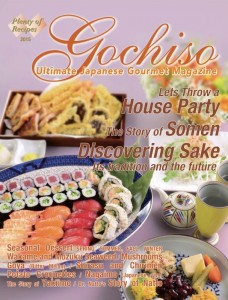 Nijiya Market is publishing Gochiso Magazine periodically, for English version almost yearly, for Japanese version seasonally.
In the magazine, they introduce Japanese food culture (history, benefit, tips, recipe…)
You can pick it up at Nijiya Market or read it via online:
http://www.nijiya.com/gochiso-magazine/
Content & Photo Credit: http://www.nijiya.com/
Please follow and like us: