Contents:
Why Sushi Ota is considered the Best of the Best
When you think of the epicenter of culinary excellence, you may think of New York, Los Angeles, or even San Francisco. When it comes to finding the best sushi, however, that may not be the case. San Diego, while not very known to the general population, is considered to have one of the best sushi in the country, and at the top of the San Diego sushi world, is Sushi Ota. Like Nobu Matsuhisa, Sushi Ota has fathered many famous sushi chefs who have gone independent and continues to influence the sushi culture in San Diego. As the word spread across the state and even to other parts of the country, there are many celebrity chefs, critics, and Hollywood stars that will say "Sushi Ota" is the best of the best.
History – The love for Uni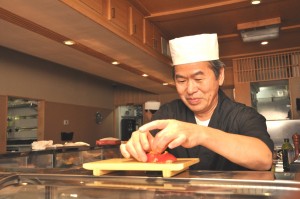 Chef Ota, a native of the southern part of Japan called Kumamoto, Japan, was a sushi chef in Japan for most of his young career. Honing his skills and building a career at Japanese restaurants in Kobe, Tokyo and Osaka, he would have continued his culinary journey in Japan if it weren't for the year 1982. In 1982, he stumbled across the beautiful city of San Diego, a city along the Pacific Ocean in the sunny state of California. The reason to this trip is not known (you'd have to ask Chef Ota himself).
There he met what he called, "the best uni (sea urchin) in the world." Most chefs in Japan will scuff at that comment, for Hokkaido's uni is considered the best in Japan, which means, to them, the best in the world. But not Chef Ota, he tried it and he loved it, to the point he decided to throw his career in Japan out the window and move to San Diego.
San Diego's uni is only known to culinary experts to this day, but among those that have tried it, it is considered one of the best. In 1990, he opened his own restaurant, Sushi Ota, an unknown restaurant at the time that would eventually become one of the most praised sushi restaurant in America.
The Master of Sushi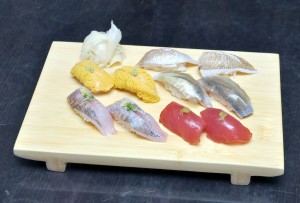 Other sushi restaurants at the time, of course used the same uni from San Diego. So uni got him to stay in San Diego, but uni did not make him be the best. Using his vast experience from his long career in Japan, and also adapting well to the likes and dislikes of his local customers, Sushi Ota survived harsh competition and won respect. He carefully selects vegetables from local farms and buys the best fish from local markets and international waters as well. But what stands him out the most is his attitude towards dining. Sushi restaurants at Sushi Ota's level (top level, that is), will usually only serve omakase, (rightfully) charging their customers an arm and a leg, and telling them to eat what is best. Chefs, after all, know what's best, right? But not Chef Ota. He had pride in his sushi, but he did not let that pride take him to that route. He wanted all of his customers to eat what they wanted. Sushi Ota served the rolls, Sushi Ota served the teriyaki chicken, Sushi Ota served the tempura. And to the few that wanted the best, he served them his omakase.
You really have to experience it to understand it. You have to be there to feel it, and surely enough, you have to taste it to know it. Put aside all the temptation from the a la carte menus, the special appetizers of the day, or pointing to the dish the person next to you is having (because don't they always look good?), and just simply chant those 4 magical words "Chef Ota, omakase please".
I will warn you, the omakase is finite, very limited to be exact. You have to reserve a counter seat in front of Chef Ota (which probably will require a reservation a couple of weeks in advance), and let them know you are there for the omakase. It is not confirmed, but rumor has it that Chef Ota's omakase is served to only 4 people at a time, because he wants to make sure his omakase is the pinnacle of the best, the Rolls-Royce of sushi.
While Chef Ota's omakase consists mostly of sushi, do not be surprised if he offers some impromptu items on the menu. He will have unique appetizers, some that may be too authentically Eastern for some Westerners, but sure enough at top quality. But put that aside, his sushi is artistically crafted, piece by piece, with his samurai-like knife and his wizard-like hands, into a nigiri sushi. He will smile and watch you as you eat, hoping that you too, will smile back in amazement like the many he has served in the past.
Warm Comfortable Atmosphere Created by Chef Ota
Sushi Ota is different in other aspects. When you walk into some high-end sushi restaurants, you feel the tension among the staff, the pressure to provide a perfect service. It is not uncommon to see chefs scolding their staff in front of the customer, a part of Japanese culture of which I am never too fond. Yet in the large roomy restaurant at Sushi Ota, there is a warm mild air, so welcoming that it would make Pocahontas want to burst out and sing. Even if you miss the sushi counters and sit at one of the many tables in the restaurant, at one point during the meal, you'll recognize that Chef Ota is thinking about you, quietly observing you to make sure everything is taken care of. Once you step into the restaurant, it is as if you are family. But that's the true "omotenashi" (Japanese hospitality), Chef Ota cares about. Because a meal is to be enjoyed, especially a special meal like the one you will have at Sushi Ota.
Recommended Menu Items (Aside from the Omakase):
There are many "hidden menus" you will receive from Chef Ota at the sushi bar, but there are plenty of delicious appetizers and dishes too.
Chawanmushi
If you have never had chawanmushi, skip your miso soup and order this. It is an egg-pudding like dish that will warm your soul. Made with an excellent broth and steamed egg with vegetables and meats, it is a traditional Japanese dish that makes the hearts of Japanese people jump with delight. (Price: $9.00)
Sea Urchin Sashimi
If you are in San Diego, you have to try the uni. While you are most likely going to get uni nigiri in your omakase, if you are a uni lover, have it as sashimi as well. Chef Ota calls it the best uni in the world, and that includes Japanese uni. (Price: $25)
Ankimo Sashimi
The French have the foie gras, Japanese have the ankimo. Ankimo also called monkfish liver, is a delicacy in Japan, and while it may not sound delicious, just like foie gras, it is rich and creamy, and not at all smelly. It is a great sashimi to have with cold Japanese Sake, and it will definitely make you remember. (Price: $10.00)
Live Sweet Shrimp
You think uni was the only thing San Diego is famous for? The amaebi caught locally is also considered one of the best, and ordering live sweet shrimp is one of the most entertaining (and delicious) choice you can make. Watch as the chef grabs a very lively shrimp and prepare the nigiri or sashimi. The head of the shrimp will sit there still moving. Afterwards the head becomes a miso soup or crispy fried delicacy. (Price: MP)
TIPS
This is not a restaurant that you'll be able to come every weekend, or even once a month. Make sure you make a reservation, because most likely walk-ins will be very tough. If you want to sit at the sushi bar, make reservation well ahead of time, at least 2 weeks in advance.
Parking is free and available in the lot and in rear. You probably will not have trouble parking during off hours, but during the peak hours, you'll have to find street parking around it. If you plan on drinking, Uber or Lyft may be your best option.
Monday is probably the easiest day to make a reservation. However, try to avoid it because usually most of the best fish will sell out during the weekend. I am sure you've seen many sushi restaurants that are closed on a Monday, this is because the fish market is often closed on Sundays. Fish from Japan is usually shipped on Thursdays, so the best fish will be available from Thursday and Friday. Sushi Ota is currently closed on Saturdays but this may change.
 
*All prices, numbers and menu descriptions mentioned in the article are from the time of this article's publishing. So keep in mind, they may have changed since then.
Please follow and like us: