Best Bento Box and Useful Tools
Are you ready to start your bento adventure? There are so many bento boxes and accessories to explore. Whether you want lunch for yourself, your spouse, or your little ones, having a bento will make lunch fun for everyone. Japanese bento boxes may be smaller compared to the western lunch boxes but remember, Japanese bento is about packing a variety of healthy foods into a single meal. With bento accessories and techniques you will be able to create fun and nutritional on-the-go meals! On top of that, bentos are eco-friendly since you can reuse the bento box! So which type a bento box will fit your life style? Here are some useful lists of different styles of bento boxes and accessories.
5 Best Types of Bento Box
1. Plastic
Let's start with the most classic two layered style bento box. The two layered bento box comes in a light-weight but durable plastic which is great for kids' backpacks and for taking to work. Some bento boxes come with inner lids, built in compartments, to-go chopsticks and a handy travelling bag. Although the size of Japanese bento boxes looks small, in actuality there is plenty of room for a well-rounded lunch. You will just need a little practice in arranging the food into ideal portions. The bottom layer, slightly deeper than the top layer, is where you put the rice but this space also fits a sandwich. The upper layer holds the main dish and whatever side vegetables and fruits you brought for the day.
2. Stainless Steel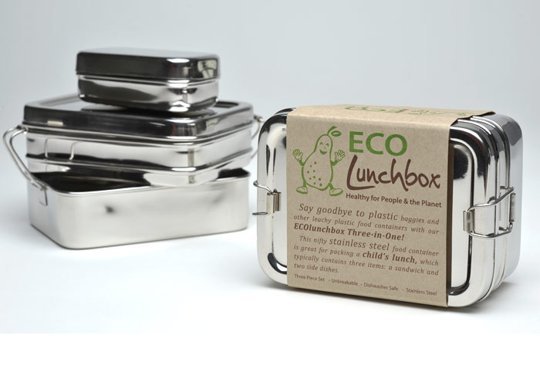 For adults, or someone who wants a non-anime or cartoon themed bento box, the stainless steel bento box is for you. The stainless steel box is easy to clean, durable and light weight which is great for outdoor picnics or camping, and of course everyday use. The stainless steel gives you the timeless industrial look that matches any lifestyle. There are many types of stainless steel bento box containers: a simple single tier box, the double tier box, or the Indian tiffin box with multiple compartments that are secured by a latched lid. Some bentos come with a built in divider so you can pack your sandwich with a salad on the side. A stainless steel bento box is great for any environment, whether work or play.
3. Traditional
Wappa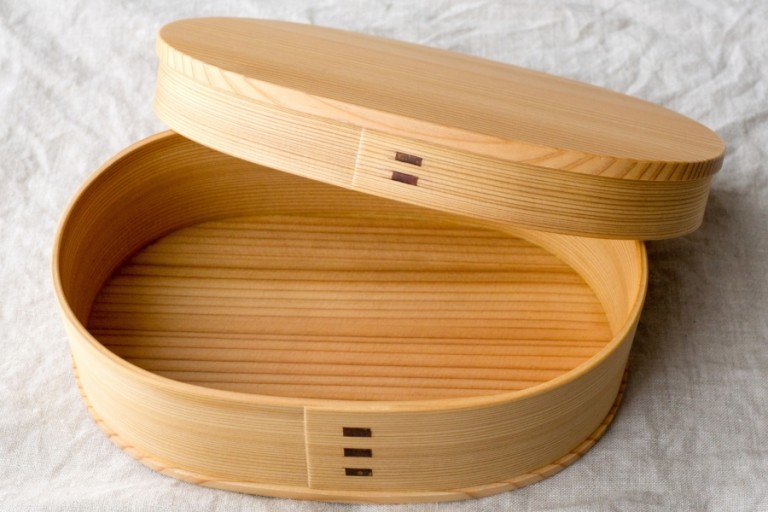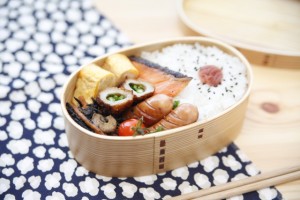 Want to go natural? For a more authentic, Japanese look, go for the wappa bento box made from Japanese cypress wood. Wappa, or cypress wood, is a traditional Japanese material used for making larger rice bins as well as bento boxes. The cypress wood regulates moisture and keeps the rice fresh and tasty even after it cools. In addition to the traditional look of this wooden bento box, Japanese people enjoy the natural aroma of the cypress. The wappa container is usually a one tier bento box, which is packed with rice on one side and the main and side dishes on the other. How about a wappa bento box and a sparkling wine for your next picnic date?
Shokado Style Bento Box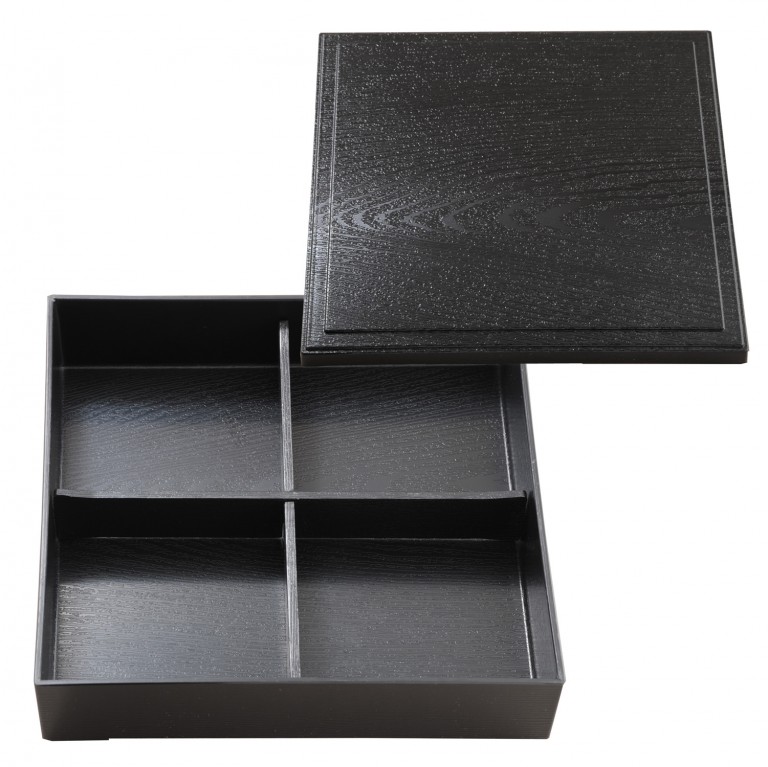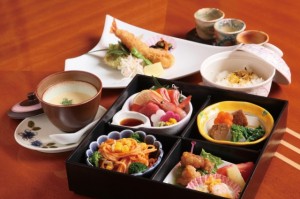 For an elegant look, go for the shokado, or lacquer, bento box. The shokado style box is the original bento that became popular in 16th century Kyoto, Japan for people to take on picnics. The shokado bento box traditionally has four square compartments so that the smell or taste will not mix between the items. When ordering a bento at an authentic Japanese restaurant the food will come in a lacquer shokado bento box, this is usually larger than regular bento boxes since it is not designed to take on the go (some Japanese restaurants serve their lunch with shokado bento box). The shokado bento box adds a great touch when hosting a Japanese themed dinner party or for a special occasion to give a little extra touch to your cuisine.
4. For Kids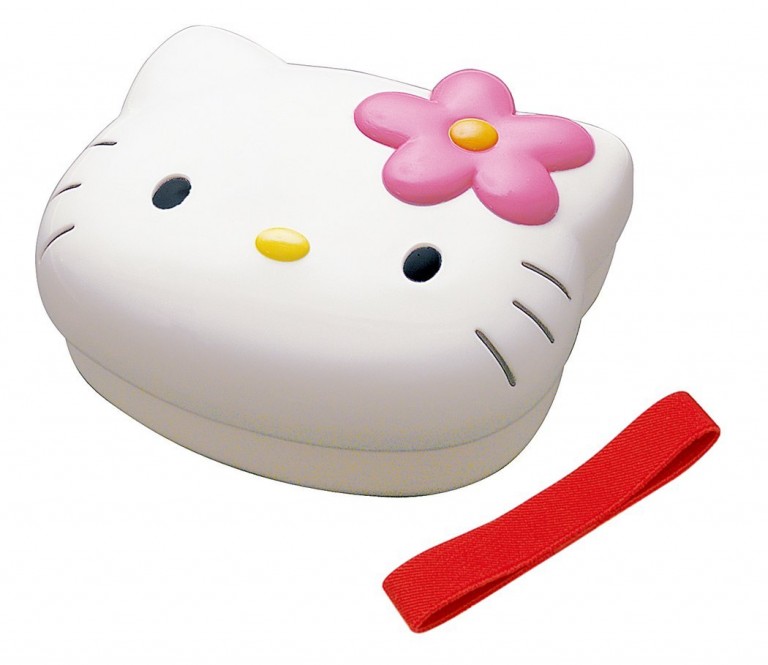 Do you want your picky eaters to finish all their lunch? How about packing their meal in a themed bento box? There are so many cartoon character bento boxes to choose from: Hello Kitty, Spider Man, Frozen, Star Wars, you name it. In addition to cartoon bento boxes there are also animal, train and cars, and even cute fruit designs such as a strawberry or an apple. The sizes are pretty small and ideal for younger kids but with the proper skills you can pack a well-rounded meal in a small portion. These fun boxes will make your child excited about their lunch and they will not be able to wait to open their bento box.
5. Thermal Technology
A Thermal Food Jar
Bentos in Japan are mainly intended to be eaten without re-heating. If you prefer to
keep your meal fresh and warm
, just like you packed it, the thermal food jar (yes, it's the very Japanese technology) is a great option. The tall cylindrical shape is similar to a beverage tumbler, and the thermal food jar is
prefect for soups or any liquids such as curry or even yogurt
. The thermal food jar is vacuum insulated so your meal will stay fresh and at the desired temperature hours after packing it. The stainless steel is durable and also easy to clean. Some of the food jars have a built-in folded spoon in the screw top lid. Now, you can enjoy a hot or cold meal on a go!
The Three Tiers Food Jar
Is there only one microwave at work and always a long line? What's an ideal bento box for the people who want a larger meal for lunch? The thermal food jar will solve your problems; it is a three container set that
keeps your lunch just as warm
as when you packed it in the morning. The three tiers have a soup bowl with a leak-proof lid, a deeper container for rice, and the third for your main and side dishes. It also comes with a forked spoon and a great insulated bag. You won't need to wait for the microwave anymore and the three tiered food jar gives you plenty of options for what to bring for lunch!
Best Useful Bento Tools
Food Cups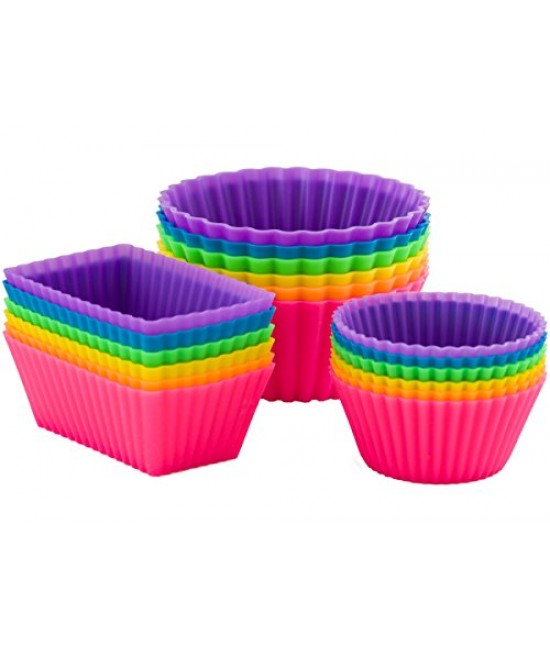 Some of the bento boxes have built in compartments so that different items won't mix together and get soggy. If there are no built in compartments in your bento box, food cups are a great way to pack the food while keeping everything separated and fresh. You can get disposable food cups made from paper or aluminum foil. For those who want a reusable type, try silicone cupcake molds which come in multiple shapes and colors. The silicone molds are durable and easy to wash. Food cups are also great for portion control, and you can fill them with chopped apples, cooked veggies or something like a portion of macaroni salad. Food cups are great for holding any side dish you want to add to your bento.
Sauce and Condiment Containers

If you don't want your sauces leaking from your bento box or spreading to other foods, we've got it covered. The condiment containers for a bento box will do the job. The containers are rather small but that's because it's meant for a single serving. And again, it's re-useable and you can put soy sauce, salad dressing, or even ketchup in it. For your children these containers come in fun animal shapes such as fish, pigs, or bears. How would you get the sauce into such a tiny container? You put a little bit of sauce on a small plate and squeeze your sauce container to suck up the sauce, pretty easy! This is also great for those who want to take your own gluten free soy sauce to a sushi restaurant.
Food Cutter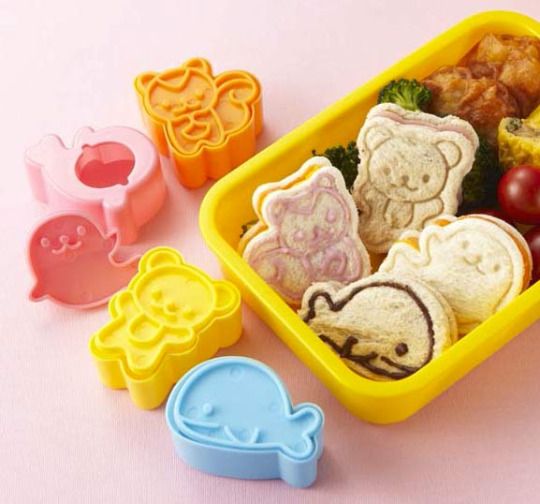 With a food cutter your kids will look forward to opening up their bento box every day! How fun is it to find a carrot that looks like a bunny or a sandwich in the shape of a car? Food cutters come in metal or plastic and the molds have an endless variety of shapes and patterns. Use your imagination to make your eggs, bread, rice, cheese, vegetables, and fruits into just about anything. It's not only adorable but also fun to prepare lunch thinking about your kid's face when they open their bento box. Japanese restaurants also use food cutters to shape their vegetables into flowers. Who knew lunch packing could be this much fun for you and your family?
Food Picks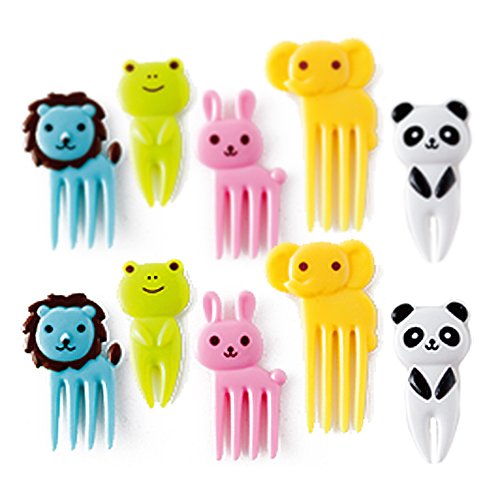 We all know that trying to make picky eaters eat healthy food is not easy. These adorable food picks will solve that problem! The picks make food fun and easy to eat, and the healthy finger foods are perfect for your preschoolers' and even middleschoolers' bento lunch. You can use the picks for making finger foods such as diced fruits, vegetables, cheeses, holding together tortilla wraps and sandwiches, and decorating muffins and cupcakes. Just keep in mind that the picks are very short and small and are meant to be decorative rather than used as a fork. Also, be careful not to wash them in the dish washer. Use these adorable foods picks and we are sure it will put a smile on your little one's face.
Please follow and like us: