How Bean Sprouts are Made
Bean sprouts have been prized since ancient times, not only in Japan but also in China, Korea and Southeast Asia, as a remarkable food that helps build the body. Now that bean sprouts can be mass-produced in factories, they're back in the spotlight as a hygienic, safe sprout vegetable. They can be produced with great flavor and abundant nutrition regardless of the season, and are grown using only fresh water with no chemical fertilizers or pesticides.
Nutritional Value of Moyashi
Bean sprouts are an extremely healthy food bursting with a variety of nutrients. As bean sprouts grow, latent nutrients, such as the starch, fat and protein stored in its seed, are hydrolyzed, releasing energy while developing cells and cell bodies to become a bean sprout. New nutrients are introduced and combined in this metabolic process. Vitamins and free amino acids are some of the nutrients that multiply to the greatest degree. These are combined through sprouting.
Vitamin C, asparagines, asparagine acid and y-amino butyric acids (GABA) are present in scarce amounts in the bean state, but with the generation of sprouts they increase rapidly. There are complicated, almost mystical, reactions that occur throughout the sprouting process: all this is far beyond one's comprehension. Fiber is also abundant in bean sprouts, as well as vitamin B2, a vegetable protein that speeds up the metabolism of fat and is perfect for dieting or preventing obesity. Bean sprouts are rich in nutrition, which is hard to imagine based on its slender white form alone. In Japan, people who are pale and weak, thin, or children who aren't tan because they don't play outside, are referred to as moyashikko (bean-sprout-like sheltered kid), but perhaps these moyashikko actually contain extraordinary powers inside.
Production of Moyashi
The wish for people living in the U.S. to enjoy fresh, tasty bean sprouts has traveled across the ocean from Japan. Fuji Natural Foods arrived in Ontario, California about 30 years ago after searching for a location rich in quality groundwater. They put the utmost care into maintaining their factory's hygiene and equipment, and are deeply and lovingly involved in bean sprout production through repeated testing and thorough sanitary management. For these reasons, they're able to provide a stable supply of bean sprouts throughout the year.
Bean sprouts are low in calories and light in flavor, so they go with any dish and have a flavor you won't tire of, even if you have them every day. Try including them in your daily dining routine!
Moyashi Q&A
Q: When I wash the bean sprouts prior to cooking, they become bubbly. Do you use some sort of chemical in the water when growing them?
A: No bleach or chemicals are used on the bean sprouts from Fuji Natural Foods. The bean sprouts are washed thoroughly before shipment, so you can use them right out of the bag or rinse them lightly if preferred. Old bean sprouts may get bubbly,
but as long as you wash them well before cooking there should be no problem.
Q: Can you eat bean sprouts raw?
A: Yes. They can be eaten raw, but quickly immersing the sprouts in boiling water will enhance their crispness.
Q: Please give me some tips on how to make a crispy bean sprout stir-fry.
A: When cooking at home, first stir-fry the bean sprouts for three minutes over low heat. Once some water is released, stir-fry over high heat for two minutes to let the water evaporate. Too much water will be released if you stir-fry longer than two minutes, so turn the heat off before then.
How to cook Moyashi? (Bean Sprouts Recipes)
Crisp Bean Sprout and Green Onion Salad Recipe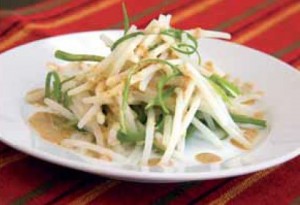 Ingredients (Serves
2

)
1/2 pack bean sprouts
2 stalks green onions
Nijiya Sesame Dressing (to taste)
---
Cooking Directions
Remove the fibrous root from the bean sprouts. Quickly immerse (30 seconds) in boiling water with salt (the amount of salt used here isn't included in the list of ingredients), then drain well with a strainer.
Thinly slice the green onions the same length as the bean sprouts and toss together. Add the sesame dressing.
Bean Sprout and Crab Stick Takikomi-Gohan Recipe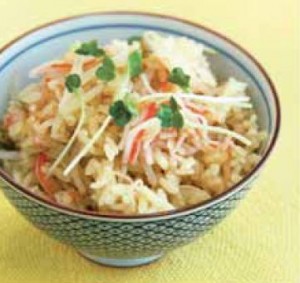 Ingredients (Serves 4)
2-1/3 cups uncooked rice
1 oz. bean sprouts
4 crab sticks
0.1 oz. ginger
1.5 cups water
1 tsp. Nijiya Wafu Dashi stock
1 Tbsp. soy sauce
1 Tbsp. mirin (sweet Japanese cooking wine)
Kaiware daikon (radish sprouts) as needed
---
Cooking Directions
Wash the rice and drain in a strainer 30 minutes prior to cooking. Dilute the wafu dashi stock with water, mix with the soy sauce and mirin, and stir into the uncooked rice in the rice cooker.
Slice the ginger into fine strips. Slice the bean sprouts and crab sticks into 1.2-inch pieces, scatter over the rice, and cook.
After the rice is cooked, mix the contents and serve in a bowl. Slice the kaiware daikon into small pieces and use as a topping.
Bean Sprout and Ground Chicken Tomato Soup Recipe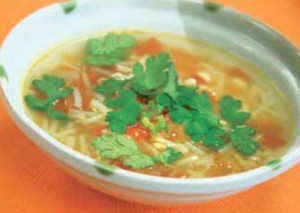 Ingredients (Serves 2)
1 oz. bean sprouts
2.8 oz. ground chicken
1 tomato
1/2 clove garlic
1 tsp. olive oil
1.5 cups water
0.3 oz. soup base
Salt and chili pepper to taste
Cilantro leaf to taste
---
Cooking Directions
Slice the bean sprouts about 0.5 inch wide. Slice the tomato into approximately 0.5-inch squares, and mince garlic.
Over low heat, stir-fry the garlic in olive oil. After the aroma arises, add the ground chicken and stir-fry over medium heat. Add the bean sprouts and tomato, and continue to stir-fry. When the mixture starts getting watery, add the water and soup base.
When the mixture comes to a boil, remove the froth and adjust the flavor with salt and chili pepper. Serve in a bowl, and add the cilantro as a topping.
Gochiso Magazine, Nijiya Market
Please follow and like us: