Let's try Natto Recipe!
Many natto lovers are found in the northern and southern parts of Japan. Although natto was traditionally unpopular in the Kansai area, where residents hated its distinctive smell, the advance in biotechnology has made it possible to culture pure strains of bacillus natto to create natto having less odor. Thanks to the less smelly versions, natto is now a popular food that's enjoyed by Japanese throughout the country.
Natto is delicious but it has a distinctive smell and stickiness. Even the simplest way to eat natto—putting over on rice and sprinkling it with condiments and soy sauce—never becomes boring.
When cooking natto, select ingredients that go well with this dish. You can also find recipes that increase the stickiness of natto for those "stickiness" lovers, or ingredients that reduce the distinctive smell and stickiness for those who are unfamiliar with it. It's fun just thinking about the various ways to cook natto.
Okura and yam are ideal food choices in the summer when the stomach gets tired due to heat, because their sticky substances contain digestive enzymes and are also full of nutrients. For example, okura contains carotene, vitamin C, minerals and other nutrients that boost the body's immune system. Natto contains vitamin B1 that helps relieve fatigue, and it's a rich source of iron and calcium. Eat natto with green perilla leaves, since their refreshing fragrance will whet your appetite. Try these recipes. The slick texture of natto will surely make you want to eat more!
How to cook Natto? (Natto Recipes)
Easy Natto Pizza Recipe
Very easy Japanese pizza with natto!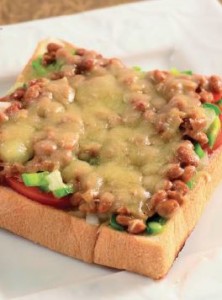 Prep time:
Coock time:
Total time:
Ingredients (Serves
2

)
1 package (1.7 oz) ground or whole (small) natto
2 slices sandwich bread
1 medium tomato
1/4 onion
1/2 green bell pepper
Pizza cheese, as desired
---
Cooking Directions
Dice onion and green bell pepper, and slice the tomato.
Mix natto with the sauce and mustard included in the package.
Place 1. on sandwich bread and spread 2. evenly on top.
Cover the bread with cheese.
Toast in an oven until the cheese melts
Tips
Cover the bread evenly with the natto.
You can substitute green onion for the onion.
Even without the vegetable toppings, natto and cheese alone make a delicious pizza.
Fried Natto Recipe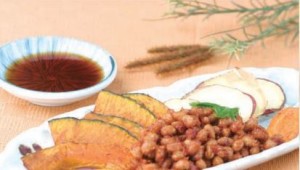 Ingredients (Serves 4)
Vegetable oil (as appropriate)
2 packs of natto
Some salt, soy sauce or ponzu sauce as you like
---
Cooking Directions
Fry natto in 356°F oil while breaking the beans into individual pieces, until the surface becomes crisp and golden brown.
Drain excess oil and eat natto with salt, soy sauce or ponzu sauce to taste.
* Combine with fried carrot, pumpkin, sweet potato, etc.
Mabo Natto Tofu Recipe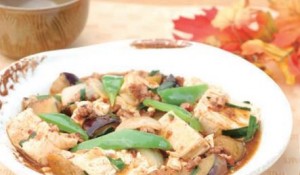 Ingredients (Serves 4)
1 medium firm tofu
1 pack of natto
5.5 oz ground pork
2 oz leek
1/4 onion
1 green pepper (small)
1 eggplant (medium)
Flavoring ingredients
3 Tbsp. oyster sauce
1 Tbsp. chili bean paste
3 Tbsp. sugar
2 Tbsp. soy sauce
1 tsp. ginger
Potato starch diluted in water (as appropriate)
---
Cooking Directions
Preparation
Drain tofu and break it into large pieces by hand.
Cut leek and other vegetables into appropriate sizes.
Mince ginger with the skin on.
Cut natto into small pieces.
Pre-mix oyster sauce, chili bean paste, sugar, soy sauce and other flavoring ingredients.
Sautee all the ingredients (other than natto) in oil.
Add natto, pour mixed flavoring ingredients, and stir well.
Add potato starch diluted in water to hold all the ingredients together.
* Always add natto as the last ingredient. For extra flavor, add a dash of sesame oil as the final touch.
Sticky Rice Bowl Recipe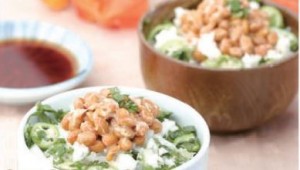 Ingredients (Serves 2)
3 to 5 okura
1 pack of natto
10 cm long yam
5 to 10 green perilla leaves
Soy sauce (as appropriate)
2 bowls rice
---
Cooking Directions
Cut okura into small pieces, shred yam or cut it into thin, short strips, and mince green perilla leaves. Crush natto into small pieces using the knife.
Put rice into a bowl, sprinkle minced green perilla leave, and put yam, okura and natto.
Sprinkle soy sauce to taste.
Squid Natto Recipe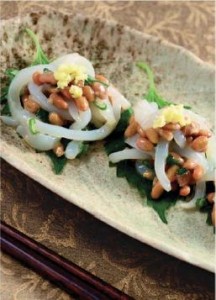 The Perfect Accompaniment to Sake
Ingredients (Serves 2)
1 package ground or whole (very small) natto 1/5 green onion
2.1 oz squid (sashimi-grade, sliced)
2 to 3 perilla leaves
1/2 tsp. grated ginger
Soy sauce to taste, 1 sachet sauce (included in the natto package)
---
Cooking Directions
Finely chop green onion and mix with natto and sauce.
Mix the squid into 1.
Lay perilla leaves on a plate, put 2. on top, garnish with grated ginger, and pour soy sauce over the natto mixture.
Tips
You can also use sashimi-grade chopped tuna or chopped octopus instead of squid, and wasabi instead of ginger.
Ume Okaka Natto Recipe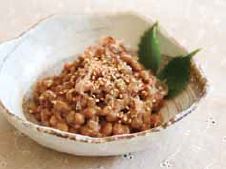 Ingredients (Serves 2)
2 packs Natto
1 large umeboshi (pickled plum)
Katsuobushi (dried bonito flakes) (to taste)
Soy sauce (to taste)
White sesame seeds (as desired)
---
Cooking Directions
Remove the pit from the umeboshi and mince the flesh.
Combine the natto, umeboshi, and katsuobushi in a bowl and mix well.
Season with soy sauce. Place in a serving bowl, and sprinkle with white sesame seeds.
Natto Egg (Tamagotoji) Rice Recipe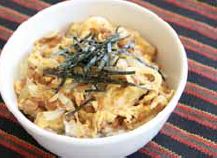 Ingredients (Serves 2)
2 packs Natto
3 Tbsp. Nijiya Brand Tsuyu Tennen
1 tsp. sugar
1/2 onion
2 eggs
kizami-nori (shredded nori) (as desired)
Salad oil (as desired)
2 bowls of cooked rice
---
Cooking Directions
Slice the onion and stir fry in a skillet till tender. Set aside in a container to cool.
Crack eggs in a bowl and mix with the natto and the onion from Step 1.
Heat the salad oil in a skillet. Stir in the ingredients from Step 2 and mix with big strokes till half-cooked.
Put rice in a bowl and top with the ingredients cooked in Step 3.
Pour Tsuyu Tennen and sugar into the same skillet. Mix lightly and bring to a boil:
Pour on top of the dish and sprinkle on kizami nori.
Natto Avocado Recipe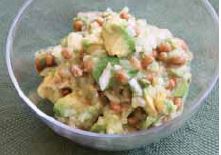 Ingredients (Serves 2)
2 packs Natto
1 avocado
1 onion
4 Tbsp. Nijiya Brand Soba Tsuyu (undiluted type)
---
Cooking Directions
Peel the avocado, remove the seed, and cut into bite-sized pieces. Finely chop the onion and soak in cold water.
Drain the onion. Put the avocado, onion and natto in a container. Pour in Nijiya Brand Soba Tsuyu and mix the avocado as if cutting with a spoon.
Natto Grilled Curry Rice Recipe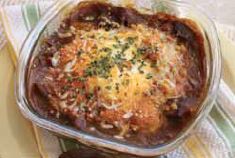 Ingredients (Serves 1)
1 pack Natto
1 pack Nijiya Brand Curry
1 egg
Pizza cheese (to taste)
Dried parsley (to taste)
1 bowl of cooked rice
Butter (as desired)
---
Cooking Directions
Preheat the oven to 350°F.
Grease a heat-resistant dish with butter. Put in the cooked rice. Empty the package of curry on top of the rice to completely cover the rice. Add natto and mix slightly with the curry.
Tuna in Grated Daikon with Natto Recipe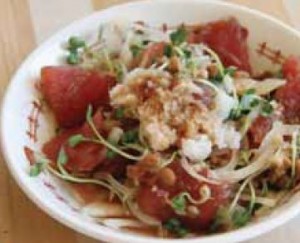 Ingredients (Serves 3-4)
1 pack Natto
18 oz tuna sashimi
1/4 onion
1/2 pack kaiware-daikon (white radish sprouts)
3 Tbsp. grated daikon
1 Tbsp. soy sauce Iwasabi (as desired)
Ponzu (as desired)
---
Cooking Directions
Cut the tuna sashimi into bite-sized pieces and rub in the soy sauce and wasabi.
Slice the onion and soak in water with kaiware-daikon.
Stir the sauce into the natto.
Mix the ingredients from Steps 1, 2, and 3 onto the grated daikon and serve with a drizzle of ponzu.
Natto Minced Beef Recipe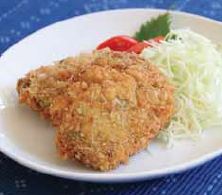 Ingredients (Serves 2)
2 packs Natto
1/4 onion
3 pieces Chinese cabbage
3-3/4 oz ground beef
1 green onion
Dashes of salt and pepper
Panko, flour, beaten egg, frying oil (as needed)
---
Cooking Directions
Finely mince the Chinese cabbage, boil, and squeeze out excess moisture. Mince the onion and green onion. Cut the natto into small pieces and mix with the provided sauce.
Combine all the ingredients in a bowl and divide into four parts. Roll into oblong shapes. Dredge each piece in flour, beaten egg, and panko, in that order. Deep fry in oil at 338° to 356°F for 4 to 5 minutes.
Natto Sandwich Recipe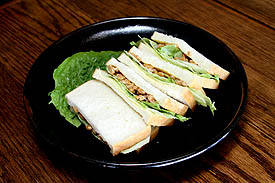 Ingredients (Serves 2)
2 packs of natto (fermented soy bean)
4 slices of bread
4 leaves of lettuce
Butter
Mustard
Mayonnaise
Salt to your taste
---
Cooking Directions
Spread butter on the bread first, then mustard, and mayonnaise last.
Spread natto on the bread and add a dash a salt for taste.
Put the lettuce on top of the natto.
Press the two slices of bread together.
Tips
You can add chopped cucumber, green onions or even cheese.
If you need more flavor, sprinkle soy sauce or the sauce that comes in the natto package on your natto.
Recipe and photo by: Yakitori Koshiji
Gochiso Magazine, Nijiya Market
Please follow and like us: