Contents:
What is Onigiri (Rice Balls)?
Onigiri is a rice ball which is both a comfort food and a to-go meal in Japan. It is a simple, light and savory food made from steamed rice with a filling inside and usually wrapped with nori (dried seaweed). You can fill an onigiri with anything, but the most common fillings in Japan are umeboshi (salted plum), kombu (seasoned kelp), and sake (grilled salmon). The rice used in onigiri is typically Japonica short rice, a short white grained rice.
The origin of onigiri goes back to Yayoi period, 3rd century BC to 3rd century CE, in Japan when people steamed rice and then grilled it. In the Heian period, during the 8th century, aristocrats served rice balls to their servants. The current style of onigiri with nori (dried seaweed) wrapped around it became popular during the mid-Edo period, in the 17th century.
In most of Japan these rice balls are called onigiri, but in some regions they are called omusubi. For onigiri, nigiri means "to grip" and the "o" is an honorific prefix, similarly in omusubi, musubi means "to tie or bond something," with the "o" again an honorific prefix.  You can see why these words refer to the shape of an onigiri. The rice in an onigiri is molded into four shapes, triangular, oval or round and tawara, a shape that looks like a bale of rice.  Out of these four, triangle is the most common shape. The triangle shape resembles a mountain and symbolizes a connection with kami, Japanese nature gods.
In Japan, onigiri is available in supermarkets, convenience stores, and delis and even at restaurants. And of course, onigiri is made at home for lunch or even as a late night snack. In the U.S. you can find onigiri at Japanese restaurants or in any Japanese supermarket. If you want to start your Japanese culinary adventure, onigiri is a simple meal to make; just get some rice, put a filling inside and form it into a ball. With this simple technique, why not host your first onigiri party?
Variation of Onigiri (Onigiri Fillings)
Introducing a new "no hard-pressing" onigiri series wrapped in soft nori ( dried laver seaweed)! Using Nijiya's organic rice, which retains its flavor even when eaten cold, these onigiri come with a variety of fillings. Of course, every piece is carefully made by hand.
So that "our customers may enjoy as many choices as possible," we've selected the best ingredients among the favorite accompaniments to onigiri, such as unagi (eel), mentai-mayo (cod roe with mayonnaise), takana (mustard greens), teriyaki chicken, BBQ beef, karaage-mayo (fried chicken with mayonnaise), tori-soboro (seasoned ground chicken), yukari (plocamium), nozawana (turnip greens) and buta-kimchi (pork with kimchi). If you can't pick just one, choose "bakudan," which contains a combination of four ingredients.
Bring onigiri with you on your next trip to the beach, the mountains, or a theme park. With onigiri, you can enjoy a different lunch special every day!


10 Most Popular Onigiri Fillings
Onigiri is like a Japanese version of a sandwich. Just like a sandwich, onigiri is a popular lunch option and you can put anything in it. Wrap a nori (seaweed sheet) around your onigiri right before you eat it and so that you have a crispy nori when you bite into your onigiri. Here are the top 10 onigiri fillings you should try!
1. Tsuna – Mayo
Tsuna mayonnaise filling is easy to make and goes really well with rice. If you are not a big fan of seafood, you can substitute the tuna with chicken.
2. Shake (Grilled Salmon)
Shake, pronounced "sha-kay", filling is easy to make. Grill or bake a salmon with soy or teriyaki sauce then break it into small chunks! It's not only delicious but also a great source for protein, vitamin D, and omega-3 fatty acids!
3. Ume / Umeboshi
Ume, pronounced "ooh – may", is a pickled plum and is very sour and salty. Umeboshi is not only a popular onigiri filling but preserves the onigiri, which makes this a great ingredient for packing in your lunch box.
4. Mentaiko
Mentaiko is fresh pollack or cod roe marinated with salt and spices. Mentaiko goes great with rice as well as pastas. If you like spicy, then try the karashi (spicy) mentaiko.
5. Tarako / Yakitarako (Cod Roe / Cooked Cod Roe)
Tarako is another name for mentaiko, or seasoned pollack or cod roe. Tarako is raw and yaki tarako is cooked or grilled version. Yaki tarako is simply seasoned with salt giving it a more delicate and light flavor than mentaiko.
6. Kombu (Kelp)
Kombu filling is made by a cooking method called tsukudani, which involves simmering kombu in soy sauce, cooking sake, mirin (sweet cooking sake) and sugar. If you don't have all these items you can also substitute them with soy sauce and honey or agave.
7. Tenmusu (Tempura Shrimp)
Tenmusu is an abbreviation of tempura and musubi. Musubi is another name for onigiri and in the tempura in tem-musu is fried shrimp. Tenmusu is a delicious onigiri that would be a popular item at any potluck. The crispy shrimp tempura goes so well with rice, such a brilliant idea, whoever thought of it!
8. Ebi Mayo (Shrimp Mayonnaise)
Ebi mayo filled onigiri is a prefect appetizer for potluck dinners. Cook fresh or frozen shrimp, cut them into small chunks and season them with salt, pepper and mayonnaise.
9. Okaka (Flavored Bonito Flakes)
Okaka is a super easy filling you can make in a flash. Get a pack of bonito flakes at any Asian supermarket and mix it with a small amount of soy sauce, mirin (sweet cooking sake) and salt. You can also just use soy sauce and honey or agave.
10. Kara-age (Fried Chicken)
Kara-age, pronounced "kara- agay", is Japanese fried chicken. Cut the fried chicken into small pieces so that it fits in your onigiri. You can even use frozen chicken nuggets in your onigiri to make it even easier!
Let's Make Onigiri!
Onigiri Recipe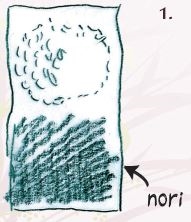 1. Put a sheet of onigiri nori (cut a whole nori sheet in half) on a cutting board, and create a mound of cooked rice (about 3.5 oz) over the top half of the nori.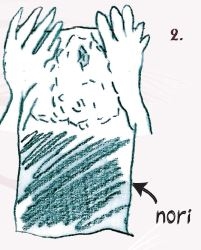 2. Wet your fingers and shape the rice into a triangle with a gentle touch. You can also make it into an egg shape if desired.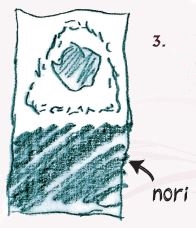 3. Create a hole in the center of the rice with your fingers.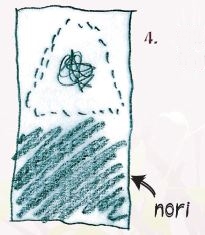 4. Fill the hole with your favorite ingredient.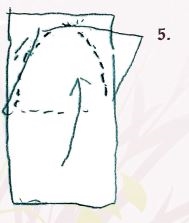 5. Fold over the bottom half of the nori to cover the rice.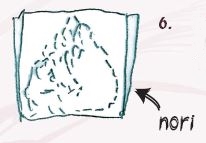 6. Fold the excess length of the nori over the rice at the top.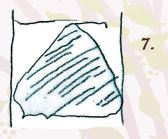 7. Fold nori below along both sides of the triangle.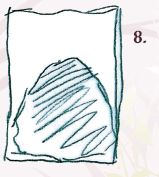 8. Your onigiri is complete. Put it in a plastic bag or clear wrap.
Because you didn't squeeze hard to shape the rice, the nori may get slightly wet and wrinkled on the onigiri. But never mind how it looks. We guarantee your onigiri will never turn hard and will stay delicious even when eaten cold. Try it yourself!
Gochiso Magazine, Nijiya Market
Please follow and like us: