Contents:
How to make Ramen Noodles
Japanese people have traditionally consumed soba (buckwheat flour noodles) and udon (thick wheat noodles) as much as rice, so noodles are favorite dish for many. Even in the U.S., the population of Japanese ramen-noodle lovers among the Asian community continues to increase. Whether its ramen, soba, or udon, noodles play a key role in Japanese cuisine.
There is a factory in Rancho Domingues, California that looks small and unassuming, but its interior is packed with rows of Japanese noodle-making machinery.
The factory interior is extremely hygienic, and close attention is paid to temperature management.
Many different noodles are made here. Currently, about 150 different types of noodles are made in response to various requests. The factory operates for more than 10 hours a day and produces approximately 25,000 servings of noodles daily.
Water plays an essential role in the art of noodle making. It is said that good noodles exist wherever there is good water. To achieve this, a special machine at this factory purifies tap water. The slightest difference in the type of the blending-ration of flour – the other key ingredient in noodles–will dramatically change the result.
The ingredients are mixed.
Clusters that form in the mixture fall and are churned by the machinery.
Pieces of dough are pressed into a sheet.
The sheet is wrapped around a roller.
The sheet is allowed to sit for a while so that it can mature.
The sheet is stretched and then cut into thin slices. By changing the cutter at this point, one can change the thickness or variety (straight or wavy) of the noodles.
The noodles are then packed in boxed.
The boxes are placed in the cooking room, Where the temperature is gradually decreased.
Once the temperature is sufficiently cool, the noodles are stored in a refrigerator or freezer.
Noodles Q&A
Q: There are many types of ramen noodles, but what are the differences?
A: The main ingredients are mostly the same, but a variety of noodle types can be made by varying the amount of each ingredient. For example, a mixture with less water makes noodles with a firm, powdery consistency. The thickness and waviness can be altered by using special cutters.
Q: Is there a difference in how organic and non-organic noodles are made?
A: Organic noodles use organic flour as the base, and the amounts of other ingredients used differ from regular flour. There is no difference in the method of preparation, but organic noodles are the first to be made in the factory on any given day so that other flours don't mix in. Again, sanitary control is a priority.
Q: Can raw noodles be stored in the freezer? How long do they last?
A: Frozen storage is possible. The flavor should remain intact for about three months. However, once the noodles are defrosted they must be stored in the refrigerator and consumed within a week. Please don't refreeze them.
Q: Are ramen and soba noodles boiled differently? What's the best boiling technique?
A: There is no real difference in how the noodles are boiled. Both should be cooked in a generous amount of boiling water. The noodles should "dance" in the pot. Follow the package instructions for the boiling time. You can adjust the time to achieve the desired firmness. After soba has been boiled, it should be "tightened" with cold water. For warm soba dishes, boil again for a few seconds after the cold-water rinse.
How to cook Ramen?
Hiyashi Chuka (Cold Ramen) Recipe
It's traditional dish for summer in Japan!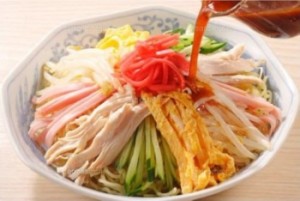 Prep time:
Coock time:
Total time:
Ingredients (Serves
2

)
2 packs ramen noodles or hiyashi chuka noodles
Dressing:
6 tbs. vinegar
8 tbs. shoyu (soy sauce)
4 tbs. sesame oil
4 tbs. sugar
4tbs sake
Toppings:
Ham, thin-cutted
Cucumber
Kinshi tamago (thin-cutted omelet)
---
Cooking Directions
Prepare sauce. Traditional sauce is soy or sesame based. Heat all the ingredients (low heat) until sugar is dissolved and alcohol is vaporized, and then cool it.
*For Sesame based dressing, add sesame paste to ingredients above.
Cook noodle in boiling water, then rinse with ice cold water.
*If keeping noodle in a container, mix/coat rinsed noodle with oil or flavored oil so noodle won't stick together.
Prepare toppings.
Place toppings on noodles, and garnish with dressing.
Tips
For vinegar, you can use Sushi Vinegar too (since it already contains sugar).
You can use/mix with other oils like olive oil and grapeseed oil.
Recipe and photos by: Sun Noodle
Gochiso Magazine, Nijiya Market
Sun Noodle
Please follow and like us: