In Japanese, teri means "shining" and yaki means "to grill" or "to broil," and teriyaki actually refers to the cooking technique of brushing a seasoning on the items you are grilling.
Contents:
What is Teriyaki Sauce?
Some of you might have a bottle of teriyaki sauce in the fridge or have seen teriyaki among the many choices in the sauce section of your local super market. But what exactly is teriyaki sauce, and is it just for Asian barbeque? In Japanese, teri means "shining" and yaki means "to grill" or "to broil," and teriyaki actually refers to the cooking technique of brushing a seasoning on the items you are grilling. The ingredients for a traditional Japanese seasoning include soy sauce, cooking sake and sugar, which when applied while grilling glazes the fish or meat, making it shiny.
In America, the word for this Japanese cooking technique has been transformed into what we now call teriyaki sauce.
The main ingredient in teriyaki is soy sauce, a product that became popular in Japan in the 16th century and then brought to America to target Japanese immigrants who settled on the west coast in the 20th century. Kikkoman, a prominent exporter of soy sauce to Japanese living abroad, noticed that Americans began using soy sauce for their barbeque. So, in 1961 they introduced a sauce and applied the name of the Japanese technique for cooking on a grill, and producing the now widely known teriyaki marinade sauce you see today. And the rest is history.
Today the original Kikkoman Teriyaki sauce is just one of many products you can buy to flavor your barbeque. Now there are Korean, Chinese, and even American based teriyaki sauces all with their own unique ingredients and flavors. Japanese brands of teriyaki tend to be a little saltier than American brands because Japanese eat their meat with rice that cuts down on the salty flavor. After tasting different teriyaki sauces and picking your favorite style such as salty, spicy or sweet, you can try to make your own teriyaki sauce at home.
How to cook Teriyaki?
Teriyaki Sauce Recipe
Ingredients (Serves 1 cup)
1/2 cup shoyu (soy sauce)
1/2 cup mirin (Japanese sweet cooking rice wine)
1/2 cup cooking sake (Japanese rice wine)
1/4 cup sugar
Ground garlic (optional)
Ground ginger (optional)
Roasted sesame (optional)
---
Cooking Directions
Pour mirin and sake in a sauce pan and cook on high heat.
When it comes to a boil, lower the heat and add sugar. Stir till sugar dissolves.
Then add soy sauce and the other ingredients (optional).
Simmer until the sauce thickens to your desired consistency. Stir constantly during this stage so the soy sauce and sugar will not burn.
Store in a glass jar when the sauce cools down.
Note:
The golden ratio for making a teriyaki sauce is 2:2:2:1. That is soy sauce 2: mirin 2: sake 2: sugar 1.
If you prefer more sweetness in your sauce, add a tablespoon or two of sugar. Add the optional ground garlic and ground ginger for more of a kick. To add an earthy flavor to your sauce, simmer your sauce with roasted sesame. You can find cooking sake or mirin at your Asian grocery store, but if you don't have either you can omit the sake and substitute ½ cup of water and 3 tsp. of sugar for the mirin.

Teriyaki Chicken Recipe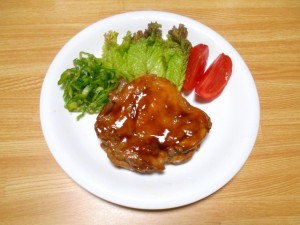 Ingredients (Serves
2

)
---
Cooking Directions
Stab the chicken thighs with a fork several times to make holes, and add the salt and pepper. Marinate the chicken in teriyaki sauce for about 30 mins.
Put the oil in a frying pan on medium heat. Place the chicken into the pan. When one side lightly browns, flip it over.
Remove the chicken from the oil. Serve it with the dressing.
Teriyaki Salmon Recipe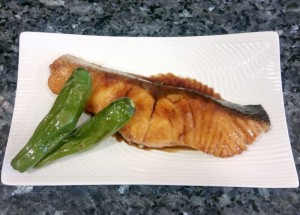 Ingredients (Serves 2)
2 pieces fillet fish (raw salmon 1 slice 120g)
1 Tbsp. salad oil
2 Tbsp. sake (cooking sake)
1 Tbsp. shoyu (soy sauce)
1 Tbsp. mirin (sweet cooking rice wine)
---
Cooking Directions
Heat the salad oil to the frying pan.
Wrap the salmon with paper towel to remove moisture, and bake until it is firmly browned over low heat from the front side.
When it's cooked in a half way, carefully turn over and cook another side. Remove excess oil.
Remove the salmon after cooked, add sake, soy sauce and mirin into the pan and heat.
Put the salmon back to the pan and carefully until broth start caramelized. Cook another side of salmon.
Authentic Teriyaki Chicken Bowl Recipe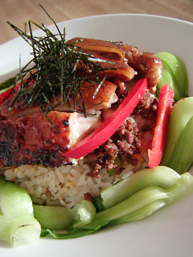 Ingredients (Serves 1)
7 oz. boneless chicken breast
Marinating Sauce:
1 cup shoyu (soy sauce)
1 cup cooking sake (Japanese rice wine)
Fried rice:
1/2 cup cooked rice
1 egg
1 oz. diced bamboo shoot
1 oz diced green pepper
Salt to taste
Pepper to taste
Cooking sake (Japanese rice wine)
Nori (seaweed sheet) flake for topping
---
Cooking Directions
Use a fork to poke holes in the chicken breast. Let it soak in the marinating sauce for an hour.
Take the chicken out of the sauce and put it on greased wired rack.
Preheat oven to 300 °F and grill the chicken for 30 min.
Dice the bamboo shoots and green pepper. Beat the egg and mix in the diced bamboo shoots and green pepper.
Heat the frying pan, grease with vegetable oil, cook the egg and add in the cooked rice. Season it with salt and pepper and a sprinkle of cooking sake.
Cut grilled chicken breast into bite size pieces.
Serve the fried rice in a bowl and top it with chicken.
Sprinkle nori seaweed flakes on top and place your preferred vegetable such as pok choy or red pepper on the side. Or even a slice of orange or lemon for pop of color.
Tips
You can use leftover rice instead of cooking fresh rice.
Using a wired rack to slowly grill the chicken breast removes excess fat. Cooking at a lower temperature keeps the chicken moist and not overcooked.
If you make too much marinating sauce, store it in a jar in the refrigerator. Don't reuse marinating sauce used with raw chicken.
Recipe and photo by: Inaba Restaurant
Best Teriyaki Sauce Brands
When choosing a teriyaki sauce keep in mind that there are a variety of brands that will match your specific taste, whether you like your sauce salty, spicy or sweet. Teriyaki sauces are great for barbeque, but you might not know that by adding vinegar and oil you can make a delicious salad dressing or dipping sauce. Let's break down some of these teriyaki brands to help you choose your favorite, and the first place to start is with the original Kikkoman teriyaki sauce.
Kikkoman Teriyaki Marinade & Sauce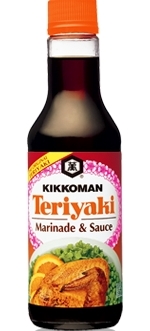 This Kikkoman Teriyaki Marinade & Sauce is the classic teriyaki sauce that started the Japanese barbeque sensation we have today. This sauce is meant for marinating your chicken meat rather than to be used as a dipping sauce, and is a good option to pick for your first teriyaki experience. As we mentioned before, Japanese brands tend to be on the saltier side because Japanese eat their meal with rice, so if the original Kikkoman teriyaki is too salty try the options with less sodium or the gluten free sauce.
Product Info & Photo Credit: http://www.kikkomanusa.com/
Kikkoman Takumi Teriyaki Sauce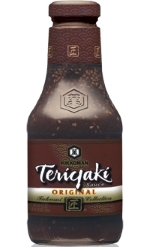 Takumi is Japanese for "master craftsman," and the Takumi collection is the ultimate teriyaki sauce that has a rich flavor infused with garlic and scallions and a well-balanced taste that is both savory and sweet. The Takumi sauce is thicker than the original Kikkoman teriyaki so it is perfect for cooking sauce or a dipping sauce. The Kikkoman Takumi sauce comes in four flavors – Original, Spicy Miso, Garlic and Green Onion, and Triple Ginger flavor – so pick the one that tickles your taste buds.
Product Info & Photo Credit: http://www.kikkomanusa.com/
Yamasa Teriyaki Marinade & Sauce
Yamasa is another major soy sauce company in Japan similar to Kikkoman, which means they use authentic, naturally brewed, and the best quality soy sauce as the base in their teriyaki. This sauce is slightly sweeter than the Kikkoman Teriyaki Marinade & Sauce, so if you like your checken meats a little tangier then try this brand.
Product Info & Photo Credit: http://www.yamasausa.com/
Mr. Yoshida's Marinade & Cooking Sauce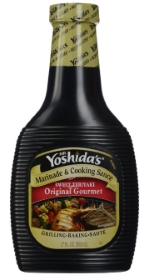 Junki Yoshida, originally from Japan, is now a teriyaki mogul in the U.S. after launching his first teriyaki sauce in the 80's based on his mother's recipe. You could say he achieved the American dream with his signature teriyaki sauce. Mr. Yoshida's Teriyaki Sauce is widely available in stores such as Costco, Safeway, and Fred Meyer and come in three main flavors: Original Gourmet, Cracked Pepper & Garlic, and Hawaiian Sweet & Sour. These sauces are great marinade and its lighter flavor makes it a great option for a salad dressing or dipping sauce.
Product Info & Photo Credit: http://www.mryoshidas.com/
Shirakiku Original Teriyaki Sauce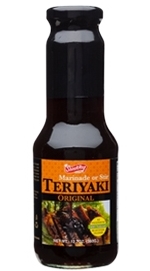 Shirakiku is one of the oldest importers, wholesalers and distributors of Asian food in America, and has been in business since 1912. This authentic teriyaki sauce is great for barbeque and the ingredients are all natural with no additives.
Product Info & Photo Credit: http://products.wismettacusa.com/
Aloha Teriyaki Sauce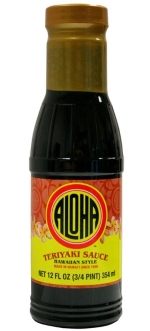 Aloha Shoyu Company is a soy sauce company in Hawaii founded in 1946 by five local Japanese families. Their Aloha brand soy sauce is very popular in Hawaii and their famous teriyaki sauce has spread to the west coast by Japanese and islanders who moved here. Aloha Teriyaki has more than fifteen different sauces, try their unique Guava Pineapple Teriyaki Glaze, Mango Pineapple Teriyaki Glaze, or Organic Hawaiian Honey Teriyaki Glaze for that tropical flavor!
Product Info & Photo Credit: http://www.alohashoyu.com/
Gochiso Magazine, Nijiya Market
Please follow and like us: