Daikon (Japanese radish) is a typical winter vegetable. Even though it's available throughout the year, winter is when daikon is at its tastiest. Besides being tasty, daikon has many therapeutic properties. So, organically grown daikon would be the better choice.
Contents:
What is Daikon Radish?
Organic Daikon – Let's enjoy every part of it!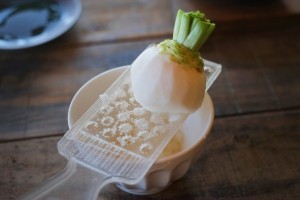 The most widely known Japanese daikon radish is the Aokubi daikon. It has a less peppery flavor and is therefore suitable for eating raw. Daikon radish is incorporated into many dishes such as oden (hot-pot dish) and buri daikon (simmered yellowtail and daikon radish). Daikon oroshi (grated daikon radish) is often served as a condiment with grilled fish, nabe (hot pot dish) and yakiniku (Korean-style barbeque), and is used in such dishes as nameko oroshi (nameko mushrooms and grated daikon radish), shirasu oroshi (shirasu fish and grated daikon radish) and ikura oroshi (cured salmon roe and grated daikon radish). Karami daikon (grated hot/spicy daikon radish) is a regular accompaniment to zaru soba noodles. With daikon radish the possibilities are endless.
Daikon Radish is an Outstanding Digestive Aid and Improves Blood Circulation.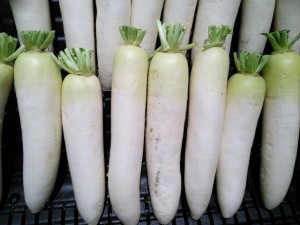 Daikon radish has various health benefits. Most notably, it is an outstanding digestive aid and improves blood circulation. Daikon radish contains a digestive enzyme called diastase, which is effective in relieving heartburn, indigestion and hangovers. Daikon radish is also rich in isothiocyanate, a compound that produces its pungent, peppery flavor, and helps improve blood circulation and prevent clots. Also, the juice of raw daikon radish has anti-inflammatory and cooling effects, so it has been used in traditional folk remedies as an external analgesic plaster to alleviate fever, headache, swollen gums, hot flashes, etc. In order to get the most out of this healthy vegetable, select organic daikon radish:
Glossy flesh; a dense, heavy feel; and fewer root hairs
Deep-green leaves that are crisp and straight
Also, break off a stem to see whether the inside seems somewhat hollow; if it does, the core of the flesh may be spongy.
Indeed, the leaves can indicate how fresh the daikon radish is. For this reason we recommend choosing daikon radish with the leaves intact.
To Get the most out of Daikon Radish, Apply the most Suitable Cooking Method to Each Part.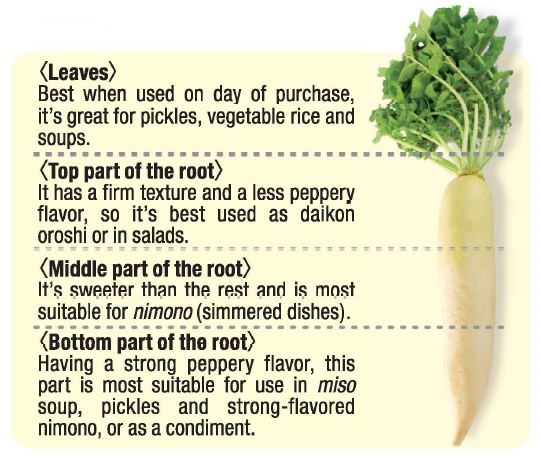 The various parts of daikon radish differ slightly in taste, so it's best to cook the varying parts utilizing the most suitable method.
Don't Waste the Skin For Healthy Dish!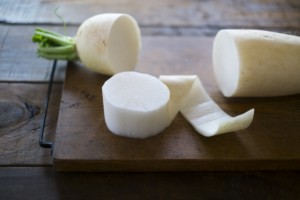 Daikon radish has an abundance of vitamins right under the skin. Just wash the skin well and use it in dishes. Daikon radish skin contains twice as much vitamin C as the inner part of the root. It also has vitamin P, which is known to help strengthen the capillary vessels.
The skin is great for sunomono (vinegared dishes). You can chop it up and use it in miso soup. It has a firm texture and is suitable for kinpira (sautéed root vegetables). You can also cook the chopped skin with brown rice.
Leaves are Also Very Nutritious and Healthy!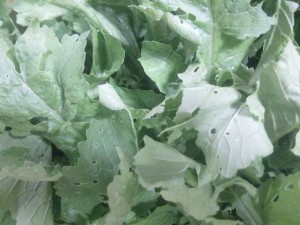 Daikon radish leaves have a higher nutritional value than the root. For example, they have vitamin A, which is good for eye health, and contain more vitamin C than the root. Daikon radish leaves are also rich in various other nutrients, including beta carotene and minerals such as calcium, sodium, phosphorus, and iron. Blanch the daikon radish leaves briefly in salted boiling water and then freeze. You can then use them whenever you want to add more color to your dishes. Daikon radish leaves can also be a great addition to fried rice, miso soup, stir-fry, and furikake (rice seasoning flakes).
When you don't feel quite like yourself, it might be a good idea to try this remedy before relying on medications. Take a renewed look at the wisdom and ideas passed down through the generations, and try to incorporate them into your health regimen. The remaining daikon radish can be used in various dishes such as namasu (vinegared dishes) and kinpira. Indeed, there is no part of the organic daikon radish that should be discarded. So, use the whole daikon radish and enjoy!
How to Cook Daikon Radish? (Japanese Daikon Recipes)
Daikon radish is a versatile food. You can simmer it, deep-fry it or simply use it as a garnish for sashimi. However, to retain most of its nutrients, daikon oroshi (grated daikon radish) is the best way to eat daikon radish.
Pickled Daikon (Namasu–Daikon and Carrot Salad) Recipe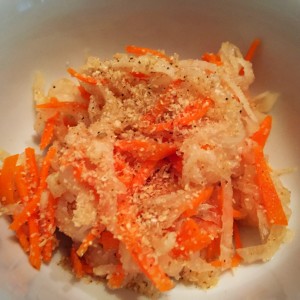 Ingredients (Serves
2

)
0.5 lb. daikon radish
0.05 lb. carrot
1/4 tsp. Salt
2 Tbsp. Rice Vinegar
1 Tbsp. Sugar
1 Tbsp. Soy Sauce
Ground toasted sesame seeds for sprinkle
---
Cooking Directions
Peel daikon and carrot, cut them both into 2 inch long pieces, and julienne them.
Put the daikon and the carrot in a bowl, sprinkle with salt. Massage the vegetables with your hands and squeeze water out by taking handful at a time. Put the vegetables in a different bowl.
Mix rice vinegar, sugar and soy sauce thoroughly, and pour it over the vegetable. Sprinkle ground toasted sesame seeds and toss to combine well.
Buri Daikon (Simmered Yellowtail and Daikon Radish) Recipe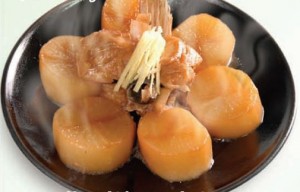 A taste of home! It's a popular Japanese dish.
Ingredients (Serves 4)
1 medium daikon radish
14 oz. ara (head and other leftover bits) of buri or hamachi (yellowtail)
3-2/5 cups kombu stock
1 small piece fresh ginger root
2/5 cup sake (cooking sake)
Flavoring liquid ingredients:
3 Tbsp. sugar
3 Tbsp. mirin
1/4 cup soy sauce
---
Cooking Directions
Cut the ara into bite-sized pieces. Quickly soak them in boiling water and then immediately cool in cold water. Remove scales.
Slice daikon into pieces of 1 in. thick . Peel and cut a shallow cross into the top side of each piece. Boil the daikon until it's roughly cooked. Peel the ginger and cut it into thin strips. (Don't discard the skin)
Place the ginger skin and add kombu stock (or kombu), water, sake and ara in a pot and simmer. Remove scum and take out the kombu (if used). Add daikon and all the ingredients for the flavoring liquid. Over medium heat, simmer, covered until the liquid is reduced by half.
Transfer into a serving dish. Garnish with the ginger strips.
Simmered Chicken with Daikon Oroshi Recipe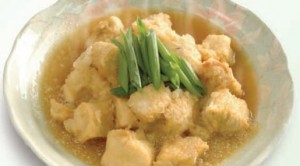 Plenty of daikon oroshi over deep-fired chicken. It's so delicious and surprisingly light-tasting that you'll feel that you can just keep eating it.
Ingredients (Serves 4)
1/2 daikon radish
2 half chicken breasts
3 to 4 green onions
Pinch of salt
Katakuri starch (as appropriate)
1-3/5 cup kombu stock
1 Tbsp. sugar
2 Tbsp. sake (cooking sake)
2 Tbsp. soy sauce
Frying oil (as appropriate)
---
Cooking Directions
Grate daikon to make daikon oroshi. Cut the chicken into bite-sized pieces. Slice the green onions diagonally.
Sprinkle the chicken with salt, and then dredge it in katakuri starch. Deep-fry in oil at 356°F.
Simmer stock in a saucepan. Add the sugar, sake and soy sauce. Once the liquid has come to a boil, add the fried chickens from [2]. When it starts to boil again, add drained daikon oroshi and turn off the heat.
Transfer onto a serving dish. Garnish with the green onions.
Miso Daikon Nabe (hot pot) Recipe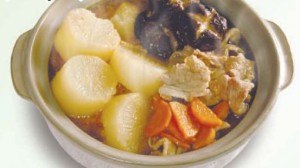 Japanese-style nabe with beef base. The soup has a light yet rich flavor. It could be addicting!
Ingredients (Serves 4)
14 oz. sliced shabu-shabu pork
21 oz. daikon radish
2.8 oz. fresh shiitake mushrooms
3.5 oz. carrots
2.8 oz. miso paste
A:
2 beef stock cubes
4 cups water
B:
2 Tbsp. sake (cooking sake)
2 Tbsp. mirin
1 Tbsp. soy sauce
---
Cooking Directions
Slice daikon into pieces of 1 in. thick piece. Large pieces can be cut in half. Cut the shiitake mushrooms into decorative shapes.
Cut the carrot into thin, half-moon slices.
Place [A] and carrot into a clay pot and cook. Once the liquid starts to boil, add pork and scoop out the scum.
Place half of the miso, [B] and the vegetables from [1] into the pot. Simmer for 30 minutes. Add the remaining miso, the daikon and the mushrooms and simmer for a while longer.
Great for Sore Throats! Daikon Honey Recipe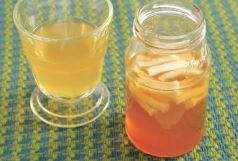 Cooking Directions
Peel daikon. Cut into thick sticks and place them in a jar.
Pour in enough honey to cover the daikon sticks.
Cover with lid and let stand for one day. Now you have honey combined with daikon extract.
You can enjoy this as is, or add some lemon or ginger to the honey and dilute it with warm or cold water. Daikon honey is said to be effective in relieving sore throats, the common cold, stomachaches from overeating, and a weak stomach.
Gochiso Magazine, Nijiya Market
Please follow and like us: